The Property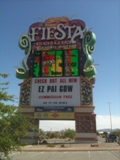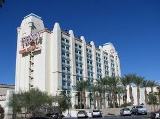 Fiesta Henderson lies on Lake Mead Boulevard, between Green Valley and Henderson, just east of I-515. It consists of two connected casino areas, and a medium-size hotel. There is a large public parking garage, and the usual "free" valet parking (although a tip is expected).
Fiesta Henderson started life as "The Reserve", a strictly locals-oriented casino that featured gobs and gobs of full-pay video poker, a cheap buffet and excellent coffee shop, and low-limit blackjack; in short, all the things that make life worth living. The theme was "overgrown jungle", and there were monkeys perched on pillars around the perimeter of the main building, recorded parrot calls overhead, and best of all, a complete, full-sized crashed airplane (Beechcraft D-18) straddling the entrance to the coffee shop (nothing quite says "overgrown jungle" like "crashed airplane"). Alas, Station Casinos, the Borg of the locals market, assimilated the Reserve in 2001, and nothing was quite the same. Having devoured the Fiesta in North Las Vegas, they racked their brains for what to call the Reserve now that they had taken it over, and decided to call it--the Fiesta. (I strongly suspect that the reason for this decision was that they had an extra giant "Fiesta" sign.) So to avoid massive confusion, Stations calls this property "Fiesta Henderson", and that property "Fiesta Rancho" (see my upcoming review of the Fiesta Rancho for some interesting history regarding that property). The takeover was swift and brutal, and at first, the only visible thing that Stations did to turn "The Reserve" into "Fiesta Henderson" was remove all the monkeys. They kept the recorded parrot calls--there are parrots in Mexico, after all--and retained the crashed airplane, while changing the name of the coffee shop to "Baja Cafe" (nothing quite says "Mexican party" like "crashed airplane").
Unfortunately, that isn't all that Stations did--they also "Stationized" the place. This meant that they removed most of the decent video poker, and turned the slot club into a travesty. They did retain a decent amount of full-pay deuces wild machines, but they gradually reduced the comp rate on the good machines to 0.04%. This meant that for every $1,000 you put through the machines, you earned (drum roll, please) FORTY CENTS in comps. Woo hoo! "Reserve" a table for six in the gourmet steak house! Non-full-pay video poker and slots earn 0.166, or $1.66 per $1,000 coin-in (so you can get that doughnut comped after all).
Stations eventually doubled the size of the casino floor, put in a slew of goofy slots, expanded the sports book, etc. etc. They kept the mediocre buffet (making it just a bit more mediocre in the process), but the latest restaurant move was to sell the Baja Cafe to Denny's. Now you can travel thousands of miles to fabulous Las Vegas to have breakfast at...........Denny's. I did have breakfast there during my stay, and it was actually quite good.
Games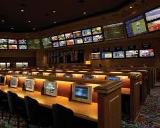 There is only one small games pit--the Fiesta Henderson is more about slots, bingo, getting drunk and staring into space, and cheap eats. There is one craps table, with $3 minimums, that has a small but dedicated following. There are a few blackjack tables: shoe games with $3 minimums and normal rules, and one or two $5 minimum single deck 6-5 travesties. There are also a couple of $5 minimum pai gow poker tables, one Let It Ride, and a partridge in a pear tree (no, wait, it's a parrot).
One interesting game variation that, as far as I know, is not seen anywhere else, is the new version of pai gow poker that does not take a commission, but instead, pushes all hands whenever the dealer has precisely a queen-high pai gow. Obviously, this is advantageous to the house (since the player would normally win the vast majority of the time when the dealer has Q-high), but this is just about exactly offset by the player not having to pay 5% commission on winners. Thus, the game is faster, without the necessity to muck about with quarters to pay the commission, and has the same house edge. (Info on the house edge comes from "paigowdan" on the Wizard of Vegas forum.)
Video Poker
The Fiesta Henderson's inventory hasn't changed much in several years. Interestingly, this has meant that their video poker inventory has migrated from "one of the worst" to "one of the best", simply by not getting any worse, while every other casino in town downgraded their inventory. Specifically, there are still several banks of "Optimum" or "Fiesta Full-Pay' scattered around the casino; fullpay Joker and fullpay Deuces can be had in 5-cent (a rarity), 10-cent, and 25-cent denominations, while fullpay Double Bonus, Double Double Bonus, and Loose Deuces are available in .05/.10/.25/.50/1.00. The rest of the video poker is crap; particularly, the "gimmick" games such as Super Times Pay, Spin Poker, and Multi-Strike have uniformly terrible paytables. Slot club points are earned at a lousy 0.166% for negative video poker (and slots), and an abysmal 0.042% for fullpay video poker.
Slots
Every game under the sun can be found here. There is an especially high number of the newer themed slots with bonus games. Overall, I can't recall seeing a casino (that was not slots-only) with such a high proportion of floor space given over to slots and VP.
There is a reel-slots-only random jackpot awarded across all Station properties, and all players who have their Stations Boarding Pass/Amigo Card inserted in a slot machine are eligible.
The Hotel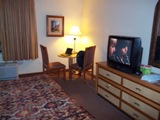 The Reserve/Fiesta Henderson was never built with the idea of attracting a lot of out-of-town visitors; locals were and have remained its core clientele and target audience. As such, even after their recent expansion, they only have 224 rooms, and they have trouble filling those rooms. As a consequence, hotel rates are quite cheap, especially during off-season. The rooms are basic but comfortable, and the usual amenities are available.
I stayed in the Fiesta Henderson on Sunday and Monday, Dec. 12 and 13th, 2010. The rate I paid was $13.92 plus $11.99 "hotel services fee", plus tax, coming out to about $27/night.
One thing that was kind of nice was that I actually got something for my "hotel services fee", namely, ethernet Web access. I also got a daily paper at my door, and those were two things I have paid for in the past.
The room was comfortable enough, in your basic-hotel-room kind of way. I found the bed a little too soft for optimum comfort, however.
The hotel features a decent-sized pool, which as far as I could tell, was not closed at the time of my visit.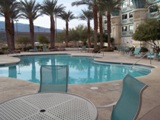 Access/Transportation
One of the biggest obstacles for anyone from out of town who wants to stay at the Fiesta Henderson is its isolation from the rest of the Vegas valley. Only two transit lines run there, and a trip from downtown or the Strip would take well over an hour. There are no car rental agencies on site. However, Fiesta Henderson has just instituted a free airport shuttle.
If you're driving, just take I-515 southeast from downtown, or take the 215 expressway eastbound from I-15.
Restaurants
The buffet
Cheaper than food. It costs $6.99 for dinner, $4.99 for lunch, and nobody is paying cash for it anyway. It features all the usual buffet stuff, plus a fairly decent salad bar and a Mongolian grill station. Quality is about a 5 or 6 on a scale of 1-10, but whaddya want for seven bucks.
Amigo Cantina
Reasonably priced gringo-style Mexican food. This is the most common style of Mexican food served in the US, one of at least twelve distinctive Mexican cuisines, most of which we never get to experience. The kind served here is "Cal-Mex", as in tacos, burritos, enchiladas, etc. Not a bad choice if you're not feeling adventurous, but there are better options nearby.
Fuego Steakhouse
Your basic steakhouse, with a low-key, quiet atmosphere, and quite reasonable prices. They offer the usual grilled slices of roast beast, and a couple of seafood options usually swim by. They usually have a few specials going; when I was there, they had a prime rib dinner for $12.99. I usually have the ribeye or the New York steak when I'm there. You can get away for $30-35 a person quite easily, or less if you order one of the specials. Wednesdays, you get 1/2 off if you are over 50 and pay with your points.
Denny's
Food Court
Featuring the usual fast food suspects, but I would be amiss if I didn't mention that they have a Fatburger, which while expensive, is the best hamburger chain in Vegas IMHO. (Despite their name, they make burgers that are actually NOT heavy on the stomach, but they taste really good...hmmmm...maybe I'll go have one...). One caveat: if you use your hard-earned points to pay for meals here, you only get $1 per 1000 points, not per 600 as elsewhere in the casino.
My Visit Gambling
I spent most of my time terrorizing the FPDW and FPJW 25¢ machines. After an initial awful run, I hit four deuces twice (on DW) and five-of-a-kind once (on JW), for a +$300 net result. What I found strange was how deserted the fullpay machines were; I rarely had any company on the bank at all. However, right nearby were several couples banging away on the 9/5 DDB machines, playing a 97.8% return game when the 10/6, 100% version was four feet away. They were also bitching and moaning about what bad luck they were having. I've been tempted to say something in the past in similar situations, such as pointing out that they were losing one extra bet every time they hit a flush or full house (once every 45 hands!), but I know from bitter experience that such advice is never welcome. For two days of play, this continued to be the case--I sat playing the fullpay machines in solitary splendor, while all around me, people enthusiastically played the crapola machines. I suppose that helps keep the Optimums on the floor, though, so that's a good thing. But it seems to me that five years ago, the Optimums were always full, and the garbage machines were being ignored. Maybe all the local sharpies have moved away?
I did dabble in some 3-2 shoe game blackjack. A very friendly and personable young woman dealer from Russia dealt to a full table of us $3/hand high rollers. As I've so often observed, I was the only one playing Basic Strategy or even an approximation of it. I saw a LOT of "multiple hit paralysis", where if a player took two hits and didn't bust, they would then stand out of sheer terror, even though they only had 14 or 15, and the dealer was showing a big card. No one EVER hit A7. No one EVER soft doubled.
I then tried out the Q-high push pai gow poker game. I REALLY enjoyed not having to piddle around with quarters to pay the commission, and since the dealer never actually got a Q-hi pai gow, I was playing at a lower house edge for that time as well. (Of course, the house edge for that set of hands could have been higher than normal if the dealer had gotten several Q-hi's.)
One thing I thought was kind of cool was that it was Monday night, and there was a big TV suspended right above the pit so everyone could watch, and every time there was a touchdown scored, the floorman would hand out $10 matchplay coupons for our next bet. I got six of these, which helped me to lose less than I would have otherwise--even so, I got whomped fairly good--minus $150.
Summary
If you're not that big on the whole "Vegas experience", and you don't need or care to stay on the Strip (been there, done that, paid through the nose for that), you might want to consider staying at the Fiesta Henderson. Rooms are cheap, often ridiculously so, the food is cheap and decent, and the gambling is low-limit and better than average, especially the video poker. Since the place is right at the intersection of two major freeways, it's easy to get to other parts of town if you have a car. Sunset Station and Green Valley Ranch (both also owned by Stations--gaah!) are nearby if you want to visit other casinos.
Links
Acknowledgements
The Wizard would like to thank Kevin L. for the review and Dan L. for some of the pictures.
Contact Information
Address: 777 West Lake Mead Drive, Henderson, NV 89015
Phone: 702-558-7000
Web site: fiestahendersonlasvegas.com
Resort and Parking Fees
| | |
| --- | --- |
| Resort fee | $13.50 |
| Parking fee | Free |
Games at Fiesta Henderson
| Video Keno | Rank | Avg Return | Grade |
| --- | --- | --- | --- |
| Video Keno | 31 | 91.21% | B- |