Introduction
Encore is the sister casino of Wynn Las Vegas. The two casinos are connected by a corridor that includes upscale shops and nightclubs. Encore opened on December 22, 2008. That was about three and a half years after the opening of its sister property, Wynn.
Encore is identical to Wynn in almost every way. The color scheme, hotel exterior design, room design, slots, and video poker available are nearly mirrored. The game rules are exactly the same. The only difference is the minimum bet at Encore is sometimes lower than at Wynn, especially during the week.
The atmosphere at Encore is one of elegance. The entire casino floor, nightclubs, lounges, restaurants, and hotel rooms are all in mint condition. The bartenders, dealers, and servers are all professional and well dressed. There is no environment like Wynn and Encore on the Strip.
Gambling at Encore
The quality of gambling at Encore varies greatly. Lower limit players will be forced to play 6-5 single deck blackjack games during peak hours. The minimum bet for this game is generally $15. There are five single deck blackjack tables at Encore.
The shoe blackjack games start at $10 during off peak hours but are usually $15 or $25. These games allow double down on any two cards and after splitting. There are 20 of these tables. There are eight more tables with the same rules that pay 6-5 on blackjack. The minimum bet for these is usually $10. Two tables of blackjack switch offer $10 minimum bets. All blackjack games outside high limits have a $1,000 maximum bet.
There are eight double zero roulette tables where the minimum bet is $10 during most hours and $15 on weekends. Carnival games have a $10 minimum and include Ultimate Texas Hold'em, Three Card Poker, and Crazy 4 Poker.
There is an Asian table games pit on the main floor. There are six baccarat tables with limits of $50-$20,000. There are two Pai Gow Poker tables with limits of $25-$5,000.
There are six craps tables. One always has a $10 minimum bet. The others are either $15 or $25 but can be raised upon request. Craps odds are 3-4-5 times and the Field pays triple on 12.
There is a large high limit area. Most tables are baccarat that starts at a $100 minimum bet. There are two six-deck blackjack tables that stand on all 17's and offer surrender and double down after splitting.
The Wynn Red Card is the players club at Encore. Slots award one point for every $1.50 in action. Video poker pays one point for every $6 wagered at standard machines. Full pay games require $15 to earn one point. Players can convert 1,000 points into $10 directly on a slot or video poker machine. Table games earn points based on the size of wager, game played, and speed/length of action. Wynn and Encore have been known to be very generous with mailers, especially to new players.
There is no sportsbook at Encore. There is a sports betting counter that uses the lines spread by the Wynn book. It is open during the day. There is no poker room at Encore but there is a popular one located down the connecting corridor at Wynn.
Hotel at Encore
There are six different room styles available at Encore. All are considered suites and are double the size of a standard hotel room. There is a Resort Suite and Panoramic Suite. Both are 745 square feet. The only difference is the view. These start at $189 on weeknights and $299 on weekends. The Panoramic Suite is $70 more per night. There is a $30 per night resort fee on these rooms that includes wireless internet and access to the fitness center.
There are also Tower Suites. The main suite starts at $324 per night. The Parlor Suite starts around $799 per night and is multi room suite.
Restaurants at Encore
For dining purposes, Wynn and Encore share restaurant listings. All are within a convenient walk of each other. Most restaurants are located within Wynn.
There are four restaurants located at Encore. Sinatra is a fine Italian restaurant. Wazuzu is a Pan-Asian experience. Botero is a Colombian bistro. There is also a 24-hour café.
Entertainment
Encore is home to XS. That is a world class nightclub that is open 11pm to 4am Friday through Monday. Monday is industry night where locals get in for free. Encore Beach Club is a unique day club experience. It is open from 11am to 7pm. It also opens on Thursday night for late night fun by the poolside.
Wynn offers Surrender and Tryst, two of the top rated Las Vegas nightclubs. It also offers shows and headliners in its theaters. There are a variety of upscale lounges located throughout both resorts.
Parking
Encore guests may park in the Wynn parking garage and cross the bridge over to Encore. There is also a separate valet and parking garage on the north side of the resort.
My Conclusion
Encore is just as elegant as Wynn. There is little different about the two properties. Encore is just a little smaller and slightly less expensive. Guests can walk five minutes indoors through a corridor of luxury shops to access the amenities at Wynn. Encore rooms tend to me about five percent cheaper than Wynn so those looking for the same experience at a slight discount can check it out for a cheaper price.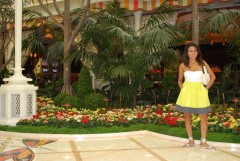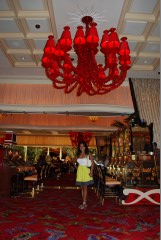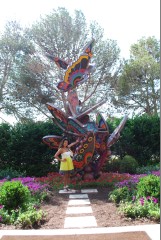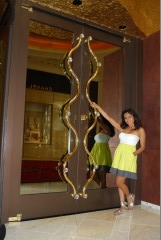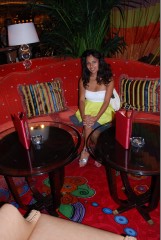 Contact Information
Address: 3131 Las Vegas Boulevard South, Las Vegas, NV 89109
Phone: 702-770-7000
Web site: wynnlasvegas.com
Resort and Parking Fees
| | |
| --- | --- |
| Resort fee | $13.50 |
| Parking fee | Free |
Games at Encore
| Blackjack | Location | Decks | Min | Max | Soft 17 | DA | DAS | RSA | Surr | Tables | CSM | Party Pit | 6/5 BJ | Video | H. Edge |
| --- | --- | --- | --- | --- | --- | --- | --- | --- | --- | --- | --- | --- | --- | --- | --- |
| Blackjack | Strip | 6 | 10 | 5000 | H | Yes | Yes | Yes | Yes | 16 | No | No | Yes | No | 1.84232 |
| Blackjack | Strip | 1 | 10 | 1000 | H | Yes | No | No | No | 3 | No | No | Yes | No | 1.69824 |
| Blackjack | Strip | 6 | 25 | 5000 | H | Yes | Yes | Yes | Yes | 8 | No | No | No | No | 0.48263 |
| Blackjack | Strip | 2 | 50 | 10000 | H | Yes | Yes | No | No | 2 | No | No | No | No | 0.45688 |
| Blackjack | Strip | 6 | 100 | 10000 | S | Yes | Yes | No | Yes | 4 | No | No | No | No | 0.35361 |
| Baccarat | # of Tables | Min Bet | Max Bet |
| --- | --- | --- | --- |
| EZ Baccarat | 16 | 25 | 20000 |
| Craps | # of Tables | Min Bet | Max Bet | Odds | Field12 | Video |
| --- | --- | --- | --- | --- | --- | --- |
| Craps | 6 | 10 | 5000 | 2x | Triple | No |
| Roulette | # of Tables | Min Bet | Max Bet | Rules | Video |
| --- | --- | --- | --- | --- | --- |
| Roulette | 8 | 10 | 300 | 00 | No |
| Roulette | 1 | 3 | 3000 | 00 | Yes |
| Roulette | 1 | 100 | 5000 | Euro | No |
| Video Keno | Rank | Avg Return | Grade |
| --- | --- | --- | --- |
| Video Keno | 1 | 93.52% | A+ |