Introduction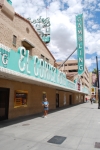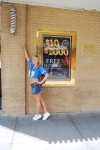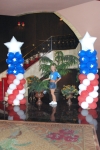 The El Cortez is located in downtown Las Vegas, a couple of blocks east on Fremont from the cluster of casinos surrounding the Fremont Street Experience. It is 2 1/2 blocks from the downtown bus terminal, and has a large parking garage and valet parking.
One caveat about the surroundings: the El Cortez is two blocks north of Las Vegas Boulevard, and those two intervening blocks are pretty shabby. It's not a confidence-inspiring walk at any time, and can be positively scary at night.
The El Cortez has been in continuous operation since 1941 at the same location. Since that time, it has been expanded, remodeled, and renovated, but the core building has remained. The El Cortez has an "Old Vegas" vibe that is almost unique. Rather than the expansive mega-spaces of all the shiny new casinos on the Strip, the El Cortez has an intimate, almost "homey" feel. Until recently, quite frankly, that also meant "cramped and smoky", but the recent remodels in 2006 and 2009 have made the place feel very welcoming and "open".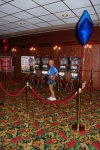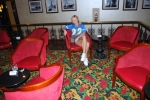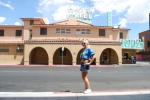 What makes the El Cortez different in its approach from other casinos is its focus on building its customer base, and welcoming repeat customers. Nowhere is the loyal low-roller treated so well as at the El Cortez. In an era where the player who only budgets a few hundred dollars to spend during a Vegas weekend is treated like pocket lint by the big-box casinos, the El Cortez welcomes those players, and welcomes them back time and again, with free rooms and food comps to boot.
The above probably has a lot to do with the fact that until recently, the El Cortez was owned by a sole proprietor, Jackie Gaughan. Having recently celebrated his 90th birthday, he sold the El Cortez in 2008 to his son, but Jackie still lives at the El Cortez, and dresses in a spiffy suit early each morning, and goes downstairs to have breakfast, and later, maybe play poker with some of the locals. I still remember playing video poker, bleary-eyed, at 5:30 in the morning, and Jackie walking from machine to machine with a bucket of quarters and dumping a handful in every player's tray.
CLIENTELE/VIBE
The typical customer is a low-rolling LOL; however, there is also a somewhat "earthy" element--as in, that's where many of them spent last night. The casino pretty much tolerates the somewhat drunk and somewhat disconnected from reality patron, partly because that patron may actually be a frequent customer. I don't mean to exaggerate this effect--most of the customers are just regular folks--but it is there, and if you're not comfortable with being in some of the stranger areas of the human zoo, you should probably not go to the El Cortez.
Also to be noted: the casino is low-ceilinged, and relatively small. This means that the air doesn't circulate as well as in some larger casinos. The restaurants are fine, but the main casino floor gets a bit smoky at times, and smells tend to linger. This used to be much worse, but the remodels and expansion have ameliorated the problem.
HOTEL
The hotel is surprisingly nice. There are several sections — the "old hotel" is directly up a flight of stairs from the gaming area, the "new tower" is back in the northwest corner, adjacent to the parking garage, and the "Cabana Suites" are across Odgen Street, in what used to be the "Odgen House". The rooms in the old hotel are small but quite comfortable; the new tower rooms are surprisingly large, and recently furnished. There are several suites in the tower which are very large, and very well equipped. You can get these rooms for a song, compared to rates for similar accommodations elsewhere downtown, never mind the Strip.
From the El Cortez's website: rates for midweek for the Cabana Suites, which include a 42 inch flat screen TV, in-room refrigerator, king bed with Sealy pillowtop mattress, iPod docking station, hair dryer, ironing board, coffee maker — $53/night. For regular rooms, two queen beds or one king bed, quoted rates were $27-31/night.
The above said, however, it's unlikely you will ever pay for a room at the El Cortez more than once. Much of the time, simply staying at the hotel will get you a room offer for two or three free nights on a subsequent visit. If you gamble at all during your stay, you will also get free room offers — they have a "seasonal visit" promotion that gives three free nights per calendar quarter, and varying amounts of free play and free food, to repeat customers. Hitting a jackpot of $1,200 or more also gets you two free nights.
MY ROOM WITH A VIEW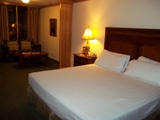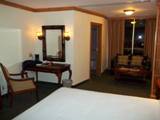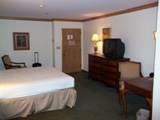 I was on the 10th floor in the "Tower", and had a very nice view of the Strip. The room was clean and adequate, which as you know if you've ever dealt with either a hotel room or a person who was unclean and inadequate, is important. The hot water was hot, the cold water was cold, and the soap was soapy. I found the bed to be very comfortable, and I'm kind of picky about that. I give the room a 3.875 out of 5. Below are some pics of the room.
RESTAURANTS
The El Cortez has two restaurants: Cafe Cortez and The Flame Steakhouse. There is also a Subway and a Seattle's Best Coffee. Cafe Cortez is open 24 hours (with a limited menu on graveyard shift), and The Flame is open from 4 to 10 PM, seven days a week.
CAFE CORTEZ
The Cafe Cortez offers standard coffee shop fare. Prices are very reasonable, and the quality ranges from "fair" to "very good". The best deals, as well as the best meals, are the daily specials. The atmosphere is "old Vegas coffee shop", and the service is brisk and friendly. Many of the customers in the Cafe Cortez are locals who have been eating there every day for decades.
THE FLAME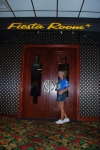 The Flame has acquired a reputation as one of the best bargains in Vegas. The menu is basic steakhouse fare, with a few seafood options thrown in. Side dishes and appetizers are huge, and can easily feed two. Pricing is a la carte, but it would be hard to spend more than $50/person, even with an appetizer, an entree, a side dish, and dessert. The quality is very good; I have the ribeye steak almost every time I visit, because it's just about the best I've ever had. It's definitely the best 20 oz. ribeye I've ever had for $24.95. The atmosphere in The Flame is quiet and subdued; it's a nice break from the sometimes frenetic and noisy casino floor. Travel videos are projected on big screen TVs mounted on the wall, which is much more restful than keno boards.
The prices in these two restaurants are very reasonable, but it's possible to pay even less. Slot club members get discounts of 25% to 75% (depending on level) if they pay with their points. There are coupons in both the American Casino Guide and the Las Vegas Advisor; the former gives you half off up to $30, the latter, up to $25.
BEWARE THE LATE NIGHT MENU
I've already mentioned that "The Flame" is very good. However, it's only open in the evening, and Roberta's Cafe is the only real alternative in other hours. At 11 P.M., they switch to the "graveyard menu". At first, I made the reasonable assumption that that referred to the shift during which that menu was offered, but I soon learned that it actually referred to the source of the food. I ordered the "chopped steak" (basically, a bunless hamburger), thinking, well, how can you screw up a hamburger. I found out how, all right. Suffice to say, I would recommend that the CIA feed this dish to its terrorist detainees in order to make them talk.
I hasten to add that my salad was fine, and the french fries that accompanied the chopped something were perfectly OK. I also have ordered breakfast with no ill consequences other than a strange compulsion afterward to play keno (something they put in the hash browns, no doubt).
SHOWS/OTHER RECREATION
There aren't any shows, and nothing to do besides eat, gamble, and watch a game in the sportsbook. You could walk to the Fremont Street Experience, but that's several blocks away, and as previously noted, through a dubious neighborhood.
GAMBLING
Blackjack
The El Cortez offers the following blackjack games.
Six single-deck games. Blackjack pays 3-2, double any first two cards, no double after split, no surrender, no re-splitting aces. Five tables at a $5 minimum, one at $25. According to the Wizard's blackjack survey, the house edge is 0.30%.
One six-deck game. Blackjack pays 3-2, dealer hits soft 17, no double after split, no re-splitting aces. Surrender rule unknown. $3 dollar minimum. House edge of 0.78%, assuming no surrender, and 0.69% with surrender.
One Double Attack game. $3 dollar minimum.
In recent years, the El Cortez has been extremely wary of counters on its single-deck game, and you may find the dealer shuffling up early if you so much as double your bet. Also, be prepared for frowny faces from the pit if you are winning. The El Cortez single-deck game is NOT a player-friendly environment (the shoe games are a totally different vibe, with a goofy crowd of ultra-low rollers, and the most inexperienced dealers in Nevada).
The rules above differ from what the Wizard says in his blackjack survey. The Wizard claims the El Cortez has a double-deck game, but no six-deck game. He says he will independently verify the rules I reported above his next visit downtown.
CRAPS
There are usually two crap tables going. Both offer 10x odds, and the minimum is usually $3.
ROULETTE
The El Cortez has one roulette table (double zero). Chip denominations can be as low as 25 cents, but there is a minimum of $1 total bet per spin.
Mini-Baccarat
One table with a $5 minimum.
Pai Gow Poker
One table with a $5 minimum.
Three Card Poker
Two tables with a $3 minimum.
KENO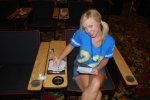 The El Cortez's keno game is unique to Vegas, in that it offers some very creative pay schedules, and myriad "special" tickets. Payoffs are the best you will see in Nevada, and they offer the old-style 70 cent rate, which has a relatively low house hold.
VIDEO POKER
Video poker is reasonably good, but it has declined precipitously from just a few years ago, when the El Cortez had the best video poker in town. There are only a few .25 fullpay machines left, and the rest have been severely downgraded.
SLOTS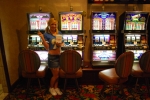 Slots at the El Cortez have always been, and remain, some of the loosest around. They advertise this fact heavily, and Gaming Control Board figures bear this out. They particularly set the low-denomination machines to high paybacks, because that caters to their core clientele--the loyal low-rollers.
RACE & SPORTS BOOK
The El Cortez sportsbook offers lines on all major sports, dealing a standard -110 line on football and basketball, and a dime line on baseball. Wagering minimums are $5 on straight bets and $2 on parlay cards. The viewing area is several dozen chairs in front of big screen TVs, with a large projection TV being used for major events such as Monday Night Football. Overall, I rate the El Cortez sportsbook as a "5" on a scale of 1 to 10--it's about on a par with other downtown sportsbooks.
POKER
The poker "room" is an alcove adjacent to the blackjack pit, near the piano bar. There are three tables, and the usual game is 1-3-6 Limit Hold Em. The minimum buyin is $20. The rake is the lowest in Nevada, at 10% capped at $2.50. Slightly offsetting this is the fact that they take the rake in 50 cent increments (so a $15 pot would be raked $1.50, not $1). The clientele is mostly low-roller locals. The game is friendly, and most of the time, surprisingly weak. There is a high hand of the day promotion every day.
MY OWN GAMBLING
The blackjack game at the EC is pretty decent, but the house REALLY sweats the action if you're betting more than $5. Even a 1-2 bet spread draws heat. What I thought was so silly and paranoid about this was that the El Cortez blackjack players are among the worst in the universe. First of all, they loooove the Royal Match side bet, which, like all side bets, stinks. Second, they play...badly. Really, really badly. In four hours of play, I didn't detect a single player who knew basic strategy. No one, for example, ever hit or doubled on A7. No one knew when to split pairs. People doubled on 10 vs. a 10, but inexplicably, did not double on 11 vs. a 10. Here are a couple of vignettes:
I am at first base with two other players. I have a hard 12, and the dealer is showing a 9. I hit, and of course, bust (12s attract face cards). The next player picks up her hard 15 and goes into spasms of indecision and agony. She looks importuningly at her comrade at third base. Finally, she tucks her cards under her bet, standing. The next player has a hard 16. I can tell she really wants to hit, but she wants to show solidarity with her friend. Finally (after about fifteen seconds of agony) she tucks her cards under her bet as well. The "wisdom" of these decisions is shown when the dealer flips over a 7 in the hole for her own hard 16. Optimism reigns, for about one second, until the dealer gives herself the card that neither player wanted...a 5. I have a hard time stifling my laughter. Oh, heck, let's be honest...I don't stifle my laughter at all.
A couple of hours later, I am playing the shoe game and betting a modest $3 a hand, and sucking down the complimentary beers that the friendly cocktail waitress steadily delivers. First base is occupied by a man who looks like he was thrown out of a homeless encampment for being underdressed. He has not shaved in at least three days. Nonetheless, he is playing two spots, betting $40 on each hand, and betting $30 on the Royal Match on each as well, for $140 in action every round. He is also winning a ridiculous proportion of these Royal match bets, as well as getting a blackjack in what seems like every third or fourth round. He has over $2000 in front of him, which of course is only a loan from the casino. I wonder idly what the EC's general policy on allowing players in the casino might be. I have gotten the impression that it is as follows: in order to be admitted to the casino, a player has to be breathing, and not naked. Other than that, anything goes. Certainly, it would have been a mistake for the EC not to admit this guy, bacteriological and olfactory considerations notwithstanding.
A few hours playing blackjack at the El Cortez will afford you many such enjoyable and thought-provoking scenes, which in turn makes me wonder why, when you increase your bet from $5 to $10 at the single-deck game, the pit boss gives you the Death Gaze of Losing. With players such as I've described above as their regular clientele, why should they care about people betting $10 (and when I raised my bet to that astronomical level, I had a positive expectation of TEN CENTS!!!!)?
PLAYER'S CLUB
The El Cortez caters to repeat customers. As such, their marketing strategy revolves around rewarding players with free room offers and easy food comps. There are four tier levels--Emerald, Sapphire, Ruby, and Diamond. To get up to the second tier (Sapphire), you need to earn 6,000 points ($1 coin-in=1 point). At that level, you can pay for meals with your points at a 50% discount.
The cashback rate is 0.2%: 500 points=$1. But you can double that rate to 0.4% if you use your points for comps, at Sapphire level or higher. You also get a discount when paying for your room with points, depending on card level, but as noted above, you won't be paying for your room after the first visit anyway, one way or another.
The slot club, in addition to free room offers, will also mail food comps, free play, and slot and blackjack tournament invitations to members. These offers are quite generous compared to most other casinos, especially since those casinos have tightened up their comp policies so much recently.
TRANSPORTATION/ACCESS
The El Cortez offers free valet parking, and has a large parking structure. Street parking is basically nonexistent. The easiest approach, if you are driving, is to head north on Ogden from Las Vegas Boulevard; turn right at 7th St. into valet parking, or continue one more block to turn in to the parking structure.
The 107 and the 208 pass within one block of the El Cortez, but neither of those routes directly connects to the airport. The downtown bus terminal has moved to a new location that is not particularly convenient for downtown, and especially not for the El Cortez: it is five blocks north on Fremont to Casino Center, then six blocks west. The Westcliff Express will get you downtown from the airport for only $2, but you will wind up at the new location (Bonneville Transit Center). However, if coming from the airport, you can get off the WEX at 4th and Carson, and if going to the airport, you can board it at Casino Center and Fremont, both of which locations are several blocks closer.
The El Cortez offers a free airport shuttle from 7 AM to 2 PM, but only to the airport. To get there from the airport, use Bell Trans or Gray Line, which cost $8 as of this writing (don't bother to buy a round trip ticket if the return free shuttle will work for you). You can also take the 107 or 109 bus line directly from the airport, and get off approximately 2 blocks from the El Cortez, at the downtown bus terminal.
Links
Acknowledgements
The Wizard would like to thank Kevin L. for the review and Lisa Furman for modeling in the pictures. Lisa invites you to visit her page at ModelMayhem.com
Contact Information
Address: 600 East Fremont Street, Las Vegas, NV 89101
Phone: 702-385-5200
Web site: elcortezhotelcasino.com
Resort and Parking Fees
| | |
| --- | --- |
| Resort fee | $13.50 |
| Parking fee | Free |
Games at El Cortez
| Blackjack | Location | Decks | Min | Max | Soft 17 | DA | DAS | RSA | Surr | Tables | CSM | Party Pit | 6/5 BJ | Video | H. Edge |
| --- | --- | --- | --- | --- | --- | --- | --- | --- | --- | --- | --- | --- | --- | --- | --- |
| Blackjack | Downtown | 1 | 5 | 500 | H | Yes | No | No | No | 10 | No | No | No | No | 0.30346 |
| Blackjack | Downtown | 2 | 5 | 500 | H | Yes | Yes | No | No | 2 | No | No | No | No | 0.45688 |
| Blackjack | Downtown | 1 | 25 | 1000 | H | Yes | No | No | No | 1 | No | No | No | No | 0.30346 |
| Baccarat | # of Tables | Min Bet | Max Bet |
| --- | --- | --- | --- |
| Baccarat | 1 | 10 | 1000 |
| Craps | # of Tables | Min Bet | Max Bet | Odds | Field12 | Video |
| --- | --- | --- | --- | --- | --- | --- |
| Craps | 2 | 5 | 1000 | 10 x | Triple | No |
| Roulette | # of Tables | Min Bet | Max Bet | Rules | Video |
| --- | --- | --- | --- | --- | --- |
| Roulette | 4 | 1 | 100 | 00 | No |
| Video Keno | Rank | Avg Return | Grade |
| --- | --- | --- | --- |
| Video Keno | 13 | 92.21% | B+ |