Introduction
Preface: The model you see in some of these photos is one of the Wizard's bevy of beauties. He took these photos before I did my review. Knowing how much he likes to spice up his reviews with eye candy, I didn't object to letting him include these photos in my review. However, let the record show that I had nothing to do with her. — Doc

The Cosmopolitan of Las Vegas is a true luxury resort casino-hotel located on the Las Vegas (...well, really the Paradise, NV) Strip, just south of the Bellagio, north of the City Center complex, and directly across the street from Planet Hollywood.

Construction of the Cosmopolitan began in 2005, and it was known by that single name until Hearst Corporation, publishers of the identically-named magazine, sued. There had even been numerous media references to the casino-hotel development as the "Cosmo," the very common nickname of the magazine, so they really had to do something. In retrospect though, once the beautiful hotel opened, I suspect that the magazine could have gained benefits by implying that there was indeed an association.

After some development/financing difficulties not uncommon among casinos in recent years, the Cosmopolitan of Las Vegas held its Grand Opening on December 15, 2010. My wife and I had the pleasure (or at least mixed emotions) of attending the Grand Opening. It was indeed a grand affair with music, revelry, and a mob scene of people there to party and to be seen.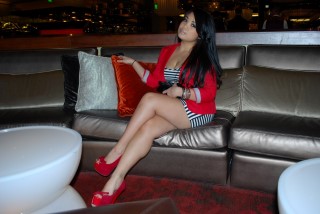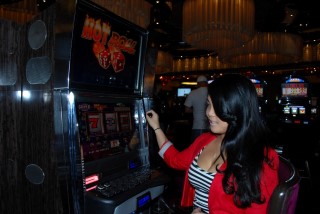 It was truly a place/time of sensory overload – everything was beautiful, but the 180dB acoustic bombardment from bands and DJs overwhelmed my thin protective shell, and I had to leave without taking in the full experience. I did return the next day to play in the casino, join the Identity players club, and view the establishment while the setting was in a more subdued state. I liked it very much, and I have returned on several occasions to play, wander, and watch.

If I had to choose one word to describe the Cosmopolitan (and I am not going to keep typing "of Las Vegas" every time), and if I wanted to avoid words that apply equally well to other grand casino-hotels within walking distance, I think I would choose "eclectic." It applies well to the design, the décor, the patrons, and perhaps some of the thinking that has gone into the place.

I would describe the general décor of the Cosmopolitan not just as luxurious but well over the top in glitz. Think of Liberace reincarnated as a casino hotel. My impression is that most of the patrons seen on any evening in the bars, restaurants, nightclubs, and other public areas (though not necessarily at the gaming tables) fit well into that theme also. I am not certain what clientele the Cosmopolitan management is seeking, but they seem to have attracted those who are young, hip, and both coifed and attired in the latest/hottest styles. None of those attributes applies to me, so I rather doubt that I am in the establishment's target demographic.

While the Cosmopolitan is often viewed as a small casino-hotel by Las Vegas standards, it houses just shy of 3,000 guest rooms. These two photos from the nearby Eiffel Tower replica show that it towers over both the neighboring Bellagio and Planet Hollywood.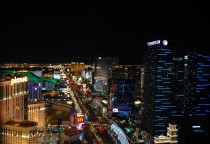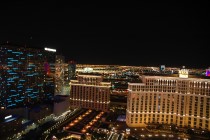 In terms of raw, dry, boring numbers (borrowed from Wikipedia's article on the place), the Cosmopolitan has a 150,000 sq. ft. (or 100,000 sq. ft., depending on which Wiki sentence you choose to believe) casino, 300,000 sq. ft. of retail and restaurant space, a 40,000 sq. ft. spa and fitness facility, an 1,800 seat theater, and 150,000 sq. ft. of meeting/convention space.

Since I have never before written a casino-hotel review, I'm not sure of the protocols, but I have looked at other reviews posted here and have tried to provide similar information. There are many areas of the Cosmopolitan that I did not get to examine or experience. In some cases, I can relate a little of what I have read/heard, but mostly I will just admit to my ignorance and let readers investigate for themselves.
Hotel
Since I have already mentioned that I suspect I am not part of the hotel's target demographic, perhaps I should relate how I happened to stay there and now have the opportunity to prepare this review. I joined the Cosmopolitan's Identity players club the day after the Grand Opening, and I have on rare occasions since received promotional mailers. Those generally are non-specific invitations, suggesting that I call a number and speak to my host about coming for a visit.

Such an invitation clearly suggests that the computer that selected me for the mailing is not in touch with either reality or the computer that tracks my playing history. I am a low-roller of long standing, and it is unlikely that any competent casino host would spend any time talking to me.

However, my wife and I planned a visit to Las Vegas for the second week of February 2014, purchasing our airline tickets and making hotel reservations several months in advance at a different casino hotel where we had stayed numerous times before. Then I received a mailer from the Cosmopolitan with a much more specific "exclusive offer for you": two complimentary nights for Sunday-Friday (i.e., departing by Friday) or $100 resort credit per night for Friday and Saturday nights.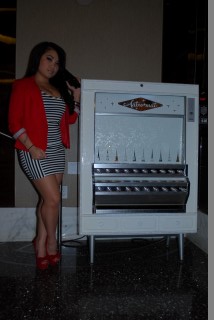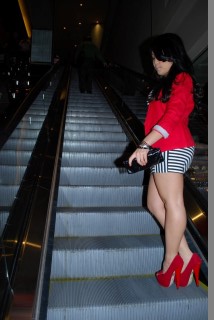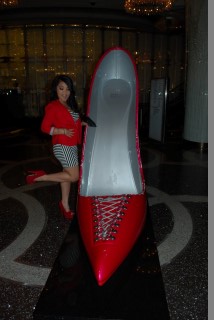 That seemed like a very attractive offer, so I called to reserve two nights at the Cosmopolitan for Sunday and Monday, February 9 and 10. The booking agent said that those nights were available under the offer and that he could book us for a Terrace room with a balcony, no charge. With an offer like that, I immediately cancelled those two nights on my earlier reservation, keeping the remaining nights as planned.

Hotel check-in. It would be most descriptive of the quality of the Cosmopolitan if I just detailed the check-in experiences at the two hotels that week. Unfortunately, to do that justice I might need to specifically identify the other hotel and the way we were treated there, and I do not wish to publish such slanderous (though true) statements, risking repercussions either for myself or for this site. Instead, let's just say that arriving at the Cosmopolitan was the most pleasant check-in experience I have ever had at any hotel anywhere.

To begin with, the hotel front desk area was spacious, well-decorated, and more than adequately staffed with extremely pleasant and helpful personnel. The photos below show the general lobby area as well as the line of service desks.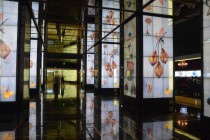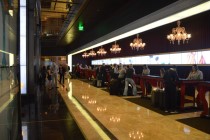 Staffing levels were such that I rarely observed a customer queue at any time, even during rush hours of check-in and out. When a line did form, it was managed as a single queue, with the front customer being served by the next available agent. This is the most efficient form of queue management for multiple-server systems in the great majority of service operations.

But the Cosmopolitan does not stop with having a single queue, with deskmen waving and shouting to the next customer in line. Oh, no! First, they have an attendant at the queue, greeting each arriving customer and determining what that customer needs. No risk of disservice to a customer who should really be redirected elsewhere immediately for the service they need, rather than standing in line at all. Also, though I don't think there is a fixed schedule for it, at times there are employees standing in or walking around guest waiting areas with trays of bottled water, just in case you came in thirsty. I'm not talking about bar waiters looking for tips in the casino, but just guest-relations people trying to make everyone's stay more pleasant.

Now when you reach the front of the check-in queue (if there is one) and it is time for direct interaction with the desk attendant, does the customer head up to the desk where they are made to feel they are intruding on the time of the employee? Not a chance. Did you notice in the photo that the desk is not one long barrier separating employees from their customers? That split-desk layout enables the employee to come around the desk, meet the guests as they approach, greet them, and start working on a very pleasant relationship as they walk together back to the desk to get down to business. I have never before seen that at a hotel, and it left a very positive impression as to the genuine interest in serving each customer individually.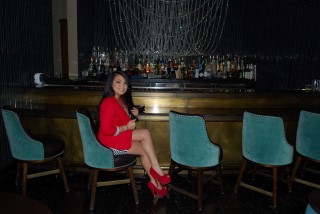 When my wife and I checked in, we were served by Mark, who not only made us feel as most-welcome guests, but who also did his duty to up-sell us. Nope, not a pressure sale at all. He just noted that while we were booked on a very attractive offer, there were other options available that we might consider. My natural response was to decline – in such situations I generally feel that I am a target of the old bait-and-switch for extraction of my money – but as Mark was pleasantly preparing our keys for a standard Terrace room, I came to my senses and said that we just couldn't pass up the deal he had presented.

As Mark described it, IBM had booked the bulk of the Cosmopolitan's standard rooms for that week for a conference (a Global Partners Leadership Conference, I believe). That meant that the hotel had a number of superior rooms (which IBM did not book) available at attractive rates. We were offered an upgrade to a 36th floor, 1,200 sq. ft. suite with a wraparound balcony at a rate of $50 per night. I haven't checked out the rack rate for that suite, and I'm not sure I really want to know. What I do know is that I got it for two nights for less than I frequently pay for one night in a standard room at a Comfort Inn.
The Room
The Cosmopolitan has two main towers identified as the Eastside Tower and the West End Tower. The Eastside Tower is rectangular (very nearly square) and directly overlooks Las Vegas Boulevard South. The West End Tower is set well back to the west from the Boulevard and is also slightly south of the Eastside Tower. It has a more complex shape, generally a long rectangle running east-west but with an off-set in its line. The shape is presented in the back-of-the-entry-door diagram shown below.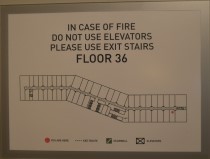 The oddity of that shape appears to have been encouraged by the available land onto which the Cosmopolitan was constructed. The whole facility essentially wraps around the pre-existing Jockey Club time-share condo building that had been built just south of the Bellagio property. The Cosmopolitan was constructed on what had been the parking lot of the Jockey Club, engulfing it and blocking all view from the older facility's south-facing rooms. As partial compensation to the time-share owners, they are allowed to use the Cosmopolitan parking garage and (or so I was told) are permitted to use the Cosmopolitan's fitness center. I do not know any of the details of that arrangement.

Our upgraded room assignment for this stay was in the West End Tower, but it was not exactly the one marked by the you-are-here dot on the diagram. Although that diagram was posted in our room, we were really in the southeast corner suite just to the right of the marked spot. Apparently there was a minor error in map placement by engineering or whomever.

If Mark hadn't prepared me, I would have been overwhelmed by the "room." To begin with, this one-bedroom suite was almost as big as the two-bedroom, 1,520 sq. ft. condo that my wife and I live in. It consisted of an entrance hall, a guest bathroom (including shower), a well-equipped kitchen, a dining area, a living room with work desk, a very nice bedroom with king bed, a huge bathroom with double vanities and both shower and tub, and a wraparound balcony accessible from the bedroom or through two portals from the living room.

If that's not enough space to meet your needs, this suite connects to the adjacent room (i.e., the one marked by the you-are-here dot), allowing for expansion.

The living and dining areas were well-appointed and decorated, but I cannot fit them into a single photo. There was seating for four at the table, a sectional couch and chair in the living area, and a chaise for indoor sunning or watching the big TV over the desk.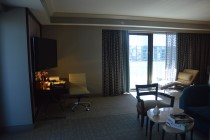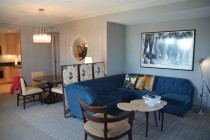 The desk itself offered excellent workspace and more technology connections than I am accustomed to seeing in a hotel room. I suppose they cater to business-oriented customers as much or more than to gaming/vacationing customers. I should note that guests are provided free wireless internet service, supposedly at a limited throughput though I never detected any problems, with a higher-capacity service available for a fee that I declined.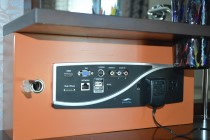 The kitchen was bright and spacious, with appliances that included a nice-sized refrigerator and freezer, an oven, a microwave oven, a glass-surface range top, a wine chiller, and a dishwasher. There was a fair amount of cabinet space, but there were no pots, pans, dishes, or tableware provided. I suspect that those could be provided upon request for parties or long-term occupancy. The refrigerator and a basket on the counter were stocked with mini-bar supplies at the usual exorbitant prices. There were wine glasses available, along with a few of the bar tools for the mixologist of the suite.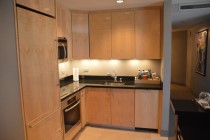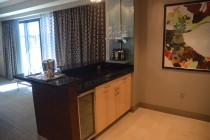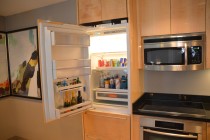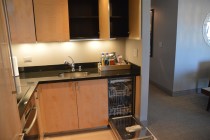 The bedroom itself was a fairly conventional king-bed space, located just off the living room and connecting to an impressive bath area. The bath included a large shower enclosure, a huge tub, and dual vanities, in addition to a water closet for the non-pictured toilet. (Not pictured because you've seen a toilet before, haven't you?) The toiletries provided include C.O. Bigelow soap, body lotion, and mouthwash, plus a supply of Q-tips and cotton balls.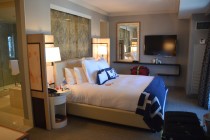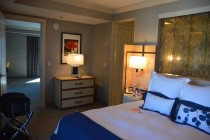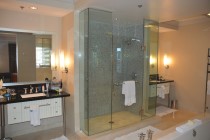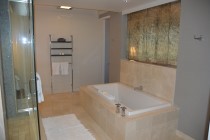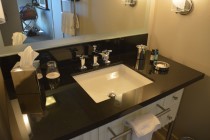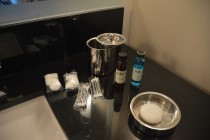 Now, if you wouldn't want to share such a bathroom with riff-raff visitors who might drop in to attend one of your parties, at least there would still not be a problem of having limited loo facilities. A second bath between the kitchen and entrance offered not just a toilet and vanity but a shower enclosure.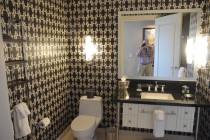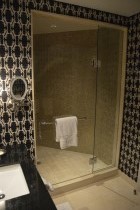 OK, there you have a picture of a toilet, in case you really needed to see one. By the way, I found the pattern on that wall covering very interesting. It was in both the guest bath and the water closet in the master bathroom.

While you are relaxing in your room, perhaps you would like to read a book or just look at the photos on the wall. Did I use the word "eclectic" a little while ago? Take a close look at that photo of the living room presented a bit earlier. Notice anything unusual, or even meriting the E-word, about the photo behind the couch? And how about this collection of books that are provided for guests' perusal: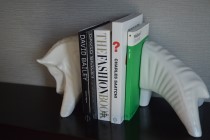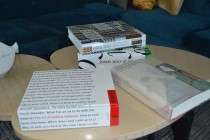 Maybe these photos shouldn't be available in too high a resolution. One book on the table is titled "Poem of the Pillow and other Stories" and is self-described as "scenes and stories of sensual pleasure … told by the masters of Japanese erotic art." Fully illustrated. But then maybe reading isn't your thing anyway.

On the other hand, perhaps a 1,200 sq. ft. suite doesn't provide enough private space for you. Perhaps you're like the line in that song that goes, "I don't want much, I just want more." Well, step out onto your wraparound balcony for views like these both day and night: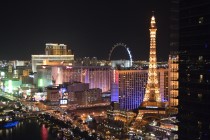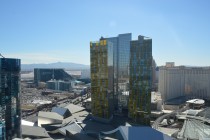 If those views aren't enough to whet your appetite, here is a full, 270° panorama view from the balcony, with a link to the high-resolution version (14.8 MB).


Now whether you have a suite or a standard room, you won't likely spend all of your time there. What might there be available to enhance your experience once you step out the front door of your personal castle on the Strip? Let's begin with some of the non-gambling recreations and amenities that are offered, and leave that vice until later.

Pool Areas
There are at least three major swimming pool areas at the Cosmopolitan, each with multiple pools, and there might even be others that I didn't discover. Since we visited in February, I did not go into the water at any of these pools, but I did visit a couple of the areas.

The Bamboo Pool is located on level 14 of the West End Tower, near the fitness center and some facilities for pampering the body. The pool area is on the southwest side of the tower, in the area opened there by the offset shape of the tower. It faces the Aria and Vdara towers in the City Center complex. The entire Bamboo Pool area was closed during our visit, and the security guard denied my request to wander and photograph. The only shot I was able to get is provided below, showing the main pool itself.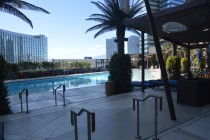 According to the diagrams I saw, there are also two bars in the pool area, a Bamboo Store, restroom areas that may be large enough to include changing facilities, plus a palm tree environment for relaxing. Or for tending to your pet, since it includes a "dog run." The diagrams also show a second, much-smaller pool, and I don't know whether it is a hot tub or some other kind of water facility.

Just south of the Eastside Tower, on Level 4 overlooking Las Vegas Boulevard, is the aptly-named Boulevard Pool. That area was open during our visit, and I was able to photograph a number of the amenities there. There are two primary pools in this area, and I am not certain of their distinctions. The one shown in the left photo appears rather shallow for most of its area but with a deeper zone in the center. I saw no one using that pool when I visited.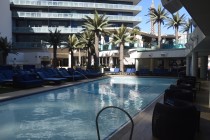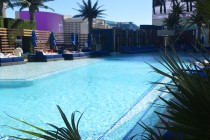 The second pool slopes from zero depth at the far end to at least deep enough to require a row of stairs to exit at the near end. It has quite a few lounge chairs around it – and even in it at the shallow end – and a few of these were in use even in February. I expect they see considerable use in warmer weather.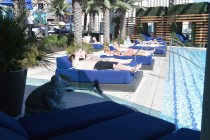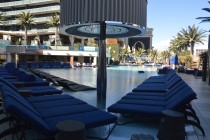 In addition to these two main Boulevard Pools, there is a large hot tub/pool located under shade.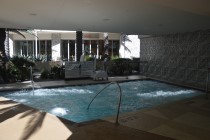 Now if you want to enjoy this pool area without either getting wet or basking in the sun, there are other options available. First, there is plenty of opportunity to keep your eye on the tube or to play a variety of non-casino games. Yes, someone has a sense of humor, and you have multiple ways to interpret the word "pool," either the swimming kind or the pocket billiards kind. I didn't look, but I also didn't happen to notice any coin slots on any of those games, so I have a feeling that they are just there for the no-additional-cost amusement of the guests. I suppose I should note that there wasn't anyone asking to see a room key as I entered these areas.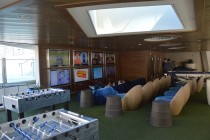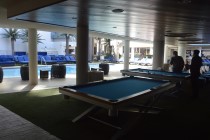 There are, however, places to spend your money while at the Boulevard Pool area. On the high end, I suspect, are a number of private cabanas adjacent to the main pool. There is also the Boulevard Pool Store, the Overlook Grill, the Boulevard North Bar, an apparently un-named poolside bar, and an interesting shop called the Neapolitan.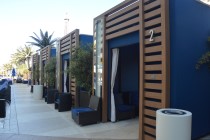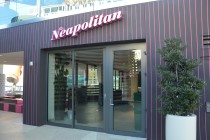 The word "Neapolitan" is a reference to the city of Naples, Italy, but it also is used to describe the tri-flavor/color ice cream with chocolate, vanilla, and strawberry. I have never been enlightened as to how those flavors taken together are associated with Naples. This particular Neapolitan shop's name is a reference to the ice cream, but in this instance it is an alcohol-infused dairy product that they serve in a variety of flavors. The shop was closed at the time of our visit, but I did look around their seating area to note that they maintain the expected brown/white/pink color scheme.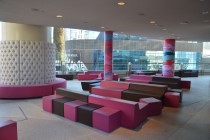 The Boulevard Pool area takes advantage of its location and provides some nice views of Las Vegas Boulevard. The view directly toward the north is available from the Boulevard North Bar, while the south view is from the Neapolitan seating area.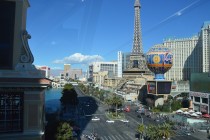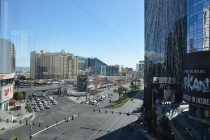 While I was wandering and photographing the Boulevard Pool area, I noticed a cannon, pointed directly toward the destined-to-be-demolished stump of the ill-fated Harmon Hotel tower. I asked a friendly maintenance worker whether this was some kind of a joke way of offering to help with the demolition.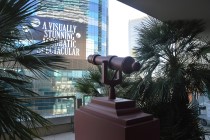 He told me that there are actually several of these cannons around the south side of the property, and their presence was drawn from the principles of feng shui. When the towers of the City Center complex were being constructed, they were interpreted as architecturally threatening to the ch'i or natural energy of the Cosmopolitan. The feng shui response was to provide an appropriate defense, such as the mock cannon. Traditionally, the cannons should be "fired" daily by the master of the castle, or in this case, the CEO of the corporation. Our helpful maintenance worker provided a demonstration, which consisted of a modest-volume, electronic cannon report, and he said that while we did not see it, the firing is also supposed to result in a wisp of smoke emanating from the cannon barrel.

The third and final (I think) pool area at the Cosmopolitan is within the Marquee Nightclub & Dayclub. I did not visit the club at either the night or day, but I could see the pool area thirty-some floors below the balcony of our suite. There appeared to be not just the large primary pool but also several small private pools, perhaps hot tubs, in front of cabanas. My depth perception may not have been adequate to locate those "cabanas" properly from such a viewing angle, and it is possible that they are some different kind of private facilities on a level different from the club – I didn't check it out, and I just don't know.

(Edit: OK, so now I do know. While they do have some private cabanas at the Marquee pool, those were not what I was seeing from my balcony. I was looking down on the Bungalows, the high-end accommodations that overlook the pool area from much closer than I was. I just couldn't be sure of the vertical separation when looking down from thirty floors above. Each of these three-story bungalows has its own patio with an outdoor bar and Jacuzzi pool. I don't know which ranks as a higher tier on the food chain, these bungalows or the penthouse suites; both are way above my economic stratus regardless of the altitudes. You can see the bungalows in the foreground of the Wizard's first photo of the pools at the end of this review, with the Marquee cabanas and their private hot tubs beyond the main pool.)

Fitness Center
I don't think that I personally have ever used the fitness center at a hotel. Heck, I don't even use the fitness facility at my own condo complex, which might be related to just how un-fit I am these days. Nevertheless, I understand how important such facilities are to many travelers, and the Cosmopolitan has an exceptional one on Level 14 of the West End Tower.

The center offers a bright, pleasant environment and a fine collection of treadmills, elliptical cycles, other exercise machines, and free weights. My impression is that unless they have scheduled some organized group workout, you should not have any difficulty finding a machine to your liking available. And considering that this is the Cosmopolitan, there naturally is attractive artwork throughout the center to sooth your mind as you abuse your body.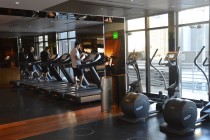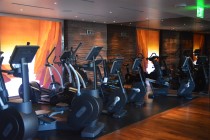 In case you prefer to be more directly competitive in your exercise regimen, they have a boxing ring, which caught me quite by surprise. During my own visit to the Cosmopolitan, I was taking far too much of a beating at the craps table to even consider climbing into the ring with anyone.

Adjacent to the fitness center, they offer two outdoor, rooftop, doubles tennis courts, occupied at but 12.5% of capacity at the time of my visit. I did not ask whether instruction is available.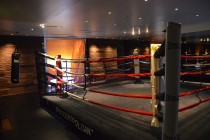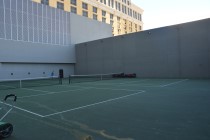 Facilities for Pampering the Body
Immediately beside the Fitness Center on Level 14 of the West End Tower, the Cosmopolitan offers two facilities for pampering that body you might have just worn ragged on the exercise machines. First is the Violet Hour Salon for hair, nails, and beauty treatments. Beside that is the Sahra Spa and Hammam.

Now there's an interesting word: "Hammam." I had to look it up. Do you know what it means without checking? Never mind, I'll tell you. Its origin is Turkish, Persian, and Arabic, and it means "Turkish bath."

I did not enter either of these facilities, so I cannot provide additional, first-hand information. I rather suspect that guests who make use of the services are suitably mollycoddled.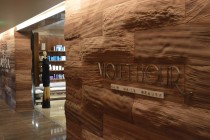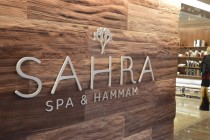 Convention and Meeting Areas
A substantial portion of Levels 3 and 4 of the Cosmopolitan is devoted to convention and business meeting functions. I noted earlier that IBM was holding a Global Partners Leadership Conference during our visit. Since I was not part of that event, I did not experience/examine the conference rooms or learn what support accommodations are available, but I did pass through the registration and lounging areas. I was quite impressed with the spaciousness and the décor.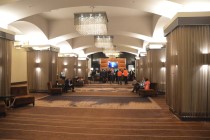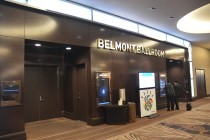 Naturally, some of the art on exhibit is supportive of my earlier use of that word "eclectic," but it does indeed present a pleasant environment for lounging/conversation between convention/conference sessions.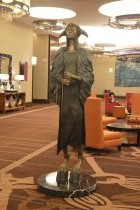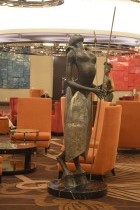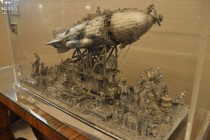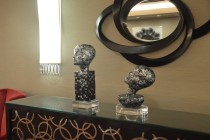 On Level 3, adjacent to the convention spaces, is an area known as The Chelsea, which I did not even see and am only aware of because it appears on the property map. Based on the description at the Cosmopolitan web site, The Chelsea seems to be a combination of private meeting and entertainment space. The following is quoted from that web site:

"With the unveiling of The Chelsea, the newest event and performance space to open at the resort, you're invited to discover endless possibilities when planning your next meeting, concert, convention or sporting event. This 40,000 square-foot venue split over two levels offers guests a more avant-garde approach to meetings and entertainment than currently exists in Las Vegas. The transformable space features cast glass chandeliers, a vintage lobby bar, private VIP opera boxes and a decorative grand staircase. Located just steps from the resort's restaurants, bars and gaming floor, The Chelsea combines flexible design and the latest technology with the resort's purpose-driven planning services."

I'm not sure what that means, exactly, but I think that once again "eclectic" might be a fitting descriptor.

General Public Areas
One memorable focal point of the Cosmopolitan's public areas is The Chandelier, a multi-story glitz splash composed of strings of crystal beads engulfing multiple bars and several semi-private lounging/drinking alcoves.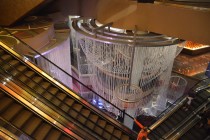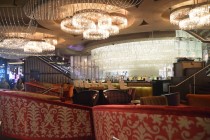 At the base of the Chandelier, right at the edge of the casino floor, there are two more whimsical eye catchers. First is Lee Liberace's prized, rhinestone-encrusted vehicle, styled as a Duesenberg Roadster. As outlandish as this vehicle and the late entertainer may be, the car on display seems to fit right in with the Cosmopolitan décor. Second is a huge, bright red, stiletto pump, which seems to have become a photo-op for everyone who cares to try it on, either as an "Is this my size/style?" shot as shown below or as a snug phone booth/bobsled setting for three on the inside together.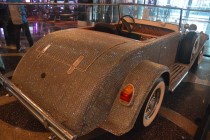 The east ends of Levels 2 and 3, below the Boulevard Pool and above the casino, consist of lounging areas surrounded by clothing stores, restaurants, miscellaneous shops, and even an artist-in-residence studio. Restaurants range from Chinese to Mexican to steakhouse to sushi and beyond.

To me, the intriguing aspect of this commercial mall, in contrast to those in other upscale casinos, is the way the businesses surround open areas for guest relaxation -- comfortable and furnished/decorated as if they were in a fine library or club. I have included a few additional photos of the exteriors of these retail establishments near the end of this review.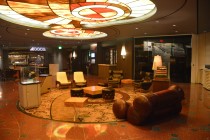 Level 1 also has a number of bars and restaurants extending from the pedestrian entrances right off Las Vegas Boulevard, past the casino pits and on to the hotel's main lobby in the rear, with the parking and valet entrance. If I counted correctly, there are eight bars on that level alone.

Nightclubbing
I did not personally check out the Cosmopolitan's nightclubs, since that is just not my thing – I was there for my own entertainment, not really for the purpose of preparing a review for others.

I have already mentioned the Marquee Nightclub and Dayclub as including one of the Cosmopolitan's swimming pool areas. According to a February 2013 article in the Las Vegas Sun, the Marquee was then two years running as the highest earning nightclub in the country, with 2012 total revenue in the $80 million to $90 million range. The place is currently promoting "Marquee Mondays", and the admission queue on Monday evening of our stay was definitely composed of that young, hip, coifed, and attired demographic I mentioned before, and they did seem ready to party and to be seen just as the crowd did at the Grand Opening.

The second club (?) is new and seems to be some kind of combination of nightclub and performance entertainment venue. It is known as "Rose. Rabbit. Lie.", and the web promotional video left me wondering whether I should abandon the "eclectic" descriptor and just go with "bizarre." It definitely did not seem to be a place that was seeking folks like me, but then neither is any other nightclub. It might be a fine establishment, but I am quite certain that I would not fit in well there.

The Casino and Games
Yes, I know, I know. You are only reading this review to check out the Cosmopolitan's casino, and here I've left that part to the end. Well remember, there's a whole lot more to this casino-hotel than the casino floor.

The Cosmopolitan casino leaves the impression that it is a small casino, perhaps because it is separated into a number of modest-sized pits that are only marginally visible from each other. The Casinocity.com site indicates that the Cosmopolitan has 1,478 gaming machines and 83 table games. The listing on this site (as of this writing) agrees with that number of machines but lists the table games at 91. I didn't count them all myself, but I noted one thing that just might explain the discrepancy.

On my recent visit, I found a table games area near the front (between the front entrance and the Chandelier) that I did not remember having seen before. Perhaps I have not been observant in the past, but I suspect that these tables fill an area previously occupied only by gaming machines. Maybe these constitute the additional 8 tables in the count, though the machine tally was not reduced. I did not play at any of these tables, but I think this likely could be characterized as a Party Pit. The (all-female, I think) dealers were definitely attired differently from those in other pits, and I noticed several of them making valiant efforts to re-tuck themselves back into the confines of the limited fabric available. Sorry, this pit was not staffed during the period that I was taking photos, so you'll have to use your imagination until your next visit.

Near the Chandelier, they have both electronic roulette and electronic craps. I did not check out the rules or limits, and I don't know how these games may contribute to any players club benefits as compared to the slot machines.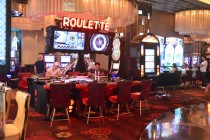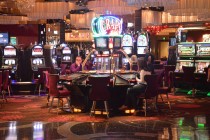 To be honest, I can't really report from personal experience on any of the machines or table games other than craps. As noted before, I was there for my own entertainment and did not adequately gather all the info that would be of interest to others.

The sole craps pit has 8 tables. During my visit, there were always at least a couple of them open, with all of them staffed in the evenings. On Sunday and Monday evenings, table minimums were offered at $10, $15, and $25. Because of my low-roller nature, I didn't pay attention to the maximums. In fact, the only other craps rules that vary between casinos and that I noted were (1) field pays only 2x on both 2 and 12 (unfortunate) and (2) buy bet vig is collected only on the win (favorable). Since I very rarely make field bets anyway, these two rules balanced out just fine for me.

My only other two comments about the craps game are that I consistently lost (as I did at several other casinos on this trip) and that Heather was a very pleasant dealer to have at my table.

I did not check out any of the card games, but I do recall that I asked when I first visited the casino at their opening and learned then that they did not offer Pai Gow tiles and had no plans to introduce the game.

They do have a high limit pit that I did not go into. The high-limit machines are to the left and the few high-limit gaming tables to the right, with a bar and a lounging area between.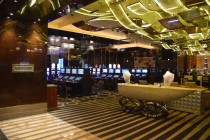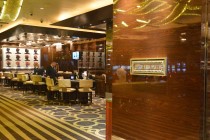 The series of small table game pits continues to the rear of the casino toward the hotel lobby. There are two desks for the Identity players club, one near the Eastside Tower elevators and a second toward the West End Tower elevators.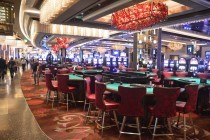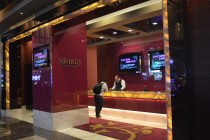 Although the current list of gaming offerings on this site says that there is not a race/sports book at the Cosmopolitan, there really is one located on Level 2, among the shops and restaurants.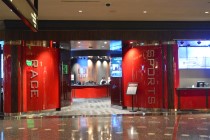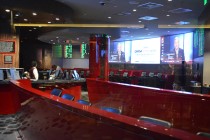 As an annex, there is also a sports bet window located in the Book & Stage bar and performance venue next to the casino pits. I'm not really sure whether the "Book" part of that name is really a reference to a sports-wagering place/window or a reference to a tome from a library. The whole décor of the Cosmopolitan leaves such issues in question. Anyway, that lone Level 1 window was closed the only time I checked it, so I don't know how extensive its hours might be.

Misc. Restaurants and Shops
(Levels 2 and 3)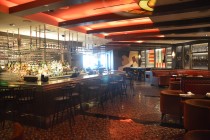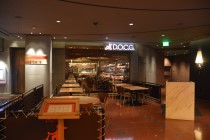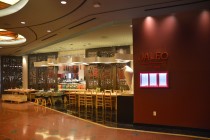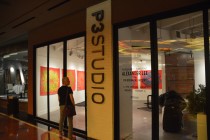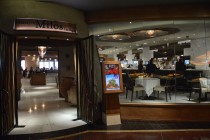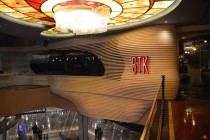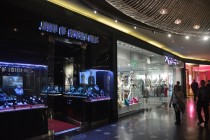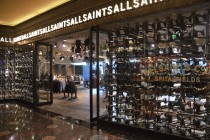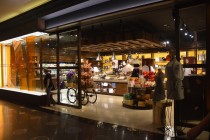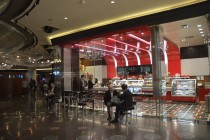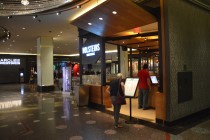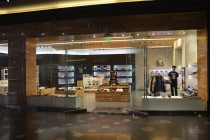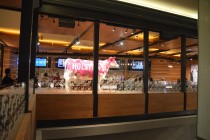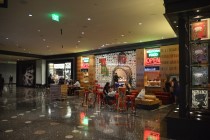 Old Photos
Here are some photos the Wizard took at the Cosmopolitan before I wrote this review.
Exterior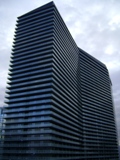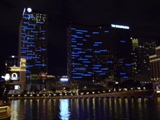 Casino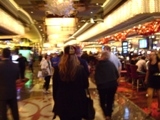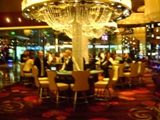 Other Common Space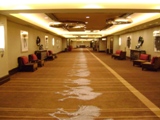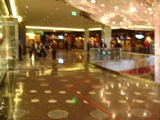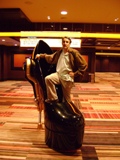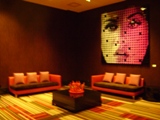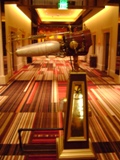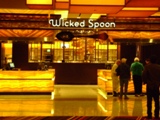 Pools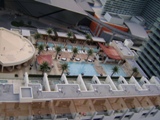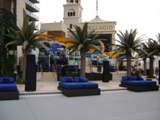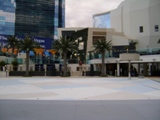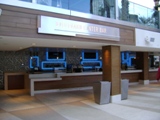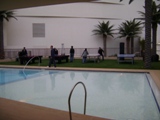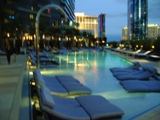 Hotel Room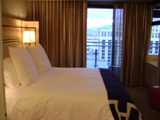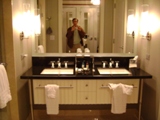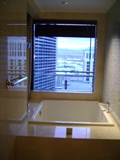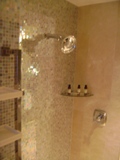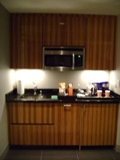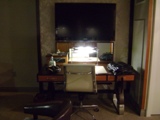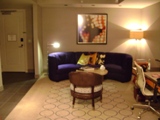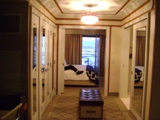 Links
Contact Information
Address: 3708 Las Vegas Blvd South, Las Vegas, NV 89109
Phone: 877-551-7772
Web site: www.cosmopolitanlasvegas.com/
Resort and Parking Fees
| | |
| --- | --- |
| Resort fee | $13.50 |
| Parking fee | Free |
Games at Cosmopolitan
| Blackjack | Location | Decks | Min | Max | Soft 17 | DA | DAS | RSA | Surr | Tables | CSM | Party Pit | 6/5 BJ | Video | H. Edge |
| --- | --- | --- | --- | --- | --- | --- | --- | --- | --- | --- | --- | --- | --- | --- | --- |
| Blackjack | Strip | 8 | 10 | 1000 | H | Yes | Yes | Yes | Yes | 18 | No | Yes | Yes | No | 1.85750 |
| Blackjack | Strip | 2 | 15 | 2000 | H | Yes | Yes | No | No | 18 | No | No | Yes | No | 1.83038 |
| Blackjack | Strip | 8 | 25 | 5000 | H | Yes | Yes | Yes | Yes | 8 | No | No | No | No | 0.49952 |
| Blackjack | Strip | 6 | 100 | 10000 | S | Yes | Yes | Yes | Yes | 3 | No | No | No | No | 0.28507 |
| Blackjack | Strip | 2 | 100 | 10000 | S | Yes | Yes | No | No | 3 | No | No | No | No | 0.25532 |
| Baccarat | # of Tables | Min Bet | Max Bet |
| --- | --- | --- | --- |
| Baccarat | 6 | 25 | 10000 |
| Craps | # of Tables | Min Bet | Max Bet | Odds | Field12 | Video |
| --- | --- | --- | --- | --- | --- | --- |
| Craps | 7 | 15 | 5000 | 3-4-5 x | Double | No |
| Craps | 1 | 5 | 5000 | 2 x | Double | Yes |
| Roulette | # of Tables | Min Bet | Max Bet | Rules | Video |
| --- | --- | --- | --- | --- | --- |
| Roulette | 12 | 10 | 500 | 00 | No |
| Roulette | 1 | 3 | 500 | 00 | Yes |
| Video Keno | Rank | Avg Return | Grade |
| --- | --- | --- | --- |
| Video Keno | 29 | 91.57% | B |