Introduction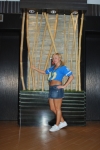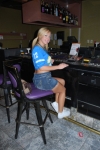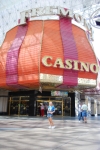 The Fremont opened in 1956 in downtown Las Vegas. At the time, the hotel tower was the tallest building in Nevada (source). In 1983, Sam Boyd purchased the property. Sister Boyd Gaming properties include, among others, two additional downtown casinos, Main Street Station and California.
There is nothing particularly distinctive about the Fremont. If it has a theme, I'm not sure what it is supposed to be. There is no entertainment, tourist attraction, or gimmick to get you through the door. The Fremont appears to be a no-nonsense casino, and based on both its staff and its customers, it caters to an older clientele. There seem to also be a lot of players from Hawaii.
Location
The Fremont is smack dab in the middle of downtown. It occupies the northeast corner of the central intersection of Fremont Street and Casino Center Drive (a.k.a. 2nd Street). The other three casinos at that intersection are Binion's, the Golden Nugget, and the Four Queens. The popular "Fremont Street Experience" is right outside Fremont's front doors.
Hotel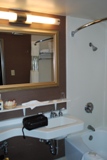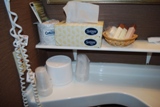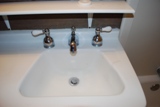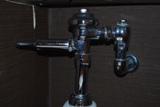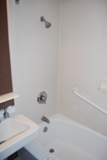 According to the 2009 American Casino Guide, the Fremont has 428 rooms and 24 suites. By way of comparison, the MGM has 5005 rooms and 752 suites.
I tried to check in at about 4:30 PM in the afternoon. There were two windows open at the registration desk. It was not clear if there was supposed to be one line or two, because suitcases in the middle of the lobby made it confusing as to who was in line and where the lines started and ended. Rather than try to figure it out, I schlepped my suitcase to the casino to play some blackjack until things in the hotel lobby became less chaotic.
About an hour later, I returned. There were still two windows open but nobody clearly in line for either. So, I stood in the middle, in an attempt to straddle both lines. As I was waiting, two elderly women arrived to check in as well. Passing me by and thwarting my plan, they stood directly behind one of the patrons at the counter. Naturally, theirs was the window that opened up first.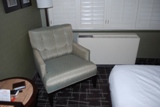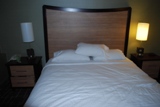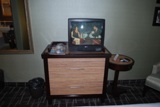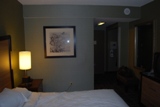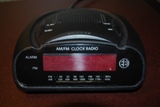 My room on Thursday night, December 10, 2009, was $40 plus 12% Nevada hotel tax. There was no "resort fee." My room was small and the furnishings were simple, but it was sufficiently clean and comfortable. Heating and cooling was done by an individual unit by the window. The television was the old heavy kind with a medium-sized screen. The bathroom was stocked with plastic cups and small bottles of the usual stuff. The bed had a nice comforter. The mattress was a bit on the soft side, but I've slept on much worse. Basically, the room was the caliber of a decent roadside motel.
Local calls were 50 ¢ and long distance calls were $4.50 for the first minute and 50¢ for each additional minute. I did not notice an Internet cable nor signage that it had WiFi. The safe was free. It was not one of the usual compact electronic units where you enter in your own four-digit code, but instead a big heavy thing with an actual key. It has probably been around for decades, but served its purpose just the same.
Pool
The Fremont does not have a pool. Guests are invited to use the pool at the Fremont's sister property, the California, which is a block away on Ogden and 1st Street.
Fitness Room/Spa
Nope.
Shuttle
The Fremont runs a free shuttle for hotel guests of the Fremont, California, and Main Street Station to and from Sam's Town. Though the website isn't specific, it appears that same shuttle stops somewhere on the strip too.
Restaurants
The Fremont offers the following eating options:
Paradise Cafe and Buffet
Second Street Grill
Tony Roma's
Lanai Express
Dunkin Donuts
Following is what I can comment on.
Paradise Cafe and Buffet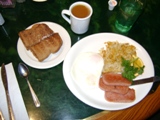 This is a cafe and buffet in one place. They ask when you enter which you want and seat you accordingly. Prices for the buffet were as follows:
Breakfast: $6.79
Lunch: $7.49
Dinner: $12.99 (except $15.99 for the "seafood fantasy" on Tuesday and Friday.)
Brunch: $10.99
I was there for breakfast and asked to peruse the buffet before making a decision on what I intended to do. The hostess obliged. As I have stated in other reviews, I use the presence of bagels with lox and blackberries and/or raspberries as a litmus test for a good breakfast buffet. I noticed none at the Fremont's, so I chose the cafe.
It isn't every day I see spam on a menu, so I ordered the spam and eggs. My meal was satisfactory, and the service was adequately fast. However, my waitress was somewhat surely and curt. Calling this place "paradise" is quite the misnomer.
Tony Roma's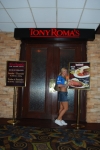 In my opinion, Tony Roma's is the most endearing feature of the Fremont. I've been a Tony Roma's fan for two decades. The ribs are simply delicious; they are one of my favorite guilty pleasures. The atmosphere at the Fremont franchise screams simplicity, and though the line sometimes runs long, the food makes up for it. The service was fine and timely.
Lanai Express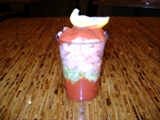 Here are a few prices:
"Big breakfast" $5.89
3-egg omelet $5.89
Spam masubi $1.59
Fremont chowmein $6.89
Coffee $1.59
Shrimp cocktail $0.99
I tried the 99¢ shrimp cocktail, which I have to say was pretty bad. Two bites was all I could stand. The shrimp were too small, hard, and bitter. If my mother saw me throwing the rest away, I'm sure I would have been reminded that starving children in Ethiopia would be happy to finish it. Unfortunately, they are never around when you need them.
Casino
According to the 2009 American Casino Guide, the Fremont has 30,244 square feet of casino space. By way of comparison, the MGM down on the strip has about 5.2 times as much at 156,023. According to the Nevada Gaming Control Board, the Fremont has 30 table games (although I only counted 24) and 1,070 slots. The table games offered were blackjack, craps, roulette, Three Card Poker, Pai Gow Poker, Texas Hold 'Em bonus, and Let it Ride.
Like all downtown properties, the casino is very smoky. Previous air quality testing I did showed the Fremont to be a little better than average for downtown, but not by much.
Both the staff and patrons were getting up there in age. The Fremont is quiet and play moves a bit slow, which perhaps is why you see a lot of players over the age of 50. As with any casino, the dealers ranged in personality and service, but most just quietly dealt the cards. A sign of a good dealer, in my opinion, is one that gives correct advice when asked. Once I saw another player show the dealer his cards and ask, "What would you do with this?" The dealer quipped back, "It's up to you." Clearly she didn't care, and she seemed to resent being bothered. Cocktail service was frequent. Coffee is served in Styrofoam cups. Personally, I prefer a ceramic cup.
Blackjack
The Fremont has a standard set of blackjack rules via which all the rules go against the player: dealer hits a soft 17, no surrender, no double after a split, and no re-splitting aces. The number of decks is 1, 2, or 6. In the single-deck game, blackjack pays only 6 to 5. According to my house edge calculator, the lowest house edge, found on the double-deck game, is 0.60%. That is not very competitive. The Fremont does deserve some credit for offering a decent game to low rollers: $3 blackjack that pays 3-2 on a blackjack in the six-deck game.
Craps
The Fremont is stingy in craps, offering only 2x odds. However, I give them credit for a low minimum of $3.
They also offer what is one of the stingiest promotions I have ever seen. It is called the "Sharpshooter Roll-athon." It pays prizes based on the number of times the shooter throws the dice. Prizes are only paid to the shooter, he must have a Fremont player card, and he must place a minimum $5 line bet. The following table shows the prizes available, probability of winning, my estimated value, and the expected return. The lower right cell shows a value of 11.4¢ per shooter. With their ability to buy in bulk, the cost to the Fremont would be significantly less.
Sharpshooter Promotion
Event
Win
Value
Probability
Return
25-39 rolls
Baseball hat
$3
0.031004
$0.093012
40-59 rolls
Umbrella
$5
0.003582
$0.01791
60-74 rolls
Cotton polo shirt
$15
0.000174
$0.002609
75+ rolls
Silk polo shirt
$25
0.000021
$0.000534
Total
0.034781
$0.114065
Keno
I picked up a keno guide and did an exhaustive analysis when I got home.
Of particular interest is the "Super Eight" game, which I analyzed on my companion site Wizard of Odds. Briefly, a ticket costs $15 and returns $12.73 on average, for a rate of return of 84.89%. As far as I know, that is the highest return for a non-progressive live keno game in Las Vegas.
There is also a pick-5 progressive game for 95¢ It starts at $1,000 and caps at $5,000. At a $1,000 jackpot, the return would be 67.89%. For every additional $100 in the meter, the return goes up by 6.45%. At $1473.04, the return is 100%. In the unlikely event the jackpot ever reaches $5,000, the return would be 339.43%. Please let me know if that happens (but I doubt you will).
The following table shows the return of all the keno games. If the Super Eight is too rich for your blood, the next best non-progressive game is pick-3 on the 80¢ card at a return of 83.25%. To exceed that return, the progressive meter would need to reach $1,226.34. For games that offered a "free pay," I valued it as a win of 1.
Fremont Keno
Game
Pick
Return
Basic
1
75%
Basic
2
72.15%
Basic
3
74.93%
Basic
4
76.22%
Basic
5
77.72%
Basic
6
74.96%
Basic
7
71.86%
Basic
8
70.44%
Basic
9
70.12%
Basic
10
68.36%
Basic
11
67.58%
Basic
12
65.99%
Basic
13
66.67%
Basic
14
68.71%
Basic
15
66.16%
80-cent rate
2
75.16%
80-cent rate
3
83.25%
80-cent rate
4
78.03%
80-cent rate
5
81.96%
80-cent rate
6
75.58%
80-cent rate
7
75.85%
80-cent rate
8
72.39%
80-cent rate
9
73.73%
80-cent rate
10
64.91%
Super Eight
84.89%
Catch All Progressive
?
Roulette
There are two double-zero roulette wheels.
Video Poker
According to vpfree2, the Fremont has some liberal video poker games. Here is what they indicated at the time of my visit. The return percentage is indicated in the parenthesis, based on optimal strategy. As this photo shows, I can vouch that the pick 'em poker was there.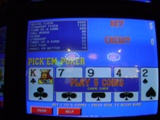 Full pay pick 'em poker -- 25¢ (99.95%)
9-5 triple bonus -- 25¢ - $5 (99.80%)
10-6 double double bonus -- $1 - $5 (99.68%)
9-6 jacks or better -- $25¢ - $1 (99.54%)
Slot tickets are valid for 30 days, which I think is too short.
Sports Book
The Fremont has one of the bigger sports books downtown. From the looks of the clientele, I think the same faces spend all day there. They have six betting windows, 20 seats with video monitors, and 13 seats without monitors. I think the monitors are for watching horse races only. Signage indicates that sports bettors must bet $20 to get a drink ticket (the magic number for race bettors is $6 for race bettors), with a maximum of two tickets per transaction. Parlay and teaser odds can be found in my sports book survey. Sports tickets are valid for 60 days.
Poker
None.
High-Limit Areas
None.
Non-Smoking Areas
None. Smoking is allowed throughout the casino. Nevada law prohibits smoking in restaurants.
Player Club
The Fremont belongs to Boyd Gamings "B Connected" player reward program. The other downtown Boyd properties, Main Street Station and California, also belong. B Connected points can be redeemed at all Boyd properties, which also include Sam's Town, Suncoast, Orleans, and Gold Coast, but play at those properties counts towards a different program.
The B Connected program is tier-based, meaning the higher your level, the more perks you get. The lowest level is the red card, the second level is the blue card, and the highest level is the green card. Actually, the B Connected brochure refers to the levels as "ruby, sapphire, and emerald," but I'm taking a stand against using multi-syllabic words when simple ones will suffice. A significant benefit to the higher levels is machine players earn double points with the blue card and triple points with the green card. Another benefit of the green card is you can't be deported (just kidding).
To achieve the higher levels, players must earn "tier points." Slot players earn one tier point for every $1 bet. I don't know how table game players advance in level. It takes 30,000 tier points earned within one year for tourists and six months for locals to earn the blue card. One must accumulate 200,000 points in the same timeframes to garner a green card.
In addition to tier points, there are also slot points, which are redeemable for comps and cash back. The B Connected card application says that machine players earn one point for every $1 bet. However, VPfree2 says that "better" video poker games require $3 bet to earn one point. I do not know which machines count as "better." Redemption rates are 600 points for $1 in comps, or 1000 points for $1 in cash back.
Here are the redemption rates for slots and video poker that isn't "better."
Red card: 0.1% cash back, 0.17% comps.
Blue card: 0.2% cash back, 0.33% comps.
Green card: 0.3% cash back, 0.50% comps.
Here are the redemption rates for "better" video poker.
Red card: 0.033% cash back, 0.056% comps.
Blue card: 0.066% cash back, 0.111% comps.
Green card: 0.100% cash back, 0.167% comps.
My Own Gambling
I played the double-deck blackjack game for about 3.5 hours at $100 a hand. As mentioned above, the house edge in that game is 0.60%. Assuming 70 hands per hour (source), my expected loss was 3.5 × $100 × 70 × 0.006 = $147. Unfortunately, my actual loss was $1,300.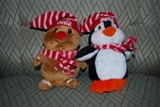 The Fremont was running a promotion at the time I was there through which table game players could earn a small stuffed animal toy for two hours of play with an average bet of $20. The maximum one could earn was two per day. Although the rules said you had to request the toys the same day they were earned, I asked the following morning and was given two.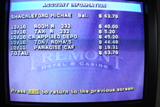 When I was ready to leave, I asked a floor supervisor to see what he could do about my room charges. He looked up my play on the computer and comped my $40 room. He did not comp my charges of $44.48 at Tony Roma's or $19.31 at the Paradise Cafe. It is standard to comp back about 1/3 the expected casino profit from the play. Another major casino chain assumes 70 hands per hour in blackjack, with a house edge of 0.75%. That would make the value of my play 3.5 × $100 × 70 × 0.0075 = $183.75 in comps. The $40 I got back was 22% of my expected loss, which I think was stingy, especially given how much I lost and the lousy blackjack rules I was up against.
Lines
The lines at the hotel registration and cashier were evidently McDonalds style, with one line per window. The player club was Wendy's style, with one line leading to multiple windows. As I have written many times in other reviews, I am a big proponent of the Wendy's method of waiting in line.
Parking
As far as I know, the Fremont is the only hotel in Las Vegas to offer valet parking only. As usual in Vegas, valet parking is "free" but tipping is always expected. The valet entrance is on Casino Center Drive. The door by the drop off leads to the backside of the property, right by the hotel check in.
I found the valet service to be very friendly and fast. It only took about 30 seconds to produce my car both times I asked for it. Kudos to the valet guys for an outstanding job. Compared to the mediocre service I received everywhere else at the Fremont, the valet really stood out.
Suggestions for Improvement
There are lots of areas where the Fremont could improve. Here are some major ones.
Offer more than 30 days expiration on the slot tickets.
Provide more generous prizes for the Sharpshooter promotion.
Set more generous blackjack rules, at least on the $25 tables.
Give more generous comps.
Staff friendlier dealers.
Create a single line at the hotel registration desk and cashier windows.
Links
Acknowledgement
I'd like to thank to Lisa Furman for modeling in some of the pictures. Lisa invites you to visit her page at ModelMayhem.com.
Contact Information
Address: 200 East Fremont Street, Las Vegas, NV 89101
Phone: 800-634-6460
Web site: fremontcasino.com
Resort and Parking Fees
| | |
| --- | --- |
| Resort fee | $13.50 |
| Parking fee | Free |
Games at Fremont
| Blackjack | Location | Decks | Min | Max | Soft 17 | DA | DAS | RSA | Surr | Tables | CSM | Party Pit | 6/5 BJ | Video | H. Edge |
| --- | --- | --- | --- | --- | --- | --- | --- | --- | --- | --- | --- | --- | --- | --- | --- |
| Blackjack | Downtown | 6 | 3 | 200 | H | Yes | No | No | No | 4 | Yes | No | Yes | No | 2.14296 |
| Blackjack | Downtown | 2 | 5 | 1000 | H | Yes | No | No | No | 7 | No | No | No | No | 0.60225 |
| Blackjack | Downtown | 1 | 5 | 200 | H | Yes | No | No | No | 1 | No | No | Yes | No | 1.69824 |
| Craps | # of Tables | Min Bet | Max Bet | Odds | Field12 | Video |
| --- | --- | --- | --- | --- | --- | --- |
| Craps | 4 | 3 | 3000 | 2 x | Triple | No |
| Roulette | # of Tables | Min Bet | Max Bet | Rules | Video |
| --- | --- | --- | --- | --- | --- |
| Roulette | 2 | 5 | 100 | 00 | No |
| Video Keno | Rank | Avg Return | Grade |
| --- | --- | --- | --- |
| Video Keno | 18 | 92.07% | B+ |