Introduction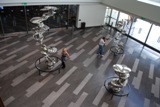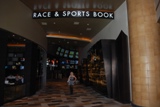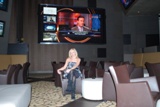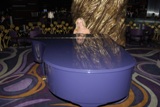 Introduction
In their quest to keep their dominance over the Las Vegas strip, MGM Resorts constructed the CityCenter, which opened in December 2009. There are currently ten hotel-casinos being operated by MGM and eight being operated by Caesars (Harrah's). Perhaps one could say the main attraction in the CityCenter is the Aria Resort & Casino. With the MGM Players Club's conversion to M Life I was offered a great deal for my history of low-level play: $119 per night plus two-for-one tickets to any MGM Resorts show. This rate is slightly discounted from their advertised rate of $149 per night on the Aria website. Unfortunately, they charge the dreaded resort fee, which including tax is an additional $22.40, making the total charge for three nights $467.04. I personally think all advertised rates should include the resort fee; any hotel could offer a room for $0.01 and charge a $100 resort fee. The Aria resort fee includes "in-room Internet, campus-wide wireless Internet, in-room local & toll-free calls, fitness center access, daily newspaper, two welcome cocktails per stay and airline boarding pass printing." Perhaps if the resort fee included two cocktails per day the fee would be less painful. I just have to accept the fact I was suckered into paying $67.20 for two well drinks and a variety of other services I do not need.
Front Desk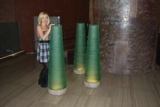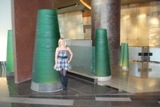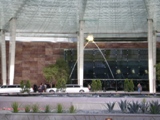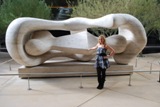 This offer required me to make my reservation via telephone; the staff at the Aria VIP desk were very helpful and kind. I told them I was going for my 25th birthday and the reservation agent said she made a note of that on my reservation. I decided to try the $20 upgrade trick to see if I can get anything for living to a quarter of a century. Upon requesting this, the check in person told me that she could give me a complementary upgrade to a city view room, but the same kind of room. She said she could give me a discount on one of the suites, but I declined, feeling the extra $20 was well worth the view I would have. Sure enough the view was amazing; there was a view from as far to the left as Paris, and to the right was a view of Monte Carlo with a forward view of Vdara with Planet Hollywood and MGM Grand in the distance.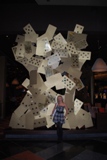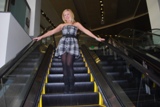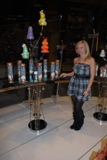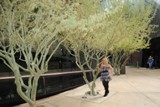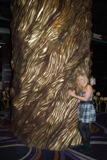 The offer for two-for-one show tickets required me to make the reservation via the Aria VIP Services. I chose to see "O". After giving me my room confirmation number the lady spent a few minutes typing on the computer and said, "Your reservation has been made." I asked her where the seats were and she told me they were in the VIP section. I inquired how much they were going to be and she said $190 (ouch!). I was hoping to get two less-expensive tickets, perhaps in the upper orchestra, but my curiosity for a VIP seat made me accept the charges. One interesting thing is, after giving my credit card number at the time of the room reservation and after the show reservation, I did not see any charge to my card. I figured I had a large bill to look forward to upon checkout.
My Room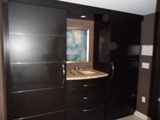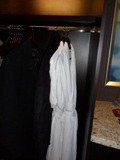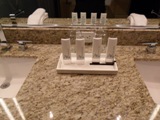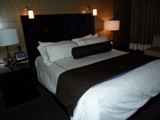 Unfortunately, upon arriving to the room the maid cart was still present and the room was still being serviced. I was a bit annoyed I had to wait for the room to finish, and for the fact they sent me up to a room that was not ready. The only plus is that the maid told me that we were getting a brand new comforter, quite a luxury since other hotels rarely change theirs.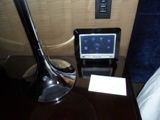 The rooms are all electronically controlled; they are "smart rooms." The room keys have an RFID chip in them so one just needs to wave the key in front of the door to open it. When you first enter the room puts on a show, the curtains open and the television turns on. Next to the bed is a small tablet computer that allows for total control over the lights and curtains. The smart room seems like a nice touch to have, but I found it very frustrating trying to use the tablet by the bed; one wrong press and the TV and lights will all turn on. I am very tech savvy but found this setup to be quite annoying.
The room is advertised as 520 square feet, which seemed normal for a nicer strip property. The shower and tub are separate, but in the same enclosure. One could shower while their buddy takes a bath. One thing that was annoying is the hotel is trying to be eco-friendly and has installed low-flow toilets. As embarrassing as it was to request the service, the toilet broke after one use, but was fixed upon our return from our evening out. The room is advertised as containing an in-room safe, but this was nowhere to be found. One nice amenity was the inclusion of two bathrobes which were quite comfortable.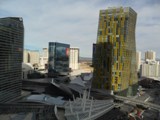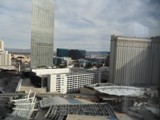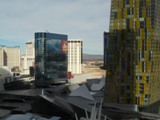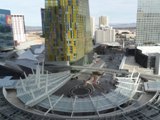 The pictures above are of the view from my room.
Spa
Inside the Aria I decided to spend a few hours in their spa. Unfortunately this was not included in the daily resort fee and was an extra $30 per person. According to the Aria website the facilities included a "Shio Salt Room," which is a room constructed out of salt bricks containing vibrating chairs in rhythm to sensual music. "Ganbanyoku Beds" are also featured, which the website describes as "heated stone beds that can increase circulation, accelerate metabolism, and eliminate toxins from the body." Finally, if one felt their $30 wasn't worth it yet, the last feature is an outdoor balcony, with a therapy pool! Browsing the menu of spa services I discovered some interesting options: a person will help you stretch before or after your workout, $45 for thirty minutes. One can go for an indoor hike inside the hotel for $50 an hour. Perhaps the guests need the guide to lead the way up the stairs to the top of the sixty-one stories, I could only imagine the parade of sweaty people marching through the casino.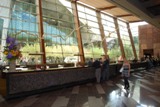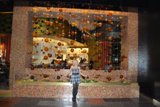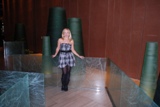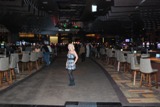 Entertainment
The entertainment options for the Aria include their Cirque Du Soleil show Viva Elvis, which has a very mediocre reputation. I decided to pass on seeing it. For evening entertainment the Aria offers several nightclubs and lounges: Haze is listed as their signature club. According to their website it is open Thursday, Friday, and Saturday. Next is the Gold Lounge, open everyday except Sunday, near the Viva Elvis Theatre. They are known for offering all-you-can-drink well/beer for $10 from 9-11PM. The Deuce Lounge is another casino bar that features high stakes gaming. When I went there all the tables were closed and there were only a few people lounging.
Dining
Aria offers several dining options. There is a buffet, but I did not eat there, as I am not a fan of buffets. For casual dining there is a Thai restaurant, Lemongrass. Near the Poker Room is Skybox Sports Bar and Grill. This restaurant offers typical pub food. The coffee shop at Aria is called Café Vettro, which I describe later. Jean Phillippe Patisserie offers crepes, sweets, and sandwiches. Sweet Chill is a small ice cream shop that has coffee and pastries. Perhaps my favorite feature of Aria is the lack of a Starbucks, as I am a very bitter ex-employee.
On the Aria website they list nine restaurants as fine dining. Including the buffet, this makes for a total of seventeen places one can get food. Considering there are 4,004 rooms (including the suites) one can definitely find any type of cuisine. For fine dining the offerings are Barmasa, a sushi place. Shaboo is a shabu-shabu hot pot restaurant. They are only open Friday and Saturday. Sage is an American restaurant offering steaks, chicken, duck, pasta and assorted seafood. They are closed on Sundays. Julian Serrano is a Spanish Tapas restaurant. They offer a variety of ceviches and paella. I have learned the hard way that the small prices of each dish really add up, as one needs to order many to make a complete meal and each plate usually has no more than four small pieces on it. Jean Georges Steakhouse is a traditional steakhouse offering expensive à-la-carte meats. Sirio Ristorante is an Italian restaurant offering the normal selection of pizza, pasta, and other traditional Italian dishes. It is very expensive. American Fish is a Michel Mina restaurant. They are closed on Mondays. Blossom is their Chinese restaurant offering traditional dishes and some expensive fancy seafood items; the lobster and fresh fruit dish is $160 and must be ordered 24 hours in advance. Union Restaurant & Lounge is another American restaurant that has a contemporary atmosphere. One feature commonly in strip hotels that was absent is a food court. I figured Aria was not generous enough to offer their guests some cheap fast food.
Using the stingy comp Aria had given me my spouse and I entered the short line to get into Café Vettro. This is the coffee shop restaurant for Aria. The restaurant is huge and has windows that look out into one of the drive up entrances to Aria with the Cosmopolitan to the left. The food offerings were standard coffee shop fare, but were very expensive. I ordered a traditional breakfast consisting of eggs, bacon, toast, and hash browns. My spouse ordered a waffle. The food was very disappointing for my meal. The hash browns were soaked in oil and the bacon was rubbery. My spouse loved his waffle, so perhaps that is something to get when attending Café Vettro. The total check for my food, my spouses waffle, and one cup of coffee came to $29, just enough to be covered by the lousy comp.
Casino
Gaming is perhaps the most important part of this review. The Aria's website boasts they have 150,000 square feet of gaming space, which is approximately equal to the MGM (156,023). After exploring both properties I felt Aria spaced out their tables and equipment more than MGM.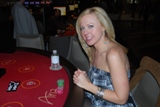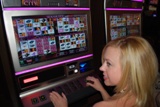 According to their website Aria offers the following games: Blackjack, Craps, Baccarat, Roulette, European Roulette, Mini Baccarat, Pai Gow, Pai Gow Poker, Three Card Poker, Ultimate Texas Hold'em, Crazy 4 Poker, Let It Ride, Casino War, Blackjack Switch, and Big 6. Upon exploring the casino on Sunday afternoon I discovered the following betting limits and rules:
Blackjack (shoe): Double Deck, Minimum $25/50, Maximum $5,000, dealer stands on a soft 17.
Blackjack (continuous shuffler): Minimum $25, Maximum $10,000. This is the bulk of their blackjack offerings and lots of people were playing.
Craps: Minimum $10, Maximum $3,000, 3x4x5 odds, Field Pays 2-1 on 2 and 3-1 on 12, Fire Bet Not Available.
Baccarat (Big Table): It was advertised on their website but was nowhere to be found. I could not find the high limit room.
Mini Baccarat: Minimum $50, Maximum $1000.
American Roulette: Minimum $5, Maximum $5000. By the Pai Gow and Pai Gow Poker Tables.
Pai Gow: Minimum $25/50, Maximum $3000. On the casino floor near the city bar.
Pai Gow Poker: Minimum $15/25/100, Maximum $3000. In the section with all the other Asian games.
Three Card Poker: Minimum $10, Maximum $1000.
Ultimate Texas Hold'em: Minimum $15, Maximum $1000.
Crazy 4 Poker: Minimum $15, Maximum $1000.
Let It Ride: Minimum $5, Maximum $1000.
Casino War: Minimum $10, Maximum $1000.
Blackjack Switch: Minimum $15, Maximum $1000.
Big 6: Minimum $2, Maximum $300.
According to VPfree2.com, the best Video Poker at Aria is 9/6 Jacks or Better, 8/5 Bonus Poker, 9/6 Double Double Bonus, Illinois Deuces Wild, 9/5 and 8/5 Jacks or Better. Searching for all of these locations I discovered that if one is to change the credit unit to $5 they can play 9/6 JOB. For dollar players the most common machine was 7/5 JOB. And for low-level betters like myself, quarter video poker had a lousy pay table for deuces wild, 250/20/12/9/4/4/3/2/1.
Drink service was adequate, as I recalled from my last play at Aria they had excellent coffee. This was reconfirmed. The drinks for table and machine players are served in full-size rock glasses and the portions were very generous.
The new M Life program is points based. According to their website a player earns ten points for every two-dollar bet in the slots, and ten points for every ten-dollar bet in video poker, making each slot point worth twenty cents, and each video poker point a dollar. This point system allows players to earn more points per dollar than the rival Caesars (Harrah's), but they have to earn a lot more "points" to upgrade to the next tier. Sapphire is 0 to 24,999 points, Pearl is 25,000 to 74,999, Gold is 75,000 to 199,999, and Platinum is 200,000 or more. There is a rumor of a Noir level according to an article published by Bob Dancer; maybe this is like the mysterious Chairman tier of the Caesars Total Rewards Card. The tier status, like that of Total Rewards, is good for twelve months after obtaining the status. The program seems a bit stingy, as one can earn "Diamond in a Day" at a Caesar's property by putting $30,000 through the video poker machine, but at MGM the closest they get is Pearl for betting $25,000, whereas a slot player only has to lose $5,000 to gain the same status. Like all other casinos, the MGM is clearly catering to the slot jockey!
My Own Gambling
Since I am normally a red chip player I did not even bother asking for anything as I took up room on the tables with my nickels. The floor man did tell me that they only rate players at $25 or more at Aria. I did play Pai Gow Tiles at $25 a hand, sometimes betting 2 hands for about an hour and had terrible luck, my average hand was around a 5/3.
When I checked out of the Aria I was down $200 play pai gow. Two days later, on my last night in Vegas, I decided to return to the table to try to get my money back plus some more! I sat down at the $25 a hand Pai Gow Tiles table around 11:00PM with $500. I played $25 a hand enjoying discussion with several of the other players as well as learning several different deliveries of the tiles. My favorite one was man walking up stairs, golden gate bridge was also nice. What I found very interesting is some of the dealers would deliver the tiles if I named the shuffle and others insisted that I had to rearrange them.
I had a great time playing, I felt it was not a game I had to think about too much and accepted the many cosmopolitans that the drink girl seemed to always have waiting for me when I finished my current one. I made a deal with the dealers that every time I won I would tip them $1. After what only felt like an hour I looked at my watch, it was 6:00AM. I was only down about $200. I blame my following actions on stupidity, intoxication, and lack of sleep: I put the rest of my money out and said "double or nothing". The dealer gave me a 4/3 while giving herself Pair (I don't remember which one) / seven. I walked back to my room furious with myself for playing so foolishly, but did remember the pit boss said I should get something good for my action. He told me to go inside the casino office which was located next to the Pai Gow Tables.
I figured I had played for seven hours with an average bet of $25. Since I played alone most of the time I estimated at least 45 hands per hour. This gave me a total action of about $7,875. The house edge when using the house way (which I used most of the time) according to the Wizard of Odd's website is 2.44 percent. This made my expected loss $192.15, which is what it was about before I became impatient. Forty percent of the expected loss, which is standard for comp purposes, should have been a comp worth $76.86. Instead the person in the casino office gave me a $30 breakfast comp and wiped out the small amount of MLife express comps I had earned. I was very disappointed with the stingy comp, I had hoped they would have taken care of one of my room nights or the show ticket charges, but as it is with most strip properties I got nothing.
Shopping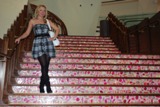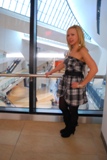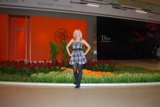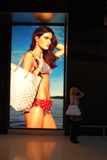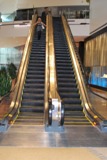 Crystals is a large high-end shopping center next to the Aria. I didn't go there, but the Wizard did, who took these pictures with his friend Lisa.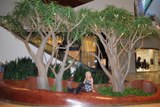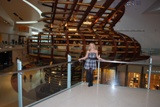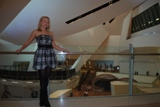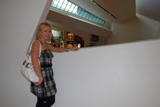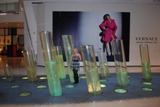 Summary
In the end I felt Aria is a nice addition to the strip. The design is very modern and having a brand new hotel was quite a new experience. The dealers were some of the friendliest I have ever played with and all the employees seemed to be smiling. I did go on this trip for my birthday, and much to my surprise a plate of cookies and chocolate covered strawberries were waiting for me in my room with a birthday card from the director of guest services. Perhaps she saw the note the reservationist had made. I would recommend staying at the Aria to anyone who can get a great deal; other than the long walk from the strip it is a great place to stay.
Links
Acknowledgements
The Wizard would like to thank Nick for the review and Lisa for modeling in the pictures.
Contact Information
Address: 3730 Las Vegas Blvd, Las Vegas, NV 89109
Phone: 866-359-7757
Web site: arialasvegas.com
Resort and Parking Fees
| | |
| --- | --- |
| Resort fee | $13.50 |
| Parking fee | Free |
Games at Aria
| Blackjack | Location | Decks | Min | Max | Soft 17 | DA | DAS | RSA | Surr | Tables | CSM | Party Pit | 6/5 BJ | Video | H. Edge |
| --- | --- | --- | --- | --- | --- | --- | --- | --- | --- | --- | --- | --- | --- | --- | --- |
| Blackjack | Strip | 6 | 5 | 200 | H | Yes | Yes | No | Yes | 2 | - | No | Yes | Yes | 1.91020 |
| Blackjack | Strip | 8 | 10 | 5000 | H | Yes | Yes | No | No | 9 | Yes | No | Yes | No | 2.00481 |
| Blackjack | Strip | 6 | 25 | 5000 | H | Yes | Yes | Yes | Yes | 10 | No | No | No | No | 0.48263 |
| Blackjack | Strip | 6 | 25 | 10000 | H | Yes | Yes | Yes | Yes | 10 | No | No | No | No | 0.48263 |
| Blackjack | Strip | 6 | 50 | 10000 | S | Yes | Yes | Yes | Yes | 8 | No | No | No | No | 0.28507 |
| Blackjack | Strip | 2 | 100 | 10000 | S | Yes | Yes | No | No | 6 | No | No | No | No | 0.25532 |
| Baccarat | # of Tables | Min Bet | Max Bet |
| --- | --- | --- | --- |
| Baccarat | 22 | 50 | 20000 |
| Craps | # of Tables | Min Bet | Max Bet | Odds | Field12 | Video |
| --- | --- | --- | --- | --- | --- | --- |
| Craps | 10 | 10 | 5000 | 3-4-5 x | Triple | No |
| Craps | 1 | 5 | 2000 | 2 x | Double | Yes |
| Roulette | # of Tables | Min Bet | Max Bet | Rules | Video |
| --- | --- | --- | --- | --- | --- |
| Roulette | 11 | 15 | 1000 | 00 | No |
| Roulette | 2 | 5 | 2000 | 00 | Yes |
| Roulette | 1 | 50 | 1000 | Euro | No |
| Video Keno | Rank | Avg Return | Grade |
| --- | --- | --- | --- |
| Video Keno | 61 | 88.58% | D |