Introduction
On Thursday, May 12th, 2022 the Denver Broncos young and talented star wide receiver, Jerry Jeudy, was arrested by the Arapahoe County Sheriff's Department, and he was charged with second - degree criminal tampering with a domestic violence enhancer. This crime is just a misdemeanor in Arapahoe County, Colorado.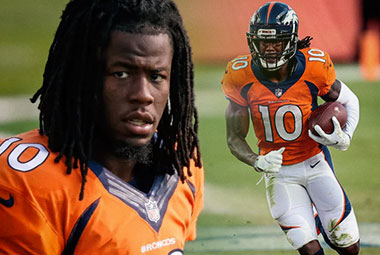 Still in Lockdown
Jeudy is currently being held without bond up until he has the opportunity to appear before a judge in the Arapahoe County Court at 8:30 a. m. on Friday, May 13th, 2022.
No Physical Contact Made
Arapahoe County Sheriff Tyler Brown mentioned that during a Thursday afternoon press release that no physical contact was made in the dispute between Jerry and the mother of his 1 - month - old little daughter.
"It solely involved property, and there was no damage to property," the Arapahoe County Sheriff Tyler Brown explained.
Brown also said that according to Colorado law, the domestic violence enhancer was added to the charge because of the relationship between Jeudy and the mother of his child. Per Colorado law, the domestic violence enhancer prevents the charged individual from being released from jail at least until they see a judge.
What actually Occurred during the Incident on Thursday
Brown stated that Jerry prohibited the woman from getting several items which just so happened to include her wallet, medical information for the child, as well as a car seat for Jeudy's daughter.
In the police report filled by the Arapahoe County Sheriff's Department, the mother of Jeudy's child told the deputy that things began Wednesday night, and that Jerry put her wallet and the medical paperwork in his vehicle at their home so she that she was unable to retrieve them.
The women involved said that she wanted to go back to Virginia, but that she was unable to leave Colorado without those important possessions. She told the deputy that she didn't want Jeudy to get in "trouble," and that she just wanted to get her items back from Jerry so that she could leave.
Jerry confessed to locking some things of hers in his car, including baby formula, because the woman took one of his 3 - cellular telephones, and that she wouldn't give it back to Jeudy.
Brown also stated that the deputies were sent over to an Arapahoe County residence at 10:15 a. m. for a "keep the peace" request. Brown mentioned that the deputies were then made aware that Jeudy was withholding several items of the woman in order so that she was unable to leave the residence, and that the mother of his daughter needed use a phone at a neighbor's home to call the police.
In a recently released media statement, the Denver Broncos organization said, "We are aware of the matter involving Jerry Jeudy and are in the process of gathering more information."
The Broncos are presently in their NFL offseason meetings and workout program, and that Jeudy has been regularly appearing to these voluntary activities. The 23 – year – old Jerry was the Denver Broncos' first - round pick during the 2020 NFL draft.
Jeudy had to miss 6 – games over the course of the 2021 – 2022 NFL season due to an ankle injury, and he finished the last season with 38 - receptions for 467 - receiving yards and 0 - touchdowns.
On Wednesday, May 11th, 2022 Jerry had articulated the extreme optimism that their newly acquired quarterback in Russell Wilson should lead to a much more productive upcoming season in the AFC West division of the NFL for the young wide receiver with hopefully a bright future in front of him as long as he is able to stay out of trouble.
Career Achievements, Honors, & Awards
Biletnikoff Award Winner (2018)
Consensus All - American (2018)
2 - Time First - Team All - SEC (2018, 2019)
CFP National Champion (2017)
Sources:
"Denver Broncos WR Jerry Jeudy arrested, faces charge of criminal tampering with domestic violence enhancer", Jeff Legwold, espn.com, May 12, 2022.
"Jerry Jeudy", pro-football-reference.com, May 13, 2022.
Posted by
DavidGreen