Introduction
Just last month the San Francisco 49ers and their young dominant force on the defensive line, Arik Armstead, came to an agreement on a new contract. The new deal is for 5 years, and it is reportedly worth up to $85 million. The contract includes a $17.5 million signing bonus, $34,165,000 fully guaranteed at signing, and a total of $45,850,000 in guaranteed money over the course of the agreement.
As Armstead was approaching free agency for the first time in his NFL career, the San Francisco 49ers wanted to make sure that defensive tackle remained with the organization for the next several years. Throughout his first five years in the National Football League with the Niners he has been an outstanding player on their defensive line as both a pass rusher as well as a run stuffer. Armstead has recorded 152 tackles as well as 19.0 sacks, 3 forced fumbles, and 3 pass deflections with his time in San Francisco from 2015 to 2019.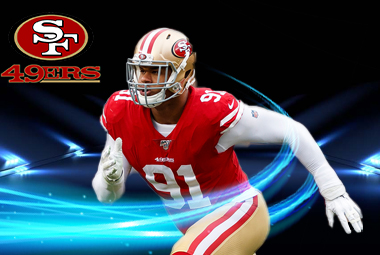 Defensive Line
The 49ers defensive line was absolutely loaded last year, and it was a big part of their success during the course of the 2019 – 2020 NFL season. The second overall selection in the 2019 NFL draft, Nick Bosa, had an unbelievable rookie year with San Francisco 49ers. He was a huge reason why they dominated the NFC and made it to Super Bowl LIV.
Unfortunately, Armstead's teammate with both the Oregon Ducks and the San Francisco 49ers, DeForest Buckner, was traded from the to the Indianapolis Colts several weeks ago. Although the Niners traded away Buckner they still have other defensive forces on their D line such as Kentavius Street, Solomon Thomas, Dee Ford, D.J. Jones, Jullian Taylor, and Ronald Blair III. The 49ers defensive line appears to be one of the major strengths of their fast and intelligent 4 – 3 defensive alignment that crushed the majority of their opponents last season.
The 2019 – 2020 San Francisco 49ers
Last year the San Francisco 49ers led by head coach Kyle Shanahan were highly successful from the beginning to the end of season. They went 13 and 3 during the regular season allowing them to win their intensely competitive NFC West division. They handled tough opponents in their way such as the Seattle Seahawks, Minnesota Vikings, Green Bay Packers, New Orleans Saints, and the Los Angeles Rams. Their regular season record of 13 and 3 along with tie breakers earned the 49ers a first week bye in the NFL playoffs during the 2019 – 2020 NFL season.
During their first postseason match up in the divisional round of the playoffs the San Francisco 49ers had the difficult task of facing the talented and hot Minnesota Vikings. Through their stifling defense and a creative offensive scheme in which they ran the ball well, the Niners were able to defeat the Vikings with a final score of 27 to 10. This victory then placed them in the NFC Championship Game vs. the Green Bay Packers. From the very beginning of that contest they were able to manhandle Green Bay and ultimately win the game 37 to 20.
The 49ers dominant win against the Packers had positioned the team from the bay area to face the powerhouse Kansas City Chiefs in Super Bowl LIV. San Francisco actually put up one hell of a fight early on in the Super Bowl. They even had a 20 to 10 lead heading into the fourth quarter of the contest, but Patrick Mahomes and the Chiefs did what they had done to so many teams last season and performed exceptionally well when it mattered most late in the game. The Kansas City Chiefs won Super Bowl LIV with a final score of 31 to 20 as they put up 21 unanswered points on the 49ers in the fourth quarter of this match up.
The San Francisco 49ers should not be discouraged though as they have an extremely talented team most of which will be returning to compete against the rest of the National Football League during the 2020 – 2021 NFL season. Look for solid growth in their youthful players like Arik Armstead as they attempt to make another run towards the postseason and beyond later on this year.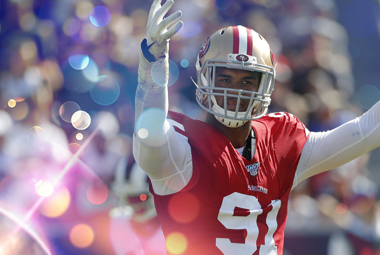 Comments
"Arik is an excellent player," the San Francisco 49ers general manager John Lynch stated. "He had an excellent year. I think everything is on the table. We want to find a way to keep him and make him a part of the 49ers for a long time."
"I'm excited to continue my career with the 49ers, the organization that gave me a chance by drafting me five years ago," Arik Armstead explained to the media. "I want to thank the York family, John, Kyle and Paraag for acknowledging what I've done, both on and off the field, for this team since 2015. They have given me the platform to give back to my community and play the game I love at the highest level, and I am just getting started."
"I would love being here," says Armstead. "Trying to go back to the Super Bowl, so however that is seen or has to get done, it's not really my decision what they want to do with me."
"We are very pleased to have come together with Arik and his representatives to complete this contract extension prior to free agency," Lynch proclaimed. "Arik's physical tools and versatility have allowed him to be highly productive in our style of defense, and we look forward to watching him take his game to an even higher level as he grows within our scheme. Arik has been an impact player on the field and a difference-maker in our community, and we are excited for what the future holds for him."
"It was a shock. You know, I was confused and I didn't really expect that," Armstead said. "Super excited and happy for him. Me and him actually have been working out for a few weeks now, so we've been able to hang out and talk about it. God works in mysterious ways and we both believe things happen for a reason."
"It's going to be weird not playing alongside each other anymore like we have done for about eight years, but I know he's going to do amazing things up there with the Colts," Armstead expressed. "I'm super happy for him."
Sources:
"49ers, Arik Armstead agree to five-year contract", Nick Wagoner, espn.com, March 16, 2020.
"Arik Armstead", pro-football-reference.com, April 18, 2020.
"Arik Armstead signs five-year contract extension to stay with 49ers", Matt Maiocco, nbcsports.com, March 16, 2020.
"San Francisco 49ers' Arik Armstead was 'shocked' by DeForest Buckner trade", oregonlive.com, Arnold C. Geoffrey, April 14, 2020.
Posted by
DavidGreen