Introduction
On Sunday, November 1st, 2020 the San Francisco 49ers battled the Seattle Seahawks from CenturyLink Field in Seattle, Washington. During San Francisco's 37 to 27 loss to Seattle several more of the 49ers key superstar players had to leave the game due to serious injuries.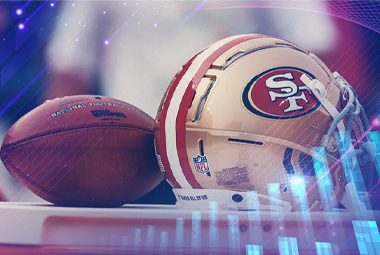 Injury to Jimmy Garoppolo
The San Francisco 49ers starting quarterback, Jimmy Garoppolo, left the game last Sunday early on in the fourth quarter with a high ankle sprain. He was placed on the team's injured reserve list, and he is not expected to return to game action until approximately week 14 of the 2020 – 2021 NFL season at the earliest. If this injury requires surgery he could miss even more time.
Garoppolo suffered a high right ankle sprain earlier this season in week 2 against the New York Jets which resulted in him having to miss the following two weeks of game day football. Then in his return to play three weeks after that injury he struggled against the Miami Dolphins and was taken out of the game. As of now Nick Mullens will fill in at the quarterback position for the San Francisco 49ers until Garoppolo is able to return to full speed game action.
George Kittle's Injury
Less than 2 minutes after Garoppolo was removed from the game last Sunday the San Francisco 49ers' superstar tight end, George Kittle, also was forced to leave the divisional match up against the Seattle Seahawks with a foot injury. Initially thought to be a sprained ankle suffered by Kittle, as the original X – rays did show any signs of a fracture, but after further testing an MRI actually revealed that he did have a small fracture in his foot.
Kittle was also placed on the injured reserve list and is expected to miss extensive time, but at the moment there is no timetable for the explosive and reliable tight end to return to game action. This injury will most likely cost Kittle the remainder of the 2020 – 2021 NFL season.
San Francisco 49ers' Injured Reserve and Physically Unable to Perform (PUP) List
Player
Injury
Designation
Earliest Timeline for Return
QB Jimmy Garoppolo
ankle
to IR
Week 14
RB Raheem Mostert
ankle
IR
Week 10
RB Jeff Wilson Jr.
ankle
IR
Week 12
WR Jalen Hurd
knee
IR
2021
TE George Kittle
foot
to IR
--
TE Jordan Reed
knee
IR
--
C Weston Richburg
knee
PUP
Week 12
C Ben Garland
calf
IR
Week 10
DE Nick Bosa
knee
IR
2021
DE Dee Ford
back
IR
Week 12
DE Ezekiel Ansah
bicep
IR
2021
DL Solomon Thomas
knee
IR
2021
DL Ronald Blair III
knee
PUP
Week 12
DL Jullian Taylor
knee
PUP
--
LB Mark Nzeocha
quad
IR
Week 9
CB Richard Sherman
calf
IR
Week 12
Current Standings
Currently the San Francisco 49ers are 4 and 4, and they are surprisingly in last place in the highly competitive NFC West division. Entering the 2020 – 2021 NFL season expectations were extremely high for the Niners especially after they represented the NFC in the Super Bowl last season, but now with all the injuries that have plagued them this year unfortunately it will be really tough for them to sneak into a playoff spot at the end of this regular season.
Media Statements
"I knew it was hurt once we all saw it and he didn't go back in on that one play," the San Francisco 49ers head coach Kyle Shanahan stated. "He had a good week of practice throwing, but high ankle sprains linger, so you never know when it's going to affect you. I know he hurt it later in the game, or re-hurt it, and we'll wait until tomorrow to see how bad it is."
"Nothing was broken at least on the X-rays, so we've got to check MRIs and stuff tomorrow," says Shanahan.
"It was the same knee," Shanahan explained. "He wanted to go back in. We tried, and he just couldn't. I don't know what the deal is for this week. Obviously, I'm hoping he's ready for Thursday, but his knee was reinjured, and he couldn't go back in the game."
Sources:
"San Francisco 49ers' Jimmy Garoppolo, George Kittle exit in fourth quarter with injuries", Nick Wagoner, espn.com, November 1, 2020.
"Jimmy Garoppolo", pro-football-reference.com, November 4, 2020.
"George Kittle", pro-football-reference.com, November 4, 2020.
"San Francisco 49ers Franchise Encyclopedia", pro-football-reference.com, November 4, 2020.
"George Kittle, Jimmy Garoppolo Add to Growing List of 49ers Injuries", Keiana Martin, 49ers.com, November 2, 2020.
"Garoppolo out indefinitely with a high-ankle sprain; Kittle is out eight weeks with a broken foot: Some reports say Jimmy could land on the IR. George Kittle will miss extended time as well.", Kyle Posey, ninersnation.com, November 2, 2020.
Posted by
DavidGreen