Introduction
As we are only several days away from Super Bowl LV, last weekend a major blockbuster trade agreement was made in the National Football League. The Detroit Lions are sending quarterback Matthew Stafford to the Los Angeles Rams in exchange for quarterback Jared Goff as well as multiple future draft picks.
According to sources close to these NFL franchises the Detroit Lions will acquire a third round draft selection in 2021, a first round pick in 2022, and another first round choice in 2023. In the common draft era (since 1967) of the National Football League this is the first time that two prior number one overall draft picks have been traded for one another. This trade agreement will be made official at the start of the new league year on Wednesday, March 17th, 2021.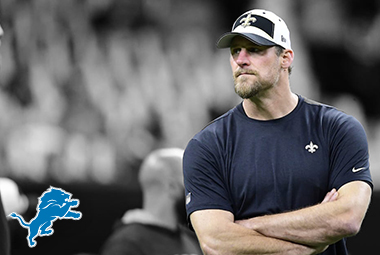 Other Recent Big Changes to the Detroit Lions
Due to the fact that the Detroit Lions have been wildly under producing over the course of the past three NFL seasons, their former head coach Matt Patricia as well as the Detroit Lions' previous general manager Bob Quinn were both fired from their positions on Saturday, November 28th, 2020. Since then, the Lions have hired their new head coach Dan Campbell on Wednesday, January 20th, 2021. Detroit has also brought on board Brad Holmes as their next general manager earlier on in January of 2021.
Holmes was actually hired from the Los Angeles Rams last January as he was previously the Rams director of college scouting. This trade is his first big move with the Detroit Lions as he is bringing in Goff who he is familiar with from working with the quarterback during his time in Los Angeles with the Rams. The LA Rams will now not make a first round draft selection until at least 2024 as a result of this blockbuster trade deal.
Matthew Stafford
As the 32 year old quarterback departs from the Detroit Lions, Stafford leaves as the all time leader in every major passing statistic for the Detroit Lions. He is currently 16th all time in NFL passing yards with 45,109 as well as touchdown passes with 282. Matthew is 18th all time in NFL pass attempts with 6,224, and he is 14th all time in NFL pass completions with 3,898. Stafford has a career NFL passer rating of 89.9 which is good for the 21st of all time, and the 144 interceptions he has thrown in the NFL is tied with Joe Flacco for the 66th of all time in the history of the National Football League.
Stafford is also behind only Patrick Mahomes, Drew Brees, and Andrew Luck for the most passing yards per game as he averages 273.4 yards per contest over the course of his 12 year NFL career. Matthew is 2nd all time in pass attempts per game with 37.7 behind only Luck, and he is 4th all time in pass completions per games with 23.6 behind Brees, Mahomes, and Matt Ryan.
One major issue with Stafford over the length of his great NFL career has been keeping him healthy and on the field as a starting quarterback. He has suffered injuries such as a separated shoulder, fractured bones in his back, rib wounds, ankle injuries, and thumb ailments. According to ESPN Stafford has, "Played in 2018 with fractures in his back and a proximal interphalangeal joint dislocation of the middle finger of his throwing hand in 2016, among other things." Hopefully for the Los Angeles Rams Matthew can avoid injuries as well as turnovers which have plagued him throughout the course of his career in the National Football League.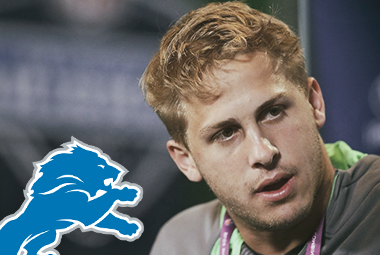 Jared Goff
Goff has spent all five seasons of his up and down NFL career with the Los Angeles Rams, and the 26 year old quarterback has played mostly under his now former head coach McVay where he went 42 and 27. In his first two seasons under McVay Goff led the Rams to back to back division titles as well as a NFC championship. Since the Rams 13 to 3 loss to the New England Patriots in Super Bowl LIII Jared and the Los Angeles Rams offense have slowed down, and it seems that he is not living up to his 4 four $134 million contract extension that includes $110 million in guaranteed money that he signed in 2019.
Over the past two seasons with the Los Angeles Rams Goff is ranked second in the National Football League in turnovers with 38 of them. Disagreements between the Los Angeles Rams head coach Sean McVay and Goff have been observed recently, and that is most likely a contributing factor to the Rams trading Jared to the Lions. Los Angeles was also probably trying to dump his huge contract on another organization as they look to make changes prior to the 2021 – 2022 NFL season. It will be interesting to see how this trade influences the future success of both the Detroit Lions and the Los Angeles Rams as only time will tell.
Media Statements
After the Los Angeles Rams lost to the Green Bay Packers in the divisional round of the 2020 – 2021 NFL playoffs the head coach of the Los Angeles Rams, Sean McVay, was asked if Goff was his quarterback and McVay responded by saying, "Yeah, he's our quarterback, right now."
"Moving on from Jared Goff, that's ... the money we've invested in him, that's not easy to overcome," explains the general manager of the Los Angeles Rams, Les Snead, who goes on to say, "Anything can be done," in a cap - based system.
Sources:
"Detroit Lions dealing Matthew Stafford to Los Angeles Rams for Jared Goff, picks, sources say", Lindsey Thiry and Michael Rothstein, espn.com, January 30, 2021.
"Matthew Stafford", pro-football-reference.com, February 1, 2021.
"Jared Goff", pro-football-reference.com, February 1, 2021.
"Detroit Lions Franchise Encyclopedia", pro-football-reference.com, February 1, 2021.
"Cleveland / St. Louis / LA Rams Franchise Encyclopedia", pro-football-reference.com, February 1, 2021.
Posted by
DavidGreen