Introduction
On Wednesday, June 8th, 2022 the Los Angeles Rams signed the Super Bowl MVP wide receiver, Cooper Kupp, to a three - year, $80 million contract extension.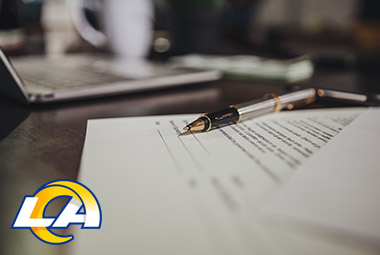 Contract Details
The news deal between Kupp and the Los Angeles Rams involves $75 million in total guaranteed money, and the overall extension is worth up to approximately $110 million over the course of its life of the next 5 - years.
This is now the largest amount of total guaranteed money ever given to a wide receiver in the National Football League. Kupp will once again be scheduled to become an unrestricted free agent in the year 2027.
Through a video - clip released by the Los Angeles Rams, Cooper expressed his excitement as well as anticipation over the deal and his future with the Rams out in Los Angeles as they are trying to gear up for another Super Bowl run each and every season for at least the next 3 or 4 years.
"Really glad to be coming back to Los Angeles and be here in the long haul," the Los Angeles Rams superstar wide receiver Cooper Kupp explained. "This is going to be an incredible ride. Can't wait to get back at it."
The Exceptional Last Season for Cooper Kupp
During the 2021 - 2022 NFL season, Kupp led the entire National Football League with 145 - catches that was good for 1,947 - receiving yards as well as an amazing 16 - touchdowns during just the 17 - game regular season.
Cooper also pulled in 2 - touchdowns during Super Bowl LVI, and Kupp was deservingly named the Most Valuable Player this year's big game. Cooper became just the 4th - player since the 1970 NFL / AFL merger to lead the entire league in total receptions, receiving yards, and receiving touchdowns. That is one hell of a triple crown for this superstar wide - out.
After the Rams' first practice of minicamp on Tuesday, Kupp said he was not looking for a contract that would reset the wide receiver market.
"I'm not trying to compare myself," Kupp goes on to say. "I'm not trying to say, 'OK, well where was Tyreek [Hill] at? All those guys that got deals, where were all those guys at? And I need to be higher than them in certain places.' Something that's great for the team, something that's great for me and my family as well. That place exists, and it's just getting there."
Kupp also mentioned on Tuesday, June 7th, 2022 that he wanted his new contract extension to be, "something we can work on together."
Rams Busy Making Huge Moves this Offseason
Furthermore, on Monday, June 6th, 2022 the Los Angeles Rams restructured the 3 - time NFL Defensive Player of the Year Award - winning defensive tackle in Aaron Donald. His new deal with the L. A. Rams now makes Donald the highest - paid non - quarterback in the National Football League.
The Los Angeles Rams also extended the contract of their quarterback, Matthew Stafford, as well as signing the star inside linebacker, Bobby Wagner, and they also signed the former Chicago Bears wide receiver in Allen Robinson II during their busy and productive 2022 NFL offseason.
Since the 1970 NFL / AFL merger, Cooper Kupp is just 1 of 8 - players to compile 5,500 - receiving yards and 40 - receiving touchdowns throughout their first 5 - seasons in the NFL. The others players to do such include the great names of Mike Evans, A. J. Green, Calvin Johnson, Larry Fitzgerald, Randy Moss, Marvin Harrison, and the NFL's all - time best wide receiver in Jerry Rice.
Kupp's Football Career Achievements, Honors, & Awards
Super Bowl Champion (LVI)
Super Bowl MVP Award (LVI)
NFL Offensive Player of the Year Award (2021)
NFL First - Team All - Pro Selection (2021)
NFL Pro Bowl Selection (2021)
NFL Receptions Leader (2021)
NFL Receiving Yards Leader (2021)
NFL Receiving Touchdowns Leader (2021)
PFWA All - Rookie Team Selection (2017)
Walter Payton Award (2015)
Jerry Rice Award (2013)
2 - Time Big Sky Offensive Player of the Year Award (2015, 2016)
4 - Time First - Team FCS All - American Selection (2013, 2014, 2015, 2016)
NFL Records
Most Yards from Scrimmage by a Wide Receiver in a Single Season - 1,965
Most Receptions in a Single Postseason - 33
NCAA Division I FCS Records
Most Career Receiving Yards - 6,464
Sources:
"Cooper Kupp, Los Angeles Rams reach 3 - year, $80M extension", Sarah Barshop, espn.com, June 8, 2022.
"Cooper Kupp", pro-football-reference.com, June 9, 2022.
"Cooper Kupp", spotrac.com, June 9, 2022.
Posted by
DavidGreen