Introduction
There's really not much for me to introduce. If you've been following this series, then you already know what we're doing here. If not, then you're probably just looking for your favorite team's moves, so let's jump right into it.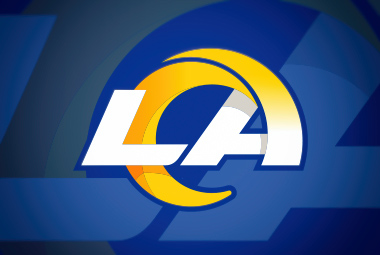 LOS ANGELES RAMS
The Los Angeles Rams should be a team everyone is aware of given that they're the reigning NFL Champions. They have a ton of talent and shouldn't need much help, given their recent success, which is a few years running.
Oh, and who is that leading a game-winning drive in the fourth quarter to win that Super Bowl; not to mention to advance them to the NFC Championship over Tom Brady and the Buccaneers? Is that Matthew Stafford? No, it can't be Matthew Stafford, because all I have heard everyone say for years is that he's a choke artist, so that can't be right.
Indeed, it was Matthew Stafford, so that should silence most of his naysayers. The dude played his entire career for the Detroit Lions up until last season, where he went to the Rams and immediately led the offense to that Super Bowl winning drive. I don't know if casual fans would be aware of this, but the Detroit Lions are not particularly good.
It's the same thing that I said to Stafford's detractors even before he found himself donning royal blue and gold; if you're constantly having to come from behind, you're not going to be able to pull it off every single time, as Tom Brady found out in the Buccaneers' exit from the playoffs. Tom Brady is pretty good, right? "Tom Terrific?" "Comeback Kid?" It looks to me as if Brady got Brady'd.
Looking at the five years of Sean McVay's tenure as Head Coach of the Rams, here are the key points:
* 55-26 Regular Season Record
* Three Division Championships
* Four Playoff Appearances
* Two Super Bowl Appearances
* One Lombardi Trophy
I guess it might have been more creative to go 4-3-2-1, oh well.
Needless to say, the Rams have been quite good with McVay at the helm. They even had a winning record of 9-7 the season that they missed the playoffs (2019), which would be good enough for a WildCard bid some years. Hell, 9-7-1 was good enough for the Steelers to get in this past 2021 season, and they had an extra game to work with.
The Rams are a good team all around, let's look at some key league rankings:
Points Scored: 7th
Points Allowed: 15th
Passing Yards: 5th
Passing Yards Allowed: 22nd
Passing Touchdowns: 2nd
Passing Touchdowns Allowed: 2nd
Interceptions (Thrown): 27th
Interceptions (Defense): 3rd
Rushing Yards/TDs: 25th/28th
Rushing Yards/TD's Allowed: 6th/23rd
What you have, overall, is a really consistent team who seems to know how to turn it on at the right time. While the points allowed is about the league average, they outscore opponents pretty significantly, 21.88 average points against to 27.06 points for. As you can see, the average result of their games is them winning by five points, one way or another.
They allow a ton of yards through the air, but it's very much a, "Bend, but don't break style," and the defense is also very aggressive in trying to get to passes, get them in their hands and send the markers the other way. Stafford also throws more than his fair share of picks, to be fair, it would be a problem for MOST teams, but Stafford also throws touchdowns more than twice as frequently.
The defensive front is pretty good at stuffing the run. Some people might scratch their heads as to why so many teams were able to pound it into the endzone against that defense, but when you look at them being ranked 3rd in picks and 2nd in Passing TD's allowed, do you really want to try them through the air? Still, you don't want the opponents to move the ball as often as they enjoy against the Rams, so maybe they'll look to do something there.
Beefing up their own ground attack would also be a good idea, or maybe making some adjustments or signings along the offensive line, because being a true threat on the ground will take some pressure off of Stafford, which in exchange, should lead to fewer interceptions.
Also in fairness, Stafford does try to do too much sometimes and isn't always safe with the ball. Just Google, "Matthew Stafford Awful Interception," and go to 'Videos,' there will be plenty.
It's beyond obvious that winning the turnover battle is better than losing it, but there's perhaps no team that's more true of than the Rams. In the 2021 Regular Season, four of their five losses would see the Rams losing the turnover game, with the other loss being two apiece. They also lost the turnover game in their three-game losing streak midway through the season.
How good are the Rams? They even lost the turnover game in two of their four Playoff victories, but if they can gain some effectiveness on the ground so Stafford doesn't feel like he has to do so much, then maybe they can just skip playing in the Wildcard next time around by improving their turnover differential from their regular season +2.
The only major weaknesses that we can find in the rankings above are giving up a ton of yards (which results in points, regardless of how strong your defense is with its back to the wall or how many ball hawks you have) and not really producing on the ground in their own offense. Let's see if the Rams address these issues in free agency.
Well...not really, but there's only so much they can do. The Rams lost a few guys and made two pretty significant signings, which we will detail below, but that leaves them with only 7M in cap space and they still have the 2022 NFL Draft to worry about. I wouldn't expect much in the way of activity from them beyond this point.
Bobby Wagner - Inside Linebacker - Five Years: Bobby Wagner was not particularly happy with the Seattle Seahawks giving him an early release, reportedly without even calling him first. Wagner says in the linked article that he signed with the Rams not because he wants to punish the Seahawks in Divisional Games twice per season, but rather, because he's from the SoCal area and wants to play for a Super Bowl contender near his home.
That certainly seems to be the case as his five-year contract worth up to 50M, but with only 20M guaranteed, of which 5M is signing bonus seems like a more than fair price. Wagner's base salary doesn't change much from season to season over the life of the contract, but Wagner suspects that the Rams will want to keep him around as they could cut ties in advance of the 2025 season and only take a two million dollar dead cap hit over two years.
Wagner has every reason to believe in himself as he's been the starter in every game (except one) in which he's ever appeared in his ten-year (to date) career and has stayed healthy enough to participate in more than half of his team's games every single season. In fact, he's only missed one game in the last three seasons combined.
This longtime Seahawks' stalwart does a little bit of everything. In his career, he has amassed eleven picks (bringing one to the house), six forced fumbles, nine fumble recoveries and 23.5 sacks. While none of these sound like big time numbers on their own, the fact that he's such a versatile player means that he's a guy the offense needs to keep their eye on.
Wagner is expected, more than anything, to contribute heavily to run stopping. As you can see from his highlight reel, where the Rams can really use him is to come up from the linebacker position and hold opposing rushers to just a yard or two, if not stop them behind the sticks. Wagner has been responsible for 1,383 career tackles, of which, 819 were solo efforts and 68 were behind the line. While he may have only had one sack and three QB hits in the 2021 effort, his speed still needs to be respected and you'd better have someone assigned to block him if he does get sent on the blitz.
When available, his rookie season was the only year in which Wagner would play fewer than 93% of his team's defensive snaps. It's been 95%+ for the last four consecutive seasons, including a 2018 season in which he played every single snap of every single game, exception to the lone game he missed that year.
Anyway, this is a major signing that can only make the Rams better, provided Wagner continue to stay extremely healthy as he has spent his career doing so far. He's an eight-time pro-bowler and a six-time first team All Pro, including four consecutive years between 2017-2020 in the latter, so we're going to look forward to seeing him come in from that defensive interior and stop guys in their tracks. Even if you're not looking forward to seeing that, because perhaps your favorite team is some other NFC West team, the Rams are sure looking forward to it.
As a team, you could even live with the occasional penalty given his production, but Wagner is an extremely disciplined talent who has only had 18 penalties against him accepted in his ten year career. Over the course of the last three seasons, only four penalties have been accepted that were whistled against him. That's eighteen penalties in 9,618 defensive snaps, for those of you keeping score, so this is a guy that's good at stuffing that run and taking them down clean.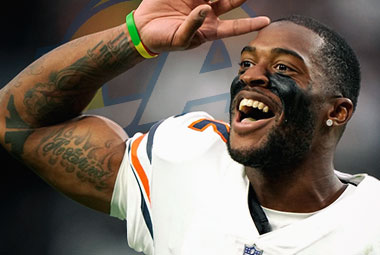 Allen Robinson - Wide Receiver - Three Years (Kind of): Okay, so Allen Robinson has a fairly complicated contract. Here are the key points:
The contract is officially for three years and is worth up to a total of 46.5 million dollars. That seems easy enough.
30.75M of this contract is fully guaranteed, which all takes place within the first two years of the contract, given what Robinson was paid as a signing bonus. THat might seem strange, but there's a reason for it that we will get into in a bit.
Because of the Rams' cap situation, the signing bonus is actually spread out over five years, which means that this contract has two what are called, "Dead years," in which they will take 2.8M dollar hits in dead cap space during a time that Robinson definitely will not be under this contract—these are the 2025 and 2026 league years. It's a sort of kicking the can down the road.
Robinson himself can opt out of this contract, and will automatically do so, after the 2023 NFL Season in the event that he amasses 2,201+ receiving yards, combined, over the next two NFL seasons. With that sort of production, and the way NFL contracts keep going up, it would seem that Robinson expects to negotiate something better somewhere else or negotiate a new contract with the Rams.
If Robinson opts out of this contract post the 2023 season and doesn't end up anywhere else, then the Rams will eat a total of 8.4M in dead cap hit starting with the 2024 season in equal 2.8M increments over the next three years.
That's about as simple as I can describe this and I'm only 90% sure I covered all of the key points. Assuming I did cover the key points, I'm only about 75% confident that was a total accurate assessment. I don't think the team can opt out of the third year of his contract (it seems to be a player option only), but I could be wrong.
Robinson is an eight-year veteran wideout who played the first four of those years with the Jacksonville Jaguars (only playing one game in 2017 due to injury) and has played the most recent four seasons with the Chicago Bears. It's going to be interesting to see what he can do with the much more capable Matt Stafford throwing to him, especially since Robinson is far from the only receiving threat on the Rams' will-be 2022 squad.
Robinson has amassed 6,409 yards in his career, but it's probably more appropriate to look at him on a per game basis because he did miss almost an entire season. Because Robinson has appeared in 100 games in his eight years, he has averaged about 64.1 receiving yards per game. He's also found the endzone 40 times in his career, but is a bit less consistent in that regard as he had a 14 TD year in his second season which really boosts that number.
However, if you again look at things on a per game played basis, Robinson finds the endzone about once every 2.5 games, so that's strong production.
Interestingly, for Robinson to hit that combined 2,201+ receiving yard total over two years, he will have to essentially meet his best performance combining either the 2015-2016 seasons, or, the 2019-2020 seasons. Robinson missed a few games last year and wasn't really at his peak in those games in which he did appear, so this might be a bit of a gamble for the Rams.
Last year would see Robinson appear in only twelve games during which time he produced 410 receiving yards and one touchdown, way off of his career averages. Judging from the terms of his contract, Robinson believes he's going to come back like a house of fire.
They started tracking a QB's RATE when targeting a particular receiver back in 2018, so the last four seasons in order for QB's targeting Robinson have been 85.2, 90.5, 92.3 and 55.7. Again, he played the better part of last season hurting and nowhere near his peak.
The first three years of those QB Rates might not seem too impressive, but that's where you have to contextualize it and remember that he was playing for Da' Bears, who at best, have occasionally been mediocre for the last several seasons. Every single one of those seasons would see the Bears ranked in the bottom half of the league in passing yards, and they were especially abysmal in 2021, when Robinson wasn't at his best.
It seems like every one of Robinson's seasons has either been a boom year or a bust year, but the Rams have enough of a team around him that they can afford the gamble.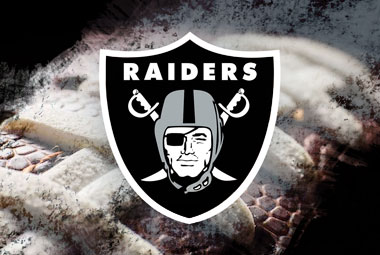 LAS VEGAS RAIDERS
Many of you will already know that the Las Vegas Raiders are coming off of an NFL Season that involved one of the most dramatic ways to advance to the NFL Playoffs in recent memory.
In a summary that probably doesn't even include everything (it was a mess)---the Indianapolis Colts lost, in surprising fashion, to the lowly Jacksonville Jaguars. Because of that game, at least in part, the Raiders and Chargers both could have advanced to the Playoffs simply by tying one another, and they were playing each other in the final week of the regular season. The Raiders were obviously not content with simply tying, so they beat the Chargers, in overtime, instead.
Because they beat the Chargers, the Pittsburgh Steelers, who didn't exactly have the best year in franchise history, were able to advance. It was probably ohne of the few times that you had an NFL team watching a Sunday night game in anticipation, not of one team hopefully knocking another out of the playoffs in a win only situation, but just hoping for the two combatants not to tie. For their part, the Raiders would win and the Steelers would advance, not that it did either of the two teams much good once they actually got to the Playoffs.
What if I told you that's only the second-strangest thing that happened during the 2021 season for the Silver & Black? Actually, it might have been the third strangest thing, but I try to avoid writing about anything involving death due to some sort of criminal act unless I really have to.
The strangest thing that happened was that Raiders' former Head Coach, Jon Gruden, 'Resigned,' as a result of some E-Mails that came out in which topless and candid photos of Washington (then Redskins) Commanders' cheerleaders were shared, but more than that, Gruden making a whole slate of homophobic and racist comments in E-Mail exchanges.
This was made all the stranger because Jon Gruden, specifically, was not the one being investigated. In fact, the Raiders weren't even the team being investigated. The team being investigated was also the Washington (then, 'Football Team') Commanders. The E-Mail exchanges that were specifically reported occurred prior to Gruden becoming the Head Coach of the Raiders (for the second time) and were with former Commanders' GM, Bruce Allen.
Even with that, interim coach, Rich Bisaccia, was able to step in and lead the Raiders to the 2021 NFL Playoffs, which was something Gruden was unable to accomplish during his first three years of his second tenure.
Feel free to go read the linked article above about Gruden's termination if you wish; I'd like to think I did a decent job with that one. The main takeaway for the Raiders, as a team, was that I felt the loss of the highest paid (by total contract) H.C. in NFL history at the time didn't really hurt the squad at all. Specifically, I compared Gruden's second tenure to that of the Head Coach that was sent packing in exchange for Gruden, Jack Del Rio. The latter did a lot more with the team, by my estimation.
In the last four seasons, the Raiders have gone 29-36, which includes the 10-7 record from last year which Gruden isn't responsible for much of. Gruden is definitely not responsible for the Raiders' playoff appearance last year, at least not directly and that was the only time the Raiders had accomplished that in Gruden's second tenure.
Anyway, this Division is nasty and it's hard to envy, well, any of the teams, really, for having to play each other twice every season. You've got the Silver & Black, the Kansas City Chiefs (who have been a perennial threat to win it all the last several seasons), the Denver Broncos who have just added potential Hall of Famer Russell Wilson and the Los Angeles Chargers…who themselves have markedly improved over the last few seasons.
Looking at last season, what the Raiders really need is more points and they need the opposing team to score fewer points. Oh, wait, that's pretty much ANY team, right? Well, let's look at some league rankings here:
Points For: 18th (374)
Points Against: 26th (439)
Defensive Turnovers: 29th (Fourth to Last)
Turnovers Committed: 20th
Passing Yards: 6th
Passing Yards Allowed: 13th
Defensive Interceptions: LAST
Rushing Yards: 28th
Rushing TD's: 18th
Rushing Yards Allowed: 19th
Rushing TD's Allowed: 19th
OPPONENT' AVERAGE OFFENSIVE DRIVE:
Time of Possession: 25th
Plays Allowed: 27th
Yards Allowed: 17th
Points Allowed: 25th
This all ties back to the fact that the Raiders Defense is simply not good at forcing turnovers. They had a -9 turnover differential as a team last season, which means, in an average game…they cough up the ball to the opponent more than 0.5 times more than they send it the other way on them.
The Raiders' passing yards allowed wasn't bad; it was a speck above average and safely in the top half of the league. The rushing yards allowed, similarly, were not bad; those were just a shade below league average. The problem for the Raiders is that their opponents are able to put together long and effective drives and the Raiders secure less than one defensive turnover per game, on average. (They had 15 in 17 regular season games)
The Raiders had five regular season games in which they didn't commit any turnovers, which is reasonably good, except their opponents had eight such games against the Raiders. Not to pile on, but they sent it the other way four times against the Broncos in the two teams' first meeting of the season (zero times the second go around), so that leaves eleven turnovers in the other sixteen regular season contests.
In seventeen games, the Raiders lost the turnover battle eleven times and won it five times. In their 19-26 Wildcard loss to the eventual Super Bowl losing Cincinnati Bengals, the Raiders coughed it up twice and the defense had zero turnovers. If you could make that something l;ike 2-2, then maybe the Bengals don't even make the Super Bowl last year.
Their points differential, during the regular season, was -65, which also—at least to some extent—goes back to the fact that they handed opponents the ball nine more times than their opponents did them.
Hopefully, I've piled on enough to illustrate that Defensive Interceptions (they only had six ALL SEASON) are the main problem for the Las Vegas Raiders. They could also stand to improve their own ground attack and perhaps get a little better at stopping the run, but what they really need are some DBs that are going to pick off opposing quarterbacks (especially in a Division bursting at the seams with QB talent) and send it the other way a bit.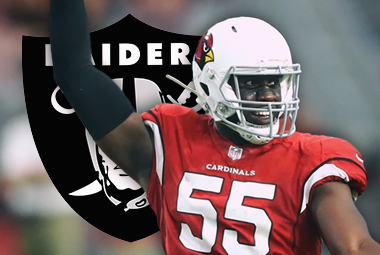 With that, let's see what the Raiders did in free agency:
Chandler Jones - Outside Linebacker - Three Years (Sort Of): Chandler Jones is coming over from the Cardinals to see how he looks in Silver & Black this upcoming season—and this man is a force to be reckoned with. He really couldn't have arrived at a better time if the Raiders want to have any prayer of sniffing the Playoffs this 2022 Season; they arguably shouldn't have been there last year and will be facing an even tougher Division schedule this time.
We'll start with the terms: This is basically a three-year contract woerth up to 51M with 32M of that guaranteed. Of that guaranteed, 12M is in the form of signing bonus, which is spread equally at 2.4 million dollars, per year, over five years. With that, the contract has two, "Dead Cap," years in 2025 and 2026, Jones will be an unrestricted free agent in 2025, and the Raiders will eat 2.4M per year in '25/'26 in cap hit. The Raiders also have the option to get out of this contract in advance of the 2024 season, and if they do, they will eat 2.4M in dead cap, per season, for three seasons starting with the 2024 campaign.
Jones played the first four of his ten NFL Seasons with none other than the New England Patriots. The most recent six years have been spent with, as we mentioned, the Arizona Cardinals.
While I discussed the fact that the Raiders need to create turnovers and felt they should do that by trying to get more interceptions; it seems that the Raiders have other ideas with Jones. While Jones is capable of interior pass coverage and usually brings opponents down quickly, he's mainly used in the blitz and has been an absolute menace to opposing quarterbacks his entire career.
Jones has appeared in 139 NFL Games, to date, during which time he has forced 33 fumbles (almost once every four games), has amassed 107.5 QB Sacks (nearly once per game) and 195 QB Hits (nearly 1.5 per game). Jones is also good at preventing opposing running backs from gaining too much ground, often sending them backwards, as 117 of his 473 career tackles (331 were solo) have been for a loss.
I think the idea here is that the opposition can't gain yards through the air if the opposing quarterback is on his back and can't throw the ball to begin with. We can also assume that the Raiders are hoping for Jones to dislodge at least a few balls from the grasp of his opponents and send the sticks the opposite way by those means. Jones is also a highly aware player who knows where the ball is at all times, as he has ten fumble recoveries in his career.
Jones is pretty much everything you could ever want in a pass rusher. He has a combination of explosive speed off the snap, but even if someone does pick him up in protection, he has an uncanny ability to escape his blockers, or even, perhaps surprisingly, just overpower and bowl through them.
While he's not a pass coverage guy, per se, he is really adept at picking up on short screens and getting to the receiver quickly. An excellent tackler for his size, you're not going to expect your man to get too many yards after the catch if he hauls in a screen pass with Jones anywhere in striking distance. When available, Jones routinely takes 85%+ of the defensive snaps and only sometimes can be found on the sidelines in short yardage situations when size outweighs technique.
He's been to four Pro Bowls and has twice been a first team All Pro. HIs seventeen sacks led the NFL in the 2017 season and he is second in career sacks among active players at his position. As of the 2021 Season, he is tied for 25th in career sacks and, if he can stay healthy, might finish his career in the Top 10 all-time. In the 2019 Season, Jones' eight forced fumbles led the league, he is #1 in active players and his career total of 33 puts him 19th all-time. In just three good years, it's within reason that Jones will break into the Top 5 All-Time in that category.
With his aggressiveness, you're going to see a few penalty flags thrown against Jones, but it's well worth the trade to get his sort of production in sacks and fumbles. HIs 2020 campaign was shortened by injury, but in each of the 2019 and 2021 years, six flags were thrown on Jones and all but one was accepted. These tend to be either for Defensive Offsides (sometimes he's a little too quick to try to get back there) or for roughing the passer. Me? I'm perfectly happy to trade the occasional first down for a forced fumble on a more than 1:1 basis in favor of the fumbles.
Feel free to go to this tracker for the other Raiders' free agency signings. While they may well have the greatest number of new faces coming to the team, all of the other signings are fairly minor and consist of guys who are either primarily backups or have split snaps with other players throughout their careers. I don't think it's unfair to suggest that Jones is the only major signing in terms of proven commodities, but he is a big one!
Personally, I would look for the Raiders to try to draft a ball hawk at Quarterback if they can get any kind of value whatsoever.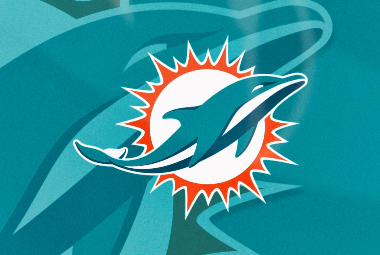 MIAMI DOLPHINS
The 2022 campaign has been an unusual one for the Miami Dolphins thus far. The first major event was the dismissal of former Head Coach, Brian Flores, which had Dolphins fans and casual observers alike kind of scratching their heads because the team, arguably, overperformed expectations.
As it turns out, the problem might be that outperformance as Flores is suing the team (and others), in part, alleging that they offered him compensation to tank games.
The cliffnotes version of this story would have it that Tom Brady was expected to eventually come and play quarterback for the Fins, but found himself in Tampa Bay instead. The plot would thicken as Brady, it has been suggested, never really intended to retire (and has since come out of retirement and will remain with the Buccaneers), but instead planned to get traded to Miami, presumably sign a new contract, become part-owner of the team and eventually former New Orleans Saints Head Coach, Sean Payton, would join the organization.
It goes without saying that Flores was not part of that plan, and among other things alleged by Flores (principally, the pay to lose accusations), he suggests that he was ousted by Miami to make room for Payton.
With that, Tom Brady will be an unrestricted free agent after this 2022 NFL Season; we can also assume that Sean Payton's coaching services would still be available, so it's possible that the Dolphins are planning (more than anything) to set up for 2023.
For their part, the Dolphins have reportedly signed former 49ers Offensive Coordinator, Mike McDaniel, to a four year contract. Unfortunately, it appears that the full terms of that contract have not been released, but McDaniel is saying that this whole Tom Brady situation is nothing more than an unfounded rumor. I guess we'll just have to see what happens.
McDaniel has also offered praise for Dolphins Quarterback Tua Tagovailoa, though he will have to compete for his starting job, perhaps, against newcomer to the team, Teddy Bridgewater, but more on that later.
The Dolphins have struggled in recent…um…let's be honest and say decades. Since 2000, the team has won the AFC East once, which was in the year 2000. That same year, they also enjoyed the only playoff win that they've had this century, before getting bounced in the Divisional Round. Since 2000, the Dolphins have only appeared in the Playoffs three times, getting bounced in the Wildcard on all three occasions. Their most recent Playoff appearance came in 2016.
It's not even that the Dolphins have been bad, on the contrary, they've produced winning regular season records in three of the last six NFL seasons. In that six-year stretch, the team stands at 47-50. The first three years of that span were spent under former Head Coach, Adam Gase, and the three most recent had Flores at the helm.
The problem that the Dolphins have had, for the better part of this century, is the New England Patriots—perennial Division champions for the better part of Tom Brady's time as QB for the latter. Believe it or not, the Dolphins have actually won slightly more than they have lost (as long as they are at home) resulting in frequent splits of the regular season series…it's the Patriots dominance against everyone else that has been the problem.
More recently, the Buffalo Bills managed to seriously turn the corner and are not the presumptive AFC East favorites. They're replaced the Patriots as the Division's dominant team the last few seasons and would come within a game of advancing to the Super Bowl in 2020. In the last three seasons, the Bills have been in the discussion, and rightly so.
The Dolphins' best season, at least in recent memory, might well have been that 2020 NFL campaign. They went 10-6 and had the misfortune of completely missing the Playoffs, as the AFC has been a Conference of haves and have nots (for the most part) the last few years, but they did enjoy a regular season points differential of +66 that season. In effect, the average result of a Miami Dolphins' game that season would see the Dolphins winning by more than four points, but, still not good enough to advance.
Let's see if we can identify areas of need:
The first thing I would suggest is that they didn't need to switch coaches when their most recent coach amassed a record of 24-25 (the last two seasons have been 10-6 and 9-8) with a promising young quarterback, but that just shows what I know.
Looking at Team Rankings:
Points Scored: 22nd
Yards Gained: 25th
Points Against: 16th (-32 Differential)
Yards Against: 15th
Passing Yards: 17th
Passing Yards Against: 16th
Offensive & Defensive Interceptions: 14th
Turnovers Against: 25th
Defensive Turnovers: 8th (0 Differential)
Rushing Yards: 30th
Rushing TD's: 24th
Rushing Yards Allowed: 14th
Rushing TD's Allowed: 18th
I would say that the Dolphins are kind of where I wouldn't want to be as a team. Clearly, their main problem is the fact that they can't accomplish anything in the offensive ground game, which puts pressure on their young QB Tua to do a lot…so credit to him for not throwing more picks! Even when the Dolphins did try to run the ball, they were the second worst team in the league in terms of yards gained per attempt, so the offense would find itself in a lot of, 'And long,' situations as a result.
The more serious problem might be the fact that the team doesn't seem to have any real strengths. I guess they have a, "Bend but don't break," type of defense that doesn't allow for too many touchdowns, but they're still only average in points against as a team. There's also way too much pressure on their passing game to try to carry the offense.
They're tied for 11th in sacks allowed, so I would say they maybe need to beef up that line a little bit, perhaps with someone who excels at creating room for running backs and they're going to want to try to improve at the RB position. Beyond that, they could kind of stand to be a little better at everything, but aren't abjectly terrible at anything else.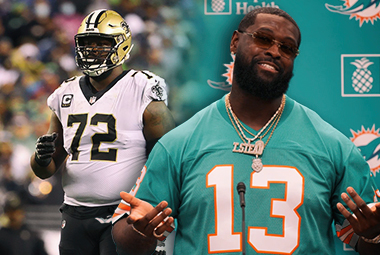 Let's see what they did:
Terron Armstead - Left Tackle - Five Years: Terron Armstead, in the dark, is going to be a huge upgrade from whomever the Dolphins had playing this position last season. That is…when Terron Armstead plays.
Armstead has a bit of a spotty history in terms of injuries. This nine year veteran of the league has played all nine of those seasons with the New Orleans Saints, who didn't end up resigning him at the end of the season. I think they would have if they were in a position to be competitive in the next few seasons (meaning, the Saints), but they honestly aren't.
It would appear that Armstead was mostly a backup his rookie season, so if we look at his other eight seasons, he played in 91 of a possible 129 games. In other words, he has missed 30% of his team's games during that portion of his career (all but his rookie season) of being a regular starter.
Armstead has never missed a full season, but on two occasions, he appeared in fewer than half of his team's regular season games, most recently, the 2021 campaign.
Miami might not exactly be the casino capital of the world, but they've got a few casinos and the team is showing a willingness to gamble. They've inked a five-year deal with Armstead that is worth as much as 75M dollars. Of that amount, 43.37M is fully guaranteed, of which 12M is in the form of signing bonus.
The Dolphins can get out of the remainder of the contract in advance of the 2025 season, if they do, they will eat only 2.4M in dead cap hit in each of the next two seasons, '25 and '26. In the event they retain Armstead, 2025 is actually slated to be his highest-paid year in terms of base salary and 2026 isn't far off of that number.
When Armstead does play, you can expect him to be on the field for about 80-90% of his team's offensive snaps. He's occasionally been on the field for special teams in his career, but I wouldn't be inclined to use him that way and risk him getting hurt.
Armstead is a three-time Pro Bowler, which is saying something, because that span was 2018-2020—and he only played in ten games in 2018, so you know they were quality games! In 97 games played, he has committed a total of 29 accepted penalties, most of which were holding and false starts. That comes out to more than three games, on average, per penalty…so you'll gladly take that from a Tackle.
Do you remember that scene from Remember the Titans where someone blocks an opposing defender all the way into the stands? That's a thing that Armstead actually does sometimes. You don't hear about Offensive Tackles too often, but there's a reason that this guy took the #1 spots in some, "Top Free Agents," lists.
Miami backs are going to need some room to run, and Tua needs more protection, so it always helps to have a guy who can just remove defenders entirely from the field of play!
Cedrick Wilson - Wide Receiver - Three Years: The Dolphins have also entered into a three-year deal with WR Cedrick Wilson, during which time he can earn up to 22.05M dollars. 12.75M of this contract is in guaranteed money, of which 2.75M is signing bonus. Wilson is set up to have his highest base salary in the third year of this contract, though Miami has an out in advance of the 2024 season, which will cost them less than one million in dead cap hit if they choose to avail themselves of it.
To this point, Wilson has played his entire three year career with the Dallas Cowboys, though he really only saw a ton of action these last two seasons. With 45 catches for over 600 yards and six trips to the endzone, 2021 was something of a breakout year for this young player, so we will hope that he can improve even more on those numbers.
Where Wilson shines is in being able to make quick changes of direction, as needed, to gain some yards after the catch; he's also got great acceleration and speed. Quarterbacks throwing his way enjoyed QB Rates of 130.7 in the process last year, during which time he hauled in nearly 75% of all balls sent in his direction—which is phenomenal efficiency.
Wilson hasn't been used as a return guy too often, but he'll work in a pinch. You can also set up some trickery involving Wilson, if you have the opportunity, as he has completed all five passes that he has ever thrown—all five of which have either gone for a first down or a touchdown.
He's been penalized three times (once per season) in his 800+ snaps, which is perfectly within reason.
Myself, I'd call Wilson a Swiss Army Knife as it seems like he can do a little bit of everything and makes some crafty plays in the process. Here's some fun on the football field for you! I wish he could be credited with half of that punt return touchdown; do you know that laterals aren't specifically tracked? What a brilliant trick punt return that was, and almost a waste of a decent lateral (though he did end up hauling it in) and that doesn't appear on the state sheet anywhere as a credit to Wilson.
I'd like to see Wilson involved in some more trick plays, obviously, but I also think Miami is a place where he has a good opportunity to come into his own as a more consistently targeted wideout. Let's hope so; he's fun to watch!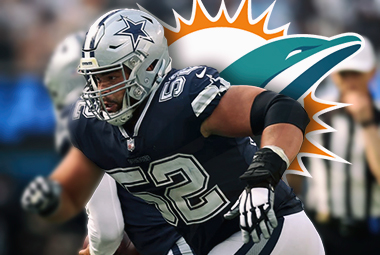 Connor Williams - Offensive Guard - Two Years: One familiar face from the Cowboys who will be joining Wilson is big man Connor Williams, another addition that Miami is hoping will beef up that Offensive Line to allow for some dual threat football.
Williams has agreed to a two year deal worth as much as 14.035M, of which 8.535M is fully guaranteed and 2.75M is in signing bonus. In theory, the Dolphins could cut ties with him after this 2022 NFL Season, but that seems highly unlikely as they would eat 3.375M in dead cap space next year if they did. Considering the fact that the dead cap hit is nearly half of what Williams stands to make next season, we would think Miami will be keeping him for at least the two years.
To this point, Williams has spent his entire four-year career with the Dallas Cowboys and has been available for every game in the last two years, starting the better part of those. He was on the field, when available, for 77% of his team's snaps in the 2021 campaign, 100% in 2020 and 95% in 2019, so he's a big reliable hoss that can offer both QB protection and create some running room for his backs.
If there's a downside to Williams, it's the fact that he gets penalized a fair bit, especially last season. Thirty penalties against him have been accepted in his 3,510 offensive snaps—which is obviously WAY more than you want to see. They say that a holding flag could be thrown on any given play, but it was thrown on him eleven times just last season. You obviously don't want one player sending your offense ten yards backwards every other game, so we can hope that Williams is able to develop a cleaner blocking technique going into this 2022 season.
Chase Edmonds - Running Back - Two Years: Chase Edmonds has been brought into the Dolphins' fold in a two year deal worth as much as 12.1M. Of that money, 6.1M is guaranteed and 1.2M comes in the form of a signing bonus. If they wanted to, the Dolphins could get out of his contract after this season and only take a 600k cap hit.
I like this signing by the Dolphins as a way to add some depth at the Running Back position without having to count on who might or might not be available in the 2022 NFL Draft. I also think that the Dolphins are getting better than average value for the money at this position.
Edmonds has played his entire four-year career with the Arizona Cardinals up to this point and is a threat both on the ground and through the air. He's got some pretty sweet feet and excels at changes of direction, both coming out of the backfield and after coming down with a pass.
If you look at around 2:30 in the video I linked above, and before that you almost certainly noticed how Edmonds always seems to know where the sticks or pylons are, what I really like is this kind of situational awareness that you don't always see from guys after making a big gain. If you look at that reception, notice how Edmonds is aware of the fact that his team is out of time outs with the clock winding down in the half, so what does he do? He runs right over to the middle of the field and starts looking for an official to get the ball to as quickly as possible, that way, the official has the chance to get the ball spotted before Edmonds' team even makes it up for the spike. That's the sort of thing that you don't see all the time and always should appreciate.
In fact, I went and found that game; sure enough, Murray spiked the ball, then completed a ten yard pass to Hopkins and that put them in range for a field goal that was made, but getting that ball spiked in time was as important to that drive as the reception itself, so that's the kind of awareness that coaches love to have in any player.
If you go to about 3:00 in that video and forward, you can watch Edmonds almost single-handedly carry his team to victory against the Seahawks. He did everything that day! He's getting out of bounds when it's needed, he's breaking tackles, he's catching balls, quick changes of direction to get extra yards…it's honestly one of the better offensive performances you're ever going to see. It's the sort of performance that goes a bit unnoticed because Edmonds didn't actually score that day…he had five rushes for 58 yards and hauled in seven passes for another 87 yards, but it's nothing short of a travesty if he wasn't named player of the game.
I take back what I said about the Dolphins getting better than average value with this contract—Edmonds is an absolute steal at this price.
In terms of raw statistics, the key points are, in 57 games, 333 rushes for 1,551 yards (4.7 YPA), 80 first downs on the ground and nine rushing TD's. In terms of his receiving, Edmonds has pulled in 128 receptions for 921 yards and comes down with the ball 78% of the times that he has been targeted. He's had five receiving touchdowns in his career.
He might not find the endzone as much as you would expect and, at his size, he probably can't be an every down back, but the skills that make Edmonds an amazing football player aren't the kind that you'll often find in the stats. He's got the, "Immeasurables," of tenacity, toughness, discipline, intelligence and an outstanding offensive awareness.
QB's to target Edmonds have enjoyed QB RATES of 111.6 and 91.1, respectively, over the last few seasons, so he's someone Tua is going to enjoy having around.
Edmonds, by the way, wasn't selected by the Cardinals until the fourth round of the 2018 Draft, so you can say that he has been bringing his teams massive value his entire career!
Edmonds has shown himself to be a capable kick returner, particularly in the 2020 NFL Year (he had no returns in 2021), but I'd only want to use him in that capacity in a pinch. He took almost half of his team's offensive snaps (when available) in 2020 and over half in 2021.
He's only been penalized once in his career, a false start, but you expect running backs not to get penalized very much, so it really doesn't factor in a whole lot.
Either way, if he can stay healthy and play half, or more, of the Dolphins' 2022 offensive snaps, I'm really looking forward to seeing what he can do. Miami fans should also be looking forward to Edmonds taking the field because there's always going to be a place for an intelligent and capable football player. I hope for him to have a huge year and, next time he negotiates a contract, see some of that value go to his side of the table.
Teddy Bridgewater - Quarterback - One Year: The Dolphins have also signed Quarterback, Teddy Bridgewater, to a one year deal worth as much as 6.5M, all of that money guaranteed.
Bridgewater has become something of a journeyman quarterback at this point and is considered kind of a fringe starter. He's definitely not in the top tier of starters, but when he's not starting, he's arguably the best backup quarterback in the league.
I also like this signing because, while I expect Tua to win the starting spot (if there's even really a competition), Bridgewater has played in a lot of different types of offenses and has a ton of practical starting QB experience, so I could see him having a lot that he could teach Tua and help him out with. You can rest assured that Bridgewater is going to try to get that starting spot, as he can earn up to an additional 3.5M if he hits certain incentives in his contract.
Taken with the last pick in the first round of the 2014 NFL Draft by the Minnesota Vikings, Bridgewater would remain with that organization for the first four years of his career. In his rookie season, Bridgewater would start 12 games and go on to a 6-6 record, throwing for 2,919 yards (224.5 Yards/Game), 14 touchdowns and 12 picks. His QB Rating for his rookie year would be 85.2.
Bridgewater would continue to start during his sophomore year in the league, in fact, he would start all sixteen games that Vikings' seasons. He would be considered something of a game manager, but a capable one, as the Vikings would go 11-5 that season with Bridgewater taking the snaps and he would throw for 3,231 yards (just over 200 yards per game), with fourteen endzone strikes and nine picks.
Unfortunately, a torn ACL would keep Bridgewater out for the entire 2016 season, and by the time he got back, Bridgewater would find himself third on the depth chart to Case Keenum and Sam Bradford. Not his finest hour, Bridgewater would only attempt two passes in 2017 regular season games, with one leading to an interception and the other being incomplete.
Bridgewater would then sign with the New Orleans Saints, where he backed up future Hall of Famer, Drew Brees, for two seasons. He'd start only one game in 2018, a loss, in which he threw for a scant 118 yards and had one touchdown against one interception.
Bridgewater would see more of the field in 2019 and went on to make the most of those opportunities. He started five games in the regular season, winning all of them, and would complete 67.9% of his 196 attempts for 1,384 yards, nine touchdowns and only two interceptions. HIs QB RATE for the 2019 Saints' campaign would be 99.1, a career best.
Bridgewater would find himself donning a Carolina Panthers jersey in 2020 and would go on to start fifteen games for the organization. Unfortunately, the Panthers haven't been a particularly good team recently and Bridgewater would go 4-11 as a starter with the organization. Even with that, he had a reasonably good season, throwing for 3,733 yards (a career high), 15 TD's and 11 interceptions for a QB RATE of 92.1.
He'd switch teams again and would don a Broncos uniform in the 2021 NFL Season. Once again, he would start most of his team's games, fourteen of seventeen that time around, and would amass 3,052 yards through the air, 18 touchdowns (a career high) against only seven interceptions. His QB Rate for that season was 94.9 .
Bridgewater is unique in that he has developed his ability to scramble, as needed. He has 819 yards on the ground, with the bulk of those coming in his first two, and most recent two, seasons. He had pretty good pass protection as a member of the Saints and didn't have to do as much with his feet. As a member of the Panthers in the 2020 season, he ran it into the endzone five times, by far his career high as he has eleven rushing TD's on his career.
While he's not the best quarterback in the league, Bridgewater has proven himself to be a solid option and, while I expect the younger Tua to win the starting job, Bridgewater is sure to give hima run for his money. If Tua's hurt, the Dolphins can rest easy knowing that the offense will still be in the good hands of a capable signal caller.
MINNESOTA VIKINGS
The Minnesota Vikings have the less than enviable position of sharing a Division with the Green Bay Packers, who you might know as being led by QB Aaron Rodgers, arguably the greatest to ever play the position and NFL MVP two seasons running.
In their entire NFL history, the Vikings are thought of as something of a cursed team as they are one of only twelve teams not to win the big one. By itself, that's not so bad, until you consider that they also share the top spot (with the Buffalo Bills) for the most SB appearances without a win. Maybe they are cursed.
Of course, the Vikings haven't actually appeared in a Super Bowl since 1976, so none of their Super Bowl history is particularly relevant to today's NFL. For our purposes, we're going to go back to the 2015 NFL Season and start looking at recent years from there.
In the last seven NFL Seasons, the Vikings have risen from the dung of mediocrity a few times. They've gone 65-47-1 in that span, which is pretty good, but it seems like they always find strange ways to lose games that either bounce them from the Playoffs or keep them from advancing to the Playoffs.
For example, they managed to go 11-5 and win the NFC North in the 2015 season—a year in which they were led by QB Teddy Bridgewater, who we just discussed above. The Vikings allowed the fifth fewest points in the league that year, and the 2015 Wildcard game was no exception, as they would hold Russell Wilson and the Seattle Seahawks to only ten points.
Unfortunately, that would prove to be one point too many. Russell Wilson did not have a career performance that game, far from it, as he would complete only have of his 26 pass attempts for only 142 yards, one touchdown and one pick. This would lead to a 63.3 QB RATE.
How could they have lost this game? Might it have been—the curse? As you can see, a 27 yard Field Goal miss by Blair Walsh with fewer than thirty seconds left in regulation would seal the Vikings fate. In fairness, that could happen anytime and it was Walsh's leg that was largely responsible for the fact that they had a chance to win the game there. Walsh put three earlier attempts through the uprights, including two attempts of more than 40 yards apiece.
The Vikings would go 8-8 in their unmemorable 2016 campaign, but would rise to win the NFC North division again with a 13-3 2017 season under quarterback Case Keenum.
The 2017 campaign would be another in which the Vikings defense was absolutely made of iron. You might as well try to score points against a wall than try it against the defense ranked #1 in points and yards allowed. The Vikings could also pound the rock on the ground, as they were ranked seventh in both rushing yards (offense) and rushing touchdowns. They went 13-3 the old school way of doing it, hard-nosed and gritty on both sides of the ball. They actually committed the third-fewest turnovers as a team, so even when they did throw (second fewest interceptions), they were really safe about it.
Enjoying the benefits of their first round bye, the Vikings would win 29-24 against the New Orleans Saints in the Divisional Round, before getting absolutely blown out, 38-7, by the Philadelphia Eagles in one of the least competitive NFC Championship games ever played.
In fairness, the Eagles would go on to beat a Tom Brady-led New England Patriots in a Super Bowl shootout, which goes back to what I've said throughout this series, it doesn't matter who you are, you're simply not going to win every shootout. Losing to the eventual NFL Champions in the Conference Championship certainly isn't what I would call a bad finish, but you'd like the game to be competitive.
However, this was supposed to be the Vikings' turning the corner and officially saying, "There is no curse," in that Divisional game called, "The Minneapolis Miracle."
The Vikings were down 21-20 with just over a minute and a half remaining in the fourth quarter. An errant pass on third and five forced Kicker, Kai Forbath, to attempt a 53 yard Field Goal. Normally, this is where the Vikings miss the Field Goal and game over, right?
Not on this day. Personally, I think the Vikings might have missed the Field Goal if it had been a chip shot, because that's just how things are supposed to happen, isn't it? Instead, Forbath absolutely drilled the 53 yarder, split the uprights, but the Vikings had one problem.
They were ahead by only two points and had to give the ball back to Drew Brees, and the New Orleans Saints offense, which was ranked #4 in points scored and #2 in yards.
The next several plays would see Drew Brees, seemingly effortlessly, advance the ball to midfield in about thirty seconds of play. While it was important to the Vikings to not give the Saints any free yards by way of penalty, they were simply yielding way too much ground to a team that only needed a field goal to win. Case Keenum is a capable quarterback, don't get me wrong, but he's not my first choice if I have thirty seconds to score.
However, with much more aggressive pass coverage, Drew Brees would throw three consecutive incompletions. So, was that it for the drama?
Well, would the game be called, "The Minneapolis Miracle," had the next pass been a simple incompletion on fourth down?
Of course not! On 4th & 10, with just 45 seconds remaining in the game, Drew Brees would send one to the sidelines to his left that was caught just shy of the thirty yard line. A few plays later, and the Saints would find themselves just inside the Minneapolis 25, which is a very makeable Field Goal if it goes to Fourth Down.
On 3rd & 1, the Vikings defense was able to stuff the run. They had done the best they could have hoped for after that breakdown on fourth down that could have ended the game. They left a little bit of time on the clock. On the next play, the Saints kicker, Lutz, put it through the uprights to give the Saints a 24-23 lead.
Inside of his own twenty, Case Keenum would find wideout Stefon Diggs for a twenty yard gain. While you'll certainly take the yards, this play was less than ideal as it would force the Vikings to use their final timeout. The following play was an overthrown ball that went out of bounds, leaving fourteen seconds on the clock. Increasingly, it looked like Keenum was not the guy you wanted doing this.
The next play would see Keenum take a hard hit as he threw the ball, which ended up just wobbling towards the far sidelines and wasn't in anyone's vicinity, bringing up 3rd and 10. Keep in mind, the Vikings haven't even advanced the ball to midfield yet.
With ten seconds and no timeouts from their own 39, Kennum would heave a pass to Stefon Diggs, and that pass would find Diggs at the Saints' 35. Diggs was covered somewhat tightly, so this should have been game over. The Saints should have been able to bring Diggs down in-bounds (start at about 14:15 in the video) and that's ball game, right? The ball could never have been spotted and spiked in the, give or take, three seconds that they would have had.
Interestingly, the pass may have just been a little bit overthrown. Safety Marcus Williams, at least at the time, was thought to have gone for the lower legs of Diggs, but as you can see, that wasn't true at all. Williams actually targeted where Diggs' waist should have been (though perhaps a little earlier than he should have), except Diggs had to go up for the ball, which led to him miraculously, and perhaps inadvertently, leaping over Williams in the process.
Perhaps a bit surprised to still be on his feet, Diggs would turn, almost falling (he steadied himself with the fingers of his free hand to the ground) and would scamper the rest of the way to the endzone unmolested.
I thought that people were a bit unfair when talking about Williams, who was hard on himself, by the way, as I could see where that was just a miraculous thing to happen. Williams could have done a few things differently. In his opinion, Williams would later go on to say that he should have played the ball rather than trying to take Diggs down, but another option would have been for Williams not to contest the ball, but rather, stay his hand for a second in trying to take down Diggs and instead wait patiently and get his arms around him when he comes down with the ball…with the only real goal being to keep Diggs in bounds.
Anyway, football plays are a blink and you'll miss them affair, and I think Digggs certainly had no idea that he was averting a Williams' tackle in the process of going way up to pull down a ball that might have itself been a little high.
With that, the curse was seemingly broken! At least, until the Vikings would travel to Philadelphia, commit three turnovers to zero, and Nick Foles would just have his way with the Vikings' much-celebrated defense. Oh well.
Over the next four seasons, the Vikings would go 8-7-1, 10-6, 7-9 and 8-9, making the Playoffs again only in the 2019 campaign. They would beat the Saints in the Wildcard Round, 26-20, in a game that went into overtime, before losing 27-10 to the 49ers in a game that the Niners controlled throughout.
Actually, 3:23 remaining in the third quarter was the last time the Vikings would score in regulation against the Saints, which gave them a 20-10 lead, so it was kind of their game to lose. Overtime is always going to be somewhat dramatic, just by virtue of being OT in a a Playoff game, but a 43 yard strike from Kirk Cousins to Patrick Robinson putting the Vikings within spitting distance of the endzone aside, it wasn't too dramatic.
Going into the 2022 Season, the Vikings have replaced fired former Head Coach, Mike Zimmer (whose run was 2014-2021 and the necessity of his firing kind of a point of debate) with former L.A. Rams Offensive Coordinator, Kevin O'Connell.
In fairness, while it is a point of controversy, the once mighty Minnesota defense has fallen significantly in the last few years. The Minnesota Vikings would rank 24th in Points against and 30th (third to last) in yards allowed, so they could clearly use some help in that department.
The Vikings do benefit from having an excellent quarterback in Kurt, excuse me, Kirk Cousins. I'm not explaining why that's funny, you'll have to do some Googling if you want to find out. That said, the defense is nothing like it was just a few years back.
The defense is decent at sending the ball the other way as the Vikings would rank 13th in defensive turnovers. The fact that the Vikings were #1 in turnovers committed would lead to an impressive +11 turnover differential going into the season, but that wasn't enough, nor was the play of Cousins, to save them from mediocrity.
To the credit of Cousins, the Vikings would rank eleventh in aerial yards gained, ninth in aerial touchdown strikes and, as you would expect, threw the fewest picks as a team. They were also average in yardage gained via the ground game, though they didn't score that way much.
Other than being aggressive in trying to create turnovers, the 2021 Vikings' defense just wasn't particularly good; that's all there is to it. Let's see what they try to do in free agency.
Za'Darius Smith - Outside Linebacker - Three Years: The Vikings have agreed to a three-year deal with Za'Darius Smith that is worth as much as 42M dollars over a three-year period. Only 11.5M of that money is guaranteed, five million in the form of signing bonus, so this is almost something of a, "Prove it," year for Smith.
Smith has various sack incentives for the first two years of this contract, so you know that's what the team is expecting out of him. The Vikings also have an out after the first year of the contract, which is interesting, because Smith stands to make significantly more in the last two years of this deal, especially in base salary, and particularly during the third season of the deal.
If the Vikings cut ties with Smith, they will face 3.33M in dead cap hit, all of it in the form of signing bonus spread out across the last two years of the contract. If Smith proves it, then he'll stick around; if not, then he will likely be looking for a contract elsewhere in advance of the 2023 NFL year.
Smith would play as a member of the Baltimore Ravens organization the first four years of his career, having been selected by the organization in the fourth round of the 2015 Draft. All told, he would see the field for some 60% of his team's defensive snaps, when available, and would amass 18.5 sacks as a Raven, tacking on three total Forced Fumbles for good measure. In addition to the sacks, he'd find his way to the quarterback on 52 other occasions and would add 119 tackles, of which 71 were solo efforts and 21 were for a loss.
Smith would then make his way to the Green Bay Packers, where he would spend the most recent three years of his career. A back injury would cause him to miss all but the first outing of the 2021 regular season.
In the two years prior to that, Smith would start every single game for the Packers and be on the field for more than 80% of the team's defensive snaps. Between the 2019 and 2020 seasons, Smith would force five fumbles, account for 26 sacks, 107 tackles (76 solo), 29 tackles for loss and would put the boom on opposing quarterbacks sixty times! It should come as no surprise that Smith would find himself in the Pro Bowl, and as a first team All Pro, both of those seasons.
That's the kind of production that Smith hopes to get back to, and the sort of production the Vikings are hoping for him to get back to, as he comes off of his back injury in this 2022 campaign. I'd imagine that Smith wouldn't mind extracting some measure of revenge on the Packers for cutting him, and if I'm Packers Quarterback Aaron Rodgers, I know that I'm keeping a special eye out for Smith during those two Divisional matchups in the upcoming season lest I find myself on my back staring up at the lights.
Smith brings a combination of speed and power and is an absolute menace to whomever on the offense has the misfortune of being assigned the task of blocking him. Another thing that I like about Smith is that he's capable of boosts of speed that enable him to even bring down good scramblers, such as Dak Prescott, from behind. His celebrations are also highly entertaining, and seem all in good fun; I just hope he doesn't draw any flags.
In each of those stellar 2019 and 2020 seasons, Smith had seven penalties accepted against him, but that seems like a fair tradeoff for the sort of explosiveness he brings. Typically, it's either for offsides or neutral zone infractions, but he'll also take one for getting to opposing QBs a little late every now and then.
Harrison Phillips - Defensive Tackle - Three Years: The Vikings will also bring in Defensive Tackle, Harrison Phillips, from the Buffalo Bills to split time on the defensive front. Phillips has taken just under 50% of the defensive snaps, when available, in his four year career…which has all been with the Bills, to this point.
He has signed a three-year contract worth as much as 19M, of which 12.9M is totally guaranteed with seven million of that in the form of signing bonus. If they wish, the Vikings could release Phillips in advance of their 2024 campaign, but will take a 2.33M dead cap hit if they do. It remains possible, however, as the 6.45M Williams is set to have coming to him in 2024 base salary is, by far, his highest base salary in the contract.
Primarily a run stopper, Phillips has forced three fumbles in his career to date and has accounted for 107 tackles, of which 60 have been solo efforts and eight have been for a loss. Of those eight career tackles for loss, four of them came just last year, as well as one of his 1.5 career sacks, a forced fumble and six of his thirteen QB hits. If he can keep the production at or above that level, we would expect him to play out this three year contract before entering 2025 as an unrestricted free agent, unless the Vikings work something out to extend him.
I could be wrong, but as far as I can tell, in his 1,272 defensive snaps, Phillips has never had a penalty against him that was accepted without being offset.
CONCLUSION
With that, we will move onto the next installment, which will start with the New England Patriots.
Posted by
Mission146