Introduction
Michael Jordan is known as the greatest basketball player ever. This week Michael Jordan was speaking about greatness as it relates to the Tiger Woods' comeback story that occurred at the 2019 Masters major championship tournament.
Tiger has had a long road to recovery after multiple serious injuries and devastating set backs. He overcame great odds to play professional golf once again, but most people doubted that Woods would win another major PGA golf tournament. Not only did he win another major, but Tiger won the most coveted major in the Masters giving him another green jacket to add to his amazing collection.
Michael Jordan's Public Statement
"I never thought he'd get back physically," Jordan told The Athletic after Woods' victory at the Masters on Sunday. "He didn't think he'd get back physically. But he did it. No one expected him to be back the way he is now. He's probably the only person who believed he could get back. To me, that's a major accomplishment. To me, it's unbelievable."
"Mentally, you always think you can. But you can't answer to what your body has to deal with. ... To me, it was the greatest comeback I've ever seen."
"I took two years off [from the NBA] to play baseball, but nothing like that," Jordan told The Athletic of Woods' comeback. "I'm pretty sure he questioned himself, whether he could get it back, and he had to put a lot of work in. But he took it head-on. He had to change his game; he had to change his perspective a little bit."
"Dealing with his emotions, obviously he believed in himself. But until you put that into action, sometimes it's a struggle. I think he's gotten over the hump. I think he's going to win more. It's tough mentally. It's absolutely tough mentally. And then you think about the physical. I'm elated."
Jordan told The Athletic that he called Woods to congratulate him on the win, and he is of the firm belief that Tiger has more wins in the bag.
"They got problems," Jordan said of Woods' rivals on the PGA Tour. "His confidence is only going to build from here. The unknown is the biggest thing. You don't know what Tiger's capable of doing. He's won a tour event [the Tour Championship]. He's won the Masters. He's won a major."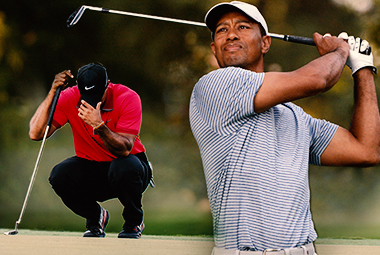 Tiger Woods' Injuries
Tiger Woods has dealt with a variety of intense injuries over the last ten to fifteen years. He has had to fight through several knee injuries that seemingly kept plaguing Tiger for quite some time now. Woods has torn his Achilles tendon, which is not only extremely painful, but it takes a long time to recover from and rehabilitate. He has also endured four back surgeries including a back fusion surgery.
These type of injuries and surgeries would make almost any person want to retire from professional sports, but not Tiger Woods. Tiger has the same type of physical commitment, mental toughness, and unrivaled competitiveness that Michael Jordan exhibited throughout his career as a professional athlete in which MJ played pro basketball and pro baseball. Tiger Woods is proving all the doubters wrong, and he is continuously making history.
Tiger Woods Career Major Championship Wins (15)
1997 Masters Tournament
1999 PGA Championship
2000 U.S. Open
2000 The Open Championship
2000 PGA Championship
2001 Masters Tournament
2002 Masters Tournament
2002 U.S. Open
2005 Masters Tournament
2005 The Open Championship
2006 The Open Championship
2006 PGA Championship
2007 PGA Championship
2008 U.S. Open
2019 Masters Tournament
Trying to Catch Jack Nicklaus and Sam Snead
As of right now Tiger Woods has won 81 PGA Tour events, and Sam Snead has won 82 PGA Tour events. This milestone or surpassing Sam Snead's record is obviously much more likely to occur than surpassing Jack Nicklaus' 18 professional major golf championships. Now that Woods has just won his 15th major, and he is looking like the Tiger of old it will be very interesting to watch him play out the remainder of his career. I hope to see him continue his outstanding and exciting golf game as he strives to become the greatest golfer of all time.
Source:
"MJ on Tiger: 'Greatest comeback I've ever seen'", espn.com, April 18, 2019
Posted by
DavidGreen