Introduction
On Tuesday, February 23rd, 2021 the superstar PGA golfer, Tiger Woods, was in involved in a serious single car rollover automobile accident in the suburbs of Los Angeles, California. Woods was immediately transported to a medical center for a lengthy emergency surgery in order to repair his various significant injuries to his right leg. Currently Tiger is recuperating from the major reconstructive operation, and he is expected to eventually make a full recovery.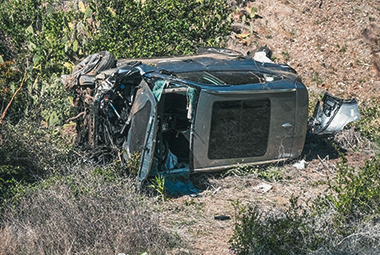 Details of the Crash
Woods was on his way to film content for Golf TV at Rolling Hills Country Club. He was driving his 2021 Genesis midsize SUV northbound on a two – lane curvy road with extreme declines near the border of Rolling Hills Estates and Rancho Palos Verdes. Rolling Hills Estates and Rancho Palos Verdes are upscale neighborhoods approximately 30 miles south of the downtown Los Angeles area.
Sources are reporting that Tiger's vehicle made contact with the median before crossing over the two southbound lanes, and then he hit a curb as well as some trees causing his automobile to roll over multiple times as it eventually settled to a stop hundreds of feet from the road. There was no indication of braking, and there were no visible skid marks on the street. Woods was luckily wearing a seatbelt, and at the moment there is no evidence that Tiger was impaired in any way.
At first reporters were saying that the Jaws of Life were needed to rescue the star golfer, but later on that story was corrected as a pry bar and an ax were utilized to detach the windshield of the heavily damaged vehicle before first responders were able to pull Woods out to safety. The automobile's airbags were deployed in the crash, and the interior of the SUV remained intact for the most part enabling Woods to be cushioned and survive this serious wreck.
The Emergency Surgery
The 45-year-old Tiger arrived at Harbor – UCLA Medical Center in serious yet stable condition, and he was rushed in to emergency surgery to repair the substantial orthopedic injuries to his lower right leg, foot, and ankle. The chief medical officer as well as interim CEO of Harbor – UCLA Medical Center, Dr. Anish Mahajan, was the individual that explained the emergency operation that Woods underwent on Tuesday, February 23rd, 2021.
Dr. Mahajan stated that Tiger's lower leg bones were broken in several places and the bones had protruded through the skin. They inserted a rod into the tibia in order to stabilize his tibia and fibula bones, and screws and pins were implanted in his ankle and foot to reconstruct the lower portion of his right extremity.
Woods is currently recovering from this emergency surgery as he remains hospitalized for the time being, but he seems to be alright and is frankly lucky to be alive. This could have easily turned out like the tragic news regarding Kobe Bryant around a year ago. The amazing golf hero has been receiving a whole lot of attention and support from people everywhere as many were deeply concerned as soon as this story broke earlier today.
Tiger Woods' Biggest Career Achievements, Honors, and Awards
5 Time Winner of Masters Tournament (1997, 2001, 2002, 2005, 2019)
4 Time Winner of PGA Championship (1999, 2000, 2006, 2007)
3 Time Winner of U.S. Open (2000, 2002, 2008)
3 Time Winner of The Open Championship (2000, 2005, 2006)
World Golf Hall of Fame (2021)
PGA Tour Rookie of the Year (1996)
11 Time PGA Player of the Year (1997, 1999, 2000, 2001, 2002, 2003, 2005, 2006, 2007, 2009, 2013)
11 Time PGA Tour Player of the Year (1997, 1999, 2000, 2001, 2002, 2003, 2005, 2006, 2007, 2009, 2013)
10 Time PGA Tour Leading Money Winner (1997, 1999, 2000, 2001, 2002, 2005, 2006, 2007, 2009, 2013)
9 Time Vardon Trophy Winner (1999, 2000, 2001, 2002, 2003, 2005, 2007, 2009, 2013)
9 Time Byron Nelson Award (1999, 2000, 2001, 2002, 2003, 2005, 2006, 2007, 2009)
2 Time Fed Ex Cup Champion (2007, 2009)
Presidential Medal of Freedom (2019)
Source:
"Tiger Woods recovering from lengthy surgery to repair 'significant' injuries to right leg", Bob Harig, espn.com, February 23, 2021.
Posted by
DavidGreen