Introduction
On Monday, June 15, 2020 the San Francisco 49ers and their head coach, Kyle Shanahan, have agreed to terms on a new six year contract. Shanahan had three years remaining on his previous deal, but this new agreement replaces those three years. The San Francisco 49ers head coach will now be under contract through the 2025 – 2026 NFL season.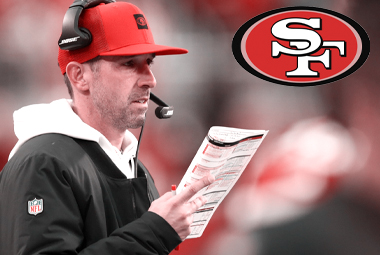 Highest Paid NFL Head Coaches
Shanahan's new deal puts him in the top five or six highest paid head coaches in the NFL. Kyle is expected to earn up to approximately $9 million per year. He is only behind Bill Belichick of the New England Patriots at $12 million per year, Pete Carroll of the Seattle Seahawks at $11 million per year, Jon Gruden of the Las Vegas Raiders at $10 million per year, Sean Payton of the New Orleans Saints at $9.8 million per year, and John Harbaugh of the Baltimore Ravens at $9 million per year (tied).
The Rebuild of the San Francisco 49ers
Ever since coach Shanahan began working with the 49ers, the franchise went from being one of the worst teams in the National Football League to one of the best organizations in the NFL. During the 2019 – 2020 NFL season Kyle led the San Francisco 49ers to a regular season record of 13 and 3. The Niners ended up making it all the way to Super Bowl LIV before finally losing in the postseason to the potent Kansas City Chiefs team led by their young superstar quarterback, Patrick Mahomes.
One of the Most Progressive Head Coaches in the NFL
Kyle Shanahan is also one of the most progressive head coaches currently employed in the National Football League. Out of the 23 assistant head coaches of the San Francisco 49ers squad 11 of them are people of color or women. Their defensive coordinator, Robert Saleh, is considered to be the first Arab – American coordinator in league when he was hired in 2017.
Shanahan is considered to be one of the NFL's best offensive minds in the game these days. His exceptional play calling ability as well as creative input continues to amaze all that follow the National Football League at this time. Hopefully he continues to have success as the head coach of the San Francisco 49ers over the course of the next several seasons.
Media Statements
"There's a lot of work in front of us. There's certainly not a lot of time to celebrate on just making a hire," the San Francisco 49ers owner Jed York explained.
York goes on to say, "I think in talking to Kyle, he was very direct with what he wants to do with the team and how he wants to build this thing and get it right. He knows that he's going to have the leeway to do that and he's going to have the time to do that, and we need to make sure that we commit to building something that we're going to all be proud of when it's all said and done."
"One of the great and liberating things for me, and I think why this thing came to fruition, I made a big deal that this stay quiet. First of all, you know what I was doing? Part of the rumors are things fly out of that building. And I wanted to see if I could trust this person. And so that was part of my thinking," says the San Francisco 49ers general manager, John Lynch.
Sources:
"49ers reward coach Kyle Shanahan with new 6-year deal, sources say", Adam Schefter, espn.com, June 15, 2020.
"Kyle Shanahan", pro-football-reference.com, June 18, 2020.
"Kyle Shanahan's Contract Extension Means More Than Stability for the San Francisco 49ers", Bret Rumbeck, 49erswebzone.com, June 17, 2020.
Posted by
DavidGreen