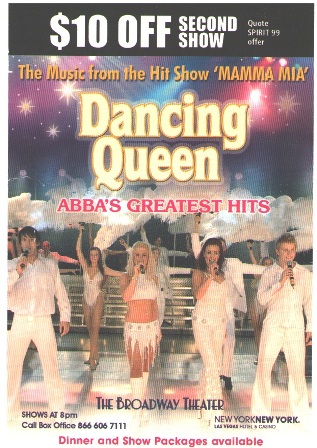 Let me start by saying I was born in 1965, so I take my ABBA, and seventies music in general, very seriously. My father loved ABBA and played their records all the time. I never thought about it before, but ABBA is the first band I would have ever known. Although I secretly liked them too, I couldn't openly like my father's music, so became an Elton John fan instead, I think in part because I knew my dad didn't like him.
Years later, when Mamma Mia came out and I got past my father-son issues, I rediscovered Abba. I enjoyed Mamma Mia so much I saw it three times and listened to the soundtrack, and original ABBA CD's, many times in the car. So, when it comes to me and ABBA, you do it right or you don't do it at all.
Fast forward to September 2012. I was wandering through the New York New York casino and saw signage for what I thought was an ABBA tribute act. Mamma Mia had long since left Vegas, and I was in need of an ABBA fix. Not knowing anything more about it, I purchased a couple tickets for Dancing Queen and took Wizard of Vegas reviewer and member Nick (aka NicksGamingStuff). Now I'm not sure why, but I was expecting an ABBA tribute band, and hoping for a darn good one.
Before getting into the show itself, let me address the venue. Dancing Queen plays in the Broadway Theater at the New York New York casino. With about 300 seats, it is a small showroom. The audience did not sit in seats but chairs arranged in about 20 rows of about 15 seats each. There are no decorations pertinent to the show. At 6:00 pm they use it for a "Broadway Celebration" show, so I don't think anybody expected any show playing there to be around on a long-term basis.
Seconds into the show I knew I wasn't going to like it. I was hoping for musical instruments to appear and musicians to come out wearing legitimate 70's era ABBA outfits. What actually happened was a bunch of dancers came out to a medley of ABBA done in a "dance remix" format, which was entirely too fast and electronically syncopated. I'm not an acoustics expert, but something just wasn't right with the bass. It was as if somebody had covered the speakers with pillows. The outfits did smack of the disco era, and I had a feeling they were leftovers from some past Vegas show. I do have to give them credit for wearing platform shoes some of the time. All things considered, for this true vinyl enthusiast who went through early adolescence during the seventies, I had a feeling it was going to be a long evening before the first lyric was uttered.
When the singers finally got started with "Mamma Mia," things only got worse. They sang it, and every song, entirely too fast. The youngsters who starred in the show obviously knew the lyrics, but I didn't get the feeling they actually liked ABBA. It is hard to put into words, but they didn't capture any of the intonations and timing that true ABBA fans would pick up on. Your odds of hearing ABBA sung properly would be much greater on karaoke night at your local neighborhood bar.
Basically every song was done with the same musical style, speed and choreography. There were lots of costume changes, but none of the looks seemed specifically tailored to ABBA. I could picture the cast going through a wardrobe somewhere in Vegas looking for outfits that were most reminiscent of the seventies, while still having that Vegas over-the-top look.
Since every song was more or less the same, I shouldn't even need to indicate the specific songs they did. However, I went in with high expectations, along with paper and pencil, to take notes. Here is the song list, as recorded by your faithful reviewer. Forgive me if I didn't title all of them correctly. You'll note that they alternated ABBA and general disco segments.
Medley
Mamma Mia
Give Me a Man after Midnight
Does Your Mother Know
Knowing Me Knowing You
Take a Chance on Me
Fernando
Voulez Vous
How Deep is Your Love
Night Fever
Staying Alive
We Are Family
What a Feeling
Celebrate Good Times
Car Wash
Macho Man
Chiquitita
What's the Name of the Game?
S.O.S.
Dancing in the Street
Sugar Pie Honey Bun
I'll Be There
Stop, in the Name of Love
I've Got Sunshine (on a Cloudy Day)
Ain't no Mountain (high enough)
Shout
Thank you for the Music
Waterloo
Dancing Queen
Medley
Please note the Bee Gees songs were not done in falsetto. If there is any upside to the death of Robin Gibb last April, it was that he wouldn't have to suffer through what they did to his music. I have not been this outraged since LeAnn Rimes changed the lyrics of Bridge Over Troubled Waters. In case anybody shares my insane standards of musical purity, she changed the lyric "Sail on Silver Girl" to "Sail on Children," perhaps out of the incorrect belief in the urban legend that Silver Girl was referring to a heroin needle, and that the whole song was about drugs.
The entire Dancing Queen show was one hour and five minutes. With 30 songs, counting the medleys, that is 2 minutes and 10 seconds per song. They accomplished this average with a very fast delivery speed and by cutting off every song early. Some they didn't even get halfway through.
Obviously I didn't like the show, but what about the rest of the audience? Halfway through the show, I wrote my friend Nick a note saying, "Sorry to take you to this." He just laughed knowingly. After the show, he said he saw the same cast in a Riverdance knockoff and added aside from the songs being different, it was practically the same show. I was too busy ranting after the show to take a minute to ask his actual opinion. He did complain about not letting us leave and having to suffer through three encores. In all fairness, he didn't object to it nearly as much as me, but then again Nick is over 20 years younger than me, so I can't expect him to compare the show to the real ABBA, as I did.
The rest of the audience didn't look like ABBA fans to me. I paid full price for my tickets, less a 20% locals discount, and got a seat in the center of the third row. There were plenty of empty seats in the first few rows, while the back of the theater was pretty packed. I suspect most of the audience got discounted or free tickets somehow, while the full-paying suckers like me at least got the good seats.
That said, I don't know if they were a terrible audience to begin with, or if they didn't like the show either, because they pretty much just sat there, as if watching My Dinner with Andre. Many times the cast motioned for the audience to clap. The few who actually did only gave a sympathy clap for about 15 seconds and stopped. During the YMCA number, the performers tried to get the audience to form the letters with their arms, but nobody did that I could see. I think about half the audience was on an elderly tour group from India, so their odds of knowing the YMCA dance was pretty low. Although I thought the show was pretty awful, I felt genuinely bad for the cast, as they were getting back nothing from the audience.
I've already sworn off of Vegas hypnotist shows, and now you can add tribute acts to that list. In all fairness, the cast was young and energetic, and at least they tried hard. I hope none of them read this review. My complaint is not with them but with whomever tried to cash in on the success of Mamma Mia by putting together this sad excuse for an ABBA show. Hopefully this review will at least save the time and money of somebody who might otherwise be suckered in. At least I feel a little better after writing this, like I do after puking following a night of too much drinking.
New York New York Broadway Theater
Tue-Sun 8:00 PM
Ticket price is $59.95, including taxes and fees. Locals eligible for a 20% discount.