Introduction
Let me qualify this review by saying I have no business reviewing musicals. I have seen about a dozen musicals though the years, but evidently I have different tastes in that area than Mr. Wynn, based on those I've seen and those in his show. Of the numbers covered by ShowStoppers, I have seen only two (Cabaret and A Chorus Line). So please consider this review as coming from the common man rather than a New York Times theater critic.
That said, ShowStoppers is a tribute to big, memorable classic musical numbers of the mid 20th century. The program says, "Conceived and written by Stephen A. Wynn," and his voice narrates the show here and there. What you can expect is one musical number after another in a quality on par with anything on Broadway. The six vocalists listed in the program have won numerous awards and have, what looked to me, very impressive biographies in the program.
Supporting the six vocalists is a "cast" of 29 of what I would call dancers. I'm in no position to critique dancing, but it seemed as good as anything I have seen before. Not just that, but the performers were all toned like Olympic gymnasts. Going by the program, they all had impressive lists of previous productions they have performed in.
As far as the orchestra, I counted 31 names. The quality of the music was outstanding and on par with Broadway productions I've been of A Chrous Line and The Book of Mormon. For lack of a better idea of what to say, the instruments featured were piano, bass, cello, drums, guitar, banjo, percussion, trombones, French horns, trumpets, violas, and violins.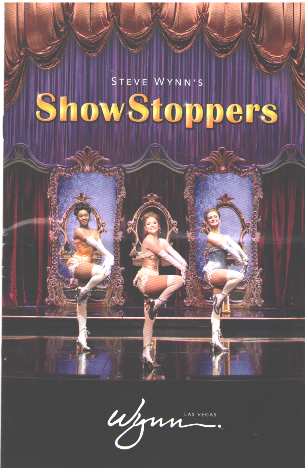 I can't think of a single negative thing to say about the caliber of the singing, dancing, or music. The costumes and set design were outstanding, as well. Steve Wynn is notorious for having very high standards, and I get the feeling he had his hand in this show and his expectations were high when it came to getting the details right.
With all the praise out of the way, I must say I felt the show lacked organization or flow. It was basically one musical number after another. When the numbers were from the same show they blended nicely, but the transitions from one musical to another were usually just several seconds of silence. Sometimes, the narration of Steve Wynn could be heard, but it was brief and happened only a few times. I heard there used to be more narration, but the audience complained about it so they cut it down. In my very uneducated opinion, I may have enjoyed the show more if there was an on-stage narrator introducing the different musicals and providing some information about them.
It must have been hard to choose what to cover in ShowStoppers, as there is so much to choose from. The taste of Mr. Wynn obviously gravitates toward the big classical musicals, as opposed to anything more modern. A noteworthy omission is anything by Andrew Lloyd Webber. However, I'm glad they did three numbers from Cabaret, as that is one of my favorites. Rather than speak further in generalities, I've listed below every musical number in the show.
In closing, I must say I left ShowStoppers happy and would be pleased to see it again if I had the opportunity.
List of Musical Numbers, in order performed
Annie Get Your Gun — There's No Business Like Show Business
Mame — It's Today
Hello, Dolly! — Elegance
Gypsy — Together (Wherever We Go)
Cabaret —

Willkommen
Money Money
Cabaret

Guys and Dolls —

Luck Be A Lady
Sit Down, You're Rockin' the Boat

Damn Yankees —

A Little Brains, a Little Talent
The Game

Stop the World, I Want to Get Off — Once in a Lifetime
Sweet Charity — Big Spender
Seesaw — Nobody Does it Like Me
Chicago —

Razzle Dazzle
Cell Block Tango
All that Jazz/Hot Honey Rag

Funny Girl — Don't Rain on my Parade
A Chorus Line — One
Annie Get Your Gun — No Business Like Show Business (reprise)
Performances
Monday-Thursday at 7:30 PM
Friday at 8:00 PM
Saturday at 7:30 PM
Tickets
The ticket price is $100-$150. I believe this includes taxes.