The Man Who Took Over Downtown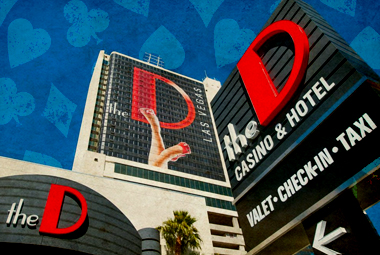 If you ask him, Derek Stevens will tell you that the name of one of his properties, "The D," could stand for Downtown. Of course, it could just as easily stand for Derek or his hometown of Detroit. I would tend to go with, "Downtown," as the man says, though, given that nobody knows as much about the place as he does.
Downtown Las Vegas was once the happening spot in the city, prior to The Strip coming in with its mega-casinos and thereby earning that distinction. While Downtown still does not offer the glitz and glamour that many Las Vegas visitors crave, there is no secret that the state of affairs has seen significant improvement in recent years and that Derek Stevens and his vision is the cause of that improvement.
Much like the city of Detroit itself, Stevens would be closely associated with the automotive industry early on in his career. After graduating from the University of Michigan in 1990 and receiving his MBA from Wayne State University four years later, Stevens would go on to take over as the CEO of his grandfather's company, The Cold Heading Company. The Cold Heading Company supplied the Detroit automakers with many of their nuts and bolts and is still in operation to this day as you can see here.
It also states that they are, "Family Owned and Operated since 1912," so it's still in the family. In fact, according to Bloomberg, he is still the acting CEO and head of the company.
It also states that he is a Co-Chairman and Director of the company, so while that would seem to contradict with being the CEO, maybe it doesn't. Bloomberg does not appear to state that he ever resigned as CEO of the company. Either way, the Cold Heading Company goes on and so does Stevens.
Derek Stevens, and brother Greg, would not immediately revolutionize Downtown, though. It would be far from a smart business decision to undertake such an enterprise immediately without first testing the viability of the market. In fact, their company, Desert Rock Enterprises, would begin their foray into the casino game by purchasing a 50% interest in the Golden Gate Hotel and Casino in 2008.
Much like the rest of Downtown Las Vegas, the Golden Gate had remained largely unchanged for several years. In fact, it had been more than fifty years since the most recent renovation at the time of Desert Rock taking a 60% interest in the company, with Derek becoming the CEO of the hotel and casino. Again, I think the long-game of revolutionizing all of Downtown had always been in the back of his mind, but first, it would be important to see if a single casino could have any drawing power. The major renovation would occur in 2012, around the same time that the Stevens' would reopen the old Fitzgerald's as, "The D," and would cost about twelve million dollars. The property was essentially renovated from top to bottom and everything in between, while maintaining some of the classic elements that would preserve the history of the property, to some extent.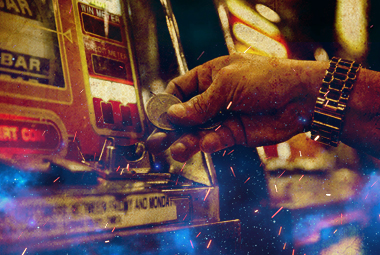 In fact, one of the property's features near the hotel desk is not only the first phone ever to make a call in Las Vegas, but also an extremely old guest register. The art of nice handwriting has gone by the wayside, by the way, which is good for me because my penmanship is awful with a 10/10 on Video Keno probability of improving.
At this time, Stevens would also introduce the idea of, "Dancing Dealers," to the casino, which are essentially scantily clad dealers that alternate between dealing the games and dancing for the customers. Pretty much what it says on the box. However, unlike the Strip with its, "Party Pits," you won't be dancing to the tune of 6:5 Blackjack at the Golden Gate or The D, as the Blackjack would remain paying the proper 3:2. Imagine that! Creating a draw to pull customers in without simultaneously costing them more money. Novel concept.
In 2016, they would go on to buyout the rest of the property and would become the full owners of the Golden Gate. The casino would undergo another renovation just last year, with an expansion of the property into the former, "La Bayou," area (which Stevens also bought) as well as creating a new entrance to the casino.
During and throughout this time, Stevens would also focus on the other bookend of the Fremont Street Experience, The D. Fitzgerald's was in the midst of turbulent times under the stewardship of one Don Barden and his Majestic Star Casino LLC brand. Barden was attempting a turnaround of the property, making the purchase of the old Sundance (bought by Lincoln Management, and renamed Fitzgerald's for Lincoln to subsequently rename itself Fitzgerald's Gaming) as he bought the property out of bankruptcy.
He became quite the person in gambling himself with that purchase, as it would make him the first African-American casino owner in Las Vegas. Unfortunately, Barden would die, but fortunately, the property would be sold to Derek Stevens, with a 78% ownership stake, and brother Greg, at 22% and renamed The D. That sale would take place in October of 2011 with the official rebranding to follow the next year.
Nearly doubling the renovation investment for, "The Largest Building Downtown," the Stevens' would pump some 22 million dollars into renovating the property with a modern look and feel. Of course, Stevens would retain some affinity for the Vegas of old as was reflected in the, "Vintage Vegas," floor, a study in contrasts from the much noisier (LOUD MUSIC AT ALL TIMES!!!) and lively downstairs with its dancing dealers during certain hours.
The Vintage Vegas floor, still home an original Sigma Derby machine that also has the signage indicating such, would also be home to a variety of coin-dropping slot machines as well as a small handful of more modern games for a long time. The Sigma Derby wouldn't be the only unique element to Vintage Vegas, as it would also come with a, "Loose Deuces," nickel denomination Video Poker game returning 101.6% at base. For a very long time, as a result, The D would have the best returning Video Poker machine in Vegas. Unfortunately, that old coin-dropper is no more.
The Vintage Vegas floor remains home to The D's Live Keno as well as William Hill Sportsbook. I would suggest that is probably because nobody would be able to hear what the Hell is going on if either of those two things were located in the cacophonous downstairs area. Another first for The D is an, "America's Coney Island," location, specializing in hot dogs, which is the first one to be located outside of the State of Michigan.
The D also offers perhaps the best odds on LIve Keno, at least they certainly did at one time, to be found anywhere in the whole of Vegas. That's pretty much what Stevens has always put an emphasis on, offering customers great service, a great value and a great gamble. I still maintain that the customer service at The D is absolutely second-to-none anywhere in Vegas, it's not even close. Of course, that aspect is something that Stevens makes a special point to emphasize.
Stevens can often be found at the, "Longbar," coming in at just under 100 feet in length and said to be the longest bar in all of Las Vegas. It pretty much runs something very close to the end of the McDonald's located in the casino almost all the way to the player's club. The long bar can be seen from basically any table game on the floor as it runs that entire span. Aside from that, the longbar is just long and is otherwise basically like any other bar in Vegas with the usual Video Poker bartops and televisions behind for watching sports.
Last February, the casino would introduce the World's Largest Keno Board, which can be seen outside of the casino across what basically amounts to an entire wall and shows the numbers drawn within. While garish, I suppose it's technically useful if you would like to put your numbers in and go outside to check out one of the few nearby shops, or otherwise, hit up the outdoor bar for a drink and some flair bartending.
Also on the forefront of technological innovation, The D would become the first hotel and casino to accept Bitcoin as well as buy and sell it for cash at a Bitcoin machine. I guess Downtown basically has alternate things of monetary value pretty much covered since you can also purchase actual gold at the Golden Nugget.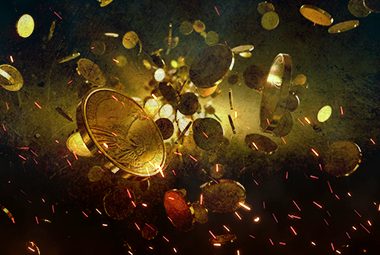 In 2016, Stevens would purchase three other Downtown properties all at once, the Glitter Gulch (which was a strip club), La Bayou and Mermaids, the latter two formerly casinos. Those locations would close in 2016 with Stevens later extending the entrance and floor of Golden Gate into what was once La Bayou, and him planning to build a new hotel and casino at the former location of Mermaids and Glitter Gulch.
Those purchases would follow the Stevens' purchase of the former Las Vegas Club, a casino once owned by the Tamares Group, who only the nearby Plaza. Purchased in 2015, Stevens had already determined that the property would house a new casino, but the purchase of the properties in the previous paragraph would enable him to increase the scope of same. Upon completion, this new casino will represent the first completely new property to open in Las Vegas in several decades. All of the other properties either retained the same name, were renovated and rebranded or, as in the case of Downtown Grand, had shuddered and then were purchased and rehabbed.
Even more importantly than that, it would represent the Stevens' third casino property in the general area of the Fremont Street Experience. Including those that touch Fremont Street to some extent (and the Plaza) that will give him three of the eight casino properties. His competition will remain, The Golden Gate, Four Queens, The Plaza, Binion's and Fremont, with other casinos also Downtown but either not on Fremont at all (Main Street Station, California, Downtown Grand) or on Fremont but away from the experience (El Cortez).
Either way, in a period of just a few years, Stevens went from being a fifty percent interest in one of the smallest casinos in Downtown Las Vegas to being Downtown's biggest player.
Despite all of his success, Stevens remains relatively affable and down-to-Earth. Personifying his dedication to customer service, he can often be found going around one of his casino properties, smiling and shaking hands. In fact, the first time I had the opportunity to tell him hello, we were drying our hands in the public bathroom of The Golden Gate. I'm sure there's a private one somewhere, so if that's not down-to-Earth, I don't know what is.
While Stevens appreciates the history of Downtown Las Vegas, he understands that some aspects that long-time Vegas visitors may have enjoyed have to go away if Downtown is to succeed. In his words, "Every time there's something new that comes in, it means there are some things that are turned to memories."
The fact of the matter is that, other than a dedicated handful of, "Old-School," Vegas visitors, ('handful,' meant relatively) Downtown would have to create some element of excitement and, if not glamour, at least pizzazz, in order to compete with The Strip for new visitors. For too many years, Vegas visitors would wander Downtown for a day, if not for only a few hours, and essentially look upon it as though it were some kind of museum. The fact is that it had to become vibrant in order for the place, as a whole, to succeed.
Seeking to take advantage of that which was created by the Fremont Street Experience a few years prior, Stevens would go on to modernize his casinos to make them a little more reminiscent of those on The Strip.
In addition to the Dancing Dealers, for example, the aesthetics at The D are as modern as it gets with a red and black color scheme pervading throughout. Additionally, the loudest closed environment I have ever encountered in my entire life, which is the entire first floor of the casino, is definitely put together with young people in mind. Aesthetically speaking, the idea is for it to be modern and flashy without being too flashy. In his effort to offer something Downtown such that one casino or another would appeal to someone, Stevens has done pretty well.
While somewhat tight-lipped about his specific plans for the new casino, he has indicated in the past that he is considering doing something that would be a larger version of the, "Vintage Vegas," theme, but we'll see how that goes.
Stevens also knows the importance of getting people into the casino, which starts with getting people near the casino. For that reason, he opened up, "One Bar," at Golden Gate prior to the opening of The D bar. Essentially, the One Bar was the first outdoor bar Downtown and was set up such that people could come up, purchase drinks and see and hear all the fun going on inside of the casino. It must have worked to some extent, because it's still there.
That's the thing with Stevens, he has a great eye for unusual ideas. On paper, Vintage Vegas should be one of the most boring places in the world to younger people, but you would see them up there playing saying stuff like, "These old machines are cool as Hell!" The notion of a coin-dropper would come off as nonsensical to most, but Stevens figured that it would draw people in, and if they weren't enticed, they could always go downstairs.
Truly, it begins and ends with customer service, and that's where we see a touch of Stevens in all of his employees. Pretty much always smiling, the vast majority of the staff will typically say hi to you as you approach, and always verbally acknowledge a gratuity. Combining that with the staff at The D's restaurants, who treat you like you're gold even though the restaurants are very Economically-priced, is just an emphasis on treating every single customer as if he is important to the casino. Because he is.
The treatment may begin with the customer service, but it certainly doesn't end there. As mentioned before, The D offers The D Grill, which is essentially a second-tier restaurant at third-tier prices and top-tier service. Maybe the food just seems better because you're treated so well there, I don't know, but it seems to me to be steakhouse quality at near Denny's prices.
Of course, most visitors to Downtown Las Vegas, at their core, are about the gambling. The casinos owned by Stevens also never fail in that regard. Not only are there great Video Poker paytables at The D, with a few machines coming in at over 100% with optimal strategy, but as was mentioned before all of the Blackjack is 3:2. In the high-limit pit, Stevens would even implement a Baccarat table taking only a 4% Commission on Banker bets.
The great gambling value hardly ends there. For people who enjoy trying out new table games, Stevens is no stranger to giving them a try in his casinos. Perhaps one of the better-known to come into The D was the Deuces Wild Hold 'Em Fold 'Em game. The house edge is higher than most other games on that one, but it is a really unique card game that plays unlike most, if not all, other games that you may have tried.
While the gambling an food values would be enough on their own, casinos owned by Stevens hardly skimp in other regards. While Strip casinos are busy charging exorbitant parking rates and monitoring the comped drinks pretty strictly against a player's action, Stevens casinos will still be plugging away giving free drinks for all who are playing anything. Hardly one to worry about a player's action, Stevens realizes the value that the optic of a busy casino has, so works hard to draw as many people in as possible. Whether playing LIve Keno for the lowest amounts possible, nickel Video Keno, or anything else...the drinks will be brought to you with regularity and a smile.
The rooms are also cheap compared to those on The Strip, and I am told, run comparable to many Strip casinos in terms of quality. The bedding is extremely comfortable, the TV's are pretty large for the price being paid and it seems that they are generally kept fairly clean. It has been said that you should try to get a high floor if you're not a fan of staying up late, as the noise from the Fremont Street Experience will cause you to do just that.
It is a shame to see some neat little novelty places such as Mermaids and La Bayou meet their ends, as well as to see the dilapidated Las Vegas Club, which had considered also becoming a pharmacy (!?) meet a similar fate. Although, I remain excited for what Stevens decides to put in their place. Again, if you had always bet that everything Stevens touches is bound to be a success, you wouldn't have lost any wagers yet.
Stevens also understands that treating the customers well, by itself, isn't enough. To borrow from the Vegasinc and the Las Vegas Sun.
"It never ceases to amaze me how much terrific feedback various customers can give you," he said. "You can only do so many things in a day, but a customer may tell you, 'Hey, this was going on in the parking garage,' or, 'I saw this billboard when I was driving in from California.'
"And all those little bits tell you something. Like, 'Oh, yeah, that billboard we bought by Bakersfield (Calif.), I guess that's working.'"
The article also mentions, and I wholeheartedly agree, that personality is a big part of it. Totally Ric Anderson's thought, but I echo that Las Vegas was built on personalities such as those of Benny Binion and Jackie Gaughan. Hands-on type owners that made sure to go around, shake hands and solicit the opinions of the customers. While The Strip may be the place to go for glitz and glamour, that's one thing that the faceless guys counting beans in backrooms are not going to be able to provide. One thing that those faceless guys are not going to be able to receive is customer input, which probably finds its way to some E-Mail account and results in an automated response until someone in a call center a few blocks away reaches out to you. Unless you're a whale, of course.
Stevens isn't particularly concerned with the status of an individual player, and that is expressed in his willingness to listen to anyone. Jackie Gaughan, for example, was the same way and while most other operators haven't learned from that, his son, Michael Gaughan, certainly has with his South Point casino way South of the main Strip.
Either way, it's clear from the usual beam on his face that Stevens enjoys every day of being on his casino properties and chatting it up with some of the customers. After selling the El Cortez, Jackie Gaughan would remain a resident in the penthouse and would be seen everyday playing poker with many of the same people downstairs. They pretty much kept the poker room open just for him, because by all reports, it really wasn't making anything.
What it really comes down to is a love for the casino environment, and the more general environment and feel of Downtown Las Vegas, which has always centered around being a Paradise in Paradise for lovers of value.
In addition to the enjoyment of the atmosphere, there's also an element of hard work and long hours that goes into it. To borrow one last time from the article above (which I suggest reading):
The most important thing is just to show up. I say that to all my young guys. Forty hours a week is not a workweek to me. That's part-time. I like my guys here 60, 70, 80 hours a week — you can accelerate your experience; you can accelerate your learning.
So we develop a culture with people who are here a lot. We generally all like each other, which is a critical element when we spend most of our waking hours together? I really like having a culture where you can get a text 24 hours a day.
In the interview, he goes on to discuss how taxable jackpots have been stuck at the same level for years, and are an unfortunate turnoff for customers, because they are not indexed to inflation and cannot be written off of state tax returns (Oh, don't I know?) in many cases. This is just an example of the approach he takes to everything that he does, looking at everything in an overall sense and trying to figure out the best way of doing things.
For that reason, he would also go on to describe Downtown as, "Complementary," to The Strip rather than in competition with The Strip. He lauds the Las Vegas Convention Center and T-Mobile Arena in the meantime.
Stevens knows enough to look at Las Vegas as an entire experience. That makes it a question not of, "Downtown or The Strip," but rather a question of, "Why not do both?" He knows that anything that brings someone to Vegas will ultimately bring people to his property, just like bringing people to his properties will result in them also visiting other places. (It it even possible to be Downtown for a full day without going into multiple casinos?)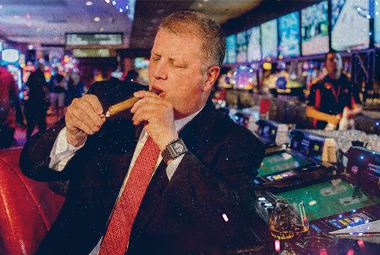 Ultimately, he understands that the best overall goal is simply finding a way to give people what they want, and that shows in his customer service approach. If Las Vegas gives people what they want, more people come to Vegas, all of the casino hotels are filled up and everyone wins.
Conclusion
Love him or hate him, the fact remains that Derek Stevens was instrumental in turning around Downtown Las Vegas, if not responsible for the event in the majority. Prior to his arrival, the Downtown properties spent years, decades or even half of a century on a gradual decline, catering to locals and what few stragglers were left who wanted to visit Downtown.
Stevens would come in and realize that the Downtown casinos were successful in offering two things: A unique atmosphere and a good gamble. Given his natural business sense, he saw an opportunity and came in during the economic downturn, when nobody else was really investing that much. While people were selling low, he was buying low. While others were closing or delaying construction, he was pumping millions into renovations. He had an eye for the future of Downtown then, and that continues now.
In addition to tremendous customer service standards, Stevens would understand that the aesthetics of his casinos would not necessarily have to be to the level of The Strip, and that Downtown could retain some of its old-school charm, particularly by way of the casinos that he does not own, but there had to be a little bit of flash and excitement. Downtown would need to become a Vegas destination again, with optics, food and rooms that were at least comparable to those which can be found on The Strip.
In short, he had a vision and we see the result of that vision. It seems like the guy is never wrong. The next step in the revolution of Downtown will be the opening of his third property and there's no reason to think it won't be a similar success story.
Posted by
Mission146