Introduction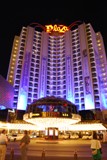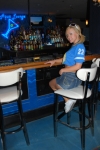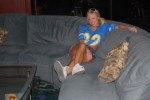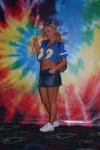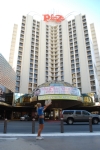 The Plaza is a large downtown casino situated at the west end of Fremont Street, across Main Street from where the Fremont Street Experience's canopy ends. Due to its prime location, it is often seen in movies filmed downtown. The property opened in 1971 as the Union Plaza, called that because the site used to serve as the Las Vegas train station for the Union Pacific Railroad. Today, part of the building serves as the Las Vegas Greyhound bus depot.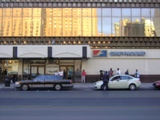 The property is currently owned by the Tamares Group, which also owns the Vegas Club across the street and a small casino called the Western in a blighted section of downtown. The current owners do not seem to be spending much on repairs or renovations to the Plaza. As an example, I think a down escalator leading from the Firefly restaurant and bingo on the upper floors to the casino below has been broken for months. The up escalator in the same location works only about half the time. The alterative is taking the north tower elevators. At the current rate of deterioration, it appears the Plaza won't be around much longer.
However, within the property, there are some diamonds in the rough, as I'll get to in my review. I stayed there the night of May 20, 2010. This review is based mostly on that stay.
Hotel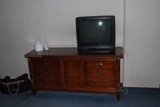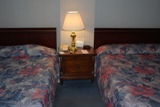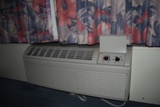 According to the 2010 American Casino Guide, the Plaza has 1,307 rooms and 60 suites. That makes it the second largest hotel in downtown, second to the Golden Nugget.
The Thursday night I stayed for this review, a standard room cost me $29. When I booked online, I was given the option to pay an extra $10 for a deluxe room, which I declined. There was no resort fee, which I applaud, although it would be a stretch to call the Plaza a "resort."
The Plaza has two hotel towers: north and south. The north tower is the iconic one at the front of the property, directly facing Fremont Street. The elevators are conveniently found at the front of the building, right by the check in desk. I believe the south tower rooms are not as nice, and the elevators are in the back by the sports book, a long schlep from the front desk.
When I checked in, I was assigned a room in the south tower. When I got to my room, however, my key didn't work. After two attempts, the front desk gave me a room in the north tower. I believe this move equated to an upgrade to a "deluxe room." I had previously seen a south tower room when a friend was in town, and it was smaller than the north tower room.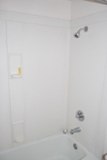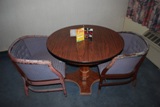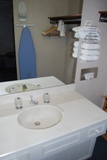 My north tower Plaza hotel room was one of the worst rooms I have stayed at in my entire life. The main light switch and the TV remote control didn't work. The furnishings looked like they had been there since the opening in 1971. I doubt the mattresses have ever been replaced. Rather than wake up in the morning in pain with a bad back, I slept on the floor.
I did have a nice view directly facing Fremont Street. However, that came at a price. Downtown was in the midst of running free concerts and music. The noise did not end until about 1:30 am, and the thin walls weren't enough to keep it out.
I will give housekeeping credit for a satisfactory job, though, and the towels were surprisingly new and fluffy. However, the hallways had a pungent odor. My guess is a mixture of 40 years of miscellaneous spills and the application of various janitorial products to deal with said stains and mask the odors are the culprits.
Local calls were 75¢.
My room came with a fun book with the following coupons:
$10 match play.
One free bingo "Bonanza" strip (three cards).
Turn a $20 sports book future wager into $25 wager.
Provide your e-mail address and get 100 points.
10% off any purchase at gift shop (must have Players Club card).
Earn 250 points and get a free gift (a t-shirt).
2 for 1 drink at any casino bar.
$25 in poker chips for $20 buy in.
Free small coffee or soft drink with purchase of any breakfast entree or sandwich.
Free reconstructor (whatever that is) with haircut & blow dry.
$25 pedicure or $35 manicure & pedicure.
10% off any entree at Tinoco's (at the Vegas Club).
Free ice cream scoop with purchase of pizza or hot dog value meal.
10% off at Seattle's Best Coffee.
Parking Garage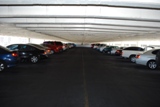 The parking garage is a large, multi-level building. The shape is a big square, and you can only go around it in one direction. The low ceilings are painted white -- an easy target for making footprint marks. The fee to park is $5, but it is refundable at the cashier if you present your receipt. The size of the parking spaces and aisles were satisfactory. The elevator ride up took a while. The car overshot the opening, and I could feel it inching its way down, one bump at a time.
Pool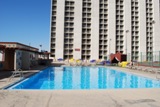 The pool is on the roof of the casino. It is fairly big, especially for downtown, but it's just a boring rectangle. There is nary a plant to be found, and the dilapidated lounge chairs looked like they've seen better days.
Tennis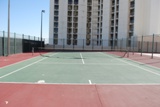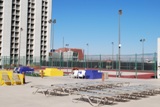 There are four tennis courts adjacent to the pool. Only one had net, a very tattered one at that. One court had been converted to a volleyball court, with yet another very sad looking net. The other two courts were not ready for anything. The beaten up surfaces are indicative of the condition of the entire property.
Restaurants
Here are your dining options at the Plaza: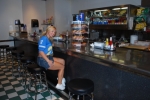 Downtown Café and Grill: This is a small and simple place at the back of the casino with a counter, several tables, and a short order cook. Just seat yourself. I haven't been hungry enough or brave enough to try it yet.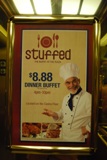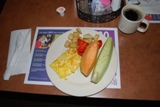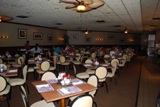 Stuffed: I tried this buffet for breakfast. Like the Café, it, too, is a small and simple affair. There wasn't much to choose from, and no omelet station, but what was there wasn't that bad. Unlike most Vegas buffets, the drinks are self-serve. Considering the price of $7.77, it's hard to complain. $7.77 is also the price for lunch, while dinner is $8.88.
Firefly: This is one of the diamonds in the rough I mentioned earlier. Firefly serves Spanish food, not to be confused with Mexican food. Most dishes on the menu are tapas, which look like, and are served like, appetizers. There were impressive menus for both food and drinks. At one point our waitress gave us the wrong drink. She later realized the error without needing to be corrected. She let us keep it anyway. Other restaurants would have probably taken it away, hoping you would order something else to replace it.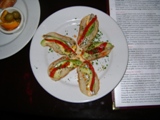 For me, Firefly was a very unique experience. I've never been to Spain, nor even heard of Spanish food before this. I was there with somebody familiar with Spanish cuisine, and everything he ordered was delicious. I especially liked the pulpo, which means octopus in English. My guest complained a little that it wasn't authentic enough for him, but I had no basis of comparison, so I left very happy. The service was also outstanding.
My editor happened to have been there just a few days before. Here is her review.
I liked the food but wasn't wowed. The highlight for me was the dates stuffed with almonds, wrapped in bacon and served with Gorgonzola cheese. The bartender said it is their best seller. The drinks were honest, and I was impressed by the size and variety of the drink menu. The service was outstanding.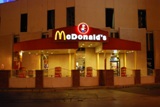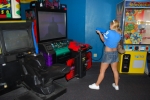 Food Court: On the north side of the property are some fast food outlets, including McDonald's, Subway, Noble Roman's Pizza and Seattle's Best Coffee. There is also an arcade with 16 games.
Entertainment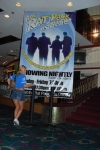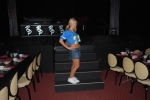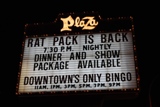 The Plaza is home to The Rat Pack is Back show. I saw it a few days after my stay there. Full disclosure, I was born in 1965, so the Rat Pack era is before my time. Judging by the audience, at 45 years old, I was probably the youngest person in the room — by at least 10 years. So, I can't compare them to the real thing very well. Like most tribute acts, it seemed over-personified a bit, but I think Vegas audiences expect things to be over the top. Still, the show seemed very professional, and when they sang, they did it well.
The seven-piece orchestra did an outstanding job. The actors started out playing things pretty straight, but half way through the show they dragged out a cocktail table, and after that it became a mixture of music, jokes and choreographed improvisation. Some of the jokes would be considered politically incorrect today but were evidently perfectly safe in the early sixties. Halfway through the show, Marilyn Monroe just happened to drop by and joined the pack on stage for a while. She, of course, sang happy birthday to an audience member.
I guess I would say that if you were born before 1955, you would probably enjoy the show; otherwise, you would like it as much as your parents, or grandparents, would enjoy a Nirvana tribute act. The prices are as follows, including taxes:
General admission: $57.00
VIP: $73.75
General with dinner: $71.00
VIP with dinner: $87.50
I purchased a general ticket, which was perfectly fine. There was no shakedown for a tip from the usher, an annoyance I've encountered at other Vegas shows.
Casino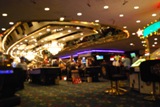 According to the 2009 American Casino Guide, the Plaza casino has 58,660 square feet of gaming space. That seems to be the largest casino downtown. They don't really need that much. The area in the back doesn't seem to get much traffic. At least there is plenty of elbowroom. According to the Nevada Gaming Control Board, the Plaza has 20 table games, 4 poker tables and 658 slots. Following are some specific comments on a game-by-game basis.
Blackjack
The best blackjack game when I was there was double-deck, with double after a split allowed, for a house edge of 0.26%. There were also six-deck games, with the same rules, except re-splitting aces is allowed, for a house edge of 0.38%. As always downtown, the dealer hits a soft 17.
There was also a Super Fun 21 table and five 6-5 tables in the Party Pit.
Craps
The Plaza deserves some applause for offering 20x odds on its two craps table.
Other Table Games
Pai Gow Poker, Three Card Poker, Let it Ride, roulette (double-zero)
Video Poker
According to vpfree2, the best game is 9-6 Jacks (99.54% return with optimal strategy), available in single-play games at 25¢ 50¢, and $1 denominations. The next best game is 9-6 Double Double Bonus (98.98% return with optimal strategy), also available in single-play games at 25¢ 50¢, and $1 denominations.
The slot club awards one point for every dollar bet. 500 points can be redeemed for $1 in free play, which is equivalent to a rebate of 0.2%.
Keno
I took the keno booklet home and analyzed all the non-progressive games. Here are the returns. As you can see, the best return is on the pick-4 at 78.93%.
Plaza Non-Progressive Keno
Game
Pick
Return
Basic
1
0.750000
Basic
2
0.721519
Basic
3
0.749270
Basic
4
0.789274
Basic
5
0.785291
Basic
10
0.710432
Top/Bottom
40
0.729992
Pick 20
20
0.695947
The next table shows the pertinent information about the four progressive games. The columns show, from left to right:
Pick: Number of marks the player picks, from 6 to 9.
Base: The return if the progressive jackpot were $0.
ER per $1000: The additional return for each $1,000 in the progressive meter.
Breakeven: The jackpot point at which the return becomes 100%.
Plaza Progressive Keno
Pick
Base
ER per $1000
Breakeven
6
0.137781
0.128985
$6,684.65
7
0.137722
0.024403
$35,335.56
8
0.136772
0.004346
$198,641.38
9
0.094934
0.000724
$1,249,613.49
Sports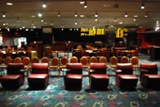 The Plaza has what must be the largest sports book downtown, by far. It boasts 9 windows and seating for about 100. Lots of screens on two sides of the room make it also a good place to watch the games you're betting on.
The sports book is operated by the Lucky's franchise. As I wrote in my Terrible's review, Lucky's offers competitive odds, including 10-cent money lines in baseball. Tickets expire in 120 days, which is reasonable.
Two years ago, I forgot about a winning bet I made at the Plaza until after it expired, and the sports book manager graciously honored it anyway. I think this was before it was a Lucky's franchise, but I believe the same manager still works there, and in my opinion, he's a great guy!
Live Poker
The Plaza has a roped-off area with four poker tables. It is open limited hours only. While I was there, they seemed to have trouble getting enough players to start a game.
Bingo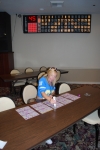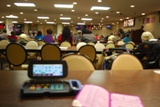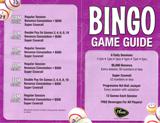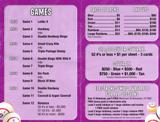 The Plaza offers the only bingo game downtown. I played the 9 PM session. Although I purchased $98 in cards, I was only cased (meaning one number away) two or three times. I never won. I was usually two or three numbers away when somebody did bingo. Based on how far I was generally away when somebody did bingo, I think there was a lot of competition in the room.
The room itself was about half the size of the enormous bingo rooms at the Station and Coast casinos. There is a fountain for free drinks at the side of the room. There was no cocktail service at the tables, but I think you could order drinks somewhere at the start of the session.
My Own Gambling
I was happy to do the new player promotion described below. I was too impatient to make 500 bets at 9-6 Jacks to earn the 2500 points. Instead I played Spin Poker, which had a worse pay table (9-5 Jacks), but completed the required play in just a few minutes.
In addition to that promotion, I played about two hours of blackjack at an average bet of $50, according to the Plaza's records. I think both were a little higher, but not worth arguing about. While I about broken even financially, it was not a very fun experience. Most dealers just stood there and dealt the cards, not even saying "thank you" for a tip. The players mostly just sat there and played, too. A brick wall dealer will usually suck the fun of a game. I desperately wanted to play at the Party Pit, which had young pretty girls dealing, but all the tables paid 6-5 on a blackjack. I refuse to play that on principle alone.
When I was ready to leave, I went to the VIP services office by the player club. The host looked at my play and took care of my room "no problem." I also charged my $7.77 breakfast buffet to the room, but that was left on my bill. I'm not sure if she didn't see it, or if she didn't feel my play warranted comping it. I didn't feel like begging, so I didn't question it.
However, it gets better. Recall that one of my coupons was for a free gift with 250 points earned. I forgot to redeem that when I stayed there, so I went to do so when I returned a few days later for the Rat Pack show. The attendant said I had $90 in free play and two free tickets to the Rat Pack show as a birthday gift. I had no idea. That was very generous, and fast, considering I played there only a few days before, and not that much. Too bad I had already paid for my show ticket. That was very generous of them. I still have never received anything in the mail about it. Had I not tried to use that coupon, I would have never known about it.
Promotions
New Member Program
The slot club was running a very generous promotion for new players when I was there. Among various options, I felt the most generous was $180 in free play for earning 2500 points. It takes $1 bet to earn a point, or $2500 bet to earn the $180. That equates to a 7.2% rebate!
Assuming the player plays 9-6 Jacks, the expected cost of $2,500 bet is $2500×.0046=$11.50. The value of $180 in free play in 9-6 Jacks is $180×0.9954=$179.17. I'm pretty sure you get to keep the points too, which are worth another $5 in free play, or $5×0.9954=$4.98 in expected return. So, the total value of this promotion is $179.17 + $4.98 - $11.50 = $172.65. As far as I'm concerned, that is the best new player promotion in town, by far! The Plaza's sister property, Vegas Club, has the same offer. I've done it at both of them.
Spring Fever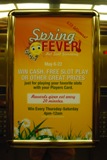 Thursday to Saturday, from 4 PM to 12 AM, the "Spring Fever" promotion going on, in which someone with a cart and a megaphone wandered around the casino awarding prizes every 20 minutes. The prizes were usually a small amount of free play.
Deuces Wild
Signage in the casino indicated the following bargains:
$2 hot dogs.
$2 domestic beer.
$2 minimum blackjack.
$2 Cuervo shots.
$22 rooms.
Summary
It is really sad how dilapidated the Plaza has become. In my younger days, in the late eighties, I played single-deal blackjack there many times, and the place seemed bright and fun. That is also where I saw my first Vegas show, Nudes on Ice, which is long gone. Even by downtown standards, the Plaza is in pretty sad shape. The closest competitor in need of repairs, I would say, is the Vegas Club, which is, not surprisingly, owned by the same parent company.
However, there are still some redeeming features to the Plaza, like the generous new player offer, the Firefly restaurant, and the Rat Pack is Back show. It may be worth visiting for those reasons, but I would not recommend staying there. In my opinion, it is worth the extra money to stay at the Golden Nugget or the Four Queens.
Links
Acknowledgement
I'd like to thank Lisa Furman for modeling in the pictures. Lisa invites you to visit her page at ModelMayhem.com
Contact Information
Address: 1 South Main Street, Las Vegas, NV 89101
Phone: 702-386-2110
Web site: plazahotelcasino.com
Resort and Parking Fees
| | |
| --- | --- |
| Resort fee | $13.50 |
| Parking fee | Free |
Games at Plaza
| Blackjack | Location | Decks | Min | Max | Soft 17 | DA | DAS | RSA | Surr | Tables | CSM | Party Pit | 6/5 BJ | Video | H. Edge |
| --- | --- | --- | --- | --- | --- | --- | --- | --- | --- | --- | --- | --- | --- | --- | --- |
| Blackjack | Downtown | 6 | 5 | 1000 | H | Yes | Yes | No | No | 8 | No | No | No | No | 0.63873 |
| Blackjack | Downtown | 2 | 10 | 1000 | H | Yes | Yes | No | No | 1 | No | No | No | No | 0.45688 |
| Craps | # of Tables | Min Bet | Max Bet | Odds | Field12 | Video |
| --- | --- | --- | --- | --- | --- | --- |
| Craps | 2 | 5 | 1000 | 10 x | Triple | No |
| Roulette | # of Tables | Min Bet | Max Bet | Rules | Video |
| --- | --- | --- | --- | --- | --- |
| Roulette | 2 | 5 | 100 | 00 | No |
| Video Keno | Rank | Avg Return | Grade |
| --- | --- | --- | --- |
| Video Keno | 16 | 92.17% | B+ |