Property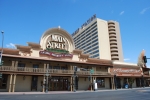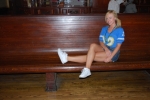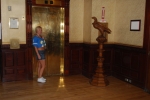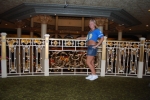 Main Street Station is located in downtown Las Vegas, at the junction of Main and Stewart/Ogden Streets. The Union Pacific tracks run directly behind it, hence its name. MSS contains a full-size hotel, a full-service casino, a buffet, and a brewpub. Valet parking is available, or you can park across the street in their large, "free" lot. The "free" lot costs $3, but it is refundable at the Main Street Station cashier, just bring your receipt. The Wizard adds that he usually uses that lot when he visits any casino downtown.
MSS also owns and operates an RV park, across Main St. and one block to the east. The rates at this park are very low for the area--usually less than $20 for full hookups--and thus, MSS is a popular destination for the RV crowd, especially in winter.
Clientele/Vibe
There are several features that set MSS apart from the other Vegas casinos. The first thing you notice is the beautiful and ornate hotel lobby, designed to look like a 1900s-era train station. There are period memorabilia scattered throughout the casino, as well as a fully preserved Pullman sleeper car just outside. The property in general is quite attractive.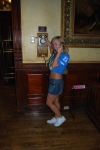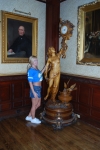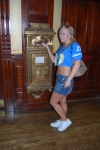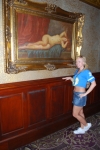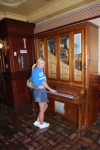 One thing that is definitely unique is that the urinals in the men's room near the buffet are surrounded by pieces of the former Berlin Wall. So if you have ever had an urge to pee on the Berlin Wall, this might be the place. The Wizard asked model Lisa if there was a piece in the lady's room, and she said "no."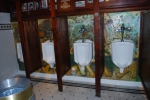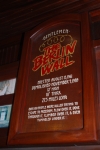 MSS gets a crowd of medium- to low-rollers, many of them from Hawaii, as MSS gets overflow visitors from the adjacent California Hotel/Casino. The pit has decent, low-limit games, and the slots seem to get a lot of play. MSS encourages repeat out-of-state customers by being very generous with room offers, and has built a loyal customer base.
Gambling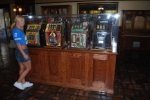 MSS offers the usual assortment of slots, in all denominations. The slot club is the "BConnected" club, which covers all Coast casinos: in the case of downtown, MSS, California, and Fremont. The slot club pays 0.1, 0.2, or 0.3%, depending on your "tier" level, respectively, "Ruby", "Sapphire", and "Emerald". Sapphire is relatively easy to attain; Emerald takes much more play. One extra benefit of the Sapphire and Emerald levels is that if you book rooms online, and your have attained either of those levels, you get discounts on room rates booked online.
Video poker offerings are good. While, as usual, most of the VP is lousy, there is 10/7 Double Bonus (full-pay) available in 25¢, 50¢, and $1 denominations. There is also an ongoing, long-running promotion where you get a scratch card for any four of a kind. At the 25¢/50¢ level, these cards are almost always worth $2, with the occasional $3, the rare $5, and the very very very very very very very rare $5,000 (I have been assured that such cards DO get given out on occasion). The average value seems to be about $2.25, which adds 0.3-0.4% to .25 games; this is not a bad little bonus. Be warned, slot club points on the 10/7 DB games, as well as the other good games on those machines, are awarded at 1/3 the normal rate.
Table games are the standard fare. The most common blackjack game is $5/$10 minimum hand-held double deck, though players with a monetary death wish can also find single deck games that pay 6-5 on blackjacks. There is also a Super Fun 21, a blacjack variant that usually pays even money on blackjack, but some other rules cut the dealer's way. Still not as good as regular blackjack. Other carny table games such as Let It Ride and Three Card Poker, with $5 limits, are also offered, along with roulette ($5) and pai gow poker ($10).
There sare two crap tables that seem to always be busy. That might be because MSS offers 20X odds. Table minimum is usually $5, though I've seen it as low as $3 on a weeknight.
Entertainment
Walk two blocks to the Fremont Street Experience and experience the Experience. Or, stand behind a voluble little old Japanese slot player and shout "Hooray!!!" every time he wins fifty cents. Other than that...
Beer
Another thing that makes MSS stand out from the crowd is the onsite microbrewery. For those of you that don't know what that is, it's a place that makes really, really small glasses of beer. Order the 1/16 ounce Pale Ale for 5 cents. But seriously, folks, the beer is really good. The bar on the west side offers it for $1.50 a glass, or comped if you are playing video poker. It's also served in the Triple 7 Brewpub.
Restaurants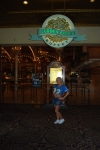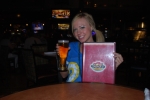 There are two choices: the buffet and the Triple 7 Brewpub. The buffet is above average. It features the usual buffet fare, but with a couple of twists: one, the offerings of carved/roast beast are more extensive than most buffets, and two, they offer Hawaiian food (such as lomi lomi pork). Prices are $6-10 for breakfast/lunch and $11-14 for dinner (they have specialty nights that vary the price somewhat). The buffet room has a very nice atmosphere, and has an open feel to it that you don't get with many other buffets. Desserts are very good. I recommend this buffet (burp).
The Triple 7 Brewpub offers a menu of TGI Fridays/Applebee's/Chili's type fare, albeit with better quality IMHO. They also have a few things on the menu that you don't normally see in such places, such as (really good) sushi. They have big screen TVs playing the current football or basketball game, and of course, serve their very good beer--so it's a good place to have something to eat, hang out, and watch the game. They offer happy hour specials, and prices in general are very reasonable. The waitresses are friendly and efficient. Definitely worth a visit (beer!!!).
Hotel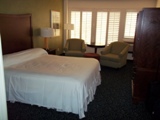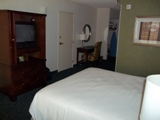 The rooms at MSS are large, well-appointed, and very comfortable; they offer very good value, too. I particularly liked the fact that there were a couple of big comfy chairs, as well as a writing desk and chair to do my work. One caveat is that you should try to get placed on the side of the hotel that faces the rest of downtown, NOT the side that faces the railroad tracks, especially if you're a light sleeper.
Free Wi-Fi
Free wireless internet access is offered in the lobby, near the players' club. There are several chairs and tables you can use, and you don't need a password.
Player Comps/Spiffs/Offers
The MSS offers free rooms to players that give relatively modest action. For playing 4-6 hours of 25¢ video poker per visit ($3-4K coin-in), I consistently receive monthly offers of three free nights + $30-40 in food credit. This makes the MSS one of my favorite destinations, as I enjoy the hotel, the food, the low-key atmosphere, and the relative proximity to the rest of downtown. The slot club itself is not that great, but like many other such amenities these days, it has improved on a relative basis simply by not getting any worse while everyone else's slot club went to hell. Rather than being an "earn a lot of points" style club, it focuses on "come back and see us again".
My Visit
I checked in to the MSS for a two-night stay on December 20, 2010. I was able to check in at noon, despite the sign that said "Check In at 3 PM". Everything was handled quickly and easily by the front desk. I got a very nice room facing the Cal and the rest of downtown.
My first gambling foray was to challenge the 25¢ 10/7 Double Bonus video poker machines. I sat down and fed one a $100 bill. It burped, said "thank you", and proceeded to deal me eighty losing hands in a row. Well, maybe I got a pair of Kings once. Stunned, I proceeded to do what any sensible person would do in such a situation: I fed the damned thing another $100 bill. I lost another forty or fifty hands in a row, and then the machine took pity on me and gave me four 9's. Still down about $80 at this point (and with an unscratched scratch card clutched in my sweaty fist), I was clearly expected to take my consolation prize, accept my beating, and slink away. But nooooo. I kept on bashing away for two more hours, and as it turned out, I got enough four of a kinds to keep my boat afloat. I cashed out down $20, redeemed $15 worth of scratch cards, and walked away happily with twenty-five or so complimentary beers sloshing in my belly.
I then tried the $5 double-deck blackjack game. The first dealer I had was not human, but a zombie. She did not acknowledge my greeting, cut out $100 in checks for my buyin with an expressionless face, and generally dealt the game as if she was ironing a t-shirt. She went on break after a few minutes, and was replaced by her antithesis: a bubbly, smiling little Filipino woman who dealt the cards with zing and a constant line of patter. I had a lot of fun chatting with her and the other players, and was saddened when she was, in turn, replaced by...another zombie. That zombie was replaced by...a chatty, friendly Japanese woman. This was kind of unnerving, being dealt to by alternating humans and robots. What made it even stranger was that I was slaughtering the robots/zombies and getting slaughtered by the friendly humans. After a good four hours of this tug-of-war, I cashed out $20 ahead. I had also consumed several more beers (did I mention that the beer is good here?).
My next gaming experience was to try the crap table. The players were doing the usual hollerin' and carryin' on, so I thought I'd give it a whirl. I was immediately presented with a bowl of dice, picked two, made a Pass line bet, and shot the dice. Three, craps, line away. Hmm. I shot again. Twelve, craps, line away. Double hmm. I rolled a nine. I took four times odds. Then I rolled a seven. Splat. In under one minute, I had just obliterated $35 of my own money. I decided to let someone else shoot, particularly since some of the little old Hawaiian men were looking at me and drawing fingers across their throats. Suffice it to say that I had just set a trend that continued for some time. I was down to a single $5 chip when an angel of mercy appeared--a slightly confused tee-hee girl who at the behest of her boyfriend, shot the dice "because it's fun". She threw six passes in a row and healed my wounds--I finished up $55. I threw the dealers a red chip and toddled over to the brewpub to watch the Monday Night Feetball game.
There's nothing better than having a great burger, watching the game, yelling obscenities at the referees, and seeing your team cruise to victory. The MSS doesn't have a sportsbook, but I had made a bet at the Fremont earlier that day on the team that was now supposed to win because I had bet on it. Winner winner chicken dinner!
Pool
Not that I gave a poop about the pool in late December during a rainstorm, but the MSS's pool is the California's pool—you can access it via the skyway over to the Cal. It was closed and inaccessible during my visit.
Summary
I give the MSS four stars. That's out of five, but I haven't given any hotel five stars since the "Night of Drunken Models and Whipped Cream" many years ago...uh, where was I? Oh yeah, I really enjoyed myself here. The rooms are nice, the food's excellent, the gambling is decent--what's not to like? Plus, there's the beer--did I mention the beer?
Links
Acknowledgements
The Wizard would like to thank Kevin L. for the review and Lisa Furman for modeling in the pictures. Lisa invites you to visit her page at ModelMayhem.com
Contact Information
Address: 200 North Main Street, Las Vegas, NV 89101
Phone: 800-713-8933
Web site: mainstreetcasino.com
Resort and Parking Fees
| | |
| --- | --- |
| Resort fee | $13.50 |
| Parking fee | Free |
Games at Main Street Station
| Blackjack | Location | Decks | Min | Max | Soft 17 | DA | DAS | RSA | Surr | Tables | CSM | Party Pit | 6/5 BJ | Video | H. Edge |
| --- | --- | --- | --- | --- | --- | --- | --- | --- | --- | --- | --- | --- | --- | --- | --- |
| Blackjack | Downtown | 2 | 5 | 1000 | H | Yes | No | No | No | 9 | No | No | No | No | 0.60225 |
| Blackjack | Downtown | 6 | 5 | 500 | H | Yes | No | No | No | 1 | No | No | No | No | 0.78327 |
| Blackjack | Downtown | 1 | 5 | 200 | H | Yes | No | No | No | 1 | No | No | Yes | No | 1.69824 |
| Craps | # of Tables | Min Bet | Max Bet | Odds | Field12 | Video |
| --- | --- | --- | --- | --- | --- | --- |
| Craps | 3 | 5 | 1000 | 20 x | Triple | No |
| Roulette | # of Tables | Min Bet | Max Bet | Rules | Video |
| --- | --- | --- | --- | --- | --- |
| Roulette | 1 | 5 | 100 | 00 | No |
| Video Keno | Rank | Avg Return | Grade |
| --- | --- | --- | --- |
| Video Keno | 8 | 92.50% | A- |