Introduction
The Hard Rock is a relatively new casino located on Paradise Road, which runs somewhat parallel to the strip. It is themed so well that when you walk in, it feels like stepping back in time to an era where Janis Joplin and Jimi Hendrix were in their prime. It caters to people in their early 20's and 30's who might not have the biggest bankroll, but like good music and like to have fun.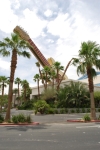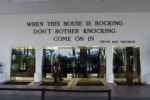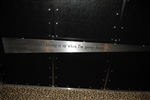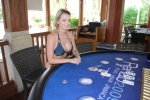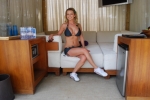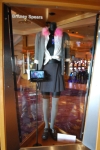 Casino
The casino is somewhat small, located in a circular shape on the main floor. Whereas most casinos have dedicated the majority of their space to slots, the Hard Rock uses most of its floor space for table games. There are of course slots, but not as many as you'll find at strip casinos.
According to the Nevada Gaming Control Board, the Hard Rock has 95 table games and 550 slot machines. That's less than 6 machines for each table game, which is the best tables-to-slots ratio I have ever seen at any casino.
Blackjack
According to the Current Blackjack Newsletter, the Hard Rock has 21 tables of 6:5 "blackjack", 3 tables of Super Fun 21, and 33 tables of 3:2 blackjack. Minimum bets range from $5 to $100, depending on the type of game.
Roulette
Only American (double-zero) roulette is offered.
Craps
The craps tables at the Hard Rock offer 3x-4x-5x odds, 15:1 and 30:1 payouts on the hop bets, and a short-pay Field bet that pays double on both the 2 and 12.
Other Table Games
The following other table games were observed at the Hard Rock:
3 Card Poker
Let it Ride
Pai Gow Poker
The Nevada Gaming Control Board also indicates that there are 4 tables of Baccarat somewhere, although I did not see them. I suspect they are probably mini-Baccarat.
Video Poker
According to vpFREE2 there is one 9/6 Jacks or Better machine, located in the high limit room, and only for very high stakes — $10, $25, and $50 coin sizes. 8/5 Bonus Poker is also available in the high limit room, and on a few quarter machines on the main floor.
Slot tickets expire after 60 days.
Sports Book
The sports book has 4 betting windows. Outside of the sportsbook are 6 small wide-screens. Inside there are 3 large screens and 14 small. There are 6 regular tables and 5 lounge tables, 4 of which have their own screens.
I was unable to determine how long sports tickets are valid for before they expire. I suspect it is the typical 120 days.
Poker
The poker room is located down the hall a bit from the main casino. It features 18 tables, all of which are non-smoking. The rake is 10% up to $4 for $1/$2 games, and 5% up to $3 for $2/$4 games.
Player's Club and Cashier
The cashier features a single line. I never located the player's club, as I had a pit boss make me a card at the tables.
I played Pai Gow Poker for about 5 or 6 hours, betting $25 a hand. When I checked out, I asked about getting some or all of my stay comped, but ended up getting nothing comped. I think the reason why is because I broke even after quite a bit of play.
Hotel Room
The hotel room was stylish, with various art hanging on the walls and a large, comfortable king-sized bed. The internet access cost $13.99 for 24 hours, which is rather expensive but unfortunately typical for Vegas hotels. Additionally, there was a "resort fee" of $7.63 per day attached to my bill, which I neglected to notice until long after my stay. The "resort fee" is a sneaky tactic that many casinos have started using to extract more money from their guests.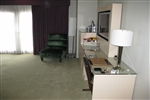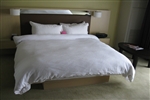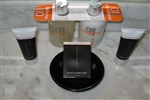 The following 2 pictures were taken from my hotel room, one at day and one at night. The room had doors that opened to the outside, so I was able to take pictures without having to worry about the reflection from the window.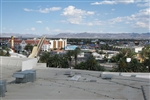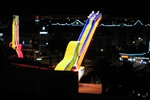 Pool
I did not personally see the pool, however the Wizard did take several pictures of it, shown below. There is even swim-up blackjack offered in the pool, and regular sit-down blackjack under the huts.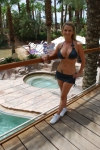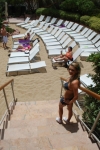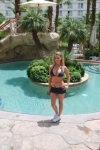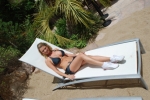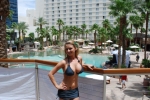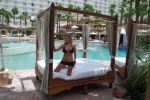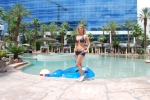 Food
I ordered room service during my stay, which was fairly reasonably priced compared to other hotels. With the exception of Mr. Lucky's and Starbucks, the restaurants at the Hard Rock seem somewhat mismatched with the demographic they are trying to target.
Ago - Italian fare, co-owned by Robert DeNiro.
Rare 120 - Steakhouse and bar. Appetizers - $9 to $22; Filet Mignon - $29 to $39; NY strip steak - $42; Sides - $7 to $15
Mr. Lucky's 24/7 - A 24-hour bistro that has a little bit of everything: burgers, fries, salads, steaks, fish, and even a noodle bar.
Pink Taco - Go ahead, laugh at the name. Mexican fare.
Nobu - Japanese dishes. Definitely not for those on a tight budget.
There is also a Starbucks located near the parking garage.
Overview
Overall, the Hard Rock was a very fun place. The elevators have song quotes on the handle bars. Even the hotel room's "Do Not Disturb" sign was witty: on one side it said "Tidy Up" and on the other side it said "Tied Up". The music selection in the casino itself, while loud at times, was more in line with what I prefer. That helped me enjoy my time there more than if they had been playing soft classical music or top 40 pop like most other casinos do.
Links
Acknowledgement
The Wizard would like to thank Susan for her modeling services and J.B. for the review.
Contact Information
Address: 4455 Paradise Road, Las Vegas, NV 89169
Phone: 800-473-7625
Web site: hardrockhotel.com
Resort and Parking Fees
| | |
| --- | --- |
| Resort fee | $13.50 |
| Parking fee | Free |
Games at Hard Rock
| Video Keno | Rank | Avg Return | Grade |
| --- | --- | --- | --- |
| Video Keno | 55 | 89.21% | C- |