Introduction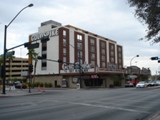 Introduction
I recently stayed at the re-opened and refurbished Gold Spike casino in downtown Las Vegas the night of November 14-15, 2010. It is located at Las Vegas Boulevard and Ogden, about a 5 minute walk from the California or the El Cortez, or about 3 minutes to the Fremont Street Experience.
It is owned by the Siegel Group, which also operates the Siegel Slots and Suites.
They proudly consider themselves a "boutique" hotel, and with 162 rooms (according to Wikipedia), it certainly seems to fit in that category. I am not sure what boutique means, however, the property fits in line with other places I have stayed at that define themselves as such.
Please note that the American Casino Guide (the 2010 edition, at least) has a steal of a coupon for the Gold Spike- a $7.77 / a night room special. After speaking with the front desk, it seems that a lot of (but not all) Friday and Saturday nights are blocked off. I had no problem using the coupon on a Sunday night.
The Gold Spike does charge a $6.95 a night resort fee, however, the total, which came to just under $18.00 with this resort fee and room tax, was quite to my liking.
It is clear that the Gold Spike truly considered this a top-down renovation: the "lobby" which was just a small-but-nice desk right off the casino looked new and classy. The casino itself was airy, had a brand new floor, and looked nicer than many of the properties downtown that have not been renovated as recently. The restaurant had brand new furnishings and paint, and the rooms were completely redone.
The only old vestiges of the old Gold Spike I noticed were the outside of the building (which does have a nice new sign) and the carpets in the room hallways. For some reason, they have not taken down the ugly Travel Inn sign outside their "Oasis" wing.
We arrived six hours early for check-in, and the Front Desk explained to us that either we could wait a few hours and get a non-smoking room, take a smoking room immediately, or pay $50.00 to upgrade to a suite immediately. As a matter of principal, after paying $7.77 for a room, I was not going to shell out 7 times that for an upgrade. My fiancee was tired, so she wanted to take the smoking room. When I turned on the window A/C unit, I was blasted in the face with ash. Not the hotel's fault, but still unpleasant. Unsurprisingly, the room smelled like smoke.
The rooms, which are small, are decorated in a brown/teal motif with new flat screens with full cable mounted on the wall. An ipod dock next to the bed was a nice touch, as was the room service menu, whose prices were identical to the restaurant's dine-in prices, plus a fee. I did not take pictures, however the room pictures at The Gold Spike web site are accurate.
Apparently, they also own the building next door, and have converted it into "The Oasis at the Gold Spike," which used to be the Travel Inn. We stayed in the main building. The pool was small and I didn't go in as it was too cold outside. It does appear to have been recently remodeled, however.
Dining
The restaurant, the Golden Grill, was small and bright. From what I remember, prices were reasonable, though I was not feeling well so I did not eat my dinner. My fiancée reported that her meal, at $6.99, was "okay." Then again, she ordered a burrito at a casino diner, so that may be the explanation.
The Casino
The casino, as I mentioned earlier was small, but it has nice glass and metal accents. It stacks in at a whopping 5,820 square feet, as compared with the MGM Grand, which is more than 25 times as large. As a litmus test, I checked a few video poker machines, and could not find anything over 8/5 JoB at any level. They have 198 slots, compared with MGM Grand's 2,470. There was no poker that I noticed.
The casino has 4 gaming tables: 3 blackjack and 1 roulette, compared to MGM's 178. They are only open limited hours (supposedly they open at 4:00 p.m.), though I saw them open around noon. They are going for the party-pit motif, and all dealers I saw were pretty buxom blondes (don't tell my fiancée).
Only 2 of the 3 blackjack tables were open while I was there, one at $3 and one at $5. I did not notice a roulette minimum. According to the Wizard's Blackjack Survey, the rules come in at a pretty dismal 0.64% house edge (6 decks, DAS, H17, no surrender, no RSA).
There is also a very small Leroy's franchise and a very small Keno area.
I neglected to sign up for their player's card.
Summary
Overall, I would stay there again, especially for a similar price. I think the rooms are far above average for downtown, though the limited dining selection, limited table game hours (and offerings), and short hike to other properties are negatives.
I think it has great promise, and is doing as much as it possible can given its size limitations. All of the staff members went above and beyond, and were all exceedingly friendly. My fiancée and I enjoyed ourselves tremendously.
Links
Acknowledgement
The Wizard would like to thank David L. for the review.
Contact Information
Address: 217 Las Vegas Blvd North, Las Vegas, NV 89101
Phone: 702-384-8444
Web site: goldspike.com
Resort and Parking Fees
| | |
| --- | --- |
| Resort fee | $13.50 |
| Parking fee | Free |