Introduction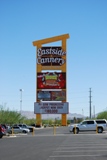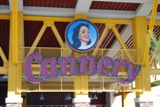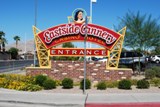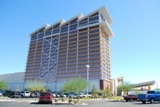 Eastside Cannery is a casino hotel on the Boulder Strip, a resort corridor snaking along Boulder Highway on the east side of Las Vegas. Built in 2008, it is one of the newer hotels in Las Vegas constructed from the ground up. The architects did a very nice job with the design and construction. The casino replaced a notorious dump, the Nevada Landing. Eastside Cannery is an offshoot of a sister property, the original Cannery, a very popular locals' casino located on Craig Road in North Las Vegas. The theme — as far as I can tell — is 40s/50s/60s postwar industrial (in other words, the good times before the "hippies" got a hold of everything).
Like most of the hotels on the Boulder Strip, the Eastside Cannery primarily targets locals, and visitors looking for a solid deal. In my experience, I find off-Strip properties to be a better value for your money than Strip resorts, and Eastside Cannery is no exception. If you have a car, and don't mind being far away from the "heart of it all," you can have a good time at Eastside Cannery.
Location/Transportation
Eastside Cannery is on Boulder Highway just south of Sam's Town. The easiest way to get there is to take Flamingo Boulevard east from the Strip. If you are coming from downtown or the airport, take US- 95/93/515 to Flamingo, and head east. It's not hard to pick out the building from the skyline. There is a very dramatic lighting scheme on the façade of the hotel.
By public transportation, you can take the Flamingo RTC bus, which rests in the Eastside Cannery parking lot, so it is convenient. You can also take the BDX Boulder Highway Express from downtown, and get off at Harmon, by the Longhorn Casino. The Eastside Cannery is right across the street from the Longhorn. There is plenty of parking, and bicycle security patrols the parking lot.
The Boulder Highway neighborhood is not the savoriest area, but there is really nothing to worry about in the immediate area. Sam's Town is right next-door, and you can walk there easily. I also walked across the street to the Longhorn a couple times for some low-limit gambling. I would not venture too far outside of that triangle without a car, however.
Hotel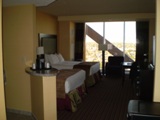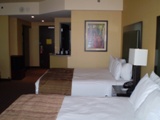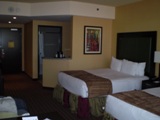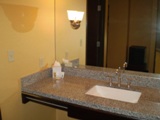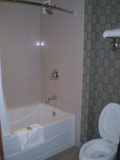 Eastside Cannery has some of the best budget rooms in Vegas, and some of the best casino rooms for low-rollers anywhere. I can say without hesitation having stayed in innumerable casino hotel rooms: They really did a good job with this one. There are 300 rooms on 16 floors, and each room has floor to ceiling windows that provide great views of the Strip and the mountains. This is truly one of the better views in Vegas, with no big buildings to block your view. The way the hotel is angled you always have a view of at least part of the Strip.
The cost of my hotel room was $70 plus tax for two nights' stay. This was booked using a $10 off per night offer they had on their website. One thing I noticed is that Eastside Cannery does not use third-party discounters and does not deeply discount their rooms. This may affect their occupancy rate, but room rates run steady at $40-$50 a night. I have also heard they are generous with mailers, and my friends have gotten free stays there. When I checked in, I was given a coupon book that included a $10 match play, a two for $2.99 breakfast special at the café', and a free drink during happy hour for the length of my stay.
The rooms have high ceilings and you almost feel like you are in a high-roller suite. Besides the aforementioned floor-to-ceiling windows, there is a granite-top "bar" separating the bathroom area from the living area, and the BIGGEST freaking HD TV I have ever seen in any hotel room in my life. Seriously, it was huge. We watched a movie on it, and it was like being in a home theater. Cheers to Eastside Cannery for offering guests good TV options when most casino hotels give you a small tube TV with 4 channels, hoping you will gamble in the casino in lieu of watching.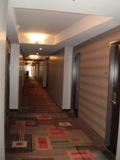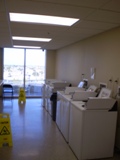 Guest room amenities included a refrigerator, and 24-hour room service. Wi-fi is $12.99/day. There is no resort fee. One of the things I liked about Eastside Cannery is that there are laundry facilities on the third floor. These are kind of hard to find, at the end of a long hallway, but once you get there you will find a very nice laundry room with a picture window and coin-operated washers and dryers. It costs $1.25 to wash and $1.50 to dry. You can buy laundry soap in the gift shop.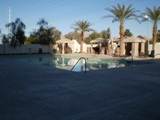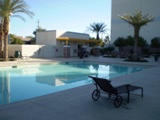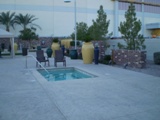 The pool is outdoors, and is open 365 days a year. It was too cold to swim during my visit, but I did see some people using the hot tub. This is one of the nicer pools, with cabanas to rent and food service available. The design theme follows the rest of the hotel, and they put some care into the landscaping.
Dining
Eastside Cannery has a good selection of restaurants, including the de rigueur casino restaurant concepts. To wit:
Snaps Café (Coffee Shop).
The Deli.
Carve (Steakhouse).
Casa Cocina (Mexican).
Cannery Row Buffet.
There are also three bars on the casino floor: Marilyn's, Pin-up's, and the sports book bar, so you never have to walk far for a drink. I did have a drink at the bar during happy hour, and was disappointed by their selection of draft beer, which didn't include much more than the standard American water-lagers. (Note to E.C. beverage manager: Guinness is good for you!) Service was fine.
For my meals, I ate at the Cannery Row Buffet twice during my stay, and came back later for a dinner at Carve. The buffet is excellent. When I first walked in, I was shocked to see self-serve beverage stations, and thought I had finally found a buffet that did away with the ubiquitous drink servers. No such luck — they still had people to bring you your drink. However, this is still one of the better buffet concepts in town — it is small, but they put great care into presentation and making sure everything is clean. I saw them changing serving bowls and rotating food often to keep it fresh. Compare this to other buffets where they often leave food out to simmer and get crusty.
Almost everything I ate was good. One thing I really liked were fresh-fried jiaozi (Chinese dumplings, or potstickers). These weren't the deep fried ones like you usually find but were sautéed and very tasty. The salad bar was good, and there wasn't any item that was bad. The price for a lunch buffet is $6.99 with a player's card. I would rate this as the best buffet on Boulder Highway, better than Sam's Town, Arizona Charlie's, and Fiesta's. Check it out.
I came back a week later for a Sunday night dinner at Carve. I went with two friends, and we had $160 in comp to use from a previous promotion. This is an above-average steakhouse. Prices for the steaks are very reasonable, in the high $20s, and they include sides. I ordered the "Big Daddy" special, which was a 16 oz bone-in ribeye with mashed potatoes and a vegetable. My fellow dinners got a veal chop and the New York Strip. I would say the veal chop was the best dish. They didn't have any bone-in ribeye left so they gave me a boneless cut, which wasn't spectacular and was very fatty. The filet portion was excellent and almost perfectly cooked, however.
We ordered appetizers, which included Oysters Rockefeller (good), crab cakes (good), and some sides like sautéed mushrooms. The wine selection was good, too. The markups were about double retail price, which sounds high, but is actually quite reasonable for restaurants. We ordered a bottle of Stag's Leap Petite Sirah, which was $50, but at a place like Canaletto at the Venetian the exact same bottle would run you $100 or more. I recommend a visit to Carve if you are looking for a reasonably priced steakhouse experience with good quality and value. The service is very attentive and good, as well. The price for the three of us was $220 including wine and tax, but we ordered a lot.
I didn't eat at any of the other restaurants but I did get coffee at the sports book Deli one morning. They were closed, but the clerk gave me some coffee anyway. I thought that was nice. (If I don't get my coffee in the morning, I can't function.) Snaps Café looked like a nice coffee shop, and Casa Cocina was the usual mid-scale Tex-Mex, albeit in a nice room.
Entertainment
There are lounge acts every evening in Pin-ups café. I saw a guitar player and a keyboardist who I both thought were pretty good —- not great. There is a popular Latin singer named Claudine Castro who unfortunately I did not get to see (I had other plans), but she has a very popular local following and her own website. For what its worth, the Eastside Cannery did seem to market to Hispanic customers, and I saw a lot of them there. There is also a showroom where they have traveling acts like the Commodores and Smokey Robinson.
There used to a nightclub on the top floor of the hotel called the One Six Skylounge, but I guess nightclubs didn't appeal to the Boulder Strip crowd, so it is now closed. You can book it for private events. I've heard from people who went there when it was a club that it has striking views, so I'd imagine it would be a cool place to hold an event.
Casino
The gambling is good at Eastside Cannery, but it could be better. It is what I would call a "slot barn," with some video poker scattered throughout and a small table games pit in the center of the casino. When Eastside Cannery first opened, it had some of the best video poker in town, and also offered 100x odds in craps, which they have since gotten rid of.
The table games on offer are blackjack, EZ no commission Pai Gow Poker, craps, and roulette. These were the only games that I saw operating constantly. (I played all three shifts.) Blackjack rules are the usual off-strip double deck rules: no resplit aces, double after split, dealer hits soft 17 for a house edge of 0.45%. Minimums are $5. You can also play for $3, but will be dealt to from a continuous shuffle machine. You must bet 2x the minimum to play two spots, and 5x the minimum to play 3 spots. Craps is $5 minimums with 10x odds. The craps table was never busy while I was there, and it was often half-tabled (staffed by one dealer). Bring back 100 times odds!
I would say the most popular table game at Eastside Cannery is EZ No Commission Pai Gow Poker. This game was invented by Dan Lubin, a local Las Vegas casino dealer. The catch in this game is that the player pays no commission on wins; instead, the dealer's hand of a queen-high Pai Gow results in a push. Minimums are $5, and there was always a table or two open. I asked a dealer if she liked dealing the game better than the original version, and she said she felt sorry for the players that were not allowed to bank, but she admitted it was easier to deal without having to take out commissions.
Video poker at Eastside Cannery is mediocre. Their best game is 8/5 Bonus Poker, which returns 99.17% with optimal play. You can play this game for $0.25 on a single line, or on a "spin poker" machine for multiple hands at once. There is also 9/6 Jacks or Better in the "Classic Slots" area of the casino. These machines are coin-droppers. Be aware that you cannot insert your player's card into these machines, and therefore cannot earn any points for promotions or cash back on the 9/6. The CAN club card returns 0.10% of your action for video poker play, which is low. However, Eastside Cannery does sometimes have generous promotions and giveaways which can make playing there a worthwhile proposition; be sure to check at the Player's Club desk for what they are doing that month.
The poker room is in a small alcove off the casino floor. There are five tables. I did not play but it looked like 2-4 limit Texas Hold 'Em was the game of choice. The poker room had some generous promotions like high-hand bonuses, freerolls, aces cracked, and free finger food for players at 4 P.M. I know some players who are especially fond of playing there. There is also a bingo room with seven sessions bi-hourly beginning at 10 A.M.
The race and sports book is very large and comfortable, with big screens, comfortable chairs, and individual TV screens for all bettors. They had a good variety of bets, with what I'd imagine are fair lines. I sat down for a few minutes to watch a game on the TVs, and it was a relaxing place to watch sports. You couldn't do much better for an everyday sports book.
My own gambling
The first night of my stay, I played video poker to earn points for a $40 gift certificate to the Carve restaurant. I figured my expected loss was $9 or so, so it was a good play, and I was planning to eat there anyway. Of course, I didn't expect to get a royal flush! I was playing spin poker at three lines at once, and drew a royal on the bottom line for $1,000, which necessitated a hand pay. So I got my gift certificate and finished up $1,000+, which was certainly nice.
For table games, I spent a lot of time playing EZ No Commission Pai Gow Poker at $25 a hand. Of course, minutes into my first session, the dealer got a queen-high pai gow that I would have won (instead, I pushed), and I also copied her top on another hand, and pushed when I would have won if banking. No hard feelings, though, Dan Lubin, as I still took $150 off your game. Play was fine and the other players and dealers were generally friendly.
I also played blackjack at the double-deck game, at two hands of $10 each. I just played basic strategy and tried to enjoy myself, and came out ahead a couple bucks after many hours of play. The dealers are friendly and professional, and the pit staff is nice, too. It is not hard to get to know the dealers and staff, as the table games area is small. They also seemed willing to give out comps for the coffee shop and buffet if you asked nicely. (I didn't ask).
At the end of my stay, I asked the front desk about comps. I had not charged anything to the room other than the lodging costs. (All my meals were paid for with slot club comps). The front desk clerk called a host, and said she could comp one of my room nights, the more expensive night. So I ended up paying $45 for my two-night stay, which I wasn't going to dispute. I figured I played two hours of EZ Pai Gow at $25 a hand, and six hours of blackjack with a $20 average bet, so I was by no means a high roller, and was happy to get half my stay comped.
Links
Contact Information
Address: 5255 Boulder Highway, Las Vegas, NV 89122
Phone: 702-856-5300
Web site: eastsidecannery.com
Resort and Parking Fees
| | |
| --- | --- |
| Resort fee | $13.50 |
| Parking fee | Free |
Games at Eastside Cannery
| Blackjack | Location | Decks | Min | Max | Soft 17 | DA | DAS | RSA | Surr | Tables | CSM | Party Pit | 6/5 BJ | Video | H. Edge |
| --- | --- | --- | --- | --- | --- | --- | --- | --- | --- | --- | --- | --- | --- | --- | --- |
| Blackjack | Off-Strip | 6 | 3 | 500 | H | Yes | Yes | No | No | 2 | No | No | No | No | 0.63873 |
| Blackjack | Off-Strip | 2 | 5 | 1000 | H | Yes | Yes | No | No | 6 | No | No | No | No | 0.45688 |
| Video Keno | Rank | Avg Return | Grade |
| --- | --- | --- | --- |
| Video Keno | 17 | 92.12% | B+ |