INTRODUCTION
"Let's Have Some Fun!" Thus is the shared slogan of the three casinos operated by Cannery Casino Resorts inclusive to Cannery, Eastside Cannery and The Meadows (located in Washington, PA).

In the city of Las Vegas, Nevada, a city whose name is almost synonymous with 'Gambling,' Cannery Casino Resorts managed to find an underserved locals market in North Las Vegas, Nevada. Located on 2121 East Craig Road and having opened for business on January 3rd, 2003, Cannery was successful even beyond the expectations of developers and expanded in 2006 to include a parking garage, poker room, over 100,000 square feet of floor space and a Galaxy Movie Theater.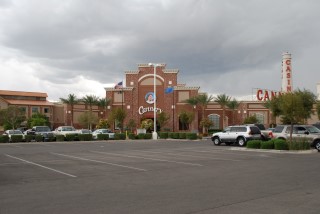 Cannery Casino has approximately 200 guest rooms, an outdoor pool and hot tub, "The Club," which is an indoor and outdoor entertainment venue, five restaurants, three lounges, the aforementioned movie theater, and a wide array of slots, table games and video poker.

Judging by the active gaming floor on Wednesday April 16th, 2014, the half-full (or better) restaurants, the packed lounges, and the free musical entertainment, Cannery Casino has had no problem continuing its success to the present day.
LOCATION
Cannery Casino is located on Craig Road in North Las Vegas, Nevada. Cannery sits on a large lot across the street from a small shopping/restaurant development known as, 'Cannery Corner,' with exception to that, there's not very much else around.
HOTEL
The hotel of Cannery Casino stands three stories tall and contains approximately 200 guest rooms. The layout of the hotel is, "Wrap-around," style which means that the guest rooms wrap around the greater building with quite a few of the rooms designed to overlook 'The Club,' which is the indoor/outdoor entertainment venue. These rooms are called 'Event View,' rooms and are otherwise no different from any other room. As one might expect, Event View rooms are more expensive than normal rooms on event nights, but are the same price as any other room on non-event nights.

In any event, my room was not an Event View room, although that didn't really matter as The Club had no events scheduled for that evening. My room had a view of the desert and one could see the parking garage if standing more to the right facing the window and Cannery Corner if standing more to the left facing the window.

The cost of the room was originally $69.99 + Tax, however, they were offering a promotion whereby one could get a room and two free buffets for $49.99 + tax. I called and spoke with guest services inquiring as to whether I should cancel my reservation (at $69.99 + tax) on-line, or whether they would handle re-booking my reservation with the package. They were kind enough to just amend my reservation to reflect the lower rate and buffets over the phone.

Cannery has no resort fee.

Specifics are to follow, but suffice it to say that I would have been extremely displeased with my room had I paid the $69.99 + Tax rate, somewhat displeased with the $49.99 + tax rate if it did not include the buffets, but I got $49.99 and the two free buffets, so I am only slightly displeased with the overall value of the room. It's still not worth that, in terms of overall room condition, it is the worst hotel I have ever stayed in for fifty, or more, dollars.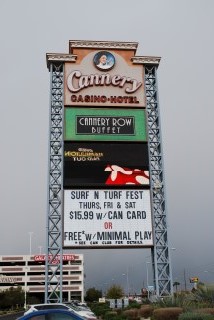 I had inquired about making my deposit (and paying for the room) with cash because I wanted as few deposits as possible being suspended in my checking account half of forever, and the clerk told me that the hotel does not accept cash, over the phone. However, when I checked into the room, the clerk permitted me to pay & make my deposit in cash as a, "One-time courtesy," although I imagine they will extend the same 'One-time courtesy,' if I choose to stay there ever again. They have a cash drawer right under the desk with what appeared to be a few hundred in it, so this cannot be a unique transaction for them.

Getting to the room was easy, there's an automatic door just to the right of the check in desk that has a neon sign proclaiming, 'Rooms,' above it. The layout of the interior is, "Street style," with Even Numbered rooms on one side and Odd-Numbered rooms on the other. There's an elevator, but given that I was only on the third floor (and relatively close to the stairwell entrance to the third floor) I basically just took the stairs every time. They are closer to the entryway than the elevator anyhow.

Upon checking in, I also received a copy of, 'The Reporter,' which is Cannery's fun little newspaper containing information about upcoming events and coupons for restaurants, Free Play coupons and Match Play coupons.

I walked into an extremely dated room, which is immediately evident by the condition of the carpets. It's not that they aren't cleaning the carpets, it's that the carpets CANNOT BE CLEANED, at this point. I believe that the carpet is original to the room, which is evident by the extreme discoloration and caked in dirt, particularly near the entryway of the room. The carpet was probably too light to begin with, considering the place has an outdoor pool. The main problem is that people will come in from the pool barefoot and track dust, sand or dirt into the room which basically becomes mud that inevitably gets ground into the carpet. Without very regular shampooing of the carpets, permanent stainage is an ievitability, and as stated, they're very old, anyway.

Superficially, the room was just okay, although it hadn't been dusted all that well. The sheet on one of the beds had what appeared to be a foot mark on the bottom of the bed which is clearly the result of a housekeeper deciding to turn the sheet around (so that it is not as apparent because one does not lay with one's head at the end of the bed) rather than replace the sheet. There was a large LCD HDTV in the room, though I never watched anything on it. The air filter in the bedroom was quite dusty, and had apparently not been cleaned for at least a couple weeks.

The bathroom had the dirtiest air filter I have ever seen anywhere in my entire life, the only reason I can fathom for mushrooms not to have been growing out of it is that someone must have decided to eat them. The grout on the wall tile wasn't spotless, but it wasn't terrible, either. Excusable, anyway. The air filter in the bathroom, however, was absolutely inexcusable, it actually had a bit of a green GLOW to it, it was apparent that no housekeeper had even looked in that direction in several months.

In one of the more interesting chintzy cost-saving measures I have encountered, soap and shampoo were available in the room, but the rooms had a dispenser for each similar to what one might encounter in a Wal-Mart bathroom. There was also a sign in front of the hand towels proclaiming that hand lotion is available upon request.

Aside from that, the overall look of the hotel was designed (as the casino) to have a 40's/50's retro-feel, with pink stairways, pink wall tile in the bathrooms and other design aspects. It would be a cool theme, too, except it also appeared that the 40's/50's was also the most recent time the rooms had been thoroughly cleaned.
PARKING GARAGE
Cannery has a very large on-site parking garage with bold signage including the Cannery pin-up girl proclaiming, 'Free Parking.' I'm uncertain who would ever park there other than people going to the casino or an event therewithin, but if you are ever up there for any reason, you can park in the garage for free.
SHUTTLE
Cannery offers a free shuttle to Eastside Cannery that leaves at certain appointed times, it also goes to, "A few other casinos," but the front desk girl wasn't sure which ones.
POOL & HOT TUB
Cannery features a smallish, but very clean and aesthetically appealing, outdoor pool and hot tub. The hot tub could probably comfortably sit approximately eight people. The pool and indoor showers are accessed using the room keycards, and towels are available poolside with a bin of clean towels and a bin for used towels. Ample poolside lounge chairs are available.

Interestingly, the pool closes at 9:00p.m., which seems like a strange time (It is Vegas, right?) it would have been nice to have a soak in the hot tub at 11:00p.m., or later, after the night air cooled the area off a bit. Either way, I enjoyed quite a few swims in the pool. At the times, I was the only one in the pool area.
WEBPASS
Cannery has a cool online Rewards program (free) called WebPass at which a person can play little games to earn points for prizes, Free Play and free buffets. WebPass also holds weekly drawings for other special prizes.
RESTAURANTS
Cannery Row Buffet
Cannery Row Buffet is a pretty standard buffet that does not feature any out-of-the-ordinary or exotic selections, but the price is appropriate and the food is decent, with exception to the cold Wisconsin Cheddar Soup. There were approximately fifteen entree-type foods available, as many hot sides, two different kinds of pizza, eight (or so) cold salads, and perhaps twenty unique desserts on each visit to the buffet.

There is actually very little difference between the lunch buffet and the dinner buffet on a Wednesday. The website proclaims, "At the Cannery Row Buffet®, you can feel like a worldly traveler as you sample endless specialties from all over the world one delicious dish at a time," while the food was good enough, I certainly wouldn't equate the experience to feeling like a world-traveler, if so, then the world has much less unique cuisine than I would have originally believed.

The coffee, however, was awesome! The food is perfectly serviceable, neither good nor bad, but the buffet at Eastside Cannery (which I had two days prior) was definitely better and more varied in terms of selection.
Casa Cocina
Casa Cocina is Cannery's Mexican Restaurant which is open three evenings a week (Su-W-Th) from 5:00p.m.-9:00p.m. and 5:00p.m.-10:00p.m. on Fridays and Saturdays. It was once voted best Mexican Restaurant in the Las Vegas Review-Journal and features a charming Southwestern theme. Why the hours are so limited, I don't know.
Victory's Cafe
Victory's Cafe is a full-service 24/7 restaurant located adjacent to Victory's Bar & Grill. The menu consists mostly of American food staples and the decor mirrors the main casino in the 40's/50's theme including unique signage designed in that vein as well as a very charming color scheme and comfortable seating.
Waverly's Steakhouse
Waverly's Steakhouse is Cannery's, "Award-Winning," steakhouse (what award the website doesn't say) and is open during the same times as Coca Cocina. I actually regret not eating there now, having perused the Waverly's section of the website, I notice that they have Oysters and Escargot which always hit the spot, I usually just see 'Steakhouse,' and disregard a place because I don't care for steak very much. I might try this venue next time I am in Vegas and provide an update.
Vino's Ristorante & Vino's Pizzeria
Vino's Ristorante is closed on Wednesdays and Thursdays, otherwise I probably would have dined there (instead of the buffet twice) because I enjoy Italian food. I did not try anything from Vino's Pizzeria because it is just a place with pre-made pies and you select what kind of slice of pizza you want. There really didn't seem to be anything special about the pizza.
ENTERTAINMENT
Cannery is home to a Galaxy Theaters location that boasts over 3,500 seats and shows the latest of movies to be released. The website proclaims they have the largest movie screen in Vegas, Dolby 7.1 Surround Sound, and leather reclining chairs that move in sync with the movie.

I can say that all of that sounds pretty good, and the theater prices seemed largely comparable to the local theater where I'm from in Ohio, so the movie theater is probably a pretty decent value if one is into movies. I don't really care for movies, though, so even though I briefly considered seeing the only one I'd ever heard of (Divergent) mainly just to check out how the chairs worked, I changed my mind.

Aside from that, Cannery has, 'The Club,' which is a venue that houses mainly tribute bands, old (but one-time famous) acts, and the occasional Fight Night. Having looked over the website for the last several months, it appears that Eastside Cannery tends to have much more well-known acts than Cannery, and that's probably because Eastside Cannery has much stiffer competition, including the neighboring Sam's Town, while Cannery just kind of sits off by itself.

I have been assured this is the case on, 'Most nights,' so I will also include Pin-Ups bar because they had two different free musical acts that Wednesday evening, one of which was extremely good, I might add!
BARS & COCKTAILS
Casa Cocina
The website lists Casa Cocina as one of the lounges, but it's really more of a restaurant with a lounge (read: bartop) in it, and the restaurant has very limited hours, at that. I'm not sure why the website includes Casa Cocina as a lounge.
Pin-Ups
Pin-Ups is the bar in the middle of the casino which features pink leather chairs and decor reminiscent of the 40's/50's retro theme that one encounters on most of the property. Pin-Ups is also where they were holding free musical acts that Wednesday night, and I was informed that free musical performances are the case almost every night.
Victory's Bar & Grill
Victory's is awesome!!!!

Victory's is a Bar that features a hybrid racing and retro theme including bartenders/servers who wear extremely short checkered-flag girl skirts.

More importantly, in addition to the expected Video Poker, Victory's features classic arcade machines and FREE X-Box 360s to play! They have free live entertainment on Friday and Saturday nights, multiple large TV's, and a sports betting kiosk right in the bar!
CASINO
Cannery features a large casino floor with many of the more recent Slots, Keno and Video Poker offerings. Much like Eastside Cannery, there is an emphasis on comfort as the machines are spaced out in such a fashion as to offer ample walking space between rows and ample elbow space so that one is not crowded on top of one's neighbor.

For non-smokers, Cannery features a (very) small non-smoking section across from Vino's Pizzeria, although, I tend to give Cannery a little bit of props because their non-smoking section is at least completely separate from the main casino floor.

In terms of Table Games, Cannery offered the following that night:
Blackjack: $10-$1000
Pai-Gow Poker: $5-$1000
Single-Deck Super Fun 21: $3-$500
Craps: $5-$1000 (10x Odds, Field Triples 12)
Roulette: $1-$25 (Single-Number) $5-$1000 (2-1) and $5-$2000 (Even Money)
Blackjack (Six Decks): $3-$300
Cannery also has a, 'Poker Room," though it is really just a couple poker tables located behind a desk on the main casino floor. The only game going that night was 2-5 Limit Texas Hold 'Em, and they might have been understaffed, because there was a long waiting list with new players being paged to the table about every ten minutes.

Cannery says that they have a Sports Book on their website, but I never noticed it, unless it is in with the Bingo Room.

Cannery offers Bingo Sessions every other hour beginning at 11:00a.m., with the 11:00a.m. session including free pastries and all sessions including complimentary drinks. They also offer a free session on Thursday mornings which I meant to try out, but forgot.
PLAYER'S CLUB
The Can Club is Cannery's Player's Club which is located in the back of the casino kind of tucked away. I still probably couldn't describe specifically how to get there as I even had to kind of glance around for it on my last stop of the night.

Every $1.00 wagered on slots is one point, and every $2.00 one Video Poker is one point, every 400 points equates to $1.00 Free Play or one casino comp dollar.
MY OWN GAMBLING
I only played the Tables long enough to attempt to use my $5.00 Match Play from The Reporter magazine. This did not go very well as the gentleman shooting the dice on Craps rolled a Come-Out Yo' (Eleven) causing my Pass Line bet to win, but the Supervisor refused to pay the Match Play because I could not produce a Can Club card, which I was on ym way to get.

I explained that I was staying at the hotel, showed him my room key, and told him I was on the way to get the Can Club card, so he told me to do that and come back and held onto my coupon. I began to protest that I still had $5 in action and therefore at least won $5, but then the dealer did it for me. Muttering something along the lines of, "Voids the bet," the supervisor called someone and was apparently told that my $5.00 chip itself still plays as he eventually relented and gave me another $5 chip.

He told me he would hang on to my Match Play coupon while I got a Can Club card, but when I returned, he said he, "Accidentally," must have thrown it away. Good show. I don't really need $5.00 that much, but apparently the supervisor thinks Cannery does.

I mainly concentrated on playing Video Poker for small amounts as well as playing $0.01 Video Keno on Four-Card or Multi-Card. I had the good fortune of hitting 7/7, 6/7, 3/3,and ? all on the same card and turned a $0.08 bet into $148+. Later that night, I hit a 7/7 and turned a bet of around $0.10 into $70.00.

Having earned well in excess of 500 points that day, I brought up my coupon for $5.00 Free Play for earning 500 points. The Player's Club Representative basically did everything she could to get out of it pointing out it was for New Members and asking me if I was one, pointing out that it had to be earned in one day, which I told her I did, pointing out that I could only use one such coupon, and I told her it was my only one. Blah. Why offer something if you're going to sweat it so badly?
SUMMARY & SCORES
Guest Services: Guest services scores a 5/10. The bartender at Pin-Ups was not terribly friendly, the pit supervisor at Tables irritated me with his shenanigans with the Match Play and the girl at the Player's Club irritated me with giving me the fifth degree about my coupon. On the other hand, the Victory's Bar waitresses were chatty and always smiling, the drink service at the buffet was very prompt, and all of the front desk staff were quite pleasant and informative as well as the Bingo guy.

Accommodations & Amenities: I'm going to score Accommodations & Amenities with a 9/10. With Victory's, the varied selection of slot and video poker games, sportsbook, bingo, swimming pool and hot tub, free musical entertainment, the theater and the wide variety of restaurants, it's really tough to imagine anyone going there and not finding SOMETHING to do. There's certainly fun to be had.

Room Cleanliness: Deplorable. I'm scoring it a 2.5/10 because I'm apparently feeling rather generous, and also taking into account it is a locals casino. I've never stayed in a filthier place for $50+, to be quite honest.

Food & Beverage: Again, Cannery Casino is one place where there should be something for everyone...as long as that something is open. You have the pizzeria, Italian, Mexican, American, Steakhouse, Grill & Buffet along with two very unique lounges to choose from. I can't imagine anyone going there and not finding something they like, so 8/10 and a caveat that it would score higher if the restaurants had a wider range of operating hours.

Entertainment: I'm giving this a 9/10, only because the acts that get booked at Eastside Cannery are far more well-known.

Gaming: Cannery seems quite limited on Table offerings, but the Video Poker offerings were good and the slot offerings seemed okay, I don't really play those anymore. The Poker room isn't so much a 'Room,' as it is an 'Area,' so I wouldn't quite term it a poker room. The bingo room is huge and Cannery at least has the courtesy to have a non-smoking section away from the main floor, because if you are going to have one at all, what's the point of it being on the main floor? Overall, I'd give it a 7/10.
OVERALL
Overall, Cannery scores 40.5/60 or 6.75. Everything is great about the place, except the service is, at times, shaky, the guest rooms were filthy and in desperate need of renovation and it's in the middle of friggin' nowhere, to be frank.

The main upside to Cannery is that there really is something for everyone there, and it probably isn't a terrible place for kids because they would at least have the movie theaters and a wide assortment of restaurants to choose from.

I would not stay at Cannery again unless I heard that the rooms had been renovated, in which event, I would definitely stay at Cannery for one night of a future trip. I wouldn't stay for more than one night because of the location (middle of nowhere) and even with everything they have to offer, I don't believe there is enough there that anyone would want to try to make an entire vacation out of the place and it is too far from the Strip & Downtown for anyone to use it as a, 'Home Base.'

That said, I would recommend it as having stuff for families to do and ample goings-on for adults travelling by themselves. If you are the type of person who enjoys hopping from place to place, it wouldn't be a bad place to spend an entire day (and night) provided the rooms are either renovated or free. If you pay more than $35-$40 total for one of these rooms, though, you're getting ripped off. Most Motel 6's would put Cannery to shame, in terms of room quality.
Contact Information
Address: 2121 East Craig Road, North Las Vegas, NV 89030
Phone: 702-507-5700
Web site: cannerycasinos.com
Resort and Parking Fees
| | |
| --- | --- |
| Resort fee | $13.50 |
| Parking fee | Free |