Preface
All our hotel reviews are meant to describe the property at the point in time of the review. In the case of this review, it is based on a stay in 2009 or 2010. One significant thing that has changed is they removed all table tables during the Coronavirus closure of 2020.
Introduction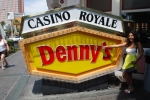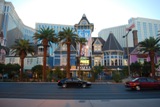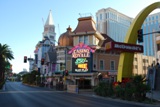 The Casino Royale is very small casino located in a prime location on the Las Vegas Strip. This is definitely a place for tourists who are on the economy plan yet insist on a prime Strip location. The place is rather run down yet packed with red-chip betting players who are likely rebuffed by higher minimum bets at other Strip casinos. I checked into Casino Royale for one night on September 17, 2009. The following is my review.
Location
The Casino Royale occupies a small parcel between the Venetian and Harrah's. Directly across the street is the Mirage. Caesars Palace, Treasure Island, and the Wynn are all within easy walking distance.
Gambling
According to the 2009 American Casino Guide, the Casino Royale has 17,500 square feet of casino space. By way of comparison, the MGM has almost 9 times as much at 156,023. According to the Nevada Gaming Control Board, the Casino Royale has 14 table games, which is also what I counted, and 445 slots. By way of comparison, the MGM Grand has 178 table games and 2,470 slots. There is no live poker.
Red chip players are made to feel very welcome at the Casino Royale. While there, I regularly scanned the tables to see how much players were betting, and it was a sea of red. Not a green chip anywhere, much less black. If you are a $5-$10 player, you should have no trouble finding a table at the Casino Royale, and you won't be made to feel like a flea.
The dealers at the Casino Royale run the gamut from brick walls to being very friendly and helpful. A disproportionate number of them had missing teeth, but they tended to be the better dealers. The low limits at the Casino Royale seem to attract younger players, many of who are clueless about proper strategy. Some of the dealers, especially one named Michael, were very helpful when such players just sat there looking perplexed. They would offer helpful advice, without having to be asked. That is how all dealers should be.
Cocktail service was pretty good at the Casino Royale. The ladies were perhaps not as young and pretty as at the big Strip properties, but they were just as quick and friendly as anywhere. However, I did order a glass of red wine, which was the worst glass of wine I've had in my life. It tasted like half port, half vinegar.
If you are a Blackjack Switch player, then you'll be in Heaven at the Casino Royale. Of the 14 table games, six of them were Blackjack Switch. Most big casinos will have, at most, one such table. Here's a full list of the tables they had when I was there:
Blackjack Switch: 6
Blackjack: 3 (Warning! Blackjacks only pay 6 to 5)
Craps: 2
Roulette: 1 (I'm not sure whether to say 1 or 2 for roulette, because they have a table with two layouts but only one wheel)
Three Card Poker: 1
Caribbean Stud Poker: 1
Here are the specific game rules when I was there.
Blackjack Switch
The thrust of Blackjack Switch is that the player makes two bets, gets two hands, and can switch the second card of both hands if he wishes. For example, if the player had an ace and 9 on one hand and a 2 and 10 on the other, then he could switch the 9 and 10, turning a 20 and 12 into a blackjack and 11. However, this comes at the cost of pushing if the dealer gets 22, and blackjacks only pay even money.
Still, with correct strategy the house edge is only 0.18%. However, nobody has ever quantified proper switching strategy into something that can be easily memorized. I estimate the cost of incorrect switches to be 0.5% to 1.0%. The complete rules and strategy can be found in my page on Blackjack Switch on my companion site WizardOfOdds.com.
21
1 deck
Blackjack pays 6 to 5
Dealer hits soft 17
Double after split allowed
Surrender not allowed
Re-splitting aces not allowed
With correct basic strategy, the house edge is 1.24%.
Craps
As far as I know, the Casino Royale was the first casino in Vegas to offer 100X odds in craps, and it still does. As I write this, the Boulder Station also does. What 100X odds means is that after a pass line or come bet, the player may bet 100x as much on the odds. The odds bet have zero house edge, so it is almost like gambling for free. Combining the pass line with the odds, the overall house edge is 0.021%. I'm quite sure that is the lowest house edge on a table game anywhere in Vegas.
Roulette
Standard double-zero wheel, for a house edge of 5.26%.
Three Card Poker
Standard rules, for a house edge of 3.37% on the Ante and 7.28% on the Pairplus.
Caribbean Stud Poker
Standard rules, for a house edge of 5.22% on the Ante. The house edge on the side bet varies depending on the jackpot, but it is usually very high.
Video Poker
According to vpFree2.com, the best video poker is 8/5 Bonus Poker, with a return of 99.17% with optimal strategy. This is closely followed by 9/7 Double Bonus at 99.11%. Both games are available in denominations from 25-cents to $5, in single-play only. Compared to other casinos, the video poker at the Casino Royale is equal or worse than most.
Player Club
According to vpFREE2, every $6 played in slots earns one point, and 100 points are worth $1 in cash back. That equates to a 0.17% cash back rate.
Table game players can earn comps with a player card. I don't know the formulas used, but based on what game you play, how long you play, and your average bet, you will rack up the comps. Unlike most other casinos in Vegas, the comps at the Casino Royale NEVER EXPIRE.
My Own Gambling
I played Blackjack Switch for about three hours with a combined bet between my two hands of $100. This earned me a comp balance of $71. Conveniently, this just about exactly covered the cost of my room and a breakfast at Denny's. There was no guessing game and no begging. When I asked at the player club for a $10 comp to Denny's, it was simply deducted from my balance. When I checked out, I applied the rest of my balance to the cost of my room. The downside is that the lines at the player club can run rather long and slow. The floor supervisor may also be able to print out comps.
Promotions
The Casino Royale has been known for having a generous "Fun Book" for years. It used to be very valuable but not available to residents of Nevada. For that reason alone, I used to advise people moving to Las Vegas from out of state to not surrender their old drivers license when requested by the Nevada DMV.
The bad news is that the fun book is not as strong as it used to be. The good news is that anybody applying for a player card, or who already has one, can get a new fun book every month, even locals. Here are the eight September 2009 coupons.
Blackjack pays 2 to 1, up to a $25 additional bonus.
$50 in free slot play. This slot play was to be done on special promotional slot machines, which usually pay a small fraction of the face value. Despite my best intentions, I completely forgot to use this one.
$25 cash bonus for a four of a kind or better in video poker on a 25-cent or higher machine. I was told that this coupon is only eligible to be used on single-line games.
Free Gambling Lessons between 11:15 am and noon. If you lose your coupon, my advice is try to just blend in with the class; the teacher will never know.
$5 in free slot play credits for earning 60 points. In video poker, you have to run $360 through the machines to earn 60 points. That is a rebate of 1.39%, which isn't bad. However, you have to stand in line at the club booth to collect the $5.
$10 cash bonus for hitting a pay of 40 coins or more on the bonus wheel on the Wheel of Fortune slot. I'd not fuss with this one, unless you play Wheel of Fortune anyway.
Buy one margarita or Michelob for $1 and get one free. The Casino Royale is not shy about offering cheap booze.
Free drink & chips when you buy a 6" sandwich at Subway. Considering the lack of eating options at the Casino Royale, this coupon could come in handy.
My advice for locals is to get a player card if you don't already have one, and ask every month for your fun book if you happen to be walking by. Then just use the juicy coupons, like the double pay on a blackjack.
Hotel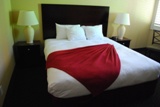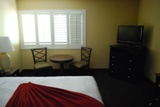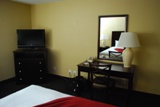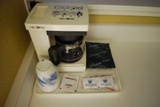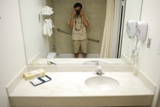 To be honest, I lived here for years, before I even knew the Casino Royale had a hotel. I only found out when a friend of mine got a room there a few years ago. The entrance is by the place on the south entrance that sells cheap t-shirts and baseball hats. It took me about a minute to realize the way to open the door to the hotel entrance is to put my room key in a poorly marked slot.
Although there was only one person ahead of me in line when I checked in, it was a long wait. They seem to be only partially computerized at registration and still use one of those things where you have to press down really hard for credit card transactions. When it was my turn, the woman attending to me told me that she was charging my credit card an extra $200 because I'm a local. Twice she said, in no uncertain terms, that I would get it back ONLY if I left the room undamaged. My long hair and tattoos must have made her suspicious. That Thursday night in September 2009, the room charge was $49 plus $5.88 for the 12% Nevada room tax.
The hotel is better described as a motel. It offers 152 rooms in a three-story building. No long elevator waits, just jaunt up and down the staircase. The rooms were clean and practical but nothing fancy. They all offer a refrigerator, coffee maker, and safe. For some reason, even the swankiest properties on the Strip don't offer coffee makers, when good hotels everywhere else in America do. Perhaps the reason is a deal between them and the Starbucks in the lobby. The bathrooms are small, with a combined tub/shower. The bathroom free-bees are very minimal. The furniture in the room seemed fairly new. The TV was a modern wide flat screen.
The hotel offers free local phone calls and use of the "business center," which is a small room with two computers and a printer. Usually such business centers charge outrageous amounts per page when you click print. However, here I can honestly say the printer is free, because I printed a test page just to be sure. I've stayed in hotels all over the world and have never seen that before. There was no silly "resort fee" for the free phone calls or Internet, things that other Las Vegas properties charge extra for.
Pool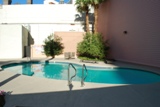 The Casino Royale doesn't score many points with its pool. It is about the size of a home pool, with no spa, closely surrounded on three sides by the hotel/casino and one side by a parking lot. There was not much in the way of landscaping and no bar or food service.
Fitness Center
Nope. May I suggest doing 100 squat thrusts in your room?
Food
It seems that all the food choices are separate businesses from the Royale. The choices are the Outback Steakhouse, Denny's, Subway, Noble Roman's Pizza, and Ben & Jerry's. The only place I patronized this visit was Denny's at about 8:00 AM. The place was packed, with about a dozen people waiting. I feared the worst, but the wait was only about five minutes, and the service was pretty fast and good, considering they were at full occupancy. I think the food at any Denny's actually tastes pretty good, but you can just feel your arteries clogging.
Parking
The Casino Royale has a very small outdoor parking lot connected to a parking garage. There is a small, almost unmarked, entrance to the parking lot just north of the property. You may only turn right into it, and the sea of pedestrians will not easily get out of your way. You may have to sit there waiting for a pedestrian opening while you impede northbound traffic on the Strip. The parking garage is very dirty but roomy and easy to navigate. When I checked in, they gave me a parking pass to put on the windshield. Since you might be towed if you don't belong there, I would not risk parking in the garage for a long period of time without a pass.
ATM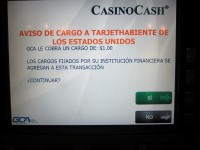 Normally I don't comment on casino ATMs, but the Casino Royal Warrants an exception. Their ATM charges only a $1 fee for withdrawals using a PIN. It is my understanding that this is the cheapest in Las Vegas. The Bellagio charges $6, by comparison. I took a picture of the screen to prove it. Sorry it is in Spanish.
Entertainment
There is no show or lounge act. The Casino Royale itself is the entertainment. There are some real salt of the earth types there, both the players and the employees. If you enjoy dressing down and not taking gambling too seriously, you should be adequately entertained just being there. If you want to see an actual show, there is a discount ticket counter just outside of Denny's, where you can maybe get a good deal on a show at another property.
Suggestions for Improvement
There are lots of areas where the Casino Royale falls short of its neighbors, but let's be fair, there is a market for casinos like the Royale too. Focusing on just the low-hanging fruit, here are some suggestions that I think will provide the most bang for the buck.
Hire more people, or automate common transactions, to cut down long waits at the player club.
Have at least one legitimate 3 to 2 paying blackjack game, even if you have to put a higher limit on it.
I would also suggest adding a poker room and a lounge, but I know there is only so much space, so I won't. However, it seemed there was a lot of construction going on in the back. I don't even know if it was for the Casino Royale, but if it is, those would be good things to put in it.
Links
Contact Information
Address: 3411 Las Vegas Boulevard South, Las Vegas, NV 89109
Phone: 800-854-7666
Web site: casinoroyalehotel.com
Resort and Parking Fees
| | |
| --- | --- |
| Resort fee | $13.50 |
| Parking fee | Free |
Games at Casino Royale
| Blackjack | Location | Decks | Min | Max | Soft 17 | DA | DAS | RSA | Surr | Tables | CSM | Party Pit | 6/5 BJ | Video | H. Edge |
| --- | --- | --- | --- | --- | --- | --- | --- | --- | --- | --- | --- | --- | --- | --- | --- |
| Blackjack | Strip | 1 | 5 | 1000 | H | Yes | No | No | No | 1 | No | No | Yes | No | 1.69824 |
| Craps | # of Tables | Min Bet | Max Bet | Odds | Field12 | Video |
| --- | --- | --- | --- | --- | --- | --- |
| Craps | 2 | 3 | 1000 | 100 x | Double | No |
| Roulette | # of Tables | Min Bet | Max Bet | Rules | Video |
| --- | --- | --- | --- | --- | --- |
| Roulette | 1 | 4 | 15 | 00 | No |
| Video Keno | Rank | Avg Return | Grade |
| --- | --- | --- | --- |
| Video Keno | 68 | 87.47% | F |