Introduction
Boulder Station is an enormous locals' casino located on the Boulder Strip on the east side of Las Vegas. The property tries to be all things to all people: there is a sizeable casino, a 300-room hotel, a pool, a movie theater, a music venue, a bingo room, and more restaurants than you can shake a stick at.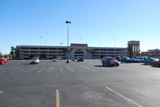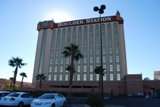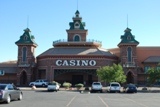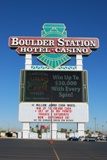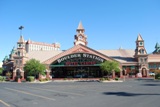 I enjoyed my time at Boulder Station more than I thought I would. While there are some areas for improvement, it offers a good value if you want to get away for a little gaming, eating and recreation. The hotel is excellent, and the table game limits are some of the lowest I've seen anywhere. In my opinion, it is one of the nicer locals' casinos. In the Stations' hierarchy, I would rank it higher than Palace and Texas, but lower than Red Rock Resort or Green Valley Ranch.
According to the Nevada Gaming Control Board, there are 2,810 slots and 42 table games at Boulder Station. That's pretty big.
Location/Transportation
Boulder Station is located at Boulder Highway and the I-515. The best way to get there is by taking the I-15 north through downtown and the spaghetti bowl, and then the I-515 to Boulder Highway. You can't miss the complex – it's huge.
There is no shuttle service offered to the strip or the airport. Sorry, you're stuck here if you don't have a car. There is nothing within walking distance.
Hotel
Now would be a good time to mention the theme of the property. It is a railroad theme, and they actually got it right this time. Unlike Palace Station, where there is no discernable palace nor station, at Boulder you get the feeling you are actually in a Western train station circa 1900. The floors are hardwood, and the there are lot of dark woods and really elaborate stained glass windows in the casino. It seems Stations actually put some thought into the design here, and it makes for a much more pleasant experience than the usual "slot barns" at South Point or The Orleans.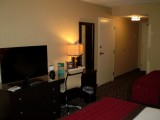 The hotel is 300 rooms — just above the limit Nevada requires for a nonrestricted license for new casinos. Since Nevada demands every new casino built after 1992 include at least 200 hotel rooms, often these hotels are built as an afterthought, and casinos give the rooms away. That said, I was pleasantly surprised at both the price and the quality of Boulder Station hotel rooms. I booked online through stationcasinos.com for a special price of $20.38+tax for a weekday night. Once I checked in, they charged me $12.99+tax for a resort fee. So the resort fee was 39% of my total room cost. Boo! The resort fee included wireless Internet, and some other stuff that I won't even bother to mention. By now, you know how I feel about resort fees. (Rip-off!)
Driving up to the casino, I followed the signs to the hotel, and eventually parked in the back near the movie theatre, in the large parking garage. I wandered around the casino looking for hotel check-in, which turned out to be way in the front near the main valet. They could make this a little clearer. There was nobody at the check in desk save a very bored-looking clerk. He checked me and sent me all the way back to where I parked to go to the hotel elevators! At least I got a good overview of the casino layout.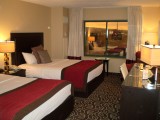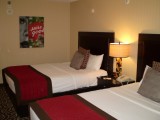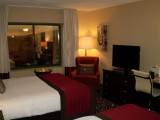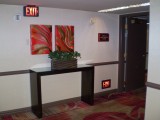 The rooms at Boulder Station are above average. They had recently renovated them, and they were advertising this in posters around the casino. Color me impressed. The rooms are very modern with nice furniture, a cool desk and chair, and a flat screen TV. I think they could have updated the bathroom a little more, which was still your average bathroom. The beds were also a bit hard, which is a minor complaint. (I think there was just a mattress — no boxspring.)
Upon arriving, I wanted to take a bath since I had a long day and I like to take baths in hotels. However, I couldn't for the life of me figure out how to work the bathtub. There was no drain stopper, latch, or lever that I could see. So I called the front desk, who said, "Well, I've never actually been in the rooms, but I could send engineering up for you." I said, "Forget it. I'll deal with it," and took a shower. You'd think the front desk clerks would actually have been in the rooms more than zero times. But that was really my only complaint with the hotel room. I don't think I ever turned on the TV, but there were 20 channels listed. There was an iron and safe in the closet, but no coffeemaker.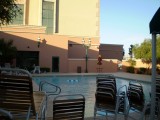 The pool at the Boulder Station is outside, and it was closed on my visit. It looked like a serviceable, if not spectacular, pool. There is also a very small fitness room on the second floor, which did not look very inviting, although I did see at least one person using it.
Restaurants/Dining
According to the map I received with my room key, there are 10 restaurants and 6 bars at Boulder Station. Wow! I didn't get to try all of them, but this is what they have:
Feast Buffet.
Starbucks.
The Grand Café.
Slices Pizzeria.
The Broiler. (Steakhouse.)
Pasta Cucina.
Cabo. (Mexican.)
Viva Salsa. (Express Mex.)
Burger King.
Subway/Winchells Donuts.
There is also room service from a fairly limited menu of American options. Feast Buffet is $5/$7/$10 for breakfast/lunch/dinner with a players card, which is an outstanding value for a buffet. I ate here for breakfast, and was not disappointed. I noticed a lot of egg dishes, which are cheap to make, but they also had freshly poured pancakes, which are always good, and some good fresh fruit. The service was friendly, and the room is nice. If I lived near Boulder Station, I would eat here often. It is a great deal.
The Broiler is an upscale steakhouse, and Pasta Cucina is upscale Italian. Both were dead on the weekday I was visiting. I expect they get busier on the weekends, or maybe the local crowd just prefers Burger King. You can sometimes find a coupon for The Broiler online at restaurant.com, which makes it a good value. Cabo is Tex-Mex with a couple Mexican specialties on the menu. It is exactly the same as the other Cabos at the other Station casinos.
In lieu of Burger King, I opted to eat at Slices Pizzeria, where they were giving two-for-one slices on Mondays. (I am a sucker for food promos.) I was all ready to get my pizza, when I noticed a promo next door at Grand Café. "$1 two-spot Keno ticket wins a $15 café comp." In the interests of this review, I decided to play the game. I bought five games and picked 17 and 39. Why? I have no clue…they sounded right. By the way, a $15 catch two (assuming you value the comp equivalent to cash) is a 90% return, which is excellent for keno. The keno runner was very friendly and wished me luck.
I stood outside the café to watch my games. First game, loser. On the second game, I didn't watch the draw, but upon looking up at the finished board I saw the 17 and 39 had hit! I freaked out – I was probably way more excited than I should have been at a $15 win. I wanted to cash in my ticket right away and cancel the other 3 games, but I was rejected. If I had known I was going to hit in the second game, I would only have bought two tickets. As it was, I got $15 worth of food for $5.
Unfortunately, my meal in the café was just okay. I ordered the $9.99 prime rib special with vegetables and a baked potato, and a glass of the house Cabernet. The wine was swill, as usual, and the prime rib was not the best cut. It's hard to screw up a potato, so that was fine. The vegetables were some of the best I've ever had. By the way, there were about five tables occupied in the café at 7:00 P.M., with a different server for each table. I felt bad tipping 15% -- they were definitely overstaffed. From 12-6 A.M., the café offers graveyard specials like a 1.99 egg skillet, a 2.99 burger with fries, and a 1.99 short stack of pancakes. Dirt-cheap graveyard specials are what Vegas is all about, so go for it.
Entertainment
There's a good amount of it. In addition to the 11-screen Regal Cinemas ($11 adult/$8 children), there is a Kids Quest arcade, a regular arcade, and a live music venue, the Railhead. This is a better-than-average lounge with some pretty good bands every night of the week, and a blues club on Thursdays. Of course, what they really want to you to be doing is gambling, so...
Casino/Players Club
Stations has revamped their players' club. The new Boarding Pass card covers all the Station casinos, the Fiestas, Wild Wild West, Barley's, Greens, the Wildfires, Red Rock Resort and Green Valley Ranch. You earn points at the rate of $1 for 3 points on most video poker and slots, for a rebate of 0.30%, which is very generous. On over 100% payback video poker, it takes $4 coin-in to earn one point, so your cashback is quartered. You can use your points for cashback, freeplay, or comps in the casino, hotel, and restaurants.
Boulder Station has a really good selection of video poker. Their best game is Deuces Wilds in $0.05, $0.10, and $0.25 denominations at 100.76% payback with optimal play. Not many casinos in Las Vegas offer this high a returning game anymore, so I salute Stations for giving their patrons a good gamble. Many of the other video poker games return between 99%-101%, so you can really have your pick of good games here. Do keep in mind the reduced cashback for over 100% games.
Table game rules are as follows:
Blackjack
About six or seven tables. The minimums are $3-$5. The $3 game is dealt from a six-deck shoe, dealer hits soft 17, no surrender for a house edge of 0.64%. The $5 game is a double deck pitch game, dealer hits soft 17, resplit aces allowed, no surrender for a house edge of 0.40%.
The $3 game was always packed, so I played the $5 game. For what it's worth, the penetration on the double deck game is excellent, as the dealer deals down to about the last quarter of a deck. I didn't count, since I wasn't sufficiently bankrolled, it was crowded, and I am lazy, but conditions are excellent. I have no idea of the amount of heat you would get from the pit. Most people were betting red chips exclusively.
Pai Gow Poker
Two low tables. $5 minimums, Fortune progressive. Player may bank every other hand. No commission taken on winning banker bets of $5 or less. It just doesn't get much better than this for Pai Gow Poker.
Craps
$3 minimums with 10x odds. Field pays triple on 12, hard and easy hops pay 30-1 and 15-1, respectively. No quarter chips available.
Baccarat
Low tables. $5 minimums. Sorry, I didn't notice if there were any sidebets.
Roulette
$4 minimum inside/outside. $0.50 chips available. 0/00 American-style wheel.
There is also a large sports book and race book, as well as a poker room and bingo room. The poker room had seven tables at full out when I was there, and was surprisingly busy. It also looked like a nice room. Sorry, I didn't check the rake but they were spreading a variety of games, including limit and no-limit Hold 'Em as well as Omaha. The race book is huge, maybe bigger than the sports book. The sports book is just okay. I would have expected bigger and better TVs. I tried to watch a college basketball game and couldn't even see the score. The lines are the same as at all Station casinos; that is, not great. The slate boards are still whiteboards — not electronic.
Drink service was by and large very good. I didn't order drinks (mostly carried around my undrinkable wine-swill in a paper cup), but the waitress did come around often and was very friendly. There was one waitress on swing in the table games pit who was tall, blond, Eastern European and stunning — a real knockout.
My own gambling
I started off with some $5 Pai Gow Poker. At this level, I'll throw a buck on the Fortune progressive every hand just for fun. I think I hit one three-of-a-kind. I played for a little while with one other player, and by myself. I made $15.
I moved onto $5 blackjack. The dealer was friendly and dealt a good pitch game. The table was crowded, but it was overall a fun experience.
My last table game was craps. I bet three dollars on the pass line, two $3 come bets, and $15-$30 odds on each. The action was okay. It seemed whenever I pressed my odds up, the shooter sevened out. Ouch! So I lost a little in the session. I also stood next to THE MOST BITTER CRAPS PLAYER IN THE UNIVERSE. This guy looked the angry dad you see on TV sitcoms -- "Stay away from my teenage daughter!" He had about $75 in white and red chips in front of him, and his butt molded to a stool. He would switch between the pass line and the don't pass, sometimes making place bets, and sometimes betting the field. He would cuss every time the shooter hit a bet he wasn't on. Charming.
There was also a lot of smoking at the table. Every time Bitter Dad would snuff out a cigarette, the player to my left would light up! When he was done, Bitter Dad would relight, and the cycle would continue. The dealers were just okay. Based on my experience at Boulder Station craps, I wouldn't return, but your mileage may vary. Granted, Monday nights on the Boulder Strip aren't the best times for sizzling table game action…
Finally, I settled in for a session at Deuces Wild video poker, where I am at least expected to win. Sitting down at the full-pay bank was a rather harrowing looking gentleman playing two machines at once. I was afraid I would have yet another run in with a bitter degenerate, but he was actually a nice guy, and well-spoken. He knew the strategy for Deuces Wild perfectly, and gave me good advice. As for my play, I hit the deuces twice for $250 each, a rare occurrence to be sure. Finally, some positive variance!
Conclusion
There is nothing really bad to say about Boulder Station. If you feel you have exhausted all the hoity-toity Strip attractions, and just want to get down to cheap gambling, good eats, and solid value, Boulder Station would not be a bad choice. The only problem is it is out in the boonies, and transportation options are limited. If I were to stay off-Strip, I might pick a place like Red Rock or Green Valley, but Boulder Station is a nice middle-of-the-road option. I will also add that almost every employee I encountered was very friendly, especially the non-casino employees. This is to be commended. Dealing with those bitter locals would drive me nuts!
Contact Information
Address: 4111 Boulder Highway, Las Vegas, NV 89121
Phone: 702-432-7777
Web site: boulderstation.com
Resort and Parking Fees
| | |
| --- | --- |
| Resort fee | $13.50 |
| Parking fee | Free |
Games at Boulder Station
| Blackjack | Location | Decks | Min | Max | Soft 17 | DA | DAS | RSA | Surr | Tables | CSM | Party Pit | 6/5 BJ | Video | H. Edge |
| --- | --- | --- | --- | --- | --- | --- | --- | --- | --- | --- | --- | --- | --- | --- | --- |
| Blackjack | Off-Strip | 6 | 3 | 500 | H | Yes | Yes | No | Yes | 2 | No | No | No | No | 0.39072 |
| Blackjack | Off-Strip | 2 | 5 | 500 | H | Yes | Yes | No | No | 14 | No | No | No | No | 0.45688 |
| Blackjack | Off-Strip | 1 | 5 | 500 | H | Yes | No | No | No | 1 | No | No | Yes | No | 1.69824 |
| Blackjack | Off-Strip | 2 | 25 | 1000 | H | Yes | Yes | No | No | 1 | No | No | No | No | 0.45688 |
| Video Keno | Rank | Avg Return | Grade |
| --- | --- | --- | --- |
| Video Keno | 36 | 91.05% | B- |