Is it possible to go from the glitz and glamour of the Vegas strip to pure natural bliss in less than an hour? It certainly is, and I personally experienced it. I stripped off my modeling make up, cocktail dress and high heels in trade for sunscreen, a swimsuit and a visor. After a short car ride taking me just 30 miles southeast of Las Vegas, I found myself standing in water shoes and a life jacket in the Black Canyon of the Colorado River, gazing up at the 726.4 ft Hoover Dam. It was 7:30 AM, and we were about to venture out in our kayaks, heading about 11 ½ miles down river and ending at Willow Beach in Arizona.
Supplied with kayaks, paddles and waterproof bags from Boulder City Outfitters, my friends Mike, Richard and Alex and I were ready for our kayaking adventure down the Colorado River. We had the option of following a guide, but we chose to venture solo, since Mike has prior kayaking experience. Although the river moves flat water, the higher winds that day caused a slight chop and some rolling waves in certain spots. By no means were these white water rapids, though! The kayaks were light and easy to manage and maneuver, even for a beginner kayaker like me.
After taking in the immense Hoover Dam, we headed downstream to our first stop: the sauna cave. We banked our kayaks and grabbed our frozen water bottles and flashlights. It was going to be a hot walk! The sauna cave is a horizontal tunnel drilled and blasted into the mountain. It was originally created as a tunnel for the dam, but the work on the tunnel eventually came to a stop due to an unexpected natural phenomenon of geothermal activity.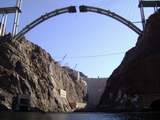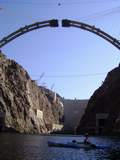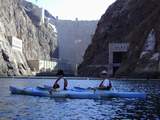 Being claustrophobic, getting into the cave was going to be interesting for me. I found myself thinking of what a change this was from my normal routine. In spite of my fear, I focused on each step and shined my flashlight forward. The crystalline stalactites and stalagmites reminded me of something I would see on a nature documentary, yet I was experiencing it first hand! Under foot there was water and around me was steam. The water grew warmer and warmer, and at the end of the tunnel, we discovered the hot spring that was the source of the steam. I couldn't believe it! We were in a natural steam bath breathing in pure natural steam. After enjoying a minute without flashlights, resulting in complete darkness, we headed back out of the caves, reunited with our kayaks, and paddled on to our next stop.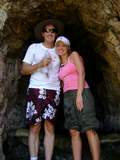 The first hot spring we arrived at was the Gold Strike Hot Spring on the Nevada side of the river. We hiked through narrow canyons and up slick rocks before arriving at the hot springs. There were gorgeous natural waterfalls, and at the end of our hike, a large natural pool. Mike enjoyed a relaxing dip in the warm water as I gazed around at the calcium deposits that created flower like designs on the rocks. After hiking back out and taking a cool water break in the river, we climbed back into our kayaks.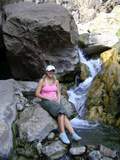 Paddling on a bit further, about two miles on the Arizona side, we arrived at the Arizona Hot Springs. We pulled our kayaks up high to ensure they were safe if the water rose. This stop offered a well-needed, surprisingly clean outhouse.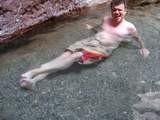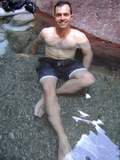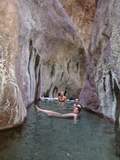 We then hiked up toward the hot springs. Not too far up trail, about a quarter-mile into the canyon, we found ourselves at the bottom of an old, rusty, metal ladder. Mike informed us this was our only way up to the springs. Terrified of heights, I took a deep breath and climbed up one step at a time. At the top, we found several beautiful, sandbagged hot springs. Mike mentioned the first spring was the coolest in temperature. Although all three of us chose to get into the first one, only Mike decided to go into the second one as a dare to see if he could take the heat. We even used a stop watch! He survived for more than a minute, which was impressive considering the outdoor heat combined with the scorching water.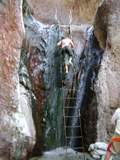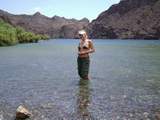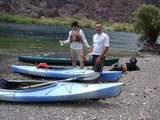 Heading back down the ladder was a little scary for me. It is very important to have shoes that are able to grip the bars. Although I had water shoes on, it was still slightly slippery. We all three safely made it down the ladder and then navigated the path back to the riverbank. We again took a dip in the river to cool off before reentering our kayaks. We also took a minute to snack on apples and sip on ice cold water.
Once again traveling the river, we quickly came upon Emerald Cave. The cave was quite small, but it is easily accessed by kayak. The water had a beautiful emerald green cast to it. This was a great spot to take photographs. Emerald Cave is also a nice break from the sun if you are kayaking in the summer heat.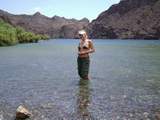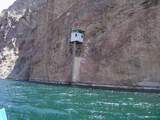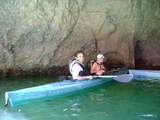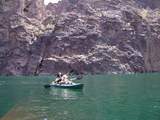 After some more paddling, there was a need for a lunch break. The sun was pretty intense at this point, so we found a stop that had a few small trees to hide under. We sat beneath the trees in the sand and cushioned our bottoms with our life jackets.
After eating our slightly soaked subs, we took one last refreshing river dip. We were just about ready to head back into our kayaks when we heard what we thought sounded like an avalanche. When we turned around, to our surprise there was a huge big horned sheep glaring down at us. He apparently was protecting his territory. We didn't feel threatened at all.
After the excitement wore off, Alex took a head start on his kayak. Richard and Mike continued to swim, and I stood mesmerized by the big horned sheep. By this time, the sheep had made his way up the rocks. I then noticed that there was another one; she seemed to be his female partner. Still watching as if it were an outdoor channel television special, the sheep started to pace. I had a slight premonition of what was to come next, but I really did not actually believe it would happen. Yes, right in front of my eyes, after I let out a shocked scream, the sheep started to mate. It was short lived due to my screech, but it was definitely an interesting moment. The sheep just stood there staring at us until we left. I guess that was our cue to leave the premises!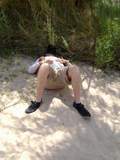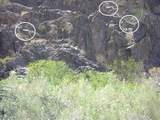 The last part of the journey was slightly exhausting. We encountered headwinds that made it tough to paddle. I would recommend being somewhat in shape to make this trip on a windy day. Although we were paddling downstream, the winds made it feel upstream at points. I would also recommend having something to protect your hands, just in case you have sensitive, soft hands like mine. Although my body was in good shape, my hands took a slight beating.
As we made our way further south on the river, the canyons became higher and steeper. On the canyon wall, we spotted the old river gauging system. Back in the day, access to this tank that measured water levels was by cable car or catwalk. The catwalks and cable car system, still in place, seemed to be something out of a movie. The catwalk appeared so frail and dangerous. There was even a small house where the watchmen in prior days lived. I can only imagine how boring it must have been in that type of seclusion…or maybe it was somewhat peaceful.
Our final destination was Willow Beach. We were approaching civilization! Once we paddled up to shore, Boulder City Outfitters greeted us once again. They were poised to take the kayaks and had our transportation waiting. We did have time to use the restroom facilities along with a stop at the concession stand/store for a refreshing drink.
This kayaking trip was a very pleasant experience for me. I never thought that from one day to the next I would be kayaking down the Colorado River. In a way, I was proud of myself, and I was very grateful to Mike for pushing me to experience something that I would normally never think to do. There is such beauty around Las Vegas, and it is only minutes away. I know that I would definitely do this again, and next time I would get the big horned sheep on video!
Credits
Boulder City Outfitters
Wikipedia, the free encyclopedia