Introduction
Bill's Gamblin' Hall & Saloon is a small hotel and casino located at the northeast corner of Flamingo and Las Vegas Boulevard. It is surrounded by Bally's to the south, the Flamingo to the north, and the Bellagio and Caesars Palace across the street. This is a very convenient center strip location. Originally the Barbary Coast Hotel & Casino, ownership has changed a couple of times before being rebranded Bill's Gamblin' Hall & Saloon by Harrah's Entertainment (now Caesars Entertainment) in 2007. It is named after the Harrah's company founder Bill Harrah. I booked a room there December 8th thru December 12th. The best price I found online for hotel only was with Bill's friends and family deal for about $268 including taxes. By booking the hotel with my flight through Priceline I was able to get the room for $227 total.
Hotel
I arrived around 7:30 on a Thursday night and was happy to find nobody in line to check-in. The lone clerk behind the desk was friendly and efficient. Unfortunately, she was just as efficient in shutting me down when I attempted the 20 dollar trick. She was nice enough to return my money, which I found preferable to being put into the situation of wanting it back but feeling too dumb to request it.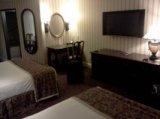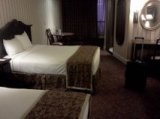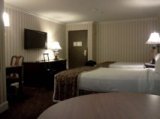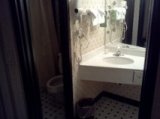 Rooms at Bill's are 400 square feet according to their website, and this feels about right. The rooms are long and thin, with a small writing desk as well as a table and two chairs. The décor can be described as Victorian, and the rooms are tastefully done. There is a 42" flat screen television mounted above a dresser and opposite of two double beds. The bathroom is at the far side of the room, and consists of a small toilet/ tub room and vanity area. These are split by a door to keep each process private. There is a closet rod in the vanity section for clothing, which seemed odd to me as almost every hotel room has a spot for this near the entry door. There is no in-room safe, but I was able to check extra cash into the casino cashier cage for a $60 refundable deposit.
I found the room to be a slightly worn, but it was clean and comfortably furnished. The non-smoking room did not smell like cigarettes, and I appreciated the flat screen the few times I used it. While the bed was softer than I prefer, I had no difficulty sleeping. The weakest asset of the room is easily the bathroom, which leaves plenty to be desired. It is outdated in an early 80s style, small, and poorly lit. Our bathtub drained slowly as well. My initial thoughts about the room were that it is fine for me and my drinking and gambling buddies, but my wife would not appreciate the poor lighting and cramped bathroom space. The room has an unusual feature in a little stain glass window in the shower/toilet room which actually opens to allow for fresh air.
Casino
If you prefer lower limits to better odds, than you will enjoy the gambling offered at Bill's. Many of the table games could be played with a $5 minimum bet, even on weekend evenings. A lively and mostly younger demographic seems to be attracted by the lower limits and mid-strip location.
The casino at Bill's is tiny compared to almost every casino on the Strip. From the main entrance, the gambling area is long and thin, with a bar and cashier cage to the left, table games in the center and slots and video poker machines to the right. There are additional gaming machines behind the bar as well as a small party pit at the strip end. For those who don't know, a party pit is usually a collection of table games with pretty dealers, loud music, dancing girls and the worst odds in the casino. Bill's party pit was no different, although the poor odds weren't relegated to the pit. According to the Nevada Gaming Control Board Bill's has 49 table games and 389 slots. There are also four poker tables.
Table Games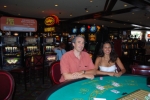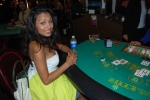 Blackjack — WARNING: Almost all of the blackjack at Bill's is 6-5. I asked a dealer about this and she said 3-2 blackjack was only offered at $15 dollar minimum tables. She must have seen the disappointment on my face and added, "Hey, where else will you find $5 blackjack on the strip." Fortunately for me, I had yet to visit the Circus Circus and had no response.
Blackjack Switch
Let it Ride
Pai Gow Poker
Three Card Poker
Texas Hold Em
Roulette — double zero, 4 tables
Craps — 3, 4, 5X odds on 4 tables.
Rapid Craps — Rapid craps is a game I had not seen before arriving at Bill's. It is a seated version of craps played at what looks to be a full size craps table. Bets are placed via video screen, so there are no chips on the table. Players still roll the dice, and the table's lone dealer enters the results into the computer. While I was at Bill's, Rapid Craps and Craps always seemed to have the same table minimum of $5. I did not see the table full at any point over the weekend. While craps is my favorite casino game, Rapid Craps does not appeal to me. I like the action around the tables as people are placing bets, the high fives and last second calls of "Yo for the dealer." An erupting craps table is the place in the casino that everyone wants to be, and I think Rapid Craps takes the camaraderie out of the game. Regardless of my thoughts, there is a nice lengthy discussion about Rapid Craps on the Wizard's forum. Rapid Craps Discussion.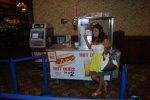 The sports book is in a back corner of the casino with 21 televisions for watching events. There is a small viewing area with room for 20 to 25 people. The chairs aren't uncomfortable, but are closer to a padded chair in a sports bar than the lazy-boy type seating offered at other casinos. The Wizard says they offer big delicious hot dogs for 75¢, roughly during the afternoon hours. He says this is a welcome tradition and one of the best values in Vegas, that they kept from when they were previously the Barbary Coast.
The poker room is in the sports book area of the casino closest to the gambling floor, and is a room in name only as there are no walls separating it from the rest of the casino. There are $30 no limit tournaments four or five times a day, as well as a 50¢ to $1 no-limit cash game.
Promotions/Players Club
A nice promotion at Bill's offers five free comp dollars for new members of their players club. I used mine on beer. It was good. They also give a free t-shirt to any new card members earning 5 comp dollars over a 72-hour period (shirts could be had for 2 comp dollars the weekend I was in town). Poker players earn $1 an hour. It is unclear how comp dollars are calculated for table games, and nobody I asked seemed to know for sure. Although Bill's is owned by Caesar's, the player reward program is still mostly independent of the Harrah's Total Reward Program. I was told comp points earned at Bill's can be exchanged and used at other Caesar's properties.
Gambling Experience
I played video poker, craps, and entered my first poker tournament at Bill's. I found the casino could get somewhat smokey when crowded, but not like the older casinos with low ceilings. Drink service was sufficient, and the waitresses even found me in an out of the way bank of machines where I was playing Bonus Poker. According to vpFree2, this 98.01% Bonus Poker game is the best video poker found at Bill's. Before I pulled out a smart phone to check VPFREE, I peeked at a few pay tables around the casino and figured I'd have better luck at the airport slots. The video poker at Bill's is altogether poor, which is consistent with what I've heard about a lot of Caesars owned properties.
The craps tables at Bill's were energetic and fun. I don't recall seeing an open table empty, and at night they can get downright crowded. I actually saw a girl Tebowing after hitting a point. My only complaint is the casino's two main walkways feel right on top of the tables at the busiest times.
I entered one of Bill's $30 no limit tournaments with a couple of friends, and we made 3 of 17 entrants. My poker experience until that point had been limited to reviewing a page from Wizard of Odds with mathematical values assigned for starting hands (Wizard's Poker Power Ratings), and a live poker app I downloaded a month before my trip. I was really nervous about looking stupid, but I adjusted my bolo tie and took my seat at the table anyway.
It was apparent that I was not the only poker newbie in the tournament, and I became more comfortable after a few hands were played. I won a couple of hands and lasted until the break, when there were about 12 players remaining. I was knocked out after the break as the blinds grow quickly (every 15 minutes) and my 4-2 starting hands didn't cut it. I think a better strategy would have been to play more loosely early in the game to build a larger stack, and then tighten up as the blinds grew and people got desperate. My friend Brian was heads up with another guy, and they split and took home around $175 apiece. I would recommend the tournament for beginners as it is a cheap tournament to get your feet wet, and is over in just about two hours
Restaurants
The Steakhouse at Bill's — They serve steak, seafood, chops, chicken and pasta dishes. The restaurant got a 3 diamond rating from AAA, which I believe means it's pretty decent. They are currently re-doing the menu, but did not have a sample menu for me to examine. Some of their prices from the menu while I was there were a 14 oz prime rib dinner for $29 and a 14 oz NY strip for $33.
Victorian Café — This is an all night diner, serving a variety of foods for reasonable prices. Burgers were in the $12-14.00 range and cold sandwiches ranged from $9-12.00. The real treat at this restaurant are the late night specials. From 11 PM until 6 AM there is a steak and eggs special for $6.99 or a 3 egg breakfast special for 4.99. I rather enjoyed my 3 eggs, bacon, hash browns and toast a little before 4 one morning. I was also impressed that the eggs were cooked as I ordered them (over medium, which means over easy at most restaurants) and we were served very quickly. As one of my friends commented, "They've made this meal a lot of times." There was also a young couple who recognized my Hunter S. Thompson "Gonzo" t-shirt, so the late night clientele has excellent taste as well.
Java Detour — They serve coffee and bagels. A large coffee goes for $3.99.
Entertainment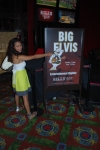 Bill's Lounge — Bill's Lounge is a small stage and seating area where bands and the famous Big Elvis play. I was surprised at the size of the crowd that gathered for the Big Elvis act. The show was free, and it was a lot more fun than I imagined. Big Elvis got the crowd involved, and people seemed to have a good time.
We were also able to follow our football bets in the lounge, as they have enough flat screen televisions as well as a couple of large projection screens (one with sound). Pitchers of beer were only $6, but that might have been just for NFL games.
Drai's — This is an after hours club, meaning after the other clubs are closing people ramble over here to keep partying. I am not a fan of going to clubs, so I didn't try to get into this one. I did see long lines forming between 3 and 4 AM to get in. I thought the people in line looked a lot like they usually do at clubs ... pretty girls with guys who shouldn't be with pretty girls.
Pool
Bill's guests have access to the Flamingo's pool facilities next door.
Parking Garage
I didn't drive, so the Wizard asked me to add the following remarks about the parking garage. He says Bill's parking garage is one of the best-kept secrets in Vegas. It is easily accessible from Flamingo Blvd, just east of the Strip. After turning into the garage you do about three quick revolutions up the circular ramp and you're in what is probably the closest public parking to the Strip. Then it is down the elevator, which takes you to the center of the casino. The Wizard says he always finds plenty of space, even on busy weekend nights. You might think a small property like Bill's would require validated parking, but they don't. If you're going anywhere close to the Flamingo/Strip intersection Bill's makes a very convenient place to park.
Conclusion
This is not a great stop if you do the majority of your gambling where you stay, but is not a bad base of operations for a Vegas trip. One of the most endearing features of the hotel is the quickness that you can get in and out of the rooms. From the strip sidewalk in front of Bill's I could swing in, go up to the room, and be back outside in less than ten minutes. I enjoyed talking to the employees while researching this review, and found many of them are holdovers from the Barbary Coast days. They seem to like working at Bill's, and I thought the service was friendly. Judging by the busy gambling floor, Bill's is providing an atmosphere that is appreciated on the strip.
My recommended areas for improvements are:
Better gambling — If they improved the video poker and blackjack odds I would have spent more time at their casino.
Improve the bathrooms — With a nicer counter and brighter lighting I would consider the hotel for trips with my wife.
Easier to understand players club — How do I get credit for gambling? And if I can exchange my credit at other Caesar's properties ... and Caesar's owns this property ... wouldn't it make sense to just add Bill's to the Caesar's website and rewards club?
Links
Contact Information
Address: 3595 Las Vegas Boulevard South, Las Vegas, NV 89109
Phone: 702-737-2100
Web site: billslasvegas.com
Resort and Parking Fees
| | |
| --- | --- |
| Resort fee | $13.50 |
| Parking fee | Free |