Introduction/History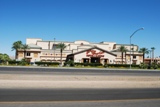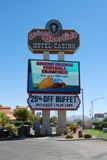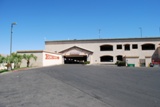 Arizona Charlie's Boulder is a locals' casino and hotel located on the Boulder Highway, about six miles east of the Strip in Las Vegas. Like a lot of Boulder Highway properties, it offfers competitive hotel rates and lower limits than Strip casinos. However, what you gain in price, you lose in amenities and atmosphere. Whether the trade-off is worth it is a matter of personal preference.
The Boulder Highway version of Arizona Charlie's is a cousin of the original Arizona Charlie's on Decatur Road in West Las Vegas. The original Arizona Charlie's is one of the most successful locals' casinos in the Vegas Valley; at one point it was making more than $72 million per year in gaming revenue. A few years ago, the whole operation (including the Stratosphere), was purchased by American Casino Entertainment, a group whose members include investor Carl Icahn and the Goldman Sachs corporation.
According to the Nevada Gaming Control Board, there are 19 table games and 1060 slot machines at Arizona Charlie's Boulder. This is about average for Las Vegas — perhaps a little on the small side.
Location/Transportation
Arizona Charlie's Boulder is located on Boulder Highway, north of Flamingo. The best way to get there from downtown is to take the US-93/95 south, and get off at the Boulder Highway exit. The casino is only a few blocks south after that. From the Strip, you could go the same route, or take Flamingo straight out.
The two nearest casinos to Arizona Charlie's on the Boulder Highway are Sam's Town and Boulder Station. I tried to walk to both of them late at night. Both are further away then they appear. I had to turn around both times when I realized how far away they were. Regardless of distance, I wouldn't recommend making the walk, even in the daytime. The Boulder Strip is populated with low-rent apartment complexes and RV parks. A couple people asked me for money, and I didn't feel safe walking around with my bankroll. Bottom line: if you don't have a car, your dining, gaming, and entertainment options are limited to Arizona Charlie's exclusively.
Hotel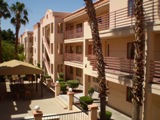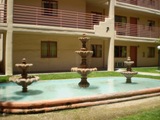 Arizona Charlie's has 303 hotel rooms arranged in eight three-story apartment style-buildings. The complex used to be a long-term stay hotel complex (similar to Siegel's Suites), and the conversion is apparent. That said, the landscaping is very nice, and there is a nice pool with a changing hut. The pool seemed busy while I was there.
My room rate was $40 for a weekend night, booked through Expedia. (I had a $25-off coupon). This was one of the cheapest nights listed for the weekend on Expedia, and there was no resort fee. Wireless internet was available for $11.99 a night.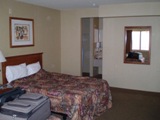 The rooms are nothing special. Most of the rooms are suites, but they only encompass a small bedroom and a small sitting room. I wouldn't say they are any bigger than a normal hotel room -- they just happen to have an extra wall. My room was a double queen on the second floor, unsuited (hey!). I would compare it to a Red Roof Inn in quality. The TV was especially small, but it had a good selection of channels. There was an iron/ironing board, but no safe. Tolietries were "Eco" brand, and included small tubes of shampoo and lotion (two of each). The bathroom was small, with a seperate sink/vanity, and a shower/tub combo. The water pressure was nice.
I should note that the hotel is not attached to the casino; you have to walk outside to get to your room. The hallways are also exterior balconies. However, the complex is well lit, and there is good security. I must have seen three or four security guards riding bicycles around the hotel, as well as a guy driving around in a golf cart. I felt very safe in the hotel area.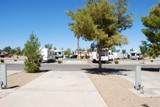 There is an adjoining 200-space RV park north of the hotel. Space sizes range from 30 ft. to 70 ft., and feature free wi-fi, electrical hook-ups, and 24-hour security."
Restaurants/Dining
Arizona Charlie's has more than a few dining options. There is a cafe, buffet, steakhouse, and deli/Sbarro's Pizza. You can use your comps at any of the dining outlets.
Yukon Charlie's is the steakhouse. It is only open Tuesday-Sunday. I didn't eat here, but prices seemed reasonable for the segment.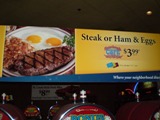 For dinner, I had a late-night meal at the Sourdough Cafe. Most locals and in-the-know visitors know about the steak 'n' eggs special at the Sourdough. It is pretty famous, and has been mentioned in the Las Vegas Review-Journal. At $3.99, it just doesn't get much cheaper for a piece of meat. It is served 24 hours a day, and you need to show your players card. When I ordered it, the waitress brought steak sauce, tabasco, and ketchup. I ordered my steak medium. I was surprised at the quality of the steak: it was maybe an 8-10 oz. New York Strip, and very tender and flavorful. The eggs were fine, ordered over-easy. It also came with a generous serving of hashbrowns, and two pieces of toast. I love a good steak, and the price only made better. I highly recommend the steak 'n' eggs special at Arizona Charlies.
For lunch, I ate at the Wild West buffet. Prices were $5.50/$7/$10 with a club card. This is one of the cheaper buffets in Las Vegas. The quality was good. I stuck to the hot items, because the salad bar was poor with only iceberg lettuce. They had some very good Hungarian goulash, fish, and of all things, seaweed salad. The waiter, myself, and the next table over had a good discussion about whether to eat the seaweed. I commented that it was one of the healthiest foods you could eat. The waiter said he still wouldn't eat it. To be fair, It was rather chewy, with a strange texture.
There is also a deli downstairs for quick meals. A "loaded" cheesesteak went for $5.99, so the prices are reasonable, and you can use your comps. They also did a lot of quick-order, greasy items like onion rings, mozzarella sticks, etc. One day, I hope to see a felafel stand in a casino, but I'm not holding out much hope.
Casino/Players Club
Arizona Charlie's has a casino. That's about all that really can be said. There is nothing here to make them stand out from any other locals' casino in Nevada, or the world for that matter. There did seem to be a high propensity of smokers, and the clientele were -- how to say this charitably -- not what one would consider the upper echelon of society. That said, the games are by and large fair, and the personnel were friendly and efficient.
The video poker offerings at Arizona Charlies do not measure up to others on Boulder Highway. The best game is 9/6 Jacks or Better at 5¢ and higher, for a return of 99.54% with perfect strategy. For comparison, both Sam's Town and Boulder Station have Deuces Wild with a 100.76% return. The slot club -- "ACE play" -- offers a rebate of 0.08% for video poker play, which is pretty poor. Most casinos give at least 0.1% back. You could, however, upgrade your card to ACE play red or green and get 2x or 3x cash back. It takes 100 tier credits to upgrade to green, and 250 for red. You can use your card at either Arizona Charlie's, the Stratosphere, and the Aquarius in Laughlin. It takes $1 to earn a point on slots, and $2 for video poker. You can earn points for race/sports, and bingo too.
The table games pit at Arizona Charlies is small, but offers a good variety of games. There is one craps table with $3-$5 minimums, and 10x odds, one Roulette table, two Pai Gow tables, and five blackjack tables, with minimums from $3-$10. The rules on blackjack are two decks, hit soft 17, and double after split allowed. The rules for the $3 game are the same except it is a six-deck shoe. When I was there on a Friday night, they raised the mimimum on craps from $3 to $5, which drove away all of the players. Eventually they sent the dealers home at 10 o'clock. Evidently the price resistance point for craps on the Boulder Strip is low, with little elasticity.
In the back of the casino is a small race and sports book. There are little TV carrels available, but only for race bettors. Sports bettors have to sit in regular chairs and watch the big screen TVs. I did notice they offered 15-cent lines in baseball. Sorry, I didn't look to see how long sports tickets expired. There is also a bingo hall on the second floor, which looked to be pretty crowded at most times. They advertised Las Vegas's only 24-hour bingo. So if you get the itch to play bingo at 4 A.M., head to Arizona Charlie's Boulder. There is no poker room.
My own gambling
My own gambling consisted of a few hours of video poker play, and blackjack. I played 9/6 Jacks or Better at $1.25 a hand, and par for the course, just about broke even or made a little. I was able to avoid the smoke by playing upstairs near the exit. For blackjack, I played at the $5 minimum double-deck game. This was right in front of the stage, and there was a cover band playing. Lord, were they bad. I hate to be judgmental of a hard-working band, but these guys were awful. I didn't help that I hated most of their covers. There also must have been a senior citizen's dancing club meeting there, since people were doing choreographed dances to almost every song. I have to say watching geriatrics cha-cha to "I Got A Feeling" by The Black Eyed Peas is not a sight you will want to repeat often in your lifetime.
The game play was fine, and the dealers dealt a good, clean game with few mistakes and even made a little small talk with the players, but it was mostly quiet. There was one woman who kept betting large and losing, and getting angry about it. People who get upset at the dealer and other players when they are losing is a pet peeve of mine; a mark of a good sport is to take your losses with grace. Finally, a gentleman sat down who was pretty entertaining, and kept flipping up his cards as the dealer dealt them, and wiping the cut card on his backside, for example. The dealer was not amused, but I was. Unfortunately, I had to leave when he lit up a cigarrette. I lost $25 playing blackjack, but made up my losses on video poker the next morning.
When it was time to leave, I stopped by the players club booth to check my comps. The booth lady said I had earned two dollars in comps, and not enough points to earn any cashback. Unfortunately, I had already eaten, so I couldn't apply my comps, but it was nice to get them. Apparently, Arizona Charlie's keeps your comp and cashback balances separate, which is appreciated.
Contact Information
Address: 4575 Boulder Highway, Las Vegas, NV 89121
Phone: 888-236-9066
Web site: arizonacharliesboulder.com
Resort and Parking Fees
| | |
| --- | --- |
| Resort fee | $13.50 |
| Parking fee | Free |