Introduction
On Tuesday, October 26th, 2021 the Green Bay Packers have announced that they have placed their young, speedy, and highly – skilled wide receiver, Allen Lazard, on the COVID – 19 reserve list. The implications of this necessary yet not welcomed move means that this Thursday, October 28th, 2021 the Green Bay Packers will most likely not have their 3 best wide receivers this season when they play the undefeated Arizona Cardinals on Thursday Night Football from State Farm Stadium located in Glendale, Arizona.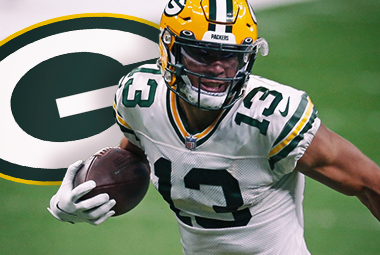 Packers' Wide Receivers that are Currently Out of Action
Lazard joins his good buddy and fellow Green Bay Packer wide receiver, Davante Adams, on the COVID – 19 reserve list. It is highly – unlikely that both Adams and Lazard will not pass the COVID – 19 protocol in order to be cleared by this Thursday for their huge match – up against the Arizona Cardinals.
Marquez Valdes - Scantling may possibly be coming off of the injured reserve list sometime soon. At the moment Valdes - Scantling has missed the past 4 games for the Green Bay Packers because of a lingering hamstring injury, but there is a glimpse of hope that Marquez can possibly return to full football activities this week. Although if Valdes - Scantling remains out for the Packers' Thursday Night Football game tomorrow the Green Bay Packers might be playing an extremely great and unbeaten Arizona Cardinals team without their top 3 wide receivers.
Aaron Rodgers' Best Pass Catching Options for Thursday Night Football
The Green Bay Packers veteran wide – out, Randall Cobb, recently returned back to the Packers this season after spending a year in Dallas with the Cowboys as well as a year in Houston with the Texans. Cobb will most likely be Aaron Rodgers' primary passing target versus the Arizona Cardinals on TNF.
The Green Bay Packers' running back, Aaron Jones, is their second - best passing option for Rodgers as he has pulled in 26 receptions out of the backfield so far during this 2021 – 2022 NFL regular season.
The Green Bay Packers did receive just a little bit of good news this week in that their wide receiver, Malik Taylor, who has been on the COVID – 19 reserve list since October 15th, 2021, was just activated last Tuesday, October 26th, 2021, and Taylor should be available to play for the Green Bay Packers this Thursday night as well. He will be another solid option for Rodgers to potentially target this week vs. the Arizona Cardinals' defense.
It is quite remarkable and surprising that ever since the Green Bay Packers have been without their superstar wide – out, Davante Adams, for the 6 games between last season and this season, the Green Bay Packers are 6 and 0 in those games. Hopefully for the Green Bay Packers Adams will rejoin the team soon, and he will not miss any more games for the remainder of the 2021 – 2022 NFL season especially during the Green Bay Packers' playoff run this season.
Media Statements
"There's a little bit of a shock factor for sure," the Green Bay Packers veteran starting quarterback Aaron Rodgers expressed regarding Davante Adams' COVID - 19 test. "But we dealt with it last year. We're maybe slightly more healthy than some of the other teams as far as not having as many cases. But there have been cases here and we've dealt with them. I have talked to him. He seems to be health-wise doing OK. Obviously, he's disappointed."
"(Valdes - Scantling is) getting better and better and running every day. He's working hard to be back out there, and it's just going to be a matter of where he is on game day," the Green Bay Packers head coach Matt LaFleur explained.
"I think that's a great testament to the other players we have on this football team, being able to go out and do their job at a high level and go out there and execute. Certainly, we're going to miss 17 -- he does a lot for this football team, brings a lot of leadership, obviously his playmaking ability -- but those are the circumstances that are dealt and our guys understand that the standards and expectations don't change," LaFleur proclaims.
LaFleur goes on to say, "We found out [about Adams] pretty early in the process, so certainly some of the stuff was already kind of planned for, but that's just -- you always have to have contingency plans, whether stuff happens in - game, where you have to pivot, and I think we have enough versatility within our offense to do that."
Lazard's Football Career Achievements, Honors, & Awards
2 - Time First - Team All - Big 12 in 2016 & 2017
Second - Team All - Big 12 in 2015
USA Today High School All - American in 2013
Sources:
"Green Bay Packers place Allen Lazard on reserve / COVID - 19 list", Rob Demovsky, espn.com, October 26, 2021.
"Allen Lazard", pro-football-reference.com, October 27, 2021.
Posted by
DavidGreen