by Michael Shackleford • Feb. 25, 2014
The River Mountains Loop is an outstanding bike trail and one of the best free outdoor activities in Las Vegas. It forms a big circle between the east edge of Henderson and Lake Mead. The trail is well maintained and goes through some fantastic scenery. Although you're close to Las Vegas, most of the time there is little sign of civilization except the trail itself. If you're not enjoying the view of Lake Mead, there are plenty of mountains and desert scenery to look at. There are no major street crossings. Just a few minor roads in the vicinity of the Boulder Beach.
The trail itself is challenging. It is either uphill or downhill the whole way and very curvy. Serious riders who like to maintain high speeds will likely be frustrated with it. It is meant more for recreational riders than bikers who log in hundreds of miles a week. In case you are wondering, it takes me about three hours to complete, and I'm pretty slow.
As with anything on the Internet, there is a lot of outdated information floating around about the trail. Many indicate the trail is unfinished in places. No two sources seem to agree on the total distance. Even the maps posted along the trail say it is 31 miles long. I'm here to tell you loud and clear that the loop, not including the side trails, is 34 miles long. This is easily verified by the mile markers, which end at number 34 at the Railroad Pass Hotel/Casino. There are also lots of old web sites and maps indicating certain sections are under construction. I can also say affirmatively that when I first did the loop on November 29, 2013, it was 100% completed.
Here is my map of the trail.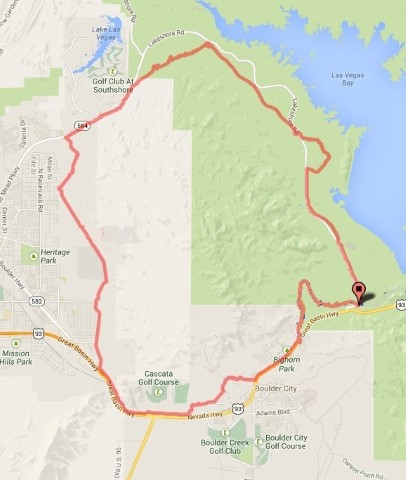 Click on any image for a larger version. Image from GoogleMaps.com
Before starting on the trail description, here are some typical photos of things you'll see the whole way.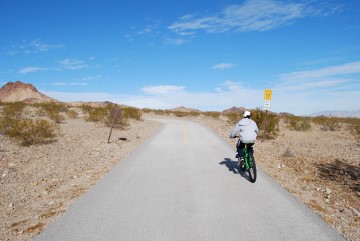 Note the signs that say "Curve 10 MPH" and "Do not pass." There is lots of such signage the whole way. It really is a curvy trail and/or steep trail in places so you have to watch you speed in such spots.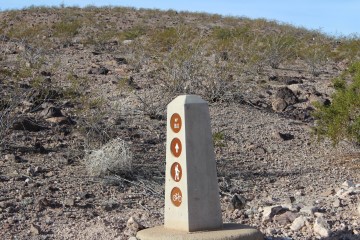 There are mileposts, like this one, every half mile. I'm not sure why, but there are other similar unmarked pylons all over the place as well.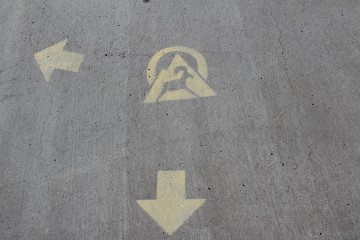 This logo is used to mark the trail in spots.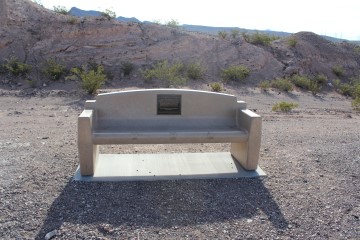 No shortage of benches to rest on.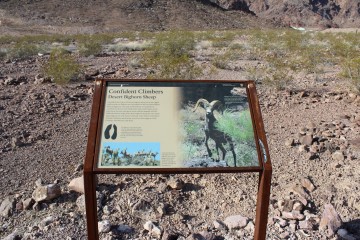 Lots of informational signs like this one.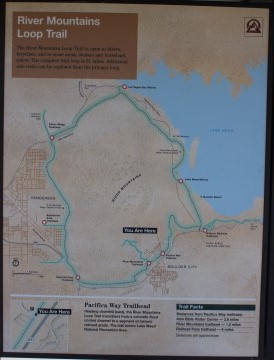 This is the official trail map you'll see at the parking areas along the trail. These are the maps that incorrectly say the distance is 31 miles.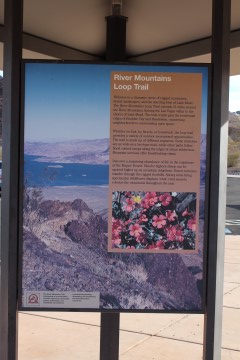 Another poster describing the trail. Here is a close up of the text.
Let me take a moment to discuss which orientation to travel in. The trail has a maximum elevation of 2,694 between mileposts 30.5 and 31. The lowest point has an elevation of about 1,245 near milepost 21. Going counterclockwise, as I did when these photos were taken, the trail drops about 1,450 feet in the 9.5 miles after milepost 30.5, and then takes another 24.5 miles to regain them.
I think I can speak for most bikers when I say that I would prefer the pain of the uphill portions be spread out over as much distance as possible. If you do the trail clockwise it is a tough uphill slog starting at milepost 21, gaining 1,450 feet in 9.5 miles. For experienced bikers this may not sound bad, but I'm just a recreational biker, still using the same bike I rode in college in the 1980's. In my early twenties I was offended if another bicyclist dared to pass me. Now it is the order of the day. The only bicyclists I seem to pass up any more are homeless people on rusty old beach cruisers. A word of advice to the young -- never get old.
Another downside to going clockwise, is on the north section of the loop you'll be going downhill and it is very curvy. You'll be riding your brakes for miles as you coast down these curvy sections. Some might complain about some steep hills between mileposts 7 and 8 going counterclockwise. That is true, but you can always walk your bike up that section. It makes a nice break from riding.
For these reasons, I feel going counter clockwise is more pleasant. It seems to me that most other bikers on the loop do it that direction as well.
There are a host of parking lots along the trail and side trails leading to the trail. Personally, I prefer to park at the Railroad Crossing Casino, which right off the 93/95 highway, west of Boulder City. That is where I started this trail description.
Let me discuss navigation. It would be difficult to get lost on this trail. Still, it probably has been known to happen. There are lots of side trails, most leading to parking lots for the trail, and the part that goes through Boulder City could be marked better in places. When in doubt, keep these tips in mind.
The trail is never on a road, so don't turn onto one. Part of the trail in the Lake Mead Recreation Area is on what was once an old road, but they paved bike lanes over it.
When in doubt, stay close to the inner side of the trail. There isn't much except mountains bounded by the trail, except in the Boulder City section.
The Boulder City section is the most likely section to get lost. Keep your eye out for signage marking the trail.
There are several side paths leading to residential areas and parking lots. If you want to stay on the main trail, keep going straight.
With the introductions out of the way, let's go around the loop!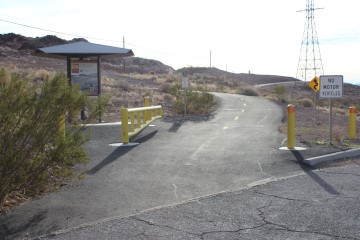 Short connector path to the trail at the Railroad Pass Hotel/Casino. It can be found at the east side of the upper parking lot, meant for large vehcicles and trailers.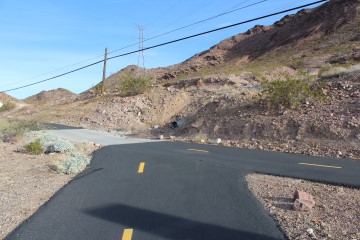 Here the Railroad Pass connector joins the main trail. To go counterclockwise, as I did, turn right.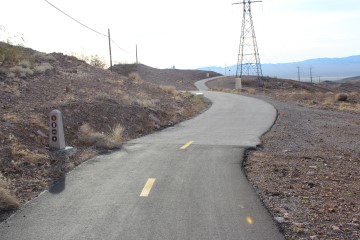 A short distance away is milepost 0-34. It says 0 on one side and 34 on the other.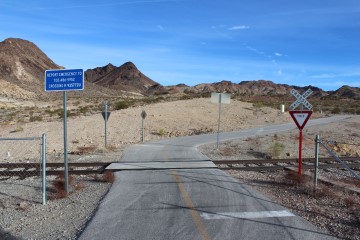 Railroad crossing. The only train to use these tracks is the Nevada Southern Railway, a short train ride to nowhere that leaves out of Boulder City.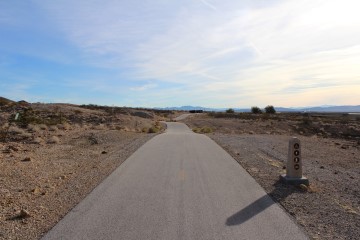 Milepost 33.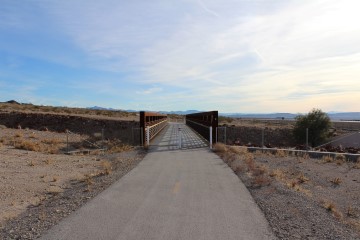 Cross this bridge.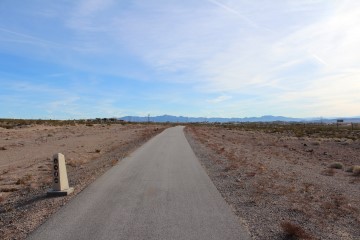 Milepost 32.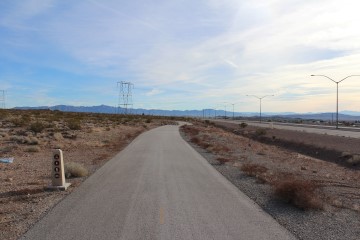 Milepost 31. It looks a lot like the previous picture doesn't it? This goes to show this section is comparatively flat and straight.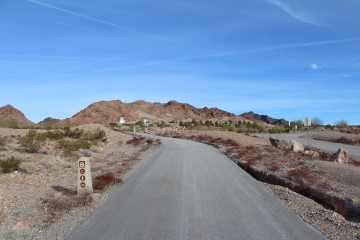 Milepost 30. That mountain up ahead is home to Bootleg Canyon, a popular spot for off-road biking. The dirt trails cross the paved path in several spots, so be careful of off-road bikers crossing the path.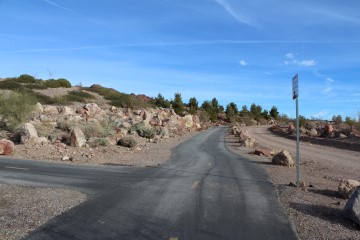 Keep going straight. The path to the left leads to a parking area.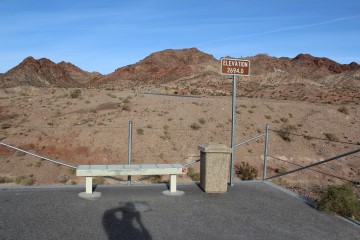 According to rivermountainstrail.org, this is the highest elevation on the trail. The lowest is at the Boulder Beach Marina, around mile 22, at an elevation of 1245.
Note the BC on the mountain just to the right of the sign (click on any image for a larger version). I've always wondered if that stands for Bootleg Canyon or Boulder City. If you know, please tell me.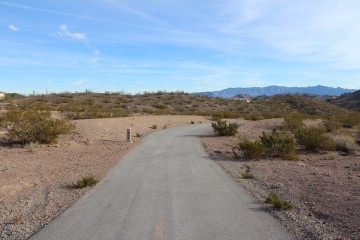 Milepost 30.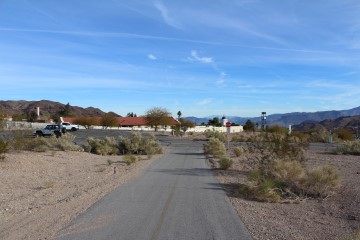 Here is another parking area, just west of St. Jude's Ranch.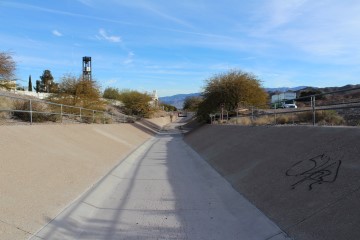 After the parking lot you'll be in and out of this drainage for a while. Look out for loose rocks.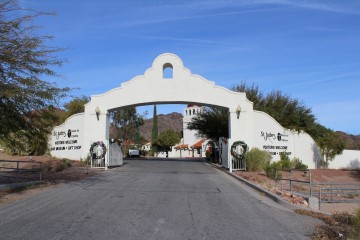 The path goes right across the entrance to St. Jude's Ranch.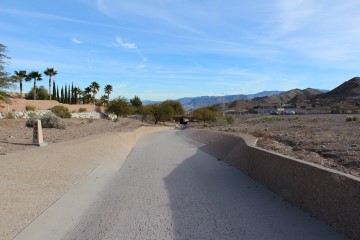 Milepost 29. Still in the drainage.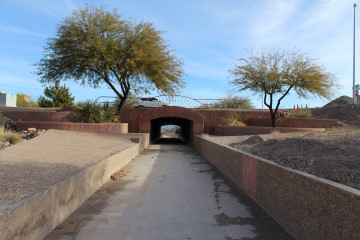 One of many tunnels you'll go through.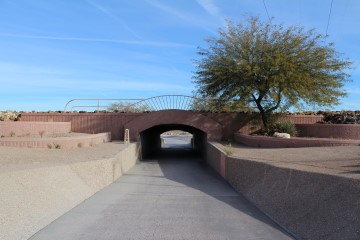 Milepost 28 at this tunnel.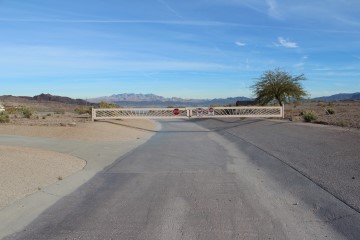 After going through the tunnel you'll make a quick left here.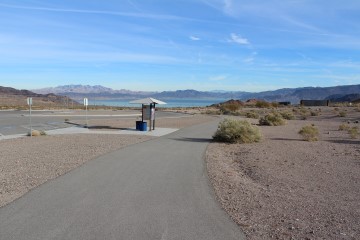 Another nice, and empty, parking area for the trail.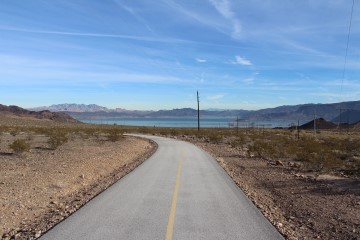 Nice view of Lake Mead.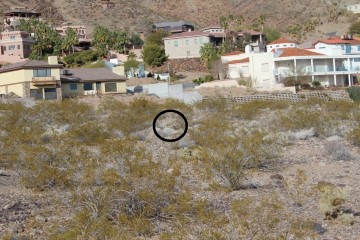 I saw a coyote about half way between the trail and those houses. Click on the picure for a larger version, or this close up.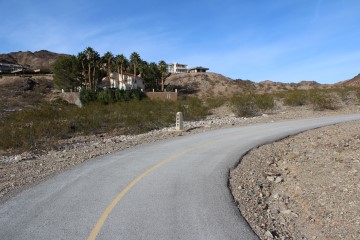 Milepost 27.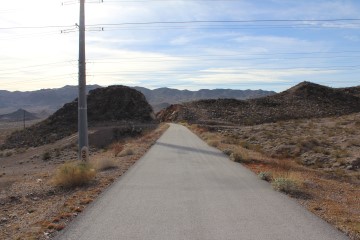 Milepost 26.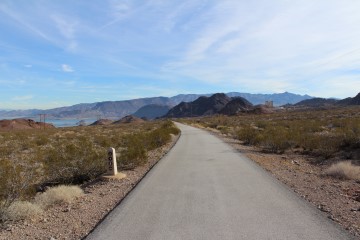 Milepost 25. That is the Hacienda Hotel/Casino off in the distance on the right side.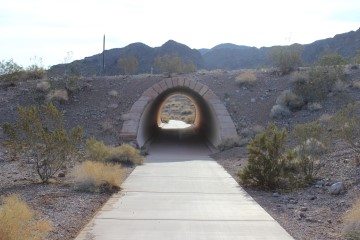 Another tunnel.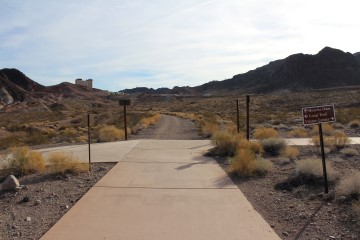 Turn left here. The dirt path is the beginning of the Historic Railroad Trail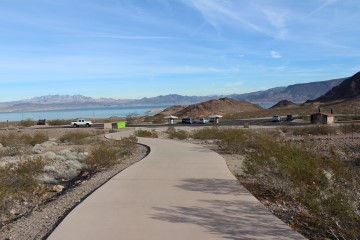 Another nice parking area, good for both the River Mountain Loop and Historic Railroad Trail.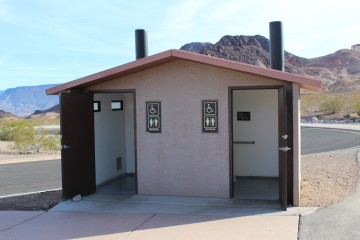 There is a nice outhouse at the parking area, but no water.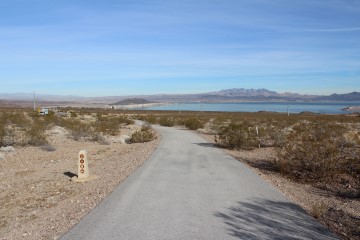 Milepost 24.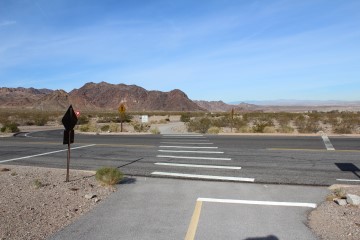 One of the few roads in the marina and camping areas for Lake Mead. The odds of any cross traffic are pretty low.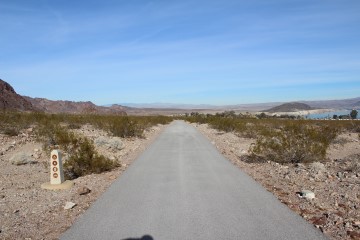 Milepost 23.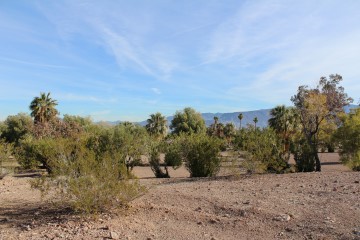 Lake Mead camping grounds.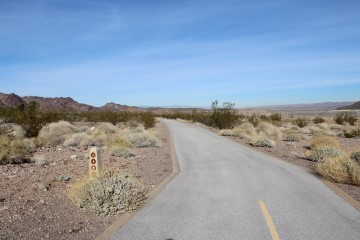 Milepost 22.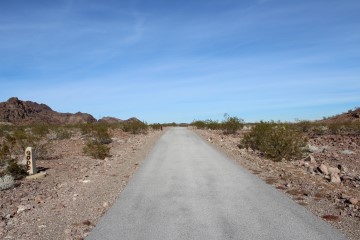 Milepost 21.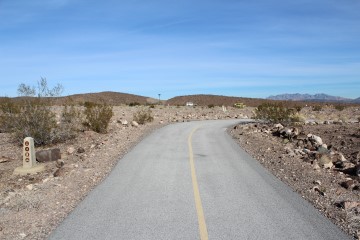 Milepost 20.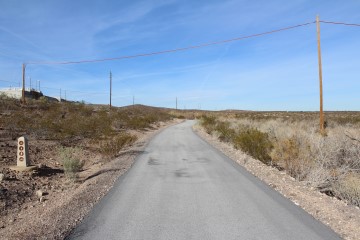 Milepost 19.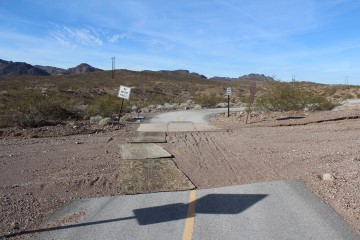 The trail evidently got washed out here.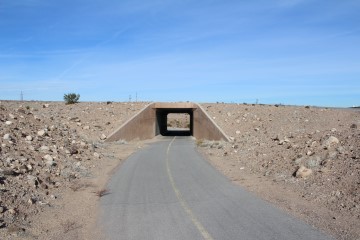 Yet another tunnel.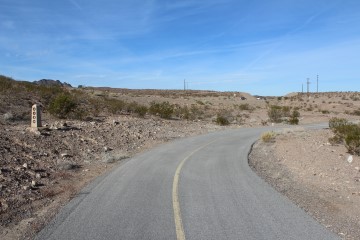 Milepost 18.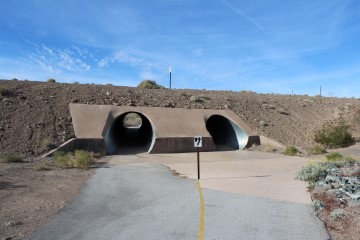 A pair of tunnels this time. Take the one on the right.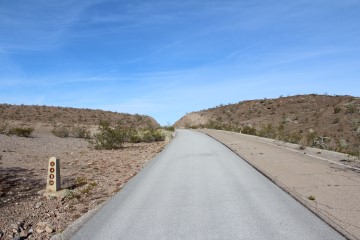 Milepost 17. Half way point from the Railroad Crossing.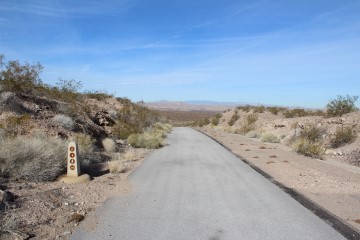 Milepost 16.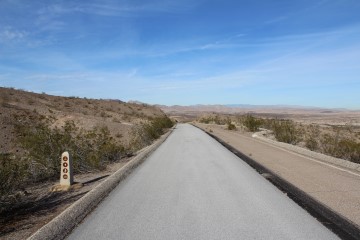 Milepost 15.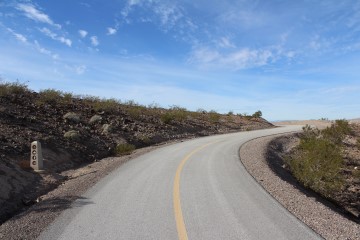 Milepost 14.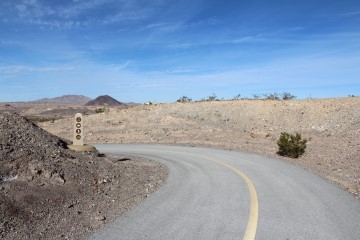 Milepost 13.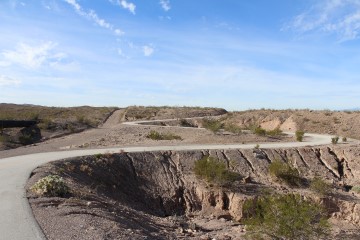 Lots of switchbacks like this on the north part of the loop.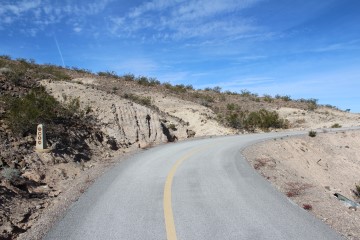 Milepost 12.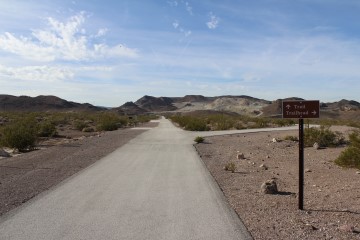 According to the map, this side trail to the trailhead has a bathroom but no water.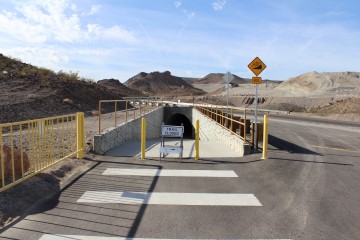 With just that one little blockade I wasn't sure if they really meant the trail was closed. The last time I did the trail I saw a similar sign at another tunnel, which had just a little gravel in it from a recent rain. I must confess that I went through the tunnel here anyway. I would later discover that they were digging a ditch along the side of the trail further up. Maybe they are installing lights. They removed the trail markers between 12 and 8.5 in this effort.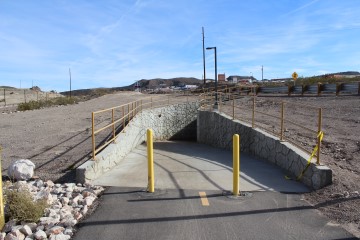 Going under Lake Mead Parkway again.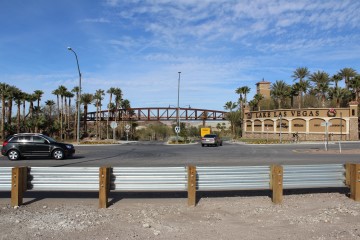 Passing the entrance to Lake Las Vegas. This is where Barack Obama prepared for his first debate with Mitt Romney.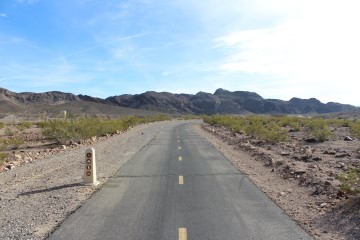 Milepost 8. As mentioned earlier, posts 9 to 12 were evidently removed due to construction.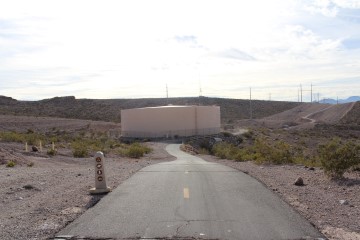 Milepost 7.5. Normally I don't take photos of the non-integer markers, but this is worthy of mention. It comes after climbing a huge hill going northbound. You'll be forgiven if you walk your bike up it, which I had to do. You can see another smaller hill past that water tank.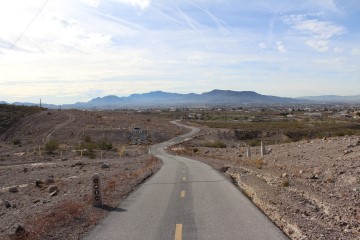 Milepost 7.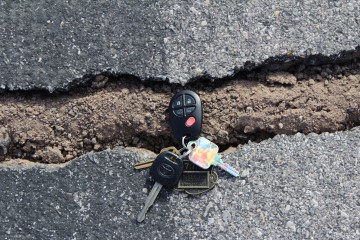 There are small cracks in the trail in this section. I put my car keys in this one, to show how thick a typical crack is in comparison.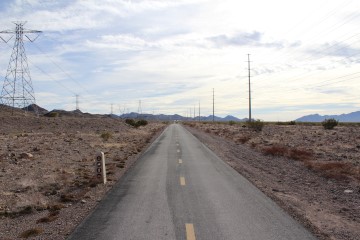 Milepost 6.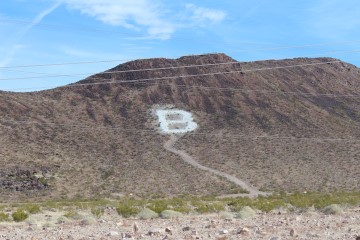 Do you wonder what that B stands for? According to forum member beachbumbabs, it was built in 1971 by the students of Basic High School. Since then, the school moved to another location in Henderson. The B is large enough to be noted on avaition maps.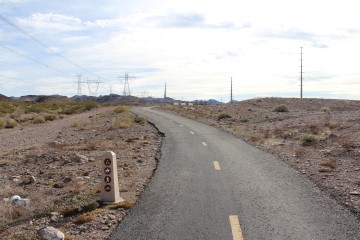 Milepost 5. A little past this are a bunch of solar panels.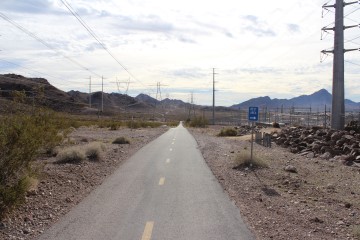 There is a small rest area to the side here, with a picnic table and water fountain.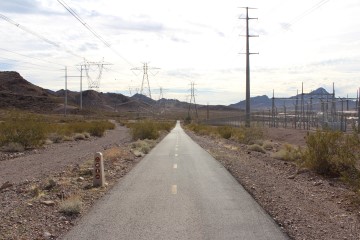 Milepost 4.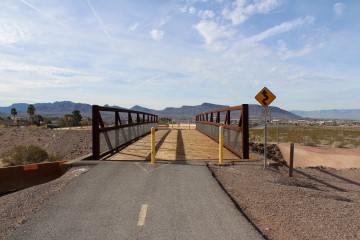 Wood-bottom bridge.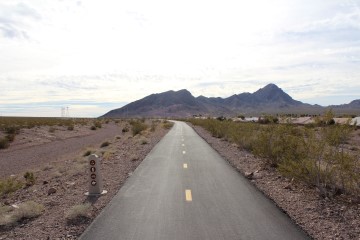 Milepost 2. I didn't notice milepost 3.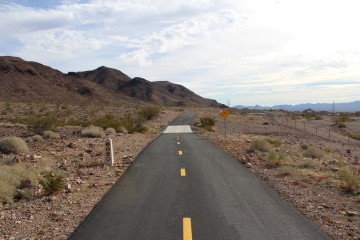 Milepost 1.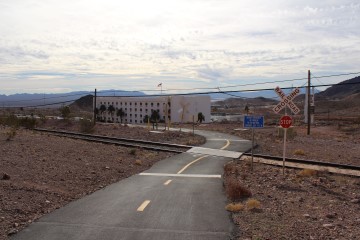 Almost back to milepost 0! Here is a railroad crossing by the Railroad Crossing Casino.
That is my report. I hope you liked it. If you see me on the trail, please say "hello."
---
Videos
The River Mountains Loop is so long that I had to break it into four videos. The videos start at the Railroad Pass casino at mile 0/34.0 and go counterclockwise.
Interior Links
Go to index of Las Vegas exercise trails.
Exterior Links