Introduction/History
Las Vegas Club is a promiment downtown casino located on the Fremont Street Experience, right at the top of Fremont and Main Street. It is a very visible, historic casino that, like most downtown Las Vegas properties, has fallen on hard times with the falloff in the Las Vegas gaming market. From what I could tell on my visit, they are trying hard to recapture the low/middle end of the market.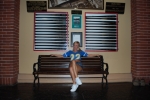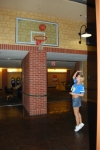 Founded in the 1920s, the Las Vegas Club can be seen in a lot of vintage photos of old Fremont Street. Later, they adopted a sports theme, which seems to have fallen by the wayside. There is still some sports memorabilia in glass display cases scattered around the property, but it looks neglected. There is a large bronze statue of a baseball player above the main entrance to the casino.
The ownership group of the Las Vegas Club includes Poju Zabludowicz, an Israeli-Finnish billionaire who regularly features on lists of the richest people in the world. He is pretty secretive and doesn't have much of a hand in the casino operations. The management contract is held by PlayLV, Inc. They also own/manage the Plaza hotel across the street, and the gritty Western casino further downt the road.
Location/Transportation
The Las Vegas Club parking garage has always been my favorite place to park downtown. I consider it an ideal place to park for three reasons: (1) It is the most accessible garage if you are coming from the Strip. (Just turn up Main) (2) It is centrally located to all the casinos on Fremont Street and (3) It was free and the garage attendant didn't care about validation or tickets.
But this policy has changed. On this most recent visit the garage had a sign which said parking was a non-refundable $5. You could not get this fee validated, but you could get a $5 credit towards your bingo play. When I pulled into the garage, the attendant asked me my name and if I was checking in. I told her, and she found my name on a list and allowed me to park for free. I was told I could park on level four or higher. There were plenty of parking spaces on the fourth floor, and I was able to find a space right next to the elevators. The Vegas Club garage is dirty in places, and there is graffitti on the walls, but otherwise it is safe, well-designed, and functional. The garage elevators take you right into the heart of the casino, and next to the bell desk.
Check-in was easy, and the clerk was friendly, making small talk about where I was from and upgrading me to a North Tower room. He said usually this requires an upcharge, but he would do it for me for free. This was certainly appreciated.
Hotel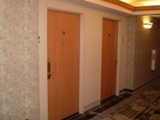 I was pleasantly suprised by the quality of the Las Vegas Club hotel rooms. I had booked a one night's stay through Expedia at the rate of $15.12, taxes and fees included. (Happily, there is no resort fee). For that price, and considering some of the reviews I had read, I was expecting a hole. But the rooms were very nice -- perhaps a step above Motel 6 quality. I was given a ninth floor North Tower room. These are slightly better than the South Tower rooms, and improvements are apparent. The hallway carpet has been replaced, and the common areas are well-lit and pleasant. The rooms themselves are huge. The king bed rooms could almost be called suites; in addition to the bed, there is a sofa, two chairs, and a coffee table, with room to fit in more furniture if they desired. The TV's are tubes, with a selection of 14 cable channels. There is a small vanity with mirror and hairdryer in the main room, and a shower/tub combo in the bathroom with the sink in a separate alcove. The closet has a iron and ironing board. There is no safe, but there are safe deposit boxes at at the front desk. Wireless internet is available for a daily fee, and I was told there is free wireless in the lobby, but I could not access it on my laptop.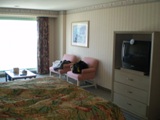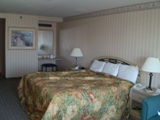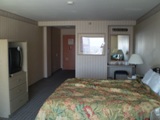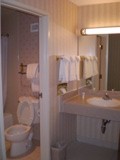 The view from my hotel room was nothing special. I had a view of the California hotel and its rooftop pool, which was better than nothing, I suppose. The windows could have used a cleaning, but there was nothing so dirty as to make me feel disgusted. Actually, the rooms were quite clean. I especially liked the bed. I find a good rule of thumb is the older the bed, the more comfortable it is. I hate new beds like the so-called "Heavenly Bed" at the Westin. This bed was one of the most comfortable I have ever slept in. The bedding package was very simple: two sheets, a thin blanket, and a coverlet. In my opinion, for a desert climate like Las Vegas, this is all you need. Anything more is overkill. The climate of the room was nice, too. Everything in the bathroom, including the water pressure, was fine, and the hotel provides tubes of Vegas Club-branded conditioning shampoo and moisturizer. I liked the moisturizer so much I took it with me when I left.
If you can get a cheap rate, I would say the Vegas Club offers an excellent value if you don't mind staying downtown, and don't need to be pampered. For someone who just wants a nice, quiet room to sleep in for the night, you could do much worse than the Vegas Club. If you book at the right times, it can be cheaper than the rent for an apartment.
Restaurants/Dining
Dining options at the Vegas Club are rather limited. There is only one full-service restaurant, Tinoco's Kitchen. There is also Tinoco's Express snack bar, which offers quick to go items and small bites, like a burger and fries for $6.95 and enchiladas for $5.95.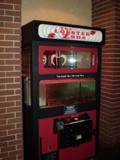 Tinoco's is a small, nicely decorated restaurant with attentive service that is squirelled away at the back of the casino. Many people consider it a hidden gem downtown. They have an extensive menu, and are open for breakfast, lunch and dinner from 7 A.M. until 10 P.M. I ate two meals there, dinner and breakfast. For dinner, They were also advertising a special of steak and shrimp for $19.99. I had the special of linguine topped with blackened chicken and shrimp. Service was extremely attentive, as is to be expected in a restaurant with only 15 tables. The atmosphere was high-class, yet cozy, with nice art on the walls, and an open kitchen. My meal was fine; before the meal, the waiter brought a small Caesar salad with fresh cracked pepper and bread, and a glass of the house Cabernet. The linguine was good, although the chicken was overly salty and was low-quality pressed meat. The shrimp was almost perfectly seasoned. For dessert, I had bread pudding and a coffee. It was possibly the best bread pudding I had ever eaten, and it came with whipped cream, fruit, and ice cream on the side. My total bill was $44.75 including wine.
For breakfast, I had the Hawaiian breakfast, which was Portugeuse sausage, eggs, white rice, and white toast. I asked the waitress if I could substitute something for the toast (why duplicate refined carbs?), but she said no. The meal was fine, and filling. I noticed they charged $2.50 for the coffee, which is typical of restaurants who want to pad their profit margins. I think a more reasonable price would go a long way to satisfying their customers. My total bill for breakfast was $9.73.
Upon settling my tab, I asked the hostess if I could do a room charge, anticipating receiving a comp later. She said that because the restaurant is independent and not hotel-owned, she could not do a room charge. So I paid by credit card. Later, I stopped by the players club and asked about food comps. The booth clerk said he could get me a $30 comp to Tinoco's. D'oh! In retrospect, I misplayed my hand. I should have played before I ate, and then asked the players' club for a restaurant comp, which seems easy to come by. The food at Tinoco's was good enough, however, that I didn't mind paying for my meal out-of-pocket.
Casino/Players Club
Like most downtown casinos, Vegas Club has a pretty good players club. The card gives you $1 for every 500 points, and $1 coin-in = 1 point on slots or video poker. This is an effective rebate of 0.2%. If you redeem your points for freeplay, you get 0.3% back (effectively 'time-and-a-half' over cash). You also earn comps, which accumulate separate from your cashback/freeplay points. I don't know the rate comps are earned at, but they seem generous. There was never any line for the player's club or cashier.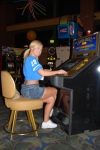 For new players, Las Vegas Club has an attractive promotion where you earn certain bonuses depending on how many points you earn immediately after you sign up. For a certain amount points, you can earn a bathrobe, logo jacket, dining certificates, and free slot play. Because I was not a new member, I could not take advantage of this promotion, but for a new member it would be a good deal if you played low house-advantage games like video blackjack or video poker. Be aware, though, that some people in the past have had problems redeeming this promotion, so take care that your points are being counted.
The casino floor is generally average, with the usual mix of games and a larger-than-average amount of coin-dropper slot machines. The best video poker machine is 9/6 Jacks or Better at $0.25 and higher, for a return of 99.54% (not including slot club points). There are two table game pits. The first is the "Fetish Pit," which operates nightly from about 7 P.M. to 2 A.M. and features girls dancing on a platform in various fetish outfits like nurse, schoolgirl, and policewoman. While a couple of the girls were very attractive, I would say collectively they don't measure up to the girls at the Golden Gate across the street. Also in the blackjack games in the Fetish Pit, blackjack is paid at 6 to 5, which adds a sizeable amount to the house edge. For comparison, the Golden Gate still pays 3 to 2 on blackjacks in their party pit.
In the regular pit, blackjack is normal rules with a mix of continuous shuffler and shoe games. In all games, the dealer hits soft 17. Surrender is not allowed. There are two roulette tables, two craps tables with $5 minimums/10x odds, a let it ride table, three card poker, pai gow poker, and something called "World's Most Liberal 21," about which no more needs to be said except it is definitelly not the world's most liberal 21. In addition to the live games, there are two Shufflemaster electronic versions of blackjack and Ultimate Texas Hold 'Em. The minimums for those games are $2 and $1, respectively. These machines give slot club card points at the normal rate, which is nice for the player.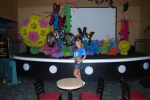 There's is no race or sports book, and no poker room at the Vegas Club. There is a bingo hall in the back of the casino, that is temporarily located here while the Plaza is closed for renovations. There are six sessions per day, and they offer all the usual gimmicks, including electronic bingo units. The price of packs ranges from $5 to $22, and payouts go from $60 to as high as $1,000 for the largest coverall.
My own gambling
I started my gambling with the intent of earning a bunch of points on my players' card. I started out on the Ultimate Texas Hold 'Em machine, betting $4 on the ante, for a total of $8-$24 in action per hand. I noticed the machine gave me points for all the money I put in action, including the play bet which carries no house edge. So I earned a lot of points on this game. Unfortunately, I lost $182. This would be a good play to earn a lot of club points if you play the correct strategy on the game.
For my second try, I moved on to the electronic blackjack machine. I can't bring myself to play anything but the game with the best rules in the casino, and this game offered surrender which the live table games didn't have. I bet $8 a hand for a few hours while a succession of players went in and out, but an Asian gentleman remained the whole time. I noticed he played superb basic strategy, while most players played horribly and busted out quickly (e.g., hitting hard seventeen, standing on fifteens against a ten). Pretty soon we were the only ones left playing, so we chatted for a bit. He says he is a regular player at these machines, because the house edge is a small 0.60%, and they give him slot club points and meal credits in addition to mailed offers. He never bets more than $2-$4 a hand. I have a lot of respect for these low level advantage players. As for me, I quit when I earned 2,000 points, but lost $92.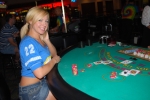 Frustrated by my losses, I moved to the craps table. I bought in for $150, and bet three points including the pass line with $20 in odds on each point. Things started off slow, and I had to buy in for another $100. Then things started heating up, and there was a succession of hot shooters who were hitting a lot of my points, including the four and ten. Pretty soon I had recovered my buy-in, my losses from earlier, and some more besides. The dealers were competent -- they did not interact much with the players, but did their job quickly and efficiently, which I appreciated.
As always with craps, and especially downtown Las Vegas craps, some of the characters were unbelieveable. One guy was perhaps the most manic player I have ever seen in my life. He came in out of the clouds, and stacked up half his chips in the field (about $60 in red $5 chips). He then walked around nervously, unable to watch the table. Someone rolled aces to double up his bet. This win must have set off something in him, since he then went on the most crazy craps betting binge I have ever seen. He bet hardways, hops, two ways, three ways, horns, fields, and dealer and shooter bets, all while keeping up a constant patter and bobbing and weaving like crazy. I literally could not stop laughing for about 15 straight minutes -- if I had a video camera in the casino, this guy would have been a YouTube sensation. Finally, he left, busted out, but it was an entertaining spectacle.
At the end of my stay, I asked the casino marketing office about comps. I knew they could not comp my room because I booked through Expedia, but the marketing officer said $25 a hand at blackjack for four hours a day will get you the room night comped, and $100 a hand will get you RFB at Tinoco's. As I mentioned above, the players club gives out restaurant comps liberally, and I've heard their mailers are generous as well. Like most downtown casinos, it is not hard to earn freebies at Las Vegas Club with little play.
Links
Acknowledgement
I'd like to give a big thanks to Lisa for modeling in the pictures.
Contact Information
Address: 18 East Fremont Street, Las Vegas, NV 89101
Phone: 702-385-1664
Web site: vegasclubcasino.net
Resort and Parking Fees
| | |
| --- | --- |
| Resort fee | $13.50 |
| Parking fee | Free |