Preface
When this review was written, in November 2009, the property was still known as the Las Vegas Hilton. In 2010 they lost their rights to the Hilton brand and had to change their name. The new name is the LVH, which stands for the Las Vegas Hotel and Casino. The ownership remains the same. This review has not been otherwise changed to reflect the name change.
History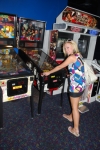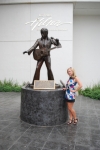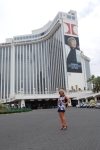 The Las Vegas Hilton has a long and interesting history. There is a good write up about it at Wikipedia. Briefly, the property was built by Kirk Kerkorian in 1971, and it was known originally as the International. For many years, it was the largest hotel in the world. If I'm not mistaken, it held this record until the new MGM Grand, the one that replaced the one destroyed by fire, opened in 1993. In the early days, the biggest stars played at the International/Hilton, like Barbara Streisand, Elvis Presley, and Liberace. The hotel was also prominently featured in the James Bond movie 'Diamonds are Forever,' although the name was changed to the Whyte House for the movie. In 1991, the Hilton was a major news story for being the site of the infamous Tailhook Scandal.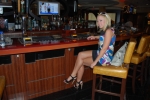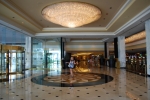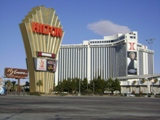 Between 1998 and 2004, the property changed hands a few times and is now owned by Resorts International. What is the connection to other Hilton hotels? I have no idea. When Paris Hilton comes to Las Vegas, it always makes the news, but I never hear of her staying there. You would think she would support the family business.
Today
Time has not exactly been kind to the Hilton. Since it opened, the center of Las Vegas's action has moved southward and has concentrated along Las Vegas Boulevard (the Strip). The Hilton lies one block east of the Strip on Paradise Boulevard, and it is a bit north of the fancy Strip properties. However, unlike some other aging Vegas properties, the Hilton is kept up well, and it has lots of shows to bring people in. It is also conveniently located next to the Las Convention center.
Although no longer the largest hotel in the world, it does hold the following world records: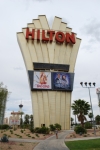 Largest freestanding sign
Largest sports book
Largest Hilton
Location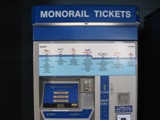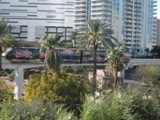 As previously mentioned, the Hilton lies on Paradise Boulevard, which is a large block east of the Strip. In terms of latitude, it falls between the Riviera and the Sahara. It would be a long walk to and from anywhere on the Strip; however, it is conveniently located along the Las Vegas Monorail route. Unlike all the other stops, the Hilton monorail stop takes you near the front of the casino. The cost for monorail tickets is $5 per ride, $14 for a one-day pass, and $30 for a three-day pass. The cost of a taxi ride would be about $10 from the Strip, depending on where exactly on the Strip.
Personal Background
As I wrote in my Four Queens review, I prefer to not review hotels where I have previous history of casino play. This is not exactly the case with the Hilton. Since moving to Las Vegas in 2001, I have played two table game tournaments at Hilton. In both of them I was knocked out fairly early, so I won nothing. I don't remember exactly, but the years would have been about 2003 and 2005. After the second tournament, where I bet pretty big, I was sent generous mailers from the Hilton for about six months, and these enticed me to return for my free promotional chips. I also have bet a fair bit of sports at the Hilton, especially Super Bowl props. For sports betting, I usually run in and run out. I have also eaten at Benihana Japanese steakhouse several times, to use up comp points earned under their old player reward system.
During all this time, I have never had any major complaints or noteworthy interactions. I have lost touch with my former host, who I barely knew, and I can't remember his name today. To this day, I get offers in the mail and by phone to try to get me to return, but I seldom use them. Aside from quick visits to eat or bet sports, I have not had much interaction with them for the last two years. So, with no axe to grind, and not knowing anybody who works there, I feel I can give an unbiased review.
This review is based on my stay there from November 17-19, 2009. This was during the Global Gaming Expo, a gambling industry trade show I have attended every year since 2000. Because of the Hilton's close proximity to the show, and to write this review, I stayed there during the 2009 show. During my stay, the property was obviously very busy with convention business. Any casino can suffer from longer lines and less personal attention when it is busier than normal, so please bear that in mind when I complain about such things.
Casino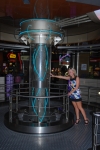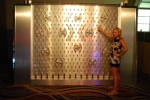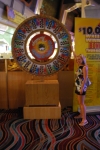 According to the 2009 American Casino Guide, the Hilton has 78,422 square feet of casino space. As a basis of comparison, the MGM Grand has 156,023. According to the Nevada Gaming Control Board, the Hilton has 55 table games and 1,330 slots. By comparison, the MGM Grand has 172 and 2,360 respectively. Unlike many Vegas casinos, most of the casino action at the Hilton is within a large open room. Off of the main casino are separate high-limit rooms for table games and slots, a futuristic "Space Quest" casino, and an enormous sports book. For many years, the Space Quest casino led to a Star Trek exhibit, but that, to the dismay of many Trekkies, ended its run about a year ago.
Overall, I found the service in the casino to be fine. The dealers were free to be themselves; some were very chatty while others were more down to business. The floor supervisors were usually friendly and engaging with the players. With players they knew well, there was often a joking banter going back and forth. Cocktail service was friendly and frequent. Both the staff and players at the Hilton tend to be on the older side, compared to most other properties. The table games offered were baccarat, blackjack, craps, roulette, big six, Pai Gow Poker, Let it Ride, Three Card Poker, and Ultimate Texas Hold 'Em. Here are some comments about the specific rules and other aspects of the casino.
Blackjack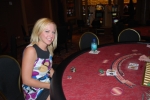 When I was there, the best game was a single six-deck game in the high-limit room, which had what I call "standard liberal Vegas Strip rules." The minimum at that table was $100. The following table shows the rules at all the Hilton blackjack tables, according to the Current Blackjack Newsletter. The house edge figures are from my blackjack house edge calculator
Hilton Blackjack
Decks
BJ Pays
Soft 17
Double after Split
Surrender
Resplit Aces
Num Tables
House Edge
1
1.2
Hit
Yes
Yes
No
4
1.52%
2
1.5
Hit
No
No
No
6
0.60%
2
1.2
Hit
No
No
No
6
1.98%
6
1.5
Hit
Yes
Yes
No
5
0.55%
6
1.5
Stand
Yes
Yes
Yes
1
0.29%
However, I was told twice that next week they were going to allow double after a split in the double-deck game.
Craps
3-4-5X odds are allowed. Hop bets pay 15 and 30 to 1. The field pays 3 to 1 on the 12.
Roulette
Most wheels were double-zero, but there was a single single-zero wheel on the main casino floor.
Video Poker
According to VPfree2 (http://www.vpfree2.com/casino/las-vegas-hilton), the Hilton has a strong selection of low-level video poker. Here were some of their strongest games at the times I was there:
The expiration on all slot tickets is 30 days, which I feel is too short.
Player Club
Contrary to what vpfree2 says, at the time of this writing, I was informed that it takes $125 bet on reeled slots to earn $1 in cash back, for a rebate of 0.8%. For video poker, it takes $250 or more, depending on the specific game, for a rebate of 0.4% or less. Table game players earn points at an unknown rate. Points can be redeemed for cash or comps. That makes the Hilton the only casino I am aware of where table game players can earn cash back. Previously, table game players earned comp points only.
The Hilton is one of many casinos that have a tiered reward system. The lowest is the red "classic" level, then the grey "elite," and the highest is the black "ultra" level. The Hilton web site shows the benefits of each level (PDF 93K). The same card can be used at the other "Resorts" properties, which include the following:
Atlantic City: Hilton and Resorts
Tunica: Bally's and Resorts.
Locals can get a "hotspot" sticker on their card, just for the asking, which entitles them to some nice benefits. When I ate at TJ's Steakhouse, they immediately deducted 25% from my bill because I had the sticker.
Race & Sports Book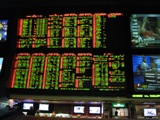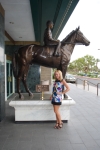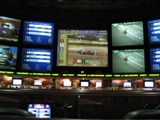 As previously mentioned, the Hilton has the largest race and sports book in the world. I would not dispute this for a second. Here is what I counted when I was there:
3 small screens
8 large screens
17 jumbo screens
1 really huge screen
60 (apx.) lounge chairs
300 (apx.) study carrels
20 seats in a VIP area
The lounge chairs allowed smoking, but all the study carrels were non-smoking, a policy I applaud. At the back of the book are the Superbook Deli and a bar. Besides being enormous, the Hilton sports book offers a huge variety of bets. Unlike other sports books, the Hilton has huge display boards, so they can show the lines of every bet they have all the time. Other sports books sometimes rotate their lines on the boards, requiring a wait until the bet you are interested in comes up in the rotation.
The Hilton also accepts large bets all day long. Unlike some other casinos, you don't have to wait on a call to the corporate headquarters to make a significant wager. The writers have authority to take pretty big action, and even if the "key" is required, it usually is only a brief delay. For Super Bowl props, nobody can compare to the Hilton's variety and limits.
The expiration on sports tickets is 120 days, which is better than average.
The Hilton also offers a player incentive program, where sports bettors get one point for every $220 bet. One point is worth one dollar in comps, for a rebate of 0.45%, which is the highest in town. Most casinos offer nothing or much less. Race bettors earn one point for every $100 bet, for a rebate of 1%.
During my visit, the parlay and teaser odds were surprisingly on the stingy side, which is unusual for the Hilton sportsbook. For example, a 2-team 6-point NFL teaser only pays 10 to 13. Most casinos are 10 to 12, and some are 10 to 11. Here is what all the parlays and teasers pay:
Hilton Parlays
Picks
Pays
2
13 to 5
3
6 to 1
4
11 to 1
5
22 to 1
6
40 to 1
7
75 to 1
8
140 to 1
Hilton NFL Teasers
Picks
6 pts.
6.5 pts.
7 pts.
2
10 to 13
10 to 14
2 to 3
3
8 to 5
3 to 2
6 to 5
4
5 to 2
2 to 1
9 to 5
5
4 to 1
5 to 2
3 to 1
6
6 to 1
5 to 1
9 to 2
Hilton College Football Teasers
Picks
6 pts.
6.5 pts.
7 pts.
2
1 to 1
10 to 11
5 to 6
3
9 to 5
8 to 5
3 to 2
4
3 to 1
5 to 2
2 to 1
5
9 to 2
4 to 1
7 to 2
6
7 to 1
6 to 1
5 to 1
Hilton Basketball Teasers
Picks
5 pts.
5.5 pts.
6 pts.
2
10 to 11
5 to 6
10 to 13
3
3 to 2
13 to 10
11 to 10
4
2 to 1
9 to 5
3 to 2
5
7 to 2
3 to 1
5 to 2
6
5 to 1
4 to 1
3 to 1
One interesting thing I stumbled on when I was doing my research for this review was a sign at the betting windows on how to properly make a bet. It said to say the following, in this order:
Bet type
Bet number
Wager amount
For example, "Money line, number 301, for $110." For several years now, I have reversed steps 1 and 2. This is over thousands of bets. Nobody ever made an effort to correct me. Is the sign wrong, or have I looked like an amateur at the betting windows all this time?
To conclude, in my humble opinion, the Hilton sports book is the best in town in terms of size, player rewards, and variety of bets. If the location were more convenient to where I live, I would be there all the time, especially during football season.
Smoke Free Areas
The only smoke-free area I noticed was the part of the sports book with the study carrels.
Bathrooms
Normally I don't mention casino bathrooms, but the Hilton has a lively sense of humor when it comes to the mens' bathroom.
My Own Gambling
One of the coupons given to me upon check in was for $150 in cash or comps if I earned $50 myself through casino play during my visit. This was an offer I thought was too good to refuse. From my previous visits, I felt that the Hilton was pretty generous about the rate at which comps were earned in blackjack.
So, I played blackjack at an average bet of $200 for 2 hours and 42 minutes. Most casinos give the player about half his average bet per hour of play in comps. At the time, I thought the Hilton was more generous than average. When I went to the player club desk as I was getting ready to leave, I expected to have earned at least $270, which would hopefully get my room comped too. I was shocked to discover I had only earned $47.93. Rather than giving me about half my average bet per hour, they were giving about 9%.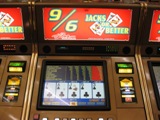 While dumbfounded, I was also not going to come this far and fall short of the $50 mark. So, I figured I could rack up $2.07 in points playing 9/6 Jacks or Better video poker at $5 a bet in no time. So, I played that for about 15 minutes, thinking that was plenty. Then I pulled my card out and put it back in and discovered to my horror I had only earned 33 cents in comps. So, I decided to go bother Dell at the player club desk, who had been very patient with my many questions earlier on, to ask at what rate video poker players earn points.
At this I encounter a scene by a slot machine near the Player Reward Center, because an elderly woman had just died. I won't get into detail about that, because I wrote about in my blog at Wizard of Odds. After taking about 20 minutes contemplating that experience, I decided I had had enough introspection for one day, and went back to thinking about how to get my last $2 in comp points. I had put most of my money in my suitcase, which I left in the trunk of my car, thinking I wouldn't need it. So, I had about $150 in my wallet, and I wanted to earn $2 in comp points as quickly as possible, and to heck with the house edge. So, I played Three Card Poker for half an hour at $40 per Ante bet. The "carnival games" do have higher house edges than the traditional games, but they do earn comps at a faster rate, as well they should. My dealer was friendly and chatty, making it a pleasant sitting. However, cold water was thrown onto my mood when somebody in a suit stood next to me and said "I'm watching you." What a nice way to make a player feel welcome. In all fairness, he might have read my book or something, where I discuss how to get a 3.5% player advantage in Three Card Poker.
After that, I went back to the gaming convention for a few hours. When I checked with Dell at the player club, she looked up my play and confirmed that I made it to $52. She congratulated me on achieving my quest. She added the $150, promised by my coupon, and gave me a voucher to take to the cage. What an ordeal. I've never worked so hard for such a small reward before. Personally, I liked it a lot better when comp points were used for comps only, because it seems you earned them a lot easier. For the record, to earn that $150 I lost about $2,700.
Hotel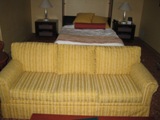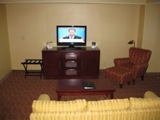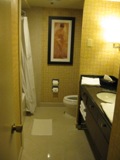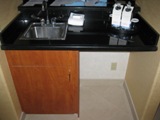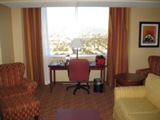 As I mentioned before, my stay was during the Global Gaming Expo, which is one of the biggest trade shows all year in Vegas. When I first went through the Hilton web site to book a room, they were asking quite a bit. I don't remember exactly, but at least $100 a night. So, I called directly to see if I could get a friendly rate based on my old play. The reservation agent suggested a package deal they were offering, which included lots of coupons. The total came to $244.31 for two nights. Normally this would be a lot to pay, but when a big event is in town, everybody jacks up their prices -- simple supply and demand.
The check-in counter had two lines, one for the regular folk and one for VIPs. As can be the case sometimes, the VIP line was actually longer. So, I happily took my place among the common folk, and I was seen before some of the people in the VIP line. The receptionist was nice but had some trouble finding or printing the correct coupons for me. As she looked through piles for the right ones, she said something about a printer malfunction. Finally she found the right coupons, which featured the following:
Free access to spa facilities (2)
Free drink – Tempo Lounge (2)
Free buffet (8)
$25 off at Benihana with purchase of two steak and lobster dinners
$20 off at Casa Nicola with purchase of any two entrees
$10 off two specialty drinks at the Tempo Lounge
$10 off two cocktails at the Noodle Bar/Garden of the Dragon, with purchase of dinner
$10 off two souvenir cocktails at the Space Quest Bar
$10 off the purchase of a combination sushi platter at Teru Sushi
$150 in cash back or comps if $50 earned in casino play during visit
When I made the reservation, I probably clicked for one king sized bed. She said that she didn't have one available for two hours and offered me a queen immediately. That was no big sacrifice, so I took it. The room given to me (#2569) was actually very impressive. In size, it was about 50% larger then most standard rooms. There was a large desk, a couch, a coffee table, a mini-fridge, a large flat-screen TV, a wet bar, and a bathroom with a large tub and separate shower. All the furniture looked new, and everything was squeaky clean, including the windows. The mattress was firm yet comfortable. I should have checked what kind it was, as I'm picky about mattresses. My only complaint was that the clock was still on Daylight Savings Time, which ended 16 days before. I tried to do my good deed of the day and correct it, but I couldn't figure out how.
At one point, on my last day, my room key didn't work. I got the dreaded yellow light every time I tried. Fortunately, I had a book with me, so I read while I waited for security to open it. From now on, if they give me two keys and I'm by myself, I'm going to carry around both of them.
The prices on the amenities were on the high side, as follows:
Internet: $13.99/day
Safe: $3.00/day (at most casinos it is free)
Water: $4.00/bottle
Local calls: $1.00 for first 30 minutes, and $0.10 each additional minute
Long distance: Not specified, other than an $11 minimum charge (ouch!)
Spa
My coupons included two free passes to the spa, so Wednesday morning at about 8:00 AM, I went to try it out. After signing in, I turned to the right to enter the men's side. Normally at this point at other spas you are greeted by somebody who escorts you to your locker, gives you a key, shows you around if it is your first time, and sometimes offers you slippers and a glass of juice. However, this day there was nobody to be seen. I made my way to the locker room, but still no luck. So, I put my change of clothes on a community coat hook and went to the exercise room. It was small, with about 20 pieces of equipment split between aerobic and weights. It was very crowded. After I was done there, I had hoped to find the key bearer to the lockers, but still no luck. So, I went into the sauna for a while, leaving all my clothes in plain site in the locker room for anybody to walk off with. Fortunately, nobody did. As I left, I finally had an interaction with a staff member, as somebody walking by said, "see ya." That is doubtful.
Food
Here is a brief list of the restaurants at the Hilton:
Fine Dining
Casual Dining
Fast Food
Superbook Deli
Pizza Hut Express
Fortune –- Coffee & wine
Ice Cream Shoppe
Perk Place – Coffee
Chaise's Snack Bar –- Poolside sandwiches and salads.
Following are my comments about the above establishments I have tried.
The Buffet
I had eight buffet vouchers for my 2 night stay, and I had hoped to use at least two of them. The first time I tried, on Wednesday morning, the line was enormous, so I went to the café instead. My luck was better on Thursday morning when there was no line at all. The Buffet is rather small, but the quality and selection of the food is respectable, falling somewhere in the middle of the scale as Vegas buffets go. They did have bagels and lox, but not blackberries or raspberries, which are my breakfast litmus tests for buffets. Here are the prices if you don't have a voucher:
Breakfast $12.99
Lunch: $13.99
Dinner $17.99
Brunch: $17.99
Paradise Café
You set the bar pretty high for yourself when you call your restaurant "paradise." I prefer the buffet's simple and non-pretentious name of "The Buffet," but I digress. I ate at the Paradise Wednesday morning, as well as on several previous visits. When I was there this time, the line ran pretty long. I noticed an empty spot at the counter, so I went in through the exit and took a seat at it. I didn't feel like this was line cutting, because it was just sitting there empty. The food and service are both adequate. Of the many times I have been here through the years, I have never had a bad experience.
La Hacienda Margarita
I didn't eat there this trip, but I have been there before two or three times. I would rate it a tad above the big Mexican chain restaurants like Chi Chi's or El Torito. The food is very americanized, but the place has a nice décor and friendly service.
Benihana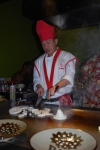 I didn't eat here this trip, but have several times in the past. This is by far the biggest Japanese steakhouse I have ever seen. It has two stories, an indoor Japanese garden, and lots of small rooms for dining. In my opinion, if you've been to one Japanese steakhouse, you've been to all of them. They are fun, entertaining, and a nice change of pace. Still, the menu and experience are always pretty much the same. The onion volcano, squirming shrimp, and flicking the mushroom in the hat can get old, but the newcomers love it every time.
TJ's Steakhouse
I had dinner here Wednesday night for a gathering of some gaming mathematicians. It was my second visit to this particular steakhouse. The food was fine, but I thought the staff seemed rather rushed. As mentioned before, I was there during a big convention, which caused the restaurant to be packed to capacity, so it felt a little on the cramped side.
Entertainment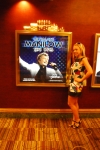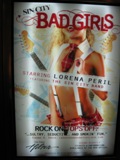 The Hilton has put an emphasis on live entertainment since the day it opened. They may not get the biggest names anymore, but they try hard, and the prices are a lot less than the big acts on the Strip. The acts change frequently, but here is what they had when I was there:
Ultimate Barry Manilow –- The Hits
Sin City Bad Girls (topless music show)
Voices –- Starring Lani Misalucha (female impersonations)
The only one of these shows I have seen is Barry Manilow, which was a few years ago when it was titled "Music and Passion." I'm not exactly a Fanilow, but admit I have a Barry's greatest hits CD in my collection. The show offered every Manilow hit I'm aware of, as well as taking the audience down memory lane with footage of Barry in his younger years. It was part music, part autobiography. Basically, if you like Barry Manilow, you'll like his show; otherwise, you probably won't. I don't know if he changed it at all in the three years since I saw it, but I left happy with "Music and Passion."
Shopping
The Hilton has some stores for necessities, but nothing too exotic. Here are the stores they had: jewelry, gifts, Barry Manilow, clothing, shoes, and one that is hard to categorize but sold mostly toys and Elvis collectables.
My only interaction was with the jewelry store. About three weeks prior to my visit, I dropped off my watch because it was missing a pin in the band, causing two links to separate. They only charged me $5 for the repair, and they were very nice during both visits.
Lines
The lines for the hotel, cashier, buffet, and café were all Wendy's style, with just a single line. The situation at the player's club was a bit confusing. Signage indicated there are different lines for each class of card. It can be hard at times to tell who is standing in line and who is just standing around. If you have one of the higher club levels (Elite or Ultra), be sure to invoke your right to the shorter lines, although it may appear like you are cutting in line. Personally, I like to show my grey Elite card from a distance and let the staff wave me to the counter so it doesn't look like I'm cutting in line.
Pool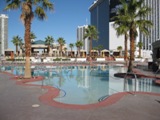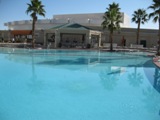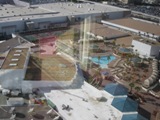 I did this review in November. When I went to the pool early in the morning, I was the only soul out there, save for some people on exercise bicycles. For a hotel of its size, I thought the pool was a bit on the small side. There were a few palm trees, but overall the scenery is not a strong point. There was plenty of space around it for sunbathing, plus a bar for food and drinks and a shop.
Tennis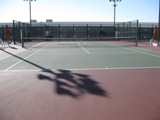 The Hilton has six tennis courts. They all looked in top shape to me. Their web site indicates they have a host of lesson plans available. I've never seen another hotel in Vegas with a single tennis court, so in terms of tennis, the Hilton takes the cake.
Parking Garage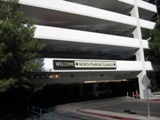 The Hilton scores well in terms of the parking. There are two garages, but the vast majority of people use the north one. It is a large, simple structure with generous spaces and lanes and a wide ramp leading straight to the higher levels. Four big, clean and fast elevators are plenty to get you between the car and the hotel, or you can get some exercise by taking the stairs. The entire structure is clean and well lit. The only downside is that it is a bit of a long walk through some traffic lanes from the parking garage to the casino once you get to the ground floor.
The south garage is the 180-degree opposite of the north garage: small, dark, cramped, and necessitating lots of turns. Sports bettors mainly use it, because it is close to back entrance by the sports book. The number of spaces available to the general public is small, with most requiring a permit. I don't even know how to get to the upper levels. It always makes me nervous to use this garage when making or cashing a big bet in the sports book, for fear of getting mugged. I always search for a space first in the outdoor lot, but on a busy sports weekend, it is a long shot to find one.
Conclusion
The Hilton is a special kind of Vegas casino. It doesn't fit into the category of a Strip, downtown, or neighborhood casino. Although the exterior is reminiscent of the seventies, the interior is well maintained. The Hilton is not the most exciting casino, but if you're looking for a big property without a lot of youthful rambunctiousness, the Hilton is worth giving a try. Here are a few suggestions for improvement.
Make the player reward program more generous to table game players, like it used to be. There should also be an option to use the points for comps, rather than cash or free play, as they do at Station casinos.
Add ropes to the player reward center. I would suggest how they do it at the Palms, with one line for the common folk and one for the grey and black cards.
Have a heart, and give the player more than 30 days on a slot ticket.
Correct the time in room 2569.
Links
Acknowledgement
I'd like to thank to Lisa Furman for modeling in some of the pictures. Lisa invites you to visit her page at ModelMayhem.com.
Contact Information
Address: 3000 Paradise Road, Las Vegas, NV 89109
Phone: 702-732-5755
Web site: thelvh.com
Resort and Parking Fees
| | |
| --- | --- |
| Resort fee | $13.50 |
| Parking fee | Free |