Introduction
Gamblers are not a gullible breed but sometimes they can't compete against insidious scam artists constantly honing their skills. Left one-by-one with a sophisticated predator often disguised as a gracious host, players aren't even aware of the potential dangers.
Fortunately, sooner or later, all bad guys slip up: some clever punters notice certain inconsistencies or strange behavior of their favorite games, report the irregularities, and suddenly the whole ball of lies starts to unwind.
That's exactly what happened to Pelican Casino, whose happy-go-lucky name and flashy bonuses are just a front for their real business, namely, ripping off both iGaming developers and patrons.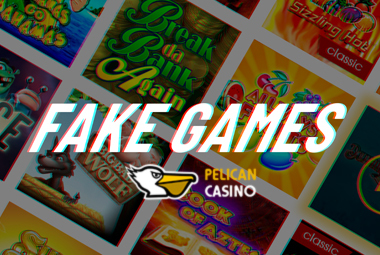 Wolf In Sheep's Clothing
In short, pelican-casino.com is home to fake games, a lot of them. In more detail, with a promise of "unforgettable experience", this website feels free to feature phony titles from a whole bunch of top-tier providers.
Launched in 2019 ...
... it was warmly greeted by the gambling community but in contrast to the majority of fresh sites, this long-billed newcomer failed to comply with the industry standards from the very start.
It's not said in vain, the most dangerous of wolves appears in sheep's clothing since, as a rule, foul play lurks behind absolutely normal and benign on first glance facades.
Obviously intended to trap all sorts of prey, people behind this brand still try to focus on the most vulnerable part of the audience or, to be precise, players who live in the countries with disadvantageous gambling legislation, therefore can't count on any legal protection.
The fact, that apart from English, the interface is available only in Russian, clearly indicates the rogues are targeting the huge and incredibly restrictive market of the former Soviet Union.
Well, some things at this place do look suspicious for active players, like, for example, a $10 no deposit bonus that one can get only for providing "a selfie photo with an identity document", but by and large, this site doesn't poke out of the crowd.
Except for one thing.
Slots Are A Game Of Luck? Not Here.
As one of the most respectable gaming portals discovered recently, products of twelve (!) A-class gaming studios featured at Pelican Casino – NetEnt, Microgaming, Amatic, Playtech, EGT, Quickspin, Wazdan, Novomatic, IGT, Apollo, Aristokrat, Merkur Gaming – are nothing what they seem.
Hosted at infamous casinovegas.org domain ...
... numerous video slots just look like their original counterparts but their reels do not spin in a fair way. The truth is, virtual one-armed bandits are the easiest products to forge and spotting them is not an easy task, especially when everything else looks, sounds, and feels just right.
However, by taking a closer look at source codes and hosting servers, as well as other key elements of different games, the geeky LCB team provided incontrovertible proof that here players are served although finely crafted but still counterfeits.
Forget that slots are all about math and psychology, forget about the state-of-the-art RNGs that guarantee full randomness of the outcomes, as well as pre-determined by the software developers RTPs – it's on Pelican to decide how much money, if any, is going to be paid out to the players.
Dubious License
According to the information provided at the site, it's operated by mysterious Wo T N.V. under Curacao Master license 1668/JAZ issued by Cyberluck, the most questionable ML holders of all four.
It's common knowledge, with a pretty weak reputation among the gambling community, Curacao jurisdiction, and Cyberluck, in particular, have never been synonyms for the smoothest player's experience.
But in the case of Pelican casino, even the presence of such an almost useless license raises doubts, as no matter how hard you try, you won't see any traces of the CIGA seal in the footer.
All other issues notwithstanding, this fact alone is a sure sign of serious irregularities as all operators compliant with the Curacao Internet Gaming Association must have the validation seal displayed on the website.
What else to add?
They say the most treacherous of all foes is the one no one knows about.
That's why it's very important to expose such dishonest places to the gambling community and inform as many players as possible on the unfair game they play.
The truth came out and hopefully, will bring Pelican Casino to the swamp where it belongs.
Posted by
AnnaBrankovic