Introduction
On this week in sports history Nolan Ryan made Major League Baseball history. On Wednesday, May 1st, 1991 the Hall of Fame hard throwing right hander pitched his seventh no hitter of his illustrious MLB career which is the most no hitters of all time by any MLB player. No other pitcher has had more than 4 no hitters in their MLB career. The Texas Rangers defeated the Toronto Blue Jays that day with the final score of 3 to 0 largely due to the phenomenal pitching performance by Ryan.
In this historic game Ryan struck out an amazing 16 batters, and he only walked two batters. At the age of 44 he is the oldest pitcher to have ever thrown a no hitter. Ryan has the most strikeouts of all time in Major League Baseball history with 5,714. He is tied with Bob Feller for the most 1 hitters of all time with 12, he has the most 2 hitters of all time with 18, and he has the most 3 hitters of all time as well with 31 throughout his unbelievable 27 year MLB career.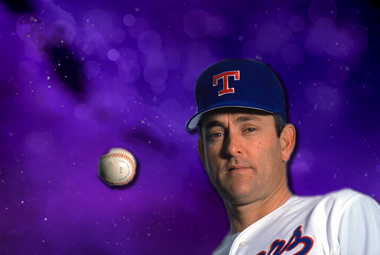 Ryan's Pitching Style
One of the greatest pitchers of all time in Major League Baseball utilized three main pitches. The fast ball, the curve ball, and the change up were the three pitches in Ryan's arsenal. His fast ball was consistently clocked over 100 miles per hour, and he was known for blowing away hitters with his heaters. His breaking ball was a 12 to 6 curve ball that was known to have high velocity for a curve ball, and this pitch froze opposing hitters in the batter's box.
Ryan's change up fooled many batters that were looking for his fastball as they would swing well ahead of his change up pitches. "The Ryan Express" overloaded opposing players with his dominating fast ball that was well ahead of its time. Nolan threw harder than pretty much any other pitcher during the course of his legendary MLB.
MLB Career Achievements, Awards, and Honors
In 1969 Ryan became a World Series Champion. He was selected to 8 MLB All Star games (1972, 1973, 1975, 1977, 1979, 1981, 1985, 1989). He led the National League in earned run average 2 times (1981, 1987). He was the Major League Baseball strikeout leader 11 times (1972, 1973, 1974, 1976, 1977, 1978, 1979, 1987, 1988, 1989, 1990).
Three different MLB teams have retired his number. The Los Angeles Angels retired his number 30, the Houston Astros retired his number 34, and the Texas Rangers retired his number 34 as well. Only Jackie Robinson and Frank Robinson have had their numbers retired by three or more teams too. In 1999 Ryan was enshrined in the National Baseball Hall of Fame in Cooperstown, New York.
Official Statements
"It was the most rewarding no-hitter of them all because it came in front of my fans on Arlington Appreciation Night, my career is complete now. I got one for the fans in Arlington," Ryan proclaimed.
"Every hitter likes fastballs just like everybody likes ice cream," Reggie Jackson explained.
"But you don't like it when someone's stuffing it into you by the gallon. That's how you feel when Ryan's throwing balls by you."
"My back hurts, my heel hurts and I've been pounding Advil all day," Ryan said to him. "I don't feel good. I feel old today. Watch me."
"He was just so dominating," the home plate umpire Tim Tschida said. "As it went on, you got the feeling no one was gonna get a solid hit, that if they broke it up it was gonna be on a flare or an off-the-fists kind of thing or a bloop of some sort. His stuff was just electric."
"I never had command of all three pitches like I did tonight," says Ryan. "This was my most overpowering no-hitter."
"There was a chance he'd throw a no-hitter every time he went out there. And he had everything working that night. It just seemed like it was meant to be," the first base umpire Drew Coble expressed.
"He rode that frickin' exercise bike 10,000 miles a day, I think," Coble went on to say. "He worked to stay physically fit and he had real strong legs. A lot of power pitchers eventually become junk ball pitchers. He stayed a power pitcher all of his years because he had such strong legs."
"When we exchanged lineup cards at home plate, Valentine told me he had a guy warming up in the bullpen because Nolan said his back was stiff," Tschida explained. "So they had another guy ready to go in the top of the first inning."
"I didn't think I'd be out there very long," Ryan stated to the media. "But once the game got started, everything kicked in for me and it just got better and better as the game went on."
"As much as people talked about his fastball, his breaking ball was devastating," Tschida stated. "And when he was on with the breaking ball, he was really tough to hit because he didn't have to throw a fastball for a real good strike. He struck out the side in the second inning on breaking balls — called strikes to all three hitters, and they didn't even question those pitches.
"They didn't even look at me. They just turned and walked back to the dugout. After the third out, I could see the infielders from the Rangers running off the field and they were all looking at each other, smiling."
"That was the only time I was worried," says Ryan. "That ball could have fallen in, but I knew Gary had a good chance because he was playing shallow. It was good to have a Gold Glover there on that play."
"I didn't stick around, but I did walk off slowly, wanted to kind of savor the moment," Tschida expressed. "Because the chances of working a no-hitter behind the plate — I mean, if you get one you're lucky."
"Maybe he wasn't feeling well and maybe he was 44 years old," Tschida goes on to say, "but Nolan Ryan was very much a competitor. He didn't think anybody could hit him."
''I feel old today,'' Ryan said.
''This is the one I wanted most because it was in front of the fans,'' Ryan stated. ''The fans have been so supportive of me, and it was really great to pitch one in front of them.''
Stanley expressed, ''When my career is over, nobody is going to remember me. At least now I'll have something. I'll remember this for the rest of my life.''
''It was our first trip into the new ballpark in Kansas City,'' Torborg explained. "Nolan did not have exceptional stuff that night—real good, mind you, but not exceptional for him. Jack McKeon was managing the Royals, and he tried to rattle Nolan by protesting the way he tapped the rubber with his right foot—not maintaining contact. But he withdrew the protest after the game.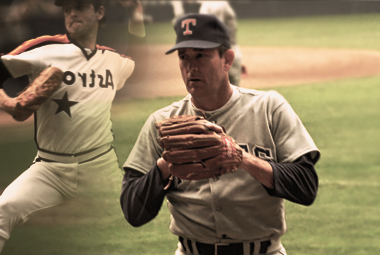 "We actually talked about the no-hitter during the game. I told Nolan how we had to approach this thing. We still had to win the game. Nolan was focused. He's always been so intent. I remember that last out fairly vividly," Torborg said. "I've even got a montage of the out on my wall at home: Nolan throwing and Otis hitting, with the scoreboard in the background.''
''After Nolan's first no-hitter, some people said, 'You really helped Ryan,'" Torborg said. "Of course, you'd like to get credit, but now that he's done it with seven different catchers, I think my cover is blown.''
''Before the game Nolan said he felt he had good control,'' Kusnyer recalls. ''That wasn't all that common for him in those days. He actually thought the Tigers were stealing our signs. I told him, 'I can tell them what's coming and it wouldn't matter the way you're throwing.'
"At one point Norm Cash struck out, and as he returned to the dugout, Bill Freehan asked him what Nolan was throwing. Cash said, 'Don't go up there.' His last time up, Cash actually came to bat with a table leg, all square and knobby and everything. He had taken it off a table in the clubhouse. 'I might as well use this,' he said. The umpire ((Ron Luciano)) wouldn't let him use it, of course. The last out of the game was the closest the Tigers came to a hit. Gates Brown hit a line drive that Rudy Meoli jumped for and caught -- it would have been a base hit if he hadn't caught it. He struck out 17 that game, and my finger turned purple from all the fastballs he threw.''
"We called a fastball, I went down to block the ball, and the ball rose, probably three feet, and it was a strike. The umpire, Bill Haller, said, 'Where were you going?' I said I thought it was in the dirt, and he said he did, too.
"Nolan definitely had it. It was like driving a powerful car. He walked eight in that game, though. The only close call I remember was a ball hit to shortstop. Rudy Meoli dove for the ball, got up and threw the guy out.''
Egan stated, "Nolan gave me $500. He gave each player on the field a bonus. He came around and thanked everyone for a job well done. I feel so happy for the guy every time he pitches a no-hitter. I feel that there's a reason that this is happening, and even though you don't know what the reason is, you know that whoever picked him picked a good guy."
"Here,'' says Ryan with a rubber warm up ball, "I'll be throwing these today."
''He had a tough, tough time warming up. When he started, he was throwing around 86 miles an hour. But he had a good change and a good curve going. Then in the fifth inning, his fastball started popping. He shook me off just a few times in that game. Once was on the last pitch of the game, with the count 2-2 on Bobby Grich. I called for a fastball, but he called me out to the mound to tell me he wanted the changeup, and we caught Grich looking. I had the ball, and I told Nolan, 'I've got the ball, and I'm not going to give it to you.' But I did."
"When I came home, I turned on ESPN, and that's when I heard about it. I said, 'Wow!' I felt really good because Nolan's a really nice guy. I caught him for three years, and it's really special to me every time he has a great game."
"I saw two of Koufax's no-hitters as a kid,'' Ashby said. ''I idolized Koufax. So to be able to catch the fifth one, the one that broke the record, that was a mind-boggling experience.
"Looking back to '81, I didn't think Nolan would be able to throw another no-hitter. Logically, he was nearing the end of his career. He wasn't losing his stuff, but he was 34 at the time. On the last out of the game, Nolan hung a curveball to Dusty Baker, but he guessed wrong and grounded the ball to Art Howe at third.
"The fifth one was the one he needed. The last two have been icing on the cake. Real tasty icing. It was very interesting watching Number Seven last night. I was gearing up to do the sports, yet I'm rooting for Nolan as a fan and wishing I had been catching. I also felt sorry for GenoPetralli. He's the Rangers' regular catcher, and he hasn't caught one yet."
Russell said to Ryan, "It's a great thrill just to catch you."
Russell stated, "That's when Nolan really started to turn it on. It seemed like every pitch he made was perfect. Behind the plate, the pitches looked unhittable. The intensity in his eyes was unlike anything I've ever seen. That's why I never got nervous. I looked into his eyes.
"It was like being in a tunnel. There was no one out there but Nolan and me. There's no other way to describe it. The no-hitter is something I can always be proud of. I had a little something to do with it." Russell recalls. "It still gives me goose bumps. It'll do that 10 years from now."
"As each inning went on, you could see it in his eyes. You could hear him talking to himself. You could see that he really sensed it and knew what to do with it. That was the exciting part, watching Nolan and his mannerisms, and the way he went after it. I screamed and yelled and turned away,'' says Stanley. ''Then I looked up and saw the ball coming back in. Gary must have moved before the ball was hit. I thought, This is the greatest chance for him and the greatest chance for me for a no-hitter. And it came true."
Egan explained, ''I can't speak for the others but with Torborg, Kusnyer and me, Nolan found guys as intense as he was, guys with good attitudes. He attaches himself to the catchers who think and act like him, no matter what they hit. And you don't throw a no-hitter unless you're in synch with your catcher.''
"Maybe when Nolan finally retires, I'll throw a party for all the guys," Egan says. "Of course, by then, I might have to invite 10 or 12 catchers," Ryan expressed.
Sources:
"At 44, Nolan Ryan Tosses Seventh No-Hitter", Nick Anapolis, baseballhall.org, May 1, 2020.
"Nolan Ryan's 7th No-Hitter: May 1, 1991: Despite a sore back, Nolan Ryan fired his 7th no-hitter. Here's the story from the umpire that day.", referee.com, October 10, 2018.
"SI Vault: Heaven for Seven: The men behind Nolan Ryan's no-hitters: The men who caught Nolan Ryan's seven no-hitters reflect on what it was like to be behind the plate when the Ryan Express made baseball history.", Steve Wulf, si.com, May 1, 2015.
"Baseball Almanac Box Scores: Toronto Blue Jays 0, Texas Rangers 3", baseball-almanac.com
"Nolan Ryan", baseball-reference.com, May 1, 2020.
Posted by
DavidGreen