Introduction
On Tuesday, May 7th, 2019, the Oakland A's starting pitcher, Mike Fiers, threw his second career no hitter against the Cincinnati Reds. This was Major League Baseball's 300th no hitter in its long-documented history and the first of the 2019 MLB season.
Fiers pitched his first no hitter back in 2015 while playing with the Houston Astros against the Los Angeles Dodgers. He also previously played with the Milwaukee Brewers and Detroit Tigers.
Only 35 pitchers in the history of the game have thrown 2 or more no hitters throughout their professional baseball careers in the majors. Fiers is the 8th pitcher to throw a no hitter for 2 or more different teams as well. There are only 5 active players that have pitched multiple no hitters during their MLB career.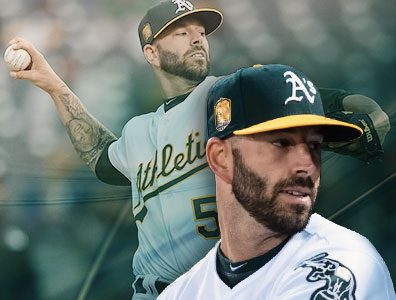 The Game Oakland A's vs. Cincinnati Reds (5 / 7 / 2019)
This was not a normal MLB game, at least not at the start of the game. A section of lights in the left field area was malfunctioning resulting in a 98-minute delay in the action. This type of occurrence can really throw off a starting pitcher as they have a strict ritual of warming up prior to the commencement of a baseball game.
Fiers had a high pitch count of 109 prior to entering the game to pitch the 8th inning. The Oakland Athletics manager, Bob Melvin, reportedly told him before throwing in the top of the 8th inning that if he allowed another baserunner in this game he would be taken out even if it was a walk and he had still not given up a hit to the Reds. He ended up throwing 131 pitches to complete his no hitter leading the A's to win against Cincinnati 2 – 0. His career high pitch count was 135 which occurred while he accomplished his first no hitter 4 years ago.
As most no hitters require at least 1 or 2 amazing defensive plays from the pitcher's teammates this game was no exception. Oakland's second baseman, Jurickson Profar, made a spectacular diving catch after having to travel a long distance to make a play on this ball in the sixth inning of the game. The very next play the A's center fielder, Ramon Laureano, got his glove above the fence to make a very athletic catch robbing Joey Votto of a home run and preserving Fiers' no hitter.
This was very surprising as he is not a well-known pitcher. In fact, his numbers are not very impressive at all. Fiers is 3 – 3 with an earned run average of 6.81 so far this season. His overall career MLB record is 57 – 58 including his no hit win on Tuesday night. For him to have one no hitter is not that unusual, but for him to have two of them is crazy.
Player and Coach Reactions
Fiers said, "Amazing. That's really all I can really say. Things like this just happen."
"I'm just really thankful for him leaving me in and trusting me," stated Fiers. "I told him I felt great. I felt like everything was working. It wasn't a matter of being tired. I had adrenaline at that point."
"It's pretty cool," says Fiers. "I saw a little bit of the list. I'm just grateful to be here and get the opportunity to play. I remember when I was getting drafted I wasn't too high on the charts. I was a guy throwing 88 to 90 [mph] down in South Florida. I'm one in a million down there. ... I'm just blessed to be here."
"Ramon's catch, he's done that once or twice. That's a normal play for him," Fiers said. "Profar, another amazing play."
"I knew," exclaimed Fiers referring to the fact he was aware of the no hitter during the game. "I don't like when guys are, like, they don't know."
"It was a great night obviously for him, for our fans. Everyone wants to see a no-hitter," says manager Bob Melvin. "It was no fun for me once he got past 120 pitches, I promise you that. But he deserved it."
"It was way more nerve-wracking than [when] I was doing it," says teammate Manaea. "I was shaking on the bench. I don't know. It was crazy seeing him do it. It was awesome."
"I felt like he was hitting with all his pitches where he wanted it and when he wanted it," says his catcher Josh Phegley.
"It was impressive to watch but tough to watch for us," says Red's manager David Bell. "It's one game, but you have to give him a lot of credit. You don't see this very often, especially anymore. To do it against our lineup is very impressive."
No Hitters are Extremely Rare
I wonder what the odds of a pitcher throwing a no hitter are in the world of sports betting. Since 1876 there have only been 300 no hitters or no no's as they are often referred to in Major League Baseball history, which is about 2 per season. Keep in mind each team plays 162 games per year, so this is quite an accomplishment, and as a baseball fan, they are a lot of fun and very exciting to watch. Congratulations to Fiers for being able to accomplish this feat twice with two different teams especially as a journeyman pitcher with subpar numbers this year and throughout his MLB career.
Source:
"A's Fiers blanks Reds for second career no-hitter", espn.com, May 8, 2019.
Posted by
DavidGreen