Introduction
On Sunday, November 21st, 2021 the Indianapolis Colts young, explosive, and cold - blooded superstar running back, Jonathan Taylor, absolutely dominated on the gridiron by scoring 5 - touchdowns in a single football game. Taylor's amazing as well as historic performance carried the Indianapolis Colts to a crushing 41 to 15 win over the struggling AFC powerhouse in the Buffalo Bills.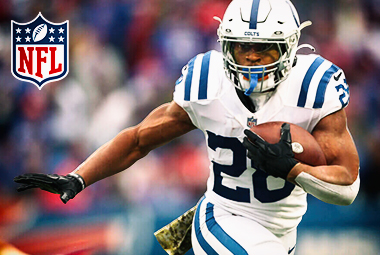 Jonathan Taylor's Box Score from Sunday, November 21, 2021
During last Sunday's badass backfield performance from Taylor, Jonathan had reached his career high in carries with 32 rushes, which was good for an astonishing 185 - rushing yards that included a 40 – yard run on a single carry, he averaged 5.8 yards per rush, and he scored 4 - rushing touchdowns for the surging Indianapolis Colts. Taylor also had one hell of a supplementary workload catching passes out of the running back position for the Indianapolis Colts.
Throughout the Indianapolis Colts' victory over the Buffalo Bills Jonathan caught 3 passes from his quarterback, Carson Wentz, which totaled 19 – receiving yards as well as a beautiful receiving touchdown play that just demonstrated how good Taylor really is these days, and this is only his second – year playing football in the National Football League. Jonathan is starting to make a strong case for the NFL MVP Award so far during this 2021 – 2022 NFL season.
Making NFL History
Taylor just became only the 18th player in the long and treacherous history of National Football League that was able to score 5 – touchdowns during a single game. The Indianapolis Colts began the 2021 – 2022 NFL season with a pathetic record of 1 and 4, but ever since then they have won 5 of their last 6 - games to surge above the .500 mark for the first time this year. Although they started slow as molasses, the Indianapolis Colts are starting to get red hot right at the best time of the season to do so. Believe me no one in the NFL wants to play the Indianapolis Colts right now, and if this continues no other franchise will want a piece of them in the 2021 – 2022 NFL playoffs.
The 185 - rushing yards that Taylor picked up last Sunday placed him solely at the top of the NFL's rushing leaderboard for the season as Jonathan has racked up 1,122 - rushing yards at the moment propelling him in front of the previous leader who was Derrick Henry of the Tennessee Titans. Taylor might stay there for the remainder of the season as well due to the fact that Henry will most likely miss the rest of the 2021 – 2022 NFL season with the severe foot injury that Derrick suffered not too long ago.
Taylor is the 3rd - youngest NFL player to have scored 5 - touchdowns in a single game, and he is also just the 3rd NFL player to get all 5 of those tremendous touchdowns in only 3 – quarters of play.
Taylor seems to be nothing but the real deal presently proving his worth on a weekly basis. He looks like the Indianapolis Colts' best and strongest running back since their Hall of Fame running back, Edgerrin James, who happened to officially announce his retirement from the National Football League way back in 2011.
Taylor has most definitely taken a huge load off of the shoulders of his QB in Carson Wentz as Wentz can rely on Jonathan to carry the majority of the offensive production while Carson makes a decent toss here and there as opposed to Wentz trying to do too much with the football and the game in his hands. Taylor is currently just the 8th player since the year of 1950 with 1,200 yards from scrimmage throughout an 8 - game time span. Jonathan also has recorded 29 - receptions good for 303 - receiving yards as well as a touchdown so far this season.
The Indianapolis Colts' head coach, Frank Reich, mentioned earlier this year that Jonathan Taylor has hit the mark now where he deserves at least approximately 20 rush attempts per game. Taylor has surpassed 20 – rushes in a game just two time thus far this year, and both of those came over the last two football games for the Indianapolis Colts.
The fact that Jonathan has not been over extended or overworked throughout approximately the first half of the 2021 – 2022 NFL season means that Taylor may just be able to carry the load for the Colts for the rest of the season as long as that beast of a running back remains fully healthy. 4 of the Indianapolis Colts' final 6 match ups are versus teams that entered last Sunday with a winning record so it will not be an easy task for the Colts to reach the 2021 – 2022 NFL playoffs, but with each passing week it is starting to look like that is a real possibility right now.
Jonathan Taylor has just become the 6th running back in the history of the National Football League with 5 - touchdowns throughout the previous 30 – NFL seasons! Below is the list consisting of the other outstanding NFL running backs that have accomplished that incredible feat.
| PLAYER | TOUCHDOWNS | YEAR |
| --- | --- | --- |
| Jonathan Taylor | 5 | 2021 |
| Alvin Kamara | 6 | 2020 |
| Jamaal Charles | 5 | 2013 |
| Clinton Portis | 5 | 2003 |
| Shaun Alexander | 5 | 2002 |
| James Stewart | 5 | 1997 |
Media Statements
"He's sending a message to the league," the Indianapolis Colts running back Nyheim Hines stated. "It's been amazing watching him play. Great to watch him finish runs and make people miss. He's a complete back ... If there's any skill position [for MVP], Jonathan Taylor needs to be in it. Him and [Los Angeles Rams receiver] Cooper Kupp. JT is the first in line for a non - quarterback player."
"You get a sense of his confidence," the Indianapolis Colts starting quarterback Carson Wentz expressed. "But you never know if you walk right by him in the locker room, in the grocery store or whatever. He's a low - key guy. He knows what he can do. He's confident. ... The game he had [Sunday], honestly, doesn't surprise me anymore because every single week he shows up and shows out."
"I love when we try to put attention on him and you can tell he's uncomfortable," the Indianapolis Colts head coach Frank Reich explained. "I love that feeling. We all like the feeling when somebody [who] doesn't want the attention feels uncomfortable. We are hoping that we can just continue to build that workload like in the track and field," Reich goes on to say. "Really have a second half of the year that's stronger and faster than the first half of the year. That would be the goal."
Taylor's Football Career Achievements, Honors, & Awards
Named to the PFWA All - Rookie Team in 2020
2 - Time Doak Walker Award Winner in 2018 and 2019
Named as a 2 - Time Unanimous All - American in 2018 and 2019
2 - Time Big Ten Running Back of the Year Award in 2018 and 2019
Big Ten Freshman of the Year Award in 2017
The Associated Press Big Ten Newcomer of the Year Award in 2017
3 - Time Consensus All - Big Ten in 2017, 2018, and 2019
Sources:
"Jonathan Taylor carries Indianapolis Colts to upset over Buffalo Bills with 5 touchdowns", Mike Wells, espn.com, November 21, 2021.
"Colts vs. Bills – Game Summary – November 21, 2021", espn.com, November 21, 2021.
"Jonathan Taylor", pro-football-reference.com, November 22, 2021.
Posted by
DavidGreen