Introduction
In 2019, I penned an article that described what I thought of each of the thirty-two NFL Teams in 100 words, or less. I've just recently realized that it became one of the most read sports articles on our site, so I'm back to do it again.
I don't believe that I wrote a similar article in either 2020 or 2021, which must be because it escaped my attention that this one did so well. The main reason I must have missed that was because there were only two comments on the article (one of them was mine), but given how viewed it is, I'm going to do it again.
The first thing that I am going to do is see how my record went picking the Over/Under for wins for the 2019 NFL Season. I want to make it very clear that I do not specialize in this style of NFL betting whatsoever, so this should not be taken as betting advice and is strictly for entertainment purposes.
Besides, maybe my picks sucked. Let's find out together: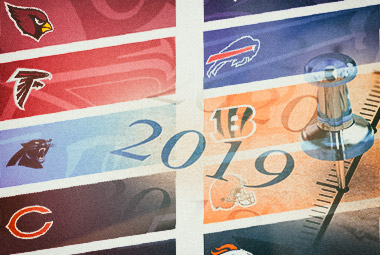 2019 Results
Arizona UNDER 5.5 Wins—(Five Wins) 1-0
Atlanta Falcons UNDER 9 Wins—(Seven Wins) 2-0
Baltimore Ravens UNDER 8 Wins—(Fourteen Wins--OUCH!!) 2-1
Buffalo Bills UNDER 6.5 Wins—Ten Wins—WTH!?) 2-2
Carolina Panthers OVER 8 Wins—(Five Wins) 2-3
Chicago Bears OVER 9.5 Wins—(Eight Wins) 2-4
Cincinnati Bengals UNDER 6 Wins—(Two Wins–NICE!) 3-4
Cleveland Browns OVER 9 Wins—(Six Wins) 3-5
Dallas Cowboys OVER 8.5 Wins—(Eight Wins-Darn it!) 3-6
Denver Broncos UNDER 7 Wins—(Seven Wins) 3-6
Detroit Lions UNDER 7 Wins—(Three Wins–YESSS!!!) 4-6
Green Bay Packers UNDER 9.5 Wins—(Thirteen Wins) 4-7
Houston Texans OVER 8.5 Wins—(Ten Wins) 5-7
Indianapolis Colts UNDER 9.5 Wins—(Seven Wins) 6-7
Jacksonville Jaguars OVER 8 Wins (Why?)—(Six Wins) 6-8
Here's what I said about the Jags:
What a historic collapse last season was for the Jacksonville Jaguars, but then, variance can only take you so far for so long when you have one of the most inept starting QB's in the league. You can't throw basically three picks for every four touchdowns in today's NFL...you've just got to make better decisions than that. Do you know who makes good decisions? Who has a 2:1 TD-INT ratio? Who is a Super Bowl MVP? Nick Foles. Total 8 Wins---OVER
Can you guys guess who doesn't play for the Jaguars anymore? Moving on:
Kansas City Chiefs OVER 10.5 Wins—(Twelve Wins) 7-8
Los Angeles Chargers OVER 9.5 Wins—(Five Wins-Brutal!) 7-9
Los Angeles Rams OVER 10.5 Wins—(Nine Wins) 7-10
Miami Dolphins UNDER 5 Wins—(Five Wins) 7-10
I feel like I should get credit for a win here. This is what I said:
The Dolphin logo should be seen swimming in a giant toilet. I don't know what about them has become better, though I am willing to give Josh Rosen a chance down in South Beach. The Patriots are the Patriots, the Bills and Jets have improved somewhat and significantly (respectively). The out of conference schedule is nasty and I can only see five wins for them if I squint really hard. Total 5 Wins---UNDER (Could very well push)
I practically called the push on that one! Can I get a win for calling a push? I guess not. I'm giving myself half of a win anyway because it's my article and I'll do whatever I want.
Minnesota Vikings UNDER 9 Wins—(Ten Wins) 7.5-11
New England Patriots OVER 11 Wins—(Twelve Wins) 8.5-11
New Orleans Saints OVER 10.5 Wins—(Thirteen Wins) 9.5-11
New York Giants UNDER 6 Wins—(Four Wins) 10.5-11
New York Jets UNDER 7 Wins—(Seven Wins) 10.5-11
Oakland Raiders UNDER 6.5 Wins—(Seven Wins) 10.5-12 (It was a typo! JK)
Philadelphia Eagles UNDER 9.5 Wins—(Nine Wins) 11.5-12
Pittsburgh Steelers OVER 8.5 Wins—(Eight Wins-UGH!) 11.5-13
San Francisco 49ers UNDER 8 Wins—(Thirteen Wins-WHAT!?) 11.5-14
NOTE: I don't even remember them winning thirteen games that season, but the results say that it happened. What a huge miss, but I guess the books massively missed on this line, as well.
Seattle Seahawks UNDER 8.5 Wins—(Eleven Wins) 11.5-15
Tampa Bay Buccaneers UNDER 6.5 Wins—(Seven Wins-You have to be kidding.) 11.5-16
Tennessee Titans UNDER 8.5 Wins—(Nine Wins) 11.5-17
Washington Redskins/Football Team/Commanders UNDER 6 Wins—(Three Wins) 12.5-17
Interlude
Why on Earth did the 2019 article get so many views? Is everyone going back and reading it just to laugh at how lousy my win total picks were? I don't blame you. Those picks were monumentally bad, so bad that I am taking away the half point that I capriciously added and am just going with the true record of 12-17.
Did everyone look at my lifetime record (posted in advance) of picking NFL Games and think, "Hey, maybe Mission146 has some idea what's going on here?" I've got a 41.38% win rate that says I don't.
The way I see it, I'll either redeem myself a bit with this one, or my Picks will be laughingly bad again. In either event, people enjoyed the article before, so maybe they will again.
The 2022 NFL Season
Okay, so my source for win totals is going to be VegasInsider, who says that they are getting their lines from DraftKings.
Am I confident? Not at all! Didn't you see my 2019 record? It's no wonder I didn't end up writing a follow-up article; I must have had some subconscious, or maybe self-conscious would be more appropriate, recollection of just how lousy my picks were.
The sad thing is that I had the benefit of knowing who teams drafted in 2019. The draft hasn't happened for 2022 yet, and furthermore, free agency (more articles to come) still hasn't been completed. Please don't base any betting decisions on this. I'd almost be inclined to suggest fading my picks, but to be totally honest, I'm basically completely guessing.
Arizona Cardinals: On the one hand, through his agent, Kyler Murray has expressed his very loud (ALL CAPS) DISPLEASURE WITH THE ORGANIZATION!!! On the other hand, they can win with Colt McCoy and had a top tier defense in terms of points allowed. I don't like them to win eleven games again, necessarily, but I think they'll either top nine total wins or push. OVER 9 WINS
Atlanta Falcons: Matt Ryan is gone and the Falcons also didn't win the DeShaun Watson sweepstakes, so I don't really expect this team to go anywhere. I don't see Mariota being more effective than Ryan and don't think they made any other major splashes in free agency. I do like the Patterson signing, but not much else. The line is set at five and they won seven last year…probably a good line, but I like the Under or the push. UNDER 5 WINS
Baltimore Ravens: The Ravens only won eight games last year, and I know I said that they are capable of making a run anytime, but the Bengals were in the Super Bowl, I think Trubisky is at least a lateral move at quarterback for the Steelers and the Browns have Deshaun Watson. Tough division in a tough conference and I just have trouble seeing ten wins. UNDER 9.5 WINS
Buffalo Bills: Man, did the Bills massacre the Patriots in the Playoffs in the 2021 season. I know the Patriots are without Brady, but Buffalo has looked great on both sides of the ball and now they've added Von Miller and Jamison Crowder? They picked up eleven wins in the regular season last year, should split with the Pats and still have Miami and the Jets to kick around. Twelve is a tall order, but I think they can serve it up. OVER 11.5 WINS
Carolina Panthers: How do you evaluate teams that don't totally suck, but are significantly below average? They've made a few moves that I like on defense, but it begins and ends at the QB position in today's NFL. I know that's what everyone says, and everyone saying it doesn't make it true, but it certainly doesn't make it false. Besides, look at who's been going deep in the playoffs. UNDER 6 WINS
Chicago Bears: Da' Bears have been the mediocrity test for the rest of the league for several years now. If you beat the Bears, chances are you're at least mediocre; if you lose to the Bears, then you're probably a bad team. Who is their quarterback this year? Possibly Nick Foles? Not promising. They haven't made many moves in free agency and don't have many Draft Picks. More wins than last year? I don't think so. UNDER 7 WINS
Cincinnati Bengals: On the one hand, they made it to the big game last year, where they lost to the Rams. They have a solid team and virtually came out of nowhere to make that run, in fact, they embarrassed the public predictions I made concerning them. What I really have to ask myself is if the AFC North has improved, and I think they have. Same number of regular season wins as last year, or more? I don't see it. UNDER 10 WINS
Dallas Cowboys: The Dallas Cowboys had a pretty good season last year, but they lost a few key parts. That's reflected in the line of 10.5 compared to the twelve wins they had last year. I truly wish the line was ten and I could bring the push in play. They do really well against bad teams and their division is still full of those. OVER 10.5 WINS
Denver Broncos: The line on the Broncos is ten wins compared to the seven that they won last year; what a difference Russell Wilson makes! The Broncos have also stacked up on that defensive line, where they needed some improvement. Ten wins gives me the push either way, so what I have to ask myself is if they are really going to beat the Chargers and the Raiders twice each. I don't love it. UNDER 10 WINS
Detroit Lions: The line on this one is six wins, and for the life of me, I have no idea why. The team won three games last year. They don't seem to have made any high impact moves and I think are fully in rebuilding mode. I'm not sure that they can win any games in their division. They definitely lost to the Packers twice, in my opinion. Why would they improve by three games? No idea. UNDER 6 WINS
Green Bay Packers: Rodgers is back and ready to ball out. He got the contract that he wanted and should be ready to play. You guys might be aware that he is the back-to-back NFL MVP< which makes him a three-time MVP. I think the defensive moves will create more turnovers and I think the division is still pretty soft. They'd have to lose three more games than last year for this pick to lose, so OVER 11 WINS.
Houston Texans: The deal with the Texans is that they got a smorgasbord of draft picks for DeShaun Watson, who was never going to play for the Texans again anyway. I don't know what they are going to do with the four additional picks (and one first rounder), but I would hope that whatever they do makes at least one game of difference compared to having a guy on the roster who isn't taking a snap for you. It should, shouldn't it? OVER 4.5 WINS
Indianapolis Colts: The most interesting thing to happen to the Colts is that they sent Carson Wentz to Washington and picked up veteran Matt Ryan from the Atlanta Falcons. I'm also excited to see the impact Yannick Ngakoue might have on the defensive side of the football, especially if he can play all season, and they got him for a song. Otherwise, the team is basically the same and I'd be surprised to see them collapse to the same extent at the end of the season. OVER 9.5 WINS
Jacksonville Jaguars: Granted, the Jags beat the Colts and won't be saddled with non-coach, Urban Meyer, who apparently isn't aware of who one of the best defensive players in NFL history is. That being said, I'm not inclined to read too much into one decisive victory at the end of the season. They've made a few good moves, especially on the defensive side of the football, and I could see five or six wins for them, but not more. UNDER 6 WINS
Kansas City Chiefs: The Kansas City Chiefs won 12 games last year and the current line is set at 10.5 for the upcoming season. Let me fire up Google here…is Andy Reid still the coach? Yes. Is Patrick Mahomes still the quarterback? Yes. What? The Kansas City Chiefs have ADDED receiver JuJu Smith-Schuster!? Have you seen JuJU as a #2 receiver? I'm supposed to believe that the Chiefs win fewer than 11? Even if the Broncos split with them, I don't think so. OVER 10.5 WINS
Los Angeles Chargers: The line is set at ten wins. Why? I get that they've added a few pieces, but the Broncos have added Russell Wilson and I think even the Chiefs slightly improved. I think the Raiders will split with them. UNDER 10 WINS
Los Angeles Rams: The defending Super Bowl champions, led by Quarterback Matthew Stafford are going to hope to repeat in the 2022 season. Wasn't the last sentence a painfully obvious thing to say? I think I'd make a good sports writer. It seems to me that they are the same team in basically the same situation, except both games against the Seahawks should be total layups. OVER 10.5 WINS
Las Vegas Raiders: Unfortunately, the Raiders are probably the only team in their division (Broncos, Chiefs, Chargers) not to meaningfully improve so far, though they are pretty good, and I would say that all signs point to them overperforming last year. I think they split to the Chargers, get beaten by the Chiefs twice and, at best, split with the Broncos, but more likely lose twice. I think it's a really solid line, but I'm going to go UNDER 8.5 WINS
Miami Dolphins: The Dolphins won nine games last year and that's also the line for this year. I guess there is all sorts of scandal, rumor and innuendo surrounding ousted coach Brian Flores, who I think overperformed with the team last season, former Saints coach Sean Payton and Tom Brady. I don't see why it wouldn't be possible for Payton and Brady to go to Miami for the 2023 season, so I don't really see them doing anything. Also, I think they drop a total of four to the Bills and the Pats, so four more losses and they don't go over. UNDER 9 WINS
Minnesota Vikings: Why do people always think that the mediocre Vikings are going to get better? They didn't do much in free agency so far, they weren't particularly good last year and their division hasn't changed very much. They're certainly not going to be a terrible team, but I can't see any reason for them to win MORE games than they did last year and also like the potential for a push. UNDER 9 WINS
New England Patriots: Betting against Bill Belichick usually leads to losing, unless Cam Newton is the best quarterback he has on the depth chart. While I understand that they got knocked out of the Playoffs by division rival Buffalo in truly humiliating fashion, that's the sort of thing that fuels NE HC B.B.. Beyond that, I could easily see them picking up four wins just against the Dolphins and J.E.T.S. Jets, Jets, Jets. OVER 8.5 WINS
New Orleans Saints: Another loser of the DeShaun Watson sweepstakes, the Saints will also be without former Head Coach Sean Payton going into the upcoming season. I don't think either the team or their division have changed very much, so I have no reason to think it's not going to be more of the same. The line is down to eight from the nine games that they won last year, so hell with it, I'll be an optimist for them. OVER 8 WINS
New York Giants: I'm going to say the Giants go UNDER completely in the dark. Let's see what the line is. GIANTS UNDER 7 WINS. What? Seven? Did the Giants get transferred to the UFL? Why would the Giants win seven games? Of football?
New York Jets: The New Jersey teams are an automatic UNDER for me these days. It really doesn't even matter what the win total is. I have trouble convincing myself that the Giants or Jets will win any games, and if they played one another, I'd probably place a small bet on a tie. Let's see what I'm picking–UNDER 5.5 WINS. I'm fine with that.
Philadelphia Eagles: Do the Philadelphia Eagles routinely underperform, or could it just be that they had a miraculous run with Wentz and Foles and have been mediocre ever since? They won nine last year and the line is 8.5. The Commanders and Giants are still going to be putrid. I'd think at least three wins there, but probably four. 9-8? Why not? OVER 8.5 WINS
Pittsburgh Steelers: They're going from nine actual regular season wins and one of the strangest entrances into the Playoffs ever to a line of 7.5 wins. I understand that the Division is a strong one, but I do think that Trubisky is no worse than a lateral move at Quarterback compared to the Big Ben of recent years. More than anything, I'd have to bet on Head Coach Mike Tomlin to have the first losing year of his career to take the Under, and there's no way I'm betting on that. OVER 7.5 WINS.
San Francisco 49ers: If I could draw a picture of what a ten win team looks like, it would be the San Francisco 49ers. Basically, you have a solid all-around team with a good-but-not-great quarterback, decent depth chart and you play in a reasonable enough division. Let's go down the list: WASH-WIN, ARZ-Split, ATL-WIN, CAR-WIN, DEN-0.5, LV-WIN, L.A.R.-L/L, SEA-W/W, NO-WIN, TB-Loss, L.A.C.-WIN, CHI-WIN, MIA-WIN…OVER 10 WINS
Seattle Seahawks: Oh, they share a Division with the 49ers and also have the AFC West this year? I think the Seahawks go 0-6 or 1-5 in the Division and then go, at best, 1-3 against the AFC West, so that puts them at 2-8 or 1-9 and the line is six wins? Where are the other wins coming from? UNDER 6 WINS
Tampa Bay Buccaneers: I'm even getting bored with the Tom Brady show at this point and I have no idea why he would pull these (reported) shenanigans to try to get to Miami rather than just play his third contracted year with Tampa Bay. I'm happy that Todd Bowles is getting a shot at the HC role with a decent team, but don't like all these murmurings about Brady's relationship with Arians. Didn't he know Arians was the coach when he went? I am now a Steelers fan. Still can't see why they'd not be as good. OVER 11.5 WINS
Tennessee Titans: Why would the Titans be significantly worse? They still get the Texans and Jaguars twice, don't they? That's at least three wins and I figure no worse than a split with the Colts makes anywhere from 5-1 or 4-2. THEY GET THE NFC EAST!? Why would they win fewer games? That's another 3-1 or 4-0 right there. OVER 9.5 WINS
Washington Commanders: I know that eight would be more games than they won last year and can see no reason for them to win more games than they did last year. UNDER 7.5 WINS
CONCLUSION
Will there be laughter or redemption for me at the end of the 2022 NFL Season? I guess we will have to wait and find out because, if my win total picks for 2019 have taught us anything, it's that I sure as hell don't know.
Are there any teams where you think my picks will miss badly? Would you like to offer your own predictions? Let me know in the comments below!
Posted by
Mission146