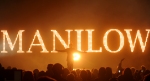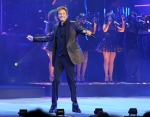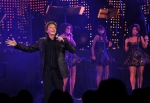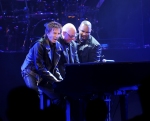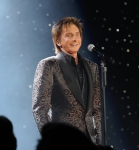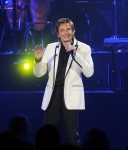 Photos by
Denise Truscello
At last the jinx on the Paris-Las Vegas Theatre has been broken. All it took was an infusion of Barry Manilow. Although Barry's contracted for a two-year run it's a lead-pipe cinch that audiences will happily queue up for his eponymous show as long as Manilow's got one more "I Write the Songs" in him.
In a nod to Manilow's new venue, director Jeffrey Hornaday has attempted to encase Manilow in a "Parisian" framework, kicking off the show with a taped "overture" that segues from Judy Garland to Edith Piaf to the can-can from Gaieté Parisienne. Scripted banter also attempts to force associations between Manilow's oeuvre and, say, the Louvre. (As a matter of fact, when Manilow is extolling French art, up pops a famous painting by ... echt-Viennese master Gustav Klimt. Sacrebleu!)
However, you can only push this so far in a show whose highlights include "New York City Rhythm" and the obligatory "Copacabana," so the Manilow = Paris formula has been pretty well forgotten by the show's midpoint. In its selection of numbers, its video sequences and even some of its musical personnel, Manilow (no fancier title is needed) will provide periodic déja vu of the Las Vegas Hilton's Ultimate Manilow, which closed last year. However, when reprising an element of Ultimate Manilow, Hornaday is always careful to put a new twist on it.
Like a kid in a sandbox, the director-choreographer toys happily and endlessly with an array of HDTV screens, which drop in and out of the flies. For the most part, these function as an impromptu "art gallery," with famous paintings - usually French Impressionists - projected upon them, complete with gilded "frames." In a sense, they're a metaphor of Hornaday's staging, whose basic purpose is to put a handsome frame around the singer/songwriter and let him take from there.
However, the ubiquitous screens serve other purposes, as when a monster screen, front and center, replays life-size footage of Manilow playing "Mandy" on the old Midnight Special TV show, back in 1975. Up goes the screen and there's real-life Barry, tickling the ivories and proceeding to sing a duet with himself. (Wayne Newton did a similar trick in Once Before I Go but the then-and-now comparison is considerably more flattering in Manilow's case.)
While the Paris-LV stage isn't as deep as the Hilton's, it's wider and Hornaday's use of columns of light (which will sometimes cause you to squint) makes it seem enormous. Remote-controlled stage wagons roll the bandstand fore and aft, while other set pieces glide in from the wings … although Hornaday is careful to keep one key piece of stage machinery in reserve for a finale frisson.
Let none of this lead you to believe this is a production show. It's basically a concert with illustrations, which is as it should be. Yes, the frail, rail-thin Manilow attempts dance moves here and there, and one rather wishes he wouldn't. It's like watching Grandpa get jiggy with it.
However, when at the mike or the piano he is completely in his element. Music is first and foremost. Even at the end, Hornaday doesn't try to top the glitz-o-rama of Ultimate Manilow and that's just fine. He keeps music center stage not only figuratively but literally. "New York City Rhythm" explodes into a three-piano duel down at the lip of the stage, as Manilow and his keyboard players try to outdo each other, throwing in bits of "Rhapsody in Blue" and whatnot.
There's some obligatory pimping of Barry's newest album and he performs a cut or three therefrom. These excursions from the Manilow catalogue embrace Gershwin's "Our Love Is Here to Stay" and a late-19th century ditty called "When You Were Sweet 16." Somehow, no matter what its vintage, every song comes out sounding like a Barry Manilow tune. Depending on one's taste it's either what you paid to hear or like being dipped in a giant vat of musical Miracle Whip, drowning in relentless sameness.
The Manilow himself actually sounds better - a quavery note or two excepted - than when this reviewer caught him during his Hilton gig. At first, it looks as though he is lip-synching, his outpouring of tone seemingly mismatched to the (slightly) visible amount of effort. Turns out Manilow is using a highly sensitive microphone. While his upper register is reedy and sometimes precarious, on the whole Barry sounds a good deal younger than his 67 years.
He certainly doesn't shy away from the climaxes of his songs, prolonging notes and phrases in a manner that's generous - if not entirely prudent: By the inevitable "Copacabana," Manilow clearly had done one number too many, talking the tale of Lola (she was a showgirl, you know) more than singing it.
He's backed by a 10-piece band and four singer/dancers, each of whom gets a solo in which to strut their stuff. Considering that Hornaday made his name as choreographer of Flashdance, it's odd that the terpsichorean routines that are Manilow's dodgiest element. The sound balance can be eccentric, too: In one number, Barry gets drowned out by an overmiked percussionist.
Whatever you do, check your sense of hipness at the door. Manilow is an unabashedly sentimental show, one that does not hesitate to flash a giant-screen image of a smiley-face logo, completely without irony. Ditto the deliriously over-the-top, tutti-frutti visuals during the grand finale.
Besides, you can't sing the theme from Love Story if you're maintaining ironic detachment. You either go all-in or refrain from going there entirely. Manilow - the artist and the show - commits.
Manilow plays Friday-Sunday at 7:30 p.m. in the Paris Las Vegas Theatre, at 3655 Las Vegas Blvd. S., 946-7000. Tickets are $113-$277.