Introduction
On the night of Wednesday, June 19th, 2019 the NHL held its annual awards ceremony from the Mandalay Bay Events Center in Las Vegas, Nevada. This is the complete list of winners for all 13 major awards from the 2018 – 2019 NHL season.
There are several awards and trophies that had already been decided and handed out prior to this event. The Stanley Cup was awarded to the St. Louis Blues for winning the 2019 NHL Finals. The Presidents' Trophy was given to the Tampa Bay Lightning for finishing the regular season with the best overall record.
The Prince of Wales Trophy was awarded to the Boston Bruins for winning the Eastern Conference, and the Clarence S. Campbell Bowl was given to the St. Louis Blues for winning the Western Conference. The Conn Smythe Trophy was presented to Ryan O'Reilly for being the most valuable player for his team in the playoffs.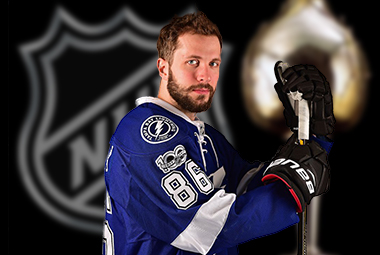 The Hart Trophy
Nikita Kucherov won the Hart Trophy for being the most valuable player in the NHL during the 2018 – 2019 season. He finished the regular season with 128 points by scoring 41 goals and dishing out 87 assists. The runners up for this honor include Sidney Crosby and Connor McDavid.
"It's a huge night for me and my family," says Kucherov. "Thanks to my teammates, my coaches, all the trainers, everybody involved in the team. Thanks to them for helping me get here. Without them, without all the work we've done together, I wouldn't be here. A big part of this success just goes to all of them. Thanks to my boys, and I'm looking forward to next year."
"It sounds great, obviously, but the main thing is Stanley Cup," Kucherov explained. "We want to make sure we work harder than we thought we did. We want to bring the Stanley Cup back. All these individuals are really nice, but the main thing is [the] Stanley Cup for me."
"When I came here the main thing was just try it out, try to make the team," says Kucherov. "When I made the team, all my thoughts are just to win the Cup and bring the Cup back to Tampa because people deserve it there. We've been playing good hockey, and I'm sure if we keep the team, we can bounce back."
O'Ree Community Hero Award
O'Ree Community Hero Award was won by Rico Phillips who founded the Flint Inner-City Youth Hockey Program. This honor is awarded to "an individual who -- throughout the game of hockey -- has positively impacted his or her community, culture or society." Phillips did this to give hope to young hockey players in a city that has been ravaged by contaminated drinking water.
"There's a sense of pride that's overwhelming," says Phillips. "This will put our program on the map in Flint, which is so important because I can't get kids to get involved. This may be the catalyst to get more kids to come out and be a part of this."
"For Flint, we're under a cloud of constant negativity whether it be for our crime rate, our arson rate, unfortunately for the water crisis, now we're in water crisis recovery," Phillips exclaimed. "But there are so many little bright shining spots in Flint, this one is just a big beam of light. And it come from a whole different realm. When you talk about the National Hockey League taking a focus on a community like Flint, Michigan, it's incredible. I'm hoping they all rally around it … I know they will."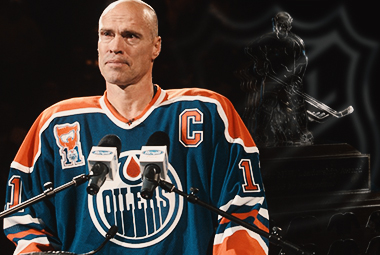 Mark Messier NHL Leadership Award
This award goes to the player who shows great leadership on and off the ice and who plays a leading role in his community growing the game of hockey. The winner of this award in 2019 is Wayne Simmonds of the Nashville Predators. Simmonds was a board member of the Ed Snider Youth Hockey Foundation. He regularly visited community rinks and engaged students.
The Vezina Trophy
The Tampa Bay Lightning goal tender, Andrei Vasilevskiy, won the Vezina trophy. His 39 wins led the NHL in victories. He had a save percentage of .925, and opposing teams had 2.40 goals against average when he played. Robin Lehner and Ben Bishop were the runners up for this award.
"This award's not just mine," says Vasilevskiy. "It goes to our team, for sure, all the guys working extremely hard. Once again, I want to thank my teammates. Thank you for everything, guys."
"My main goal is still the Stanley Cup. Of course, the Vezina, it's good too," Vasilevskiy stated. "I'm very happy to get it. But my main goal is the Stanley Cup, for sure."
The Jack Adams Award
The Jack Adams Award is presented to the coach of the year. In 2019 Barry Trotz of the New York Islanders took this award home. Trotz helped the Islanders improve by 23 points this season which is quite a step in the right direction for the team from Long Island.
"I started seeing it in training camp, but you didn't know," says Trotz. "You had to play real games. I would say it was probably between 20-30-game mark. We headed out west, I think it was Colorado and Dallas in a western trip. We were playing OK, but not great. And we went out there against [the Colorado Avalanche], they were rolling at the time, scoring a lot of goals, and we shut them down. [The Dallas Stars], same thing. It started to galvanize our belief in what we were doing."
The Frank J. Selke Trophy
This award goes to the best defensive forward in the NHL. O'Reilly won this trophy in 2019 as well as the Conn Smythe Trophy for his play in the 2019 NHL postseason. He played great defense and won a lot of face offs. He carried a great +/- number as well. Mark Stone and Patrice Bergeron were the runners up for the Selke Trophy.
"It's obviously a huge honor," O'Reilly explained. "Seeing the names that are on that are guys I've always admired, and to be one of them and to be on that, it's amazing. It's a great cap off to that amazing week. Yeah, it's crazy. It's great. I'm just kind of overwhelmed with everything that's been going on. But it is an honor to be on that, because it's guys that I wanted to be."
Bill Masterton Memorial Trophy
Robin Lehner of the New York Islanders was awarded the Masterton Trophy for being the player who exemplifies the qualities of perseverance, sportsmanship and dedication to hockey. Lehner exemplified all of the above by overcoming his addictions and mental health issues over the last year.
"It represents so much," says Lehner. "It represents so much personally to both me and my wife, my family. I've had such an incredible outpour of support and so many people that have contacted me, tried to contact me that I still haven't been able to get to yet, that are just scared to take that first step, scared of doing the things necessary to turn their lives around. That's incredibly rewarding. I had a dinner with all the doctors from the program the other day and they obviously don't tell me names or anything, but they said a lot of people have reached out to them and started getting help because of me being outspoken. If that was just one person it would be worth it."
James Norris Memorial Trophy
This award is reserved for the best defenseman in the NHL over the course of the season. This year the Norris Trophy went to Mark Giordano of the Calgary Flames. Along with playing stellar defense Giordano finished the regular season with 74 points. He scored 17 goals and 57 assists throughout the 2018 – 2019 NHL season. Brent Burns and Victor Hedman were the two next in line for the Norris Trophy.
"No matter what level you're at, you're always going to have some doubt," Giordano said. "Those thoughts are always going to be there. I had a passion to play and I love the game so much. I'm a big fan of the game. I'm willing to put in the work, and hopefully I can keep playing at this level. Last year I felt really good physically, so hopefully I can keep going."
The Ted Lindsay Award
This award is given to the most outstanding player in the NHL over the course of the regular season. Kucherov won this honor as well. He had an amazing regular season, but his team was swept out of the first round of the NHL playoffs. Hopefully next year they have a better postseason run.
"It means a lot to me," says Kucherov. "You compete against those guys every night and you get recognition from them. It definitely means a lot. I'm really happy."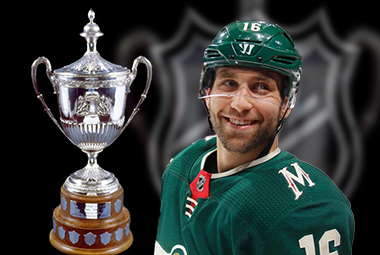 King Clancy Memorial Trophy
Jason Zucker of the Minnesota Wild was the player who best exemplified leadership qualities on and off the ice and have made a noteworthy humanitarian contribution in their community. Therefore, Zucker won the King Clancy Memorial Trophy. He earned this award by the tremendous amounts of fundraising and donating that his wife and he accomplished over the last year.
"It's amazing," says Zucker. "For me, and I mentioned it a lot before, I feel this is a community award. It's nothing that my wife or I or anybody can do on their own. It makes it really special to be able to share it with everybody, and I feel like I'm sharing it with everybody that donated to #GIVE16 or was a part of it in some way with the hospital, so it's been fantastic."
The General Manager of the Year Award
The Boston Bruin's general manager, Don Sweeney, was named the general manager of the year for building a team that made it all the way to the 2019 NHL Stanley Cup Finals. Doug Armstrong and Don Waddell were the runners up for this award.
"I think this is a testament to the hard work of the organization," Sweeney explained. "When you get support of the people you work with every day and the players that are so committed, you're just trying to find potentially missing pieces. We've worked hard the last few years to try to kind of hone in on some areas that we felt we could fill some gaps, and I can't say enough about what Charlie and Marcus did for our hockey club, coming in and fitting in seamlessly. Obviously, our leadership group and every one of the players in the locker room welcomed them."
The Lady Byng Memorial Trophy
This award is given to the player voted to best combine sportsmanship, gentlemanly conduct and ability in the NHL. Florida Panther's Aleksander Barkov takes this award home this year. He had the 2nd fewest penalties and penalty minutes this past season and made very few stupid mistakes. O'Reilly and Sean Monahan were next in line for this honor.
"I kind of know what the rules are and not [to] take those stupid penalties," says Barkov. "You've got to know when you're getting a penalty or not. There's a place to take a penalty, you've got to take it. Fortunately, that wasn't a thing for me this year."
The Calder Memorial Trophy
This award represents the NHL's rookie of the year. The Vancouver Canucks center Elias Pettersson won the award in 2019. He set the Canuck's rookie record for points with 66 points (28 goals, 38 assists) in 71 games. Jordon Binnington and Rasmus Dahlin were runners up for the Calder Trophy.
"I don't see myself as a superstar, I see myself as a kid playing hockey and living my dream here in North America," says Pettersson. I'm just excited for the future and I just want to continue to grow as a player."
Sources:
"2019 NHL Awards winners", nhl.com, June 19, 2019.
"Kucherov of Lightning wins Hart Trophy", nhl.com, June 19, 2019.
"Rico Phillips wins O'Ree Community Hero Award", William Douglas, nhl.com, June 19, 2019.
"Simmonds of Predators wins Messier NHL Leadership Award", nhl.com, June 19, 2019.
"Vasilevskiy of Lightning wins Vezina Trophy",, nhl.com, June 19, 2019.
"Trotz of Islanders wins Jack Adams Award", nhl.com, June 19, 2019.
"O'Reilly of Blues wins Selke Trophy", nhl.com, June 19, 2019 .
"Lehner of Islanders wins Masterton Trophy", nhl.com, June 19, 2019.
"Giordano of Flames wins Norris Trophy", June 19, 2019.
"Kucherov of Lightning wins Ted Lindsay Award", nhl.com, June 19, 2019.
"Zucker of Wild wins King Clancy Trophy", nhl.com, June 19, 2019.
"Sweeney of Bruins wins General Manager of Year Award", nhl.com, June 19, 2019.
"Barkov of Panthers wins Lady Byng Trophy", nhl.com, June 19, 2019.
"Pettersson of Canucks wins Calder Trophy", nhl.com, June 19, 2019.
Posted by
DavidGreen