Introduction
On Sunday, February 12th, 2023, Patrick Mahomes won the Super Bowl LVII's Most Valuable Player Award last Sunday night from State Farm Stadium located in Glendale, Arizona as Mahomes' Kansas City Chiefs narrowly defeated the Philadelphia Eagles. Now Patrick is headed to Disneyland just three shorty years following him heading to Disney World last time as the former MVP Award winner of Super Bowl LIV.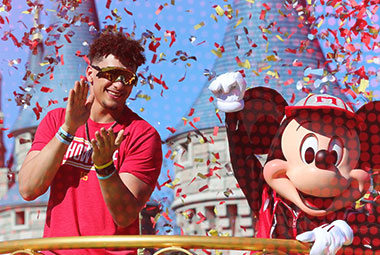 The Importance of Disney to Patrick Mahomes
Mahomes called it his, "world tour," immediately after he led his offensive - minded Kansas City Chiefs to a 38 to 35 win over the Philadelphia Eagles in the super exciting and much anticipated Super Bowl LVII, and Patrick stated that he would not take his Disney theme park visit for granted following his performances during the previous 2 - NFL postseasons. The Disney parade with Mahomes scheduled for 4:30 p. m. ET on Monday, February 20th, 2023.
The Kansas City Chiefs were blown out 31 to 9 by Tom Brady and the Tampa Bay Buccaneers in Super Bowl LV, then the Kansas City Chiefs lost last year in the AFC Championship Game to Joe Borrow and the Cincinnati Bengals following the Kansas City Chiefs enjoying an early 18 - point lead.
"The failures ... they give you a greater, greater appreciation to be standing here as a champion," Mahomes explained.
Making NFL History
Mahomes II is just the 13th - quarterback in the history of the National Football League to win multiple Super Bowl championship titles. Similar to the Kansas City Chiefs' Super Bowl LIV victory over the San Francisco 49ers, the Kansas City Chiefs had to put on a spectacular come - back performance from down 10 + points during the 4th - quarter for last Sunday night's Super Bowl win, which was not sealed up until Harrison Butker's 27 - yard game winning field goal with only 8 - seconds remaining in regulation time of Super Bowl LVII.
Patrick went 21 - out - of - 27 on his pass attempts which was good for 182 - passing yards as well as 3 – touchdowns, while Mahomes also ran for 44 - rushing yards on the ground. Although those statistics do not sound like much, if you saw the game, you would understand why he was named the MVP of Super Bowl LVII. In my opinion the defensive player of the Kansas City Chiefs linebacker, Nick Bolton, also had one hell of a game on the other side of the ball.
Patrick Mahomes was Playing on an Injured Ankle throughout the NFL Playoffs
The 2022 - 2023 NFL regular - season MVP Award winner in Mahomes played exceptionally well even though he struggling to be mobile on his right high ankle sprain in which he suffered during the Kansas City Chiefs NFL divisional round playoff victory over the Jacksonville Jaguars, and Patrick seemed to have reaggravated that injury late in the 1st - half of Super Bowl LVII against the Philadelphia Eagles.
Mahomes not only remained in the football game to play but play hard as Patrick scrambled for 14 - yards on the Kansas City Chiefs' touchdown drive that set everything in motion for them to win this huge contest vs. the Philadelphia Eagles as the Kansas City Chiefs began the 2nd - half of play and for another 26 - yard run on the drive leading all the way up to the Kansas City Chiefs' game - winning field goal by Butker.
"It felt great until I kind of rolled it a little bit," Mahomes continues. "I thought I felt really good and then that happened, and I had a lot of soreness going through into halftime and was able to move it around, kind of get taped up a little bit and go out there in that second - half. It didn't feel good, but I was going to leave it all out there."
Mahomes' gritty and not 100 % healthy superlative performance was very much appreciated by pretty much all of his Kansas City Chief teammates.
"I wasn't distraught or down," the Kansas City Chiefs offensive tackle, Orlando Brown, mentioned regarding Mahomes' high ankle sprain injury. "It didn't affect the energy or anything like that. We just kind of knew if he's got a little bit of a limp then he's got a little bit of a bigger chip on his shoulder. I don't know how bad it was, but you can never count (Mahomes) out. He's one of the greatest."
The AFC Championship Game
Mahomes also played with the same right high ankle sprain during the AFC Championship Game win over the Cincinnati Bengals who managed to defeat the Kansas City Chiefs in the 2022 AFC Championship Game last season. Then, Mahomes scrambled for yards on the Kansas City Chiefs' finalizing offensive play of this season's AFC Championship Game over the Cincinnati Bengals, that in combination with a very crucial and decisive defensive penalty call, put the Kansas City Chiefs into game - winning field goal position once again in the 2022 - 2023 NFL playoffs that lead them to Super Bowl LVII.
"He grew up in a locker room," the head coach of the Kansas City Chiefs, Andy Reid, had this to say about Patrick Mahomes II, whose father was a long - time pitcher in Major League Baseball. "He's seen the greatest. He strives to be the greatest. Without saying anything, that's the way he works. He wants to be the greatest player ever. That's the way he goes about his business. And he does it humbly. There's no bragging. He can stand up here and give you these stats he's had, but he's never going to do that. This is not him.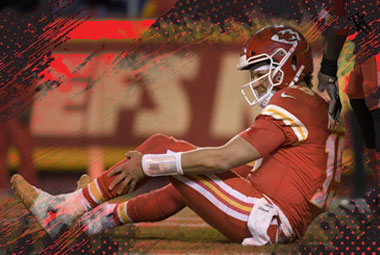 "We appreciate that. And when it's time for the guys around him to raise their game, he helps them with that. The great quarterbacks, they make everyone around them better, including the head coach."
The Kansas City Chiefs witnessed each of their AFC West divisional rivals stack up their player rosters via trades, the NFL free agency period last offseason, as well as the NFL draft in a strong effort to take the division away from the mighty Kansas City Chiefs, but the Kansas City Chiefs seemed to only have weakened their team by trading away their superstar wide receiver in Tyreek Hill and they had to redesign their defense where 6 - NFL rookies played a significant amount of the 2022 - 2023 season of the National Football League this year for the Kansas City Chiefs. All of these previously mentioned events combined to make for what Mahomes called a most satisfying championship.
"I wouldn't necessarily say we were counted out, but there were a lot more critics than there were the previous years I've been here," Mahomes goes on to say. "At the beginning of the year, I said as long as Andy Reid is coaching, we're going to have success as an offense, and I was trusting the leaders that we have in that defense.
"So, to go from a team that I wouldn't even say a majority picked to win the AFC West to win the Super Bowl, that speaks to the guys that we have in that locker room."
Patrick Mahomes' Football Career Achievements, Honors, & Awards
2 - Time Super Bowl Champion (LIV, LVII)
2 - Time Super Bowl MVP Award Winner (LIV, LVII)
2 - Time NFL Most Valuable Player Award Winner (2018, 2022)
NFL Offensive Player of the Year Award Winner (2018)
2 - Time First - Team NFL All - Pro Selection (2018, 2022)
Second - Team NFL All - Pro Selection (2020)
5 - Time NFL Pro Bowl Selection (2018, 2019, 2020, 2021, 2022)
2 - Time NFL Passing Touchdowns Leader (2018, 2022)
NFL Passing Yards Leader (2022)
Sports Illustrated Sportsperson of the Year Award Winner (2020)
Bert Bell Award Winner (2018)
Sammy Baugh Trophy Award Winner (2016)
Second - Team All - Big 12 Selection (2016)
FBS Passing Yards Leader (2016)
Patrick Mahomes' National Football League Records
Career Passer Rating (minimum 1,500 - attempts) with 105.7
Career Playoff Passer Rating (minimum 150 - attempts) with 107.4
Total Yards by a Quarterback in a Single Season with 5,614 - Yards (2022)
Passing Touchdowns in a Single Postseason with 11 (2021) (tied)
Sources:
"'One of the greatest': Mahomes named MVP after rallying Chiefs", Adam Teicher, espn.com, February 12, 2023.
"Patrick Mahomes", pro-football-reference.com, February 15, 2023.
Posted by
DavidGreen