Introduction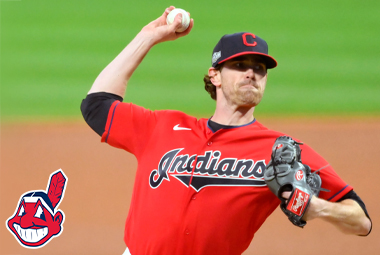 Shane Bieber of the Cleveland Indians unanimously wins the 2020 American League Cy Young Award. The 25 year old right handed starting pitcher dominated the American League and the entire MLB from the mound this past shortened season.
Bieber has now become only the second player in the Cleveland Indians franchise history to win the American League Triple Crown. Shane now joins baseball great for the Cleveland Indians and Hall of Famer, Bob Feller, who achieved the AL Triple Crown back in 1940. There has not been an American League pitching Triple Crown since 2006 when Johan Santana of the Minnesota Twins accomplished this difficult and rare honor.
Triple Crown Numbers
Bieber led the American League with a starting record of 8 and 1 during the crazy and unpredictable 2020 MLB season. Shane led the entire major leagues in ERA with a mark of 1.63 as well as strikeouts with 122 punch outs over the course of 77 1 / 3 innings pitched. The Biebs led the American League and tied Yu Darvish of the Chicago Cubs for the most wins in baseball this year.
2020 American League Cy Young Award Voting
PITCHER 1ST 2ND 3RD 4TH 5TH TOTAL
Shane Bieber, Cleveland Indians 30 -- -- -- -- 210
Kenta Maeda, Minnesota Twins -- 18 4 2 4 92
Hyun-Jin Ryu, Toronto Blue Jays -- 4 7 5 4 51
Gerrit Cole, New York Yankees -- 2 6 10 4 50
Dallas Keuchel, Chicago White Sox -- 5 4 5 4 46
Lance Lynn, Texas Rangers -- 1 3 4 1 22
Lucas Giolito, Chicago White Sox -- -- 3 2 5 18
Chris Bassitt, Oakland Athletics -- -- 2 1 2 10
Dylan Bundy, Los Angeles Angels -- -- 1 -- 2 5
Liam Hendriks, Oakland Athletics -- -- -- 1 3 5
Framber Valdez, Houston Astros -- -- -- -- 1 1
"Votes had seven points for first place, four points for second place, three points for third place, two votes for fourth place and one point for fifth place," according to ESPN.
Unanimous Cy Young History
It is rare for a pitcher in either the American or National League to win the Cy Young Award unanimously. The last time that happened in the American League was in 2011 when the dominant strong arm of Justin Verlander accomplished that feat with the Detroit Tigers. This was only the tenth time that an American League pitcher was listed first on every ballot which comes from the members of the Baseball Writers' Association of America. They are the ones who vote on awards such as the Cy Young.
Cleveland Indians History
Bieber gives the Cleveland Indians their sixth Cy Young Award. A young CC Sabathia won the honor in 2007. Cliff Lee earned a Cy Young Award in 2008. Corey Kluber took home the elusive honor twice. The first time in 2014 and then again, a few years later in 2017. Gaylord Perry is the only other as well as the first Cy Young Award winner for the Cleveland Indians. Perry was awarded the Cy Young back in 1972.
Future with the Indians
Due to the fact that arbitration is difficult to explain here is how mlb.com defines the salary arbitration process, "Players who have three or more years of Major League service but less than six years of Major League service become eligible for salary arbitration if they do not already have a contract for the next season. Players who have less than three but more than two years of service time can also become arbitration eligible if they meet certain criteria; these are known as "Super Two" players. Players and clubs negotiate over salaries, primarily based on comparable players who have signed contracts in recent seasons. A player's salary can indeed be reduced in arbitration -- with 20 percent being the maximum amount by which a salary can be cut."
Bieber is under agreement for the 2021 Major League Baseball season, but he is eligible for three years of arbitration from 2022 to 2024 prior to becoming an unrestricted free agent beginning in 2025. I am sure the Cleveland Indians would love to keep an elite arm like Biebers in their starting pitcher rotation for years to come as long as he is able to remain healthy and effective. Especially because Shane seems to be hitting his prime at an early ripe age.
Media Statements
"Today's a good day regardless,'' Shane Bieber stated. "It just makes it that much better that we were able to take this thing home and that it was unanimous.''
"I said ... why don't we go 2-for-2, or something like that?'' Bieber explained.
"Nobody's more deserving of it than him, and he knows what he wants, and he knows how to go out and get it,'' says Bieber. "And we keep in touch. I was truly pulling for him, and you know, so is my family. And I know he feels the same way, so it's special.''
Sources:
"Cleveland Indians' Shane Bieber unanimously wins American League Cy Young Award", espn.com, November 11, 2020.
"Shane Bieber", baseball-reference.com, November 12, 2020.
"Cleveland Indians Team History & Encyclopedia", baseball-reference.com, November 12, 2020.
"Salary Arbitration", mlb.com, November 13, 2020.
Posted by
DavidGreen