Introduction
On Saturday, December 11th, the 2021 Heisman Trophy Award ceremony took place from New York City, NY. The finalists for this year's Heisman Trophy were the University of Michigan's defensive end Aidan Hutchinson, the University of Pittsburgh's quarterback Kenny Pickett, the Ohio State University quarterback C. J. Stroud, and the University of Alabama quarterback Bryce Young.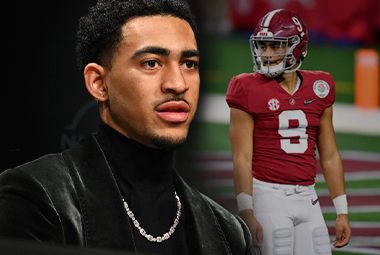 The quarterback out of the University of Alabama sophomore quarterback, Bryce Young, took home that elusive college football hardware on Saturday night after an absolutely astonishing year of dominating at the quarterback position for the Crimson Tide.
Just as Steve Young replaced Joe Montana as the QB of the San Francisco 49ers in the 1990's, Bryce Young took over for Mac Jones as the QB of the University of Alabama during this NCAA college football season. Jones was a top nominee of the 2020 Heisman Trophy Award, although Mac fell short just behind the ultimate winner of the top honor in college football, DaVonta Smith, who was Jones' teammate at the University of Alabama.
Young equivocally lived up to all the hype that surrounded him as he entered the 2021 – 2022 NCAA college football season. Bryce began the year with a 4 - touchdown game in the Crimson Tide's season - opening victory over the University of Miami Hurricanes prior to hitting the road in order to defeat the University of Florida Gators just 2 - weeks later.
Even though Young was tasked with playing behind an often shaky as well as extremely unreliable offensive line, Bryce shined with his overall capability to remain cool and calm under pressure while escaping the strong pressure of the opposing team's pass rush in order to connect with his talented wide receivers down the field. Young was an accurate passer as he completed 68.0 % of his pass attempts, and Bryce did not throw his 1st - interception of the year until the 4th - week of the college football season versus the University of Southern Mississippi Golden Eagles.
When it was all said and done in the college football game this year, Young's Heisman campaign included an amazing 43 - passing touchdowns and just 4 - interceptions. As a highly – talented and gifted rusher Bryce also ran in 3 – touchdowns as well.
However eventually down the final stretch of the season is where Young shined the brightest. During Alabama's dramatic come – from – behind victory on the road at Auburn as well as his overall dominating win over the University of Georgia is where Bryce tore up the then top ranked defense in the SEC championship game that cemented Young's Heisman candidacy.
During the game at Auburn, Young and his team fell behind with the score of 10 to 3 with just 1 minute and 35 seconds left in the contest. Bryce was forced to find a way to win without his superstar wide receiver, Jameson Williams, who was sidelined following his ejection for a targeting violation in the 1st – half of the ball game.
Young had his back up against his own 3 - yard line, Bryce coordinated an amazing 12 - play, 97 - yard drive, which he finalized by tossing a game - tying, 28 - yard touchdown throw to his freshman wide receiver, Ja'Corey Brooks, who previously had just 2 - catches entering the match up.
After a mind – blowing 4 – overtime sessions, Bryce completed the game - winning two - point conversion to John Metchie III, that kept the Crimson Tide's hopes of reaching the College Football Playoff alive. On Friday, December 31st, 2021 the number 1 ranked University of Alabama will face off against the number 4 seeded Cincinnati Bearcats in the NCAA College Football Playoff Semifinal at the Goodyear Cotton Bowl Classic.
Young also picked up hardware for the Maxwell Award which is handed out to the best player in college football as well as the Davey O'Brien Award for the country's top QB this season.
By Young collecting the most votes for the Heisman Trophy, the University of Alabama becomes just the 6th – college to win the illustrious award in consecutive seasons as Alabama's wide receiver, DeVonta Smith, took home those honors last year.
The Crimson Tide's other Heisman Trophy Award winners include the likes of elite running backs such as Derrick Henry and Mark Ingram II who both have experienced quite successful careers in the National Football League after winning this prestigious award in college.
The University of Michigan's defensive end as well as the Big Ten Defensive Player of the Year, Aidan Hutchinson, finished 2nd in this season's voting for the Heisman, followed by the University of Pittsburgh's quarterback Kenny Pickett (3rd – place in the Heisman Trophy voting). C. J. Stroud of the Ohio State University finished in 4th – place this year for college football's top honor.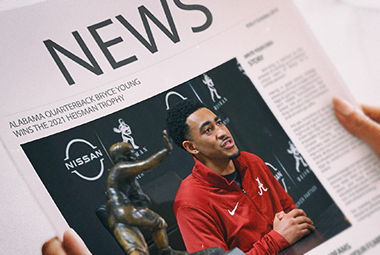 Media Statements
"Whenever you can win an award like this, it doesn't go as an individual award but it's a team award because I couldn't do it without any of those guys," the 2021 Heisman Trophy winner and quarterback of the University of Alabama, Bryce Young, stated during his acceptance speech as he referred to his U of A Crimson Tide teammates. "I'd like to thank Coach Saban. Thank you for believing in me. Thank you for your guidance and putting me in situations to be successful and for us as a team to be successful."
"It's really about belief in yourself and it's about belief in your preparation and your abilities and not allowing people to write your story and to dictate your life to you and to taking control of your destiny and just being the best person you can be," Bryce Young's father, Craig Young, explained. "And I think he personifies that."
Bryce Young's Football Career Achievements, Honors, & Awards
Heisman Trophy Award Winner in 2021.
Maxwell Award Winner in 2021.
Davey O'Brien Award Winner in 2021.
SEC Offensive Player of the Year Award in 2021.
The Associated Press College Football Player of the Year Award in 2021.
SEC Championship Game MVP Award in 2021.
Named to the First - Team All - SEC in 2021.
College Football Playoff National Champion in 2020.
Pete Dawkins Trophy Award in 2020.
USA Today Offensive Player of the Year Award in 2019.
Named as an U. S. A. Today High School All - American in 2019.
Sources:
"Quarterback Bryce Young awarded Heisman Trophy, giving Alabama football back-to-back winners", Alex Scarborough, espn.com, December 11, 2021.
"Bryce Young", sports-reference.com, December 12th, 2021.
Posted by
DavidGreen