Introduction
On Wednesday, June 12th, 2019 game 7 of the 2019 NHL Stanley Cup Finals was played in the TD Garden in Boston, Massachusetts. The winner of this game takes the series and becomes Stanley Cup champions. It was a crazy game that can be defined by a contradicting first period, goaltending, and defense.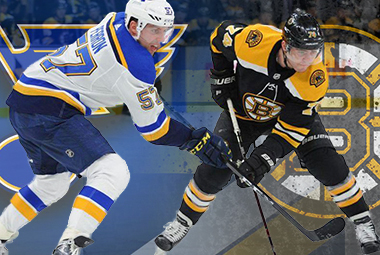 1st Period
The first period was dominated by the Boston Bruins. They spent the majority of the first period in the Blues' zone on an offensive attack. Boston peppered Blues' goalie, Jordan Binnington, with shots on goal. The Bruin's power play was one of their biggest strengths this season, and they got a power play opportunity in the first period on a minor delay of game penalty. Despite all the great scoring chances on that power play they were denied a goal due to superior net minding from Binnington as well as good penalty kill defense from the Blues.
The Missouri team had only one shot on goal over ten minutes into the opening period of this intense game 7. The first goal of the game occurred when Ryan O'Reilly redirected a shot from Jay Bouwmeester past goalie Tuukka Rask into the net. This put the Blues up 1-0 with only a few minutes left in the first period. Then a poor line change by Bruin's forward, Brad Marchand, allowed the Blues captain, Alex Pietrangelo, to charge the net, and he converted on an open point blank shot. That second goal put Saint Louis up 2-0 with around 7 seconds left in the first period.
2nd Period
Boston was absolutely discouraged heading into the first intermission down 0-2 after heavily outshooting and overall out playing the Blues early on in the game. The second period was quite uneventful as there were no goals scored over those 20 minutes. St. Louis did a good job checking, playing great defense especially in transition, and Binnington stopped every shot that the Bruins threw his way. This is how sports go sometimes.
3rd Period
The third period began the same as the previous, with the Blues stonewalling Boston and their stifling defense kept the Bruins off the scoreboard. Brayden Schenn puts in the third goal for Saint Louis with only 8 minutes and 35 seconds remaining in the last NHL of the season. Zach Sanford of the Blues followed that up with a 4th goal putting the game out of reach for Boston. Saint Louis won the decisive game 7 of the 2019 NHL Finals with a final score of 4-1 to win their first Stanley Cup championship in franchise history.
Player and Coach Reactions
"To bring a Cup to a city for a first time is crazy. Tough to put into words," says Jaden Schwartz. "These fans have been waiting a long time. It's exciting. We're going to have a lot of fun with it."
"Once we pulled it together, we were tough to beat," head coach, Craig Berube, said.
"It's pretty crazy how things come full circle like that," says Zach Sanford. "You know, this team deserves it more than anyone, I think. This is the best group of guys ever. We put in the work, and we earned it."
"He bounced back. We knew he would," says Alex Pietrangelo. "Unbelievable first period. His confidence, his swagger, his belief in himself -- unbelievable."
"I'm sure there's a bright, bright future for this team," says Zdeno Chara. "I'm sure everyone pictured it differently, and we believed that it was there for us. That's sports. You've got to kind of take those and move on."
"The guy was a beast all playoffs," Brayden Schenn explained. "He deserves it. He's a hell of a player. Binnington's a beast. What a team to be a part of."
"They've been a historical team. They've won so many Cups," Vince Dunn said. "We came into the season with a lot of hopes, and we let each other down a bit for the start of the season. But there was no doubt in our minds that we couldn't come back and come out on top."
"It was awesome," Jay Bouwmeester added. "I've been waiting a long time, and I'm pretty honored that he gave it to me."
Sources:
"March Madness: Blues win 1st Stanley Cup, beating Bruins 4-1", espn.com, June 13, 2019.
"Stanley Cup Final 2019: Blues stifle Bruins 4-1 in Game 7 to win first NHL title in team history", Cody Benjamin, cbssports.com, June 13, 2019.
Posted by
DavidGreen