Debate with Terry Jones
Last week I made an east-coast trip. Starting in New York, then two days in Vermont, and three days in Montreal. Just by coincidence I was in New York during the 10-year anniversary of 9-11. I really wanted to have no part in the hand wringing over the infamous day, but that was just the convenient time to be there.
On 9-9-11 I did my weekly 13-mile run before flying to New York. On 9-10-11 I walked all over midtown Manhattan, including all of the Modern Art Museum, which is pretty big. All that walking and running had taken their toll so I decided to just sit and rest a while in Times Square. As I'm about to sit on the bleachers I see a lot of police and television cameras focused on somebody with a book in his hand and talking about something. When I got closer I could see it was infamous Koran-burning Florida pastor
Terry Jones
.
So I just sat on the bleachers until eventually the media apparently got bored and left. Suddenly Terry was all alone. To be honest, I was feeling a bit lonely too, so decided to engage him a little debate. Here is more or less how it went:
Wiz: You're that guy who was threatening to burn the Koran, aren't you? (I already knew the answer, but was just making small talk)
TJ: Yup.
Wiz: Did you ever go through with it? (I had heard he did)
TJ: Yes, back in March (I could be wrong about the month)
Wiz: Why didn't I hear about it in the media?
TJ: I did a lot of interviews about it, but the media decided to do a black out about it (I applaud the media for this)
Wiz: Why did you go ahead with it after all? (He previously cancelled a burning)
TJ: At this point he went on a rant, including a long list of lack of freedoms in various Arab countries, which we enjoy in the US. At one point he said not all Muslims were bad people, and that his fight was against Sharia Law, which I understand to be a strict interpretation of the Koran regarding in part the oppression of women.
Wiz: I'm all for the first amendment, women's rights, and freedom of speech too. However, if your beef is with the extremists only, then why are you burning the Koran? Aren't most Muslims more moderate in their interpretation of it?
TJ: The Koran itself justifies killing non-Muslims.
Wiz: Can you quote me something to back that up?
TJ: Not off the top of my head.
Wiz: Don't you think you should be able to? This would seem to be your calling.
TJ: My assistant can give you a quote.
Wiz: (turning to assistant) I'm all ears.
Assistant: He quotes a verse. I don't remember the words but it sounded like one of hundreds of verses in the Old Testament.
Wiz: I don't see how you get from that to justifying burning the whole Koran. That sounded like something out of the Psalms to me.
TJ: The Koran was put on trial and found guilty of encouraging acts, such as those on 9-11.
Wiz: What trial? What was the verdict?
TJ: I don't know, but my assistant can answer that question.
Assistant: I don't know either, but let me make a call. (assistant calls somebody on cell phone). Then he recites the results of said trail. I don't recall the details, but basically that the Koran was guilty of encouraging the killing of non-Muslims.
Wiz: Isn't the Bible guilty of the same thing? For example, didn't god kill almost everybody on earth in the story of Noah's Ark, because they were so evil and wicked, the same motives of the 9-11 hijackers?
TJ: That god did that directly, he didn't ask anybody else to do it.
Wiz: Don't you think one could read that story, and misinterpret it as a justification to kill others that god would deem to be sinful?
TJ: My voice is getting hoarse, I have to save it for tomorrow.
Wiz: Okay, thanks for your time.
A media crew from Ganesville Florida was taping this exchange. Afterward the cameraman said I looked familiar. I explained who I was, but he didn't make the connection. Nobody has ever remarked to me about seeing this debate on the news. Too bad, I would have been proud to be one of only two people in Times Square to stand up to him. The other was a very cute brunette, who took over after I left.
Comments
Punctuality
One of the things that I find very annoying are people who are habitually late. I have said before that people never realize their own faults. Those who are never on time seem to think it is no big deal and you can get off with an insincere apology. Let me tell you something -- if you're always late, it is a fault, and it is very annoying to people that try hard to get places on time, like me.

Through the years I have found that once you accept apologies for lateness, the other party keeps getting worse and worse. As the victim, I eventually I get pushed too far and either break off a friendship over it, or give the other party the cold shoulder for a while.

My question for those reading this is how to you handle people are you always late? Assume they always apologize, but you know it is just lip service. Do you:

A) Just take it, what is the big deal?
B) Be honest and tell them gently each time that you're a little mad about it.
C) Falsely say that you accept the apology each time, and silently stew until your pot boils over and you explode.

I'm not saying it is the best option, but I'm a C person. Probably the half German in me.
Comments
LVMC Member of the Month
Check out who is the member of the month of the
Las Vegas Mountaineers Club
. You'll have to scroll about 80% of the way down.
Trivia Time
: Where was the photo taken. As always, NO SEARCHING! I'll be very impressed if anyone gets it.
Comments
Business and Friendship
I just had a huge argument with a friend of several years over a project I hired this person to help me with. This was the first time there was ever a business deal between the two of us. Suffice it say the deal with horribly bad, some very unkind allegations were made, and there is a dispute about what proper compensation should be. I will not be getting into specifics.

Suffice it to say that a good friendship was ruined over a comparatively small business deal. I'm pretty upset about it. I think the lesson to be learned here is to avoid doing business with friends, whenever you can, unless maybe if it is a very simple cut-and-dry deal. Also, don't get too close too people you are doing business with. I've seen that go bad too. Rarely have I seen true friendship and business mix well.
Comments
License Plate Display
As HotBlonde mentioned in her blog entry
My Vegas Trip July 2011
, she was kind enough to come over to the library to watch me set up my license plates. This lasted about five minutes before I had the sense I was boring her and suggested she check out the good selection of gambling books, which happens to include my own. I don't blame her. Of the hundreds of license plate collectors and afficianados I've known through the years the number who were women is zero.
Anyway, some of my license plate collection is on display at the
Sahara' rel='nofollow' target='_blank'>http://www.lvccld.org/about/branch_info.cfm?id=6]Sahara
West library, at north-east corner of Sahara and Grand Canyon. There are two large cases in the lobby and a smaller one by the stairs in the library. In one of the lobby cases and the one in the library I put most of my collection of porcelain license plates. In the other lobby case I put my collection of inaugural license plates. Here is what I wrote about each display.

Porcelain License Plates
by
Michael Shackleford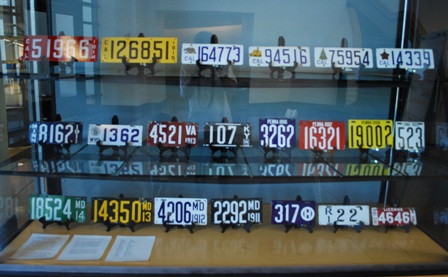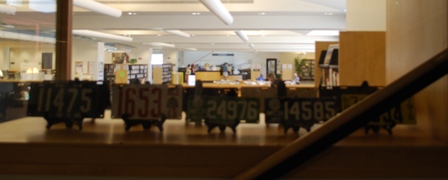 Click on any picture for larger version.
In the very early car years, most of the various state licensing agencies told you your registration number and it was up to you to produce your own license plates. Some people made their own, usually attaching house numbers to a piece of wood. Some painted the number on the bumper. Most had them made by private companies, such as the Auto Club of Southern California. Today such plates are called "pre-states" among collectors, and are both rare and valuable.
After the pre-state years many states issued large heavy license plates made of porcelain on steel, such as those seen here. Other states, like Nevada, went right to making them with steel. Unlike today, in which license plates are made in prison, the porcelain plates you see here were made by private companies contracting to the state.
Each state has its own unique license plate history. This display seeks to capture just some of the porcelain plates of that era. Most porcelain plates that remain today are from the north-east states, because they issued them longer than other parts of the country, and had a greater share of the population at the time.
The following table shows the years each state produced a new porcelain style of license plates. Subsequent years may have seen the same porcelain plates in use, along with an updated registration tab, much like the stickers of today.
State Years
Arkansas 1911-1913
California 1914-1916
Colorado 1913-1915
Connecticut 1905, 1910-1916
Delaware 1909-1915, 1942
District of Columbia 1907
Georgia 1915
Indiana 1913
Kentucky 1910-1913
Maine 1905, 1912-1915
Maryland 1911-1914
Massachusetts 1903, 1908-1915
Michigan 1910-1914
Minnesota 1911
New Hampshire 1905, 1913-1918
New Jersey 1909-1915
New Mexico 1920-1923
New York 1912
North Carolina 1913-1916
Ohio 1908, 1910, 1911
Pennsylvania 1906-1915
Rhode Island 1904, 1908, 1912
Vermont 1905, 1907, 1909-1915
Virginia 1906, 1910-1913
Washington 1920
West Virginia 1907, 1909-1912, 1914, 1916
Wyoming 1916
Contact: Michael Shackleford, (Email omitted online)

Inaugural License Plates
by
Michael Shackleford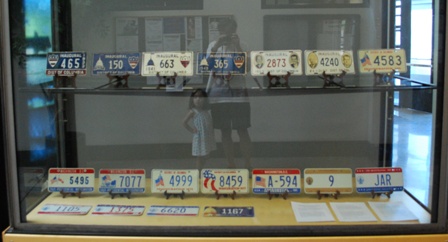 From 1933 to 2001, except 1945, the District of Columbia celebrated each presidential inaugural with commemorative license plates. These optional plates were valid for street use for a limited period of time during and after the inauguration.
Early Years (1933, 1937, 1941, 1949)
These four years featured a similar design from one year to the next, all with a red white and blue shield and similar coloring. 1941 was the only white year. Due to the metal shortage caused by World War II, there was no inaugural license plate in 1945. All four years saw a very limited printing, fewer than 1,000 each year, except 2,000 in 1949. Much fewer are known to still exist today. Consequently, such plates are very rare.
Eisenhower/Nixon Years (1953, 1957)
These two years are noteworthy for featuring photographs of President Eisenhower and Vice President Nixon. Not just in inaugural license plate history, but in the entire history of U.S. license plates, this is the only usage of a person's image on a license plate. For this reason they are highly prized by collectors.
Flat Years (1961, 1965, 1969)
These years the plates were not embossed, but were completely flat, much like how Nevada plates are made today. It interesting that this style of flat license plates appeared as early as 1961, but did not become a norm for many states until recent years. By this time inaugural license plates were becoming more popular among the general public and registration numbers went up significantly.
Flag Years (1973, 1977, 1981)
These years are noteworthy for having a patriotic flag theme to them.
Stoic Years (1985 to 2001)
These years had a more serious and presidential look to them. No more large fonts and up-beat designs. Rather these years had small lettering and an official inaugural seal. The purpose of said design was said to be less for motor vehicle use and more as a souvenir wall decoration.
Souvenir Years (2005, 2009)
2005 marked the first year where inaugural license plates were no long valid for street use, and were sold strictly as souvenirs. Two separate styles were made. The only time they would have been seen on vehicles would have been during the inaugural parade. In the opinion of many license plate collectors, including me, I do not consider these two years to be true license plates because they were never street legal.
2009 saw one style of souvenir plate and a second that was used only on official cars in the inaugural parade.
More information:
dcplates.com/Presidential.htm
.
Contact: Michael Shackleford, (Email omitted online)
Comments