Nelson's Landing
Yesterday I went to Nelson's Landing for the first time. It is a beach on the Nevada side of the Colorado River, about 20 miles south of Hoover Dam. It was a lot fun. There is a protected cove that was safe for swimming and the water was surprisingly warm, especially after being used to the 48-degree water upstream in the Grand Canyon. Further out there are lots of places to go safely cliff jumping. Sorry I didn't take any pictures, but I have a couple videos of me and my son jumping off one of the cliffs.
Wizard jump
Wizard jr. jump
Comments
Grand Canyon rafting trip
In case anybody missed me, I just returned from a five-night trip on the upper Colorado River through the Grand Canyon. I plan to properly write all about it in my blog on my Odds site. However, until I do, I posted some pictures and brief commentary on my
Math Problems
site.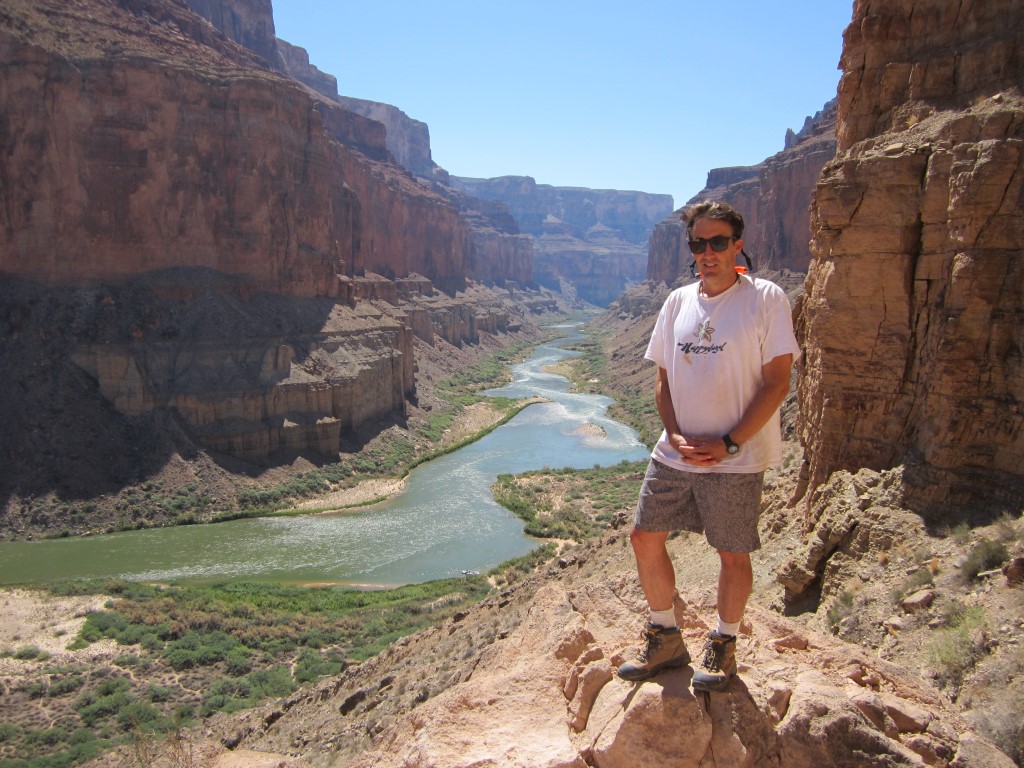 While in the Flagstaff area to start the trip I also visited Sedona for the first time and climbed Humphries Peak, the highest point in Arizona.
The rafting trip was outstanding. Although it was expensive, I thought it was worth every penny. Please have a look at my
photos
and I would be happy to answer any questions about them.
Meanwhile, it seems the behavior on the forum is slipping. Let me say for now that William Shatner is not an a**hole for refusing to sign autographs, at least in my opinion. Personally, I have to force mine on what few occasions a fan spots me. It is also not appropriate for admins to bust posts for being "clueless," and I'll take appropriate action about that, once I know all the facts.
Anyway, the cat is back, so behave yourselves.
Comments
Down and Out at the Laiki Bank
I haven't said this in public before, but I have a foreign bank account at the Laiki Bank in Cyprus. Of course, the weakest there. After much searching, they were the only ones I could fine who would take an account from a U.S. citizen. I have reported this account with the IRS and can account for every penny that has moved through it, should I ever be asked. It is no big secret that that my sites advertise Internet casinos, who find it very difficult to make payments to U.S. banks.

The bank is scheduled to reopen on Thursday. Perhaps then I'll see how much money was stolen from me. I expect about $35,000. I'm sure there will also be limits on how quickly I can take out the rest. Maybe I should be glad to get at least part of my money. Without help from the European Central Bank, I probably would have seen nothing.

Another way to look at it is account holders in other countries in need of bailout money, namely Greece, Hungary, Ireland, Latvia, Portugal, Romania, and Spain the bank account holders didn't lose a dime. When my money is at stake suddenly the rules change. I welcome correction on any of this, by the way.

Well, now that it has become acceptable to steal from account holders' money when the bank gambles and loses the money they were entrusted with, who is stop it from happening when there is a run on the banks the next time. I predict Spain will be next.

I can tell you one thing. If had any money in banks in an EU country on the receiving end of charity I would take it the hell out ASAP. If I lived in northern Europe I would be sick and tired of bailing out southern Europe too. Then again, if banks can't be trusted to invest money properly, and the ECB won't stand behind them, what good are these banks?

I certainly made a mistake, but I hope that my story may save at least one of my readers with money in a troubled European bank. My advice, take it out now before the real run starts. Don't let what happened to me happen to you.
Comments
Just released from the hospital
SOOPOO and JB have kindly released information, with my permission, about my recent battle with food poisoning. I'm happy to say that I was just released from the hospital an hour ago. My doctor was not very comfortable with letting me go, but also takes his patient's wishes under advisement, and I was eager to get out of there. My wife is also a nurse, who is able to keep a good eye on me.
Here is what happened. It all started with I had to take my 15-year-old daughter to a debate meet at UNLV. This was the day before the Super Bowl and I wanted to make some prop bets. Rather than return home and drive all the way back to pick up my daughter in the evening, I decided to make a day of it.
My first, and infamous, decision was to eat at what I think was a Guatemalan food restaurant by the name of El Santaneco, right across Maryland Parkway, by that crosswalk of which drivers frequently ignore and kill pedestrians. So, the place seemed a little dirty, and the prices were very cheap. Two red flags. However, I was hungry, so bought some kind of scrambled eggs dish with some meat, that I had never heard of. The menu was entirely in Spanish. I must say that I enjoyed my meal and left happy.
The next four hours or so I did prop shopping from Tropicana to Paradise Blvd. Then I had a nap at a friend's condo in that area, which he lets me use whenever I want when he isn't in town, which he wasn't. When I got up from my nap I felt the something coming on. My stomach was just not right and I immediately suspected that whatever I ate for breakfast didn't agree me. However, I was a little hungry and thought the only thing I could get down was a milkshake. So I had one from the food court at the MGM. To kill more time I played some low-level pai gow and then went to the UNLV library to read until my daughter was ready. When the library closed I killed more time in the student union until she was finally done and I could but a bad day to an end.
Super Bowl Sunday begin with me having to take my daughter back to UNLV. After a good night's sleep I was feeling about 50% better, so dropped her off and did some more prop shopping. This time from Flamingo to the Wynn. It was during this time I found a bet on "no safety" at -900, at the Palazzo. I bet it -- big. Then I went back to my car at Bill's Gambling Hall (what will always be the Barbary Coast in my heart), parking garage, the best parking secret in Vegas and went home. Signage indicated Bill's was closing permanently at noon on Tuesday, so that would be the last time I would ever park there. My wife was to pick her up.
During the first half of the Super Bowl I was just in awful shape. First I was really hot and then it shifted to being really cold. I took a lot of Tylenol, which helped. The second half I was actually able to enjoy the game, except the very last play, which cost me a lot of money. The remainder of the night went okay.
The next Monday I'm getting shorter of breath, higher fevers, and alternating between being hot and cold. Still I tried to self-medicate by taking lots of Tylenol, Motrin, aspirin, and an anti-biotic we had left over from some past sickness in the family. This was my son's birthday, which I drove to but by the time we sat down at the table I was shivering, with no appetite, so excused myself and waited in the car. I might add I turned the heat up all the way. We got through that incident with yet more medication.
Tuesday was basically more of the same, but worse. I'm not one to admit defeat easily, but it was looking like whatever I had I would need some expert help. It had been so long since I last saw my family doctor that he put my files in storage. He wasn't "taking new patients" and since my files were in storage I had no proof I wasn't "new." So after few calls I found someone else. She took the usual samples , sent me somewhere for a chest x-ray, and gave me a antibiotic prescription. No diagnoses on what I had. She didn't seem be believe my food poisoning theory because I had only one incidence of vomiting, which was dry, and no diarrhea (thank god for spell checkers; I can never remember how to spell that word)
Early Tuesday evening is when my food poisoning nearly kills me. I must have been running a very high fever because I had a terrible case of the chills. No matter how many blankets I put on my bed I couldn't get warm. So, in the delirious state that was in, I turned on the steam room to warm up. Yes -- I know that is not the right thing to do. However, with a fever above 103 you don't exactly think straight. That is why it often happens that when they find dead climbers on Mount Everest they are naked. I'm sure these climbers were well trained in cold-weather survival, but if you're sick enough the brain won't get enough blood and your more basic instincts take over. So nobody needs to tell me that wasn't the best decision I ever made -- I know!
Turning on the steam room was the last thing I remember. For the next part I'm going off what my wife says. She was downstairs making dinner and head a loud thump, as if someone fell in the steam room. When she went up to investigate I was in bed with a blank stare on my pale face. She asked me some questions but I would not respond to anything. The last thing she said was, "If you don't say anything I'm calling 911." I didn't, so she did.
The next thing I knew I woke up in a hospital bed. Somehow this didn't seem to shock or surprise me. My mind was very dazed. A lot of people asked me question but I found it hard to talk and my hands were trembling like crazy. One woman asked me for my home phone number and I couldn't recall it, or any phone number. I was happy to just stare into blank space. At the time of my admittance, my temperature was 103.8.
About five hours later I was moved to a private room on the fourth floor of the Summerlin Hospital. The same hospital where my younger daughter was born. I was put on an IV drip and aggressive schedule of tests. I was hoping that first night would be my last.
The next day I was coherent again. While the doctor didn't have a diagnosis, he knew that I was extremely sick and near death when I came in. He whatever tests they took he could tell that my heart and body are normally in outstanding shape, and probably saved my life. The state of
sepsis
my body was in is 25% fatal. The main goal going forward would be to bring my temperature down.
I might have been let home on Wednesday, and my discharge was approved, but I had another incidence of a high fever and a serious shivering incident. So much for that, and I was charged another day, at least. Thursday I thought I was doing pretty well, holding my temperature around 97. However, out of nowhere, it shot up to 102.4, along with another bad shivering and shaking spell, which took three nurses to control. This was around 2:30 PM.
After that my temperature was done again and I was eating and drinking more. Thursday night my doctor came in and said he would prefer to keep me longer, but it was a borderline situation, and asked my opinion. I said I preferred to go home. He spoke to my wife many times and knew she would keep an eye on me. In the end he said he would make a decision in the morning.
That morning the nurse said I was released to go if I wanted, which I chose to do. I'm still very sick, and have weeks of fighting ahead of me. However, I felt like that hospital was a jail, and my IV was my ball and chain. You had no free will. At night nurses woke me up every few hours to draw blood or give me a pill. One male nurse scolded me for sitting in a chair and letting an unused dirty blanket hit the floor. Aside from him, I found the staff friendly and capable, and there was no way around doing some unpleasant parts of their job.
At this point I will try to take good care of myself and expect to have follow-up phone calls with my doctor. We still don't know exactly what caused this. When we do, it will help to prescribe a antibiotic specifically tailored to beat what I've got. Whatever it is -- it sure beat me up good.
I hear a lot of people have expressed their good wishes on the forum. That means a lot to me. I'm going to go through that thread when I get the time. For now, I think a good nap in my own bed is well-deserved.
Update: The El Santaneco restaurant, where I contracted the case of food poisoning is closed. The restaurant in that location is called Antigua Guatemala. I do not know how associated it is with the El Santaneco.
Comments
Vegas Half Marathon 2012
Yesterday I did the Las Vegas half marathon for the third year in a row. I was going into this one in reasonable shape, but not nearly as good as last year. Between the marathons of 2010 and 2011 I did an informal half marathon on a weekly basis. So, come the real thing in 2011 I was in great shape, and finished with a time of 1:49. However, after that I became completely lazy and my "long runs" dropped off to only three or four miles.

When the Vegas heat started to subside in late September I decided to get my act together, sign up for this year's half marathon, and train for it. Mile by mile I built up my endurance back to half marathon distance. However, the day of the race I only ran that far twice in training, so it was still a struggle to get that far. In 2011, doing 13 miles was a piece of cake. In 2012, I was exhausted afterward. So, the big day arrived too soon, but I still hoped to complete the thing in under two hours.

If you live out in the suburbs of Vegas this first major challenge is just getting to the starting line. When they close off the Strip to car traffic it has a domino effect, messing up traffic anywhere near the Strip. Last year I worked out the perfect spot, to park at the executive airport and bike a short distance to the starting line. However, this year they changed the course, to go right past it, so there was no way to drive to it. So, after much deliberation, I ended up parking further way, at a park-and-ride lot on Sunset and Gillespie, and biking to the start line.

When I got near my corral at the starting line I decided to use the men's room at a nearby Subway, lest I need to go during the race. However, there was a line of about 30 women waiting for both the men's and women's bathroom. The line was Wendy's style, where one line fed into two windows, or bathrooms in this case. This presented an ethical dilemma. Should I stand in a long line with all the women, or cut in line and go straight to the men's room. Keep in mind I had plenty of time and there was no urgent need. I asked a woman towards the end of the line if the line was for only the women's room or both. She said it was for both, but that it wouldn't bother her if I jumped to the front to use the men's room. So I did and waited for the men's room door to open and I jumped in. As I did they woman leaving yelled "Hey!" in a very angry tone, as if I was cutting the line. She evidently was friends with the gal behind her in line. I said "I'll be quick" as I closed the door. In retrospect, I make no apologies. Men should not be inconvenienced because women take so long in their own bathroom.

After that I made my way to corral #7, took out an old book I was planning to throw away, and killed time reading until it was time to start. When my group finally started about 4:40 I cast away my jacket and the book and off I went. Compared to the last two years, the course was wider, so there was much less congestion. Most of the time I had no trouble running as fast as I wanted. This was also partially because I indicated an estimated time of 1:50, so I was grouped with faster runners. By the way, I think there is a lot of inflation when it comes to such estimates. I think most runners are estimating a time of about 15 minutes faster than they actually finish. Keep this in mind when registering in future years. If you enter an honest time, expect to be frustrated trying to pass a lot of runners, and walkers, much slower than you. Many runners didn't respect the whole corral concept at all, as evidenced by the many high numbers in my own corral, who should have been around the 17th corral.

The temperature was just about perfect. It was very windy, which worked in my favor. This year the run started at the Mandalay Bay and ended at the Mirage. With a wind out of the south it meant the wind was in our favor more often than it was against us. A downside was getting dust in my eyes and I was missing a safety pin, so my number was flapping in the wind the whole time.

So, the run went fine for the first ten miles. Then I started to feel the pain of the limit of training. I could still run, but I wanted to do so more slowly. However, I was very ambitious about finishing the thing in under two hours. It was a contest of the body against the mind.

The only thing I had to go on to know if I was on schedule was some runners had tags on their back according to their pace group. The entire race I was among scattered runners with 2:00 tags, and some with 1:52, and even one with 1:45. Around the Stratosphere I reached a big group of 2:00 people, with one of them carrying a 2:00 sign, and giving encouragement to the other "twos." I didn't know what corral they started from, so finishing with them wouldn't necessarily imply that my time would be two hours. However, I decided to do my best to keep their pace, which was not easy at this point.

Around the Encore I could feel the light at the end of the tunnel, and used what little reserve energy I had to try to beat the 2:00 pack. So I picked up my speed marginally and left the twos behind. Around the Treasure Island I could see the finish line and gave it my best to finish strong. After crossing the finish line I was exhausted but proud of myself. I had not been that tired since the full marathon of 2006.

That evening there was a reception for a conference of table game inventors, which I was invited too. I wasn't able to escape the exit area until all the way to Flamingo Blvd. Then I had to walk all the way to some remote corner of the Mirage where this party was taking place. When I got there I rewarded myself with plenty of beer, wine, roast beef, and miscellaneous hors d'oeuvres (yes, I had to look up the spelling on that). Some attendees vented on us runners for messing up traffic, but I made no apologies. The cars get the streets for 364 days a year, and they complain about not getting all 365. After the party a friend kindly drove me back to the Subway where I locked my bike and made the long ride back to my car. It just seemed long, to be honest with you.

The next morning I checked the web site for my results. My time was 1:59:20 (yeah!). It was my goal to finish in under two hours, and I did so by 40 seconds. To put that in comparison, I finished number 2,840 out of 22,087 of everyone who finished the half marathon (13th percentile). Out of the middle-aged men (age 45 to 49) I was number 249 out of 1085 (23rd percentile). So I beat 3 out of 4 men my age, and we're talking about men fit enough to run 13 miles in the first place.

My compliments to the race organizers, who I thought did a great job. My biggest complaint is they make you show up in person one or two days before to pick up your number, which was at the events center at the Venetian. This whoop-de-doo is full of vendors selling running stuff to a captive audience. There is the option to pay $40 to pick up your number the day of the race, which is rather high considering the race itself is already expensive at about $130. All things considered, I'm not sure I'm going to do it again next year. I've been hearing a lot about cheaper half marathons, even free ones, which I'd like to give a try. The Vegas marathon is a lot of fun, but I've done it three times now, and the full marathon once, so maybe I won't put up with all the hassle and expense next year.
Comments