Last Man Standing NFL Contest
I'm one of 210 people who put in $100 in a "last man standing" NFL contest run through
RunYourPool.com
. Thanks to some big upsets, which I managed to avoid picking, I'm one of 26 left standing. Here is how it went down so far.
Week 1: In = 210, eliminated=16 (7.7%). Most eliminations were those who picked the Saints. I picked Houston.
Week 2: In = 195, eliminated = 110 (56.4%). Almost all the eliminations were those to picked the Patriots. There is a rule that you can't pick the same team twice, so I saved them and went with the Bengals.
Week 3: In = 85, eliminated 59 (69.4%). Most eliminations were the Saints, but some 49ers. I picked Chicago.
Week 4: In=26
So, I figure I now have $808 in equity! That is the area code of Hawaii, by the way.
For week 4 I'm picking the Ravens, who are a 13-point favorite. I should have about an 85% chance of surviving this week. Hopefully there will be big upsets elsewhere to narrow down the field.
Comments
Down and Out at the Venetian
Let it be known I am no longer working for the Venetian. It would be an understatement to say that my feelings about the termination are acrimonious.
I would like to tell the whole story, but I signed a confidentiality agreement when I started, so I will stick to simple statements of fact regarding my employment.
Here is the executive summary.
I started with the Sands corporation on April 30, 2012. My job title was Director of Gaming Mathematics. Physically, I worked in the Venetian, but my job was at the corporate level, pertaining to all things table games in all the Sands casinos worldwide.
To make room in my schedule for the Sands, I had to close and sacrifice my consulting business.
Four months later after starting, on September 10, 2012, I was suddenly told my position no longer existed and was asked to immediately clear out my desk, turn in my keys and badge, and given an explanation of the exit process.
My termination form said was I let go because my position was eliminated. My rehire recommendation was checked "yes."
Some severance pay was offered, which I rejected based on the amount and conditions attached to it.
Due to the confidentiality agreement, I will not get into further details. However, I wish to state publicly that I am no longer with the company and am open for business again as a game designer and consultant.
Comments
May 20 Eclipse
On May 20, 2012, there was an annular solar eclipse that stretched from Asia to the western United States. For those unfamiliar with eclipse terminology, the moon follows an elliptical orbit around the earth. When the sun, moon, and earth are in alignment it will cause an eclipse. When the moon is relatively far from the earth, it doesn't completely cover the sun, causing what looks like a ring of fire, and is known as an annular eclipse. By contrast, when the moon is closer, it does completely cover the sun, resulting in the much-better total eclipse.
I saw a total eclipse in China on July 22, 2009 and wrote all about it in my Wizard of Odds
blog
. Although annular eclipses don't compare total eclipses, I have never seen an annular eclipse before, and I had to drive only about two hours to Utah to do so, so I figured I would make a short trip out of it with my son.
We left the day before in the afternoon and visited Valley of Fire state park on our way to Utah. This is only my second time there. My son went there on a field trip and has been asking to return ever since. First we did the petroglyph (note to Bill Gates: Add this word to your spell-checker)/mouse's tank trail. This is the actually the same trail, and the park map and signage do not make this clear. This is a short and easy trail with more petroglyphs than I've ever seen in one place, by far. Here are just a few pictures I took of them.
At the end of the trail is a small natural hole in the rock where water tends to fill in wetter months. On this hot May day it was dry. Maybe they call it mouse's tank because when mice try to drink from it they can't get out and drown in it. I recall when I was a camping trip as a kid my mother left a bucket of water out and in the morning a dead mouse was floating in it.
The Petroglyph trail was too short and easy so we added on the White Dome trail. This was a nice but short hike through some of the oddly shaped sandstone features that the Valley of Fire is famous for. We still felt unsatisfied after that, so we decided to climb this short but sweet little peak by the White Dome parking lot. We called it "mini red cap," named after a similar climb at Red Rock, which I write about in my article on
Red Cap
.
The climbing on of this was surprisingly challenging in spots. Places that made me feel a little uncomfortable my son climbed up, down, or across as he were a mountain goat. Here are some pictures.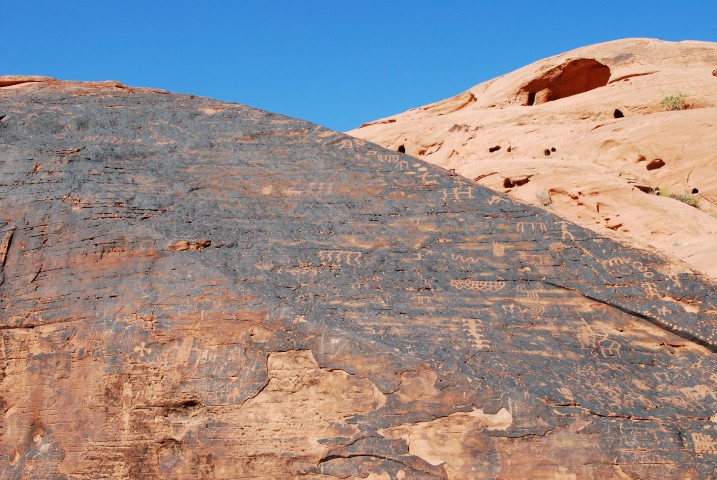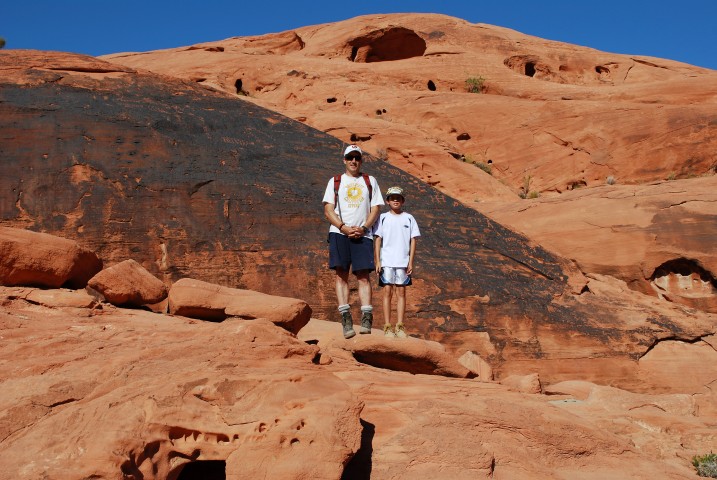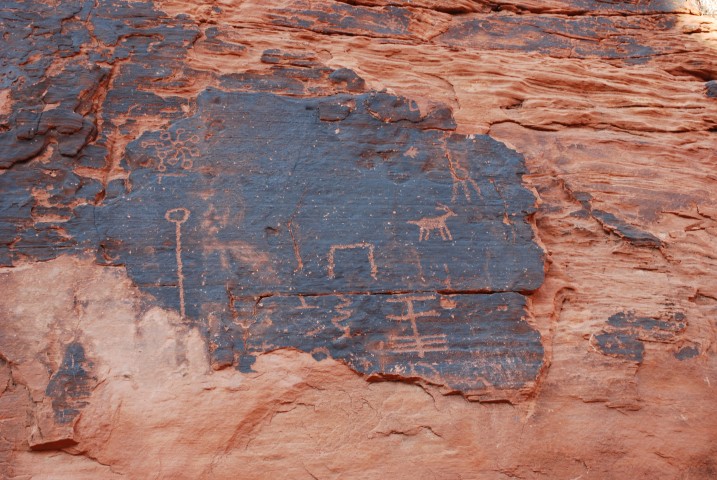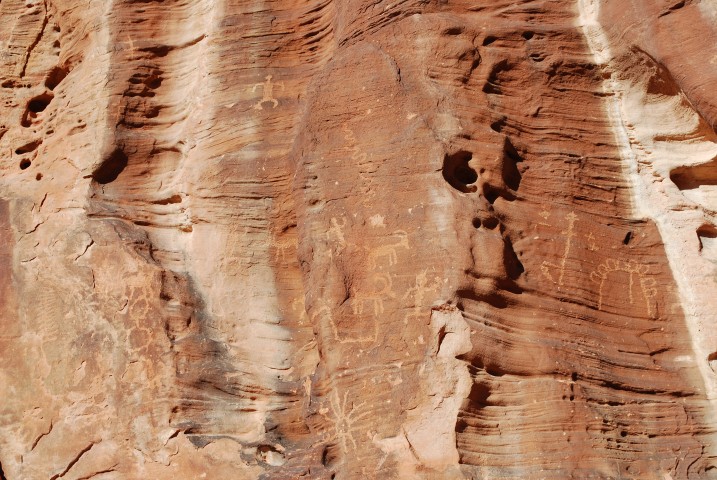 After that I felt a got a workout just from just the fear factor and was ready to hit the road. We ate at the Casablanca buffet in Mesquite, which was not bad. It was seafood night and we both enjoyed the crab legs. Then it was to our hotel in Saint George. I would have preferred Springdale, or even Hurricane, but both places were booked solid. I tend to think I may have been lucky to even get a room in Saint George, as the front desk clerk said he was getting a lot of eclipse business.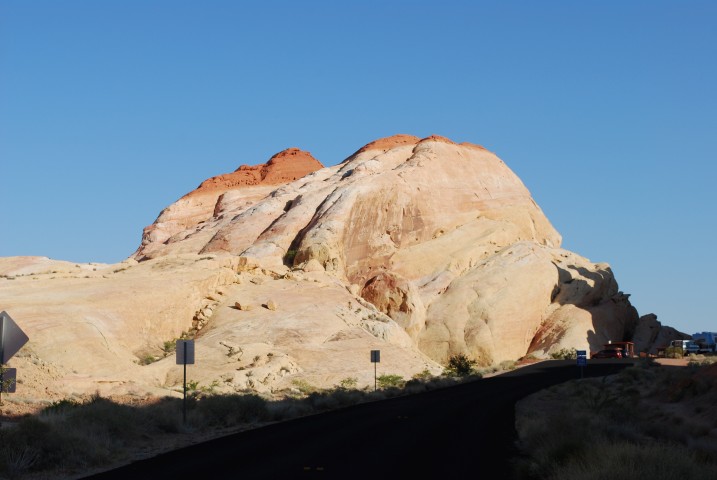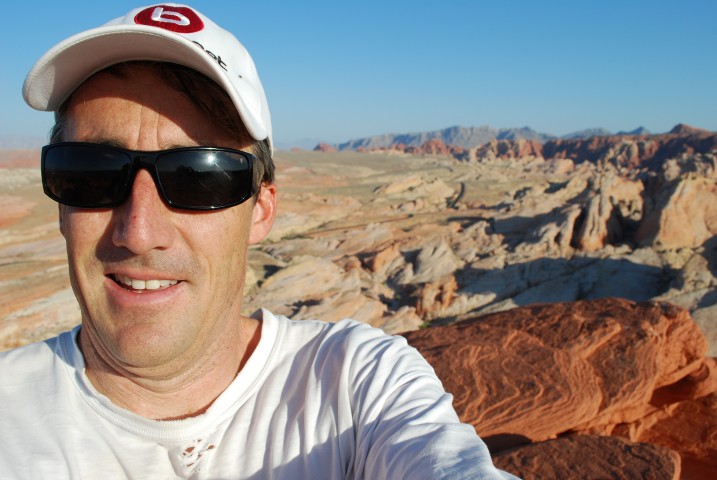 The next day we got up early to climb
Observation Point
in Zion National Park. This area gets HOT this time of year, so I wanted to climb in as much comfort as possible. This is an 8-mile round trip hike, from the canyon floor to the rim. We've done most of the other hikes there before, and I wanted to do something fairly hard, because we need to train for Mount Whitney in July.
Observation Point is a great climb. Not as famous or rewarding as Angel's Landing, but still very worth doing. If you still have energy, add on Hidden Canyon as a side trip. Here is a picture from the top.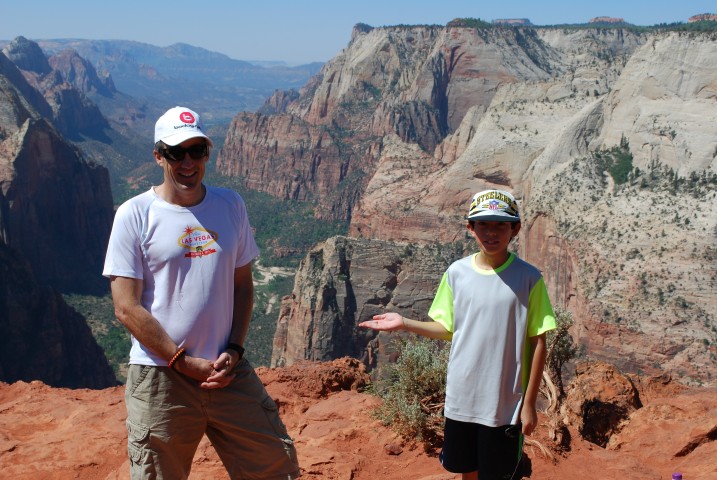 We finished with Observation Point about 12:30 and still had about five hours to kill before the eclipse started. So we hung out by the river for a while and poked around Springdale. I highly recommend the Bumbleberry milkshakes, which are made with real pie. They are available in a gift ship by the Bubbleberry Inn, adjacent to Wildcat Willies.
So, I'm finally ready to talk about the eclipse. Sorry it took so long. I overheard a lot of people were going to watch the eclipse from Zion or Bryce National Parks. However, my son had school the next day, so we watched it from Saint George, to hit the road immediately afterward.
You would think for all my enthusiasm for eclipses I would have a telescope with all the necessary eclipse accoutrements to watch it. Nope. I just had two pieces of glass that are used in a welder's mask. One is not enough and you can't see anything with three. These are easily available in a large hardware store, but don't wait until the last minute. I wanted to buy more a few days before the eclipse and the local home depot was sold out. The ones I did have I purchased about two months before, in preparation.
I knew from a previous visit there is a very nice park next to the Saint George Tabernacle. This park doesn't seem to have a name, and isn't on the maps, which is strange for such a nice park. It has lots of water features for kids to play in and art sculptures.
My son and I found a spot by an open field with some good trees. Trees are important because as the sun shines through them during an eclipse you can see an outlines of the sun in the places the sunlight pokes through in the shadow. If there are no trees available, you can create the same effect by making a waffle pattern with your fingers.
As my son and I passed the glass back and forth we got the attention of a group of about a dozen people. They were curious about what we were doing so I explained it and let them borrow the glass. They were all very grateful and amazed. The effect of the light through trees was also of much interest on nearby steps.
I tried unsuccessfully to take a picture. This is what I saw through my normal camera with one piece of welders' glass. So, when the eclipse reached its pinnacle, where it appeared like a ring of fire, the entire park was noticeably not as hot and bright. I was quite the temporary celebrity for having the glass as everyone took a few seconds with it and passed it on. During this time you could see rings of sunlight on the steps.
After a couple minutes the ring of fire turned back to a crescent, and the show was pretty much over. So, now I can say I've seen both a total eclipse and an annular eclipse. Of course, I've seen lots of partial ones as well.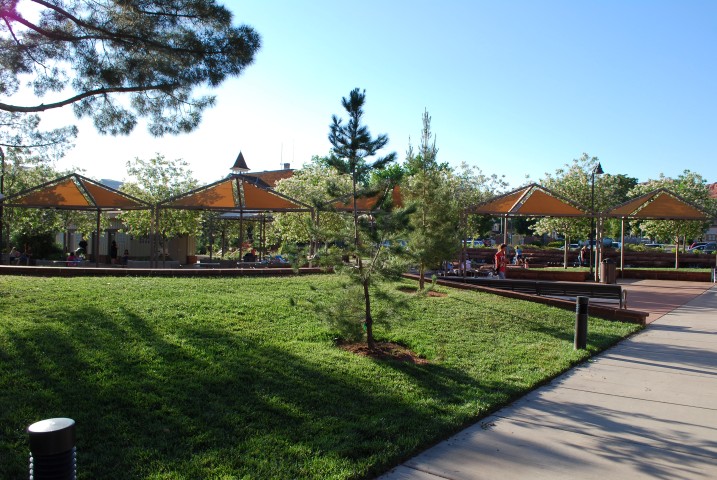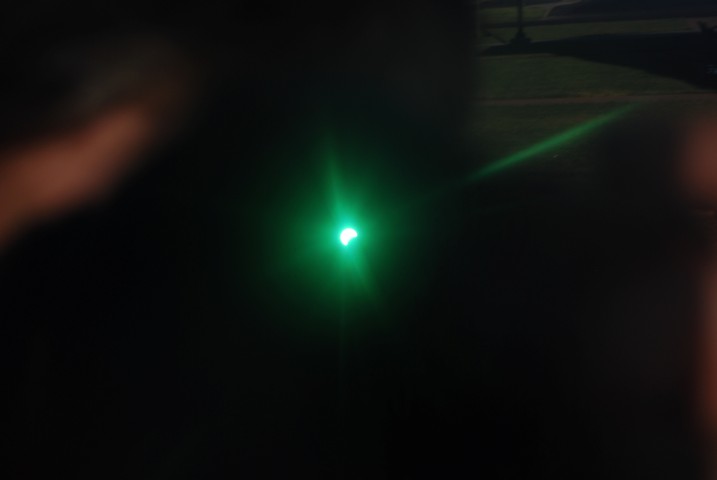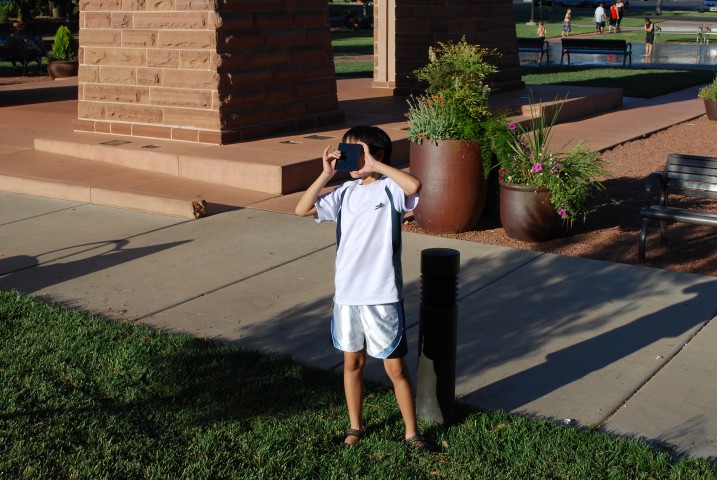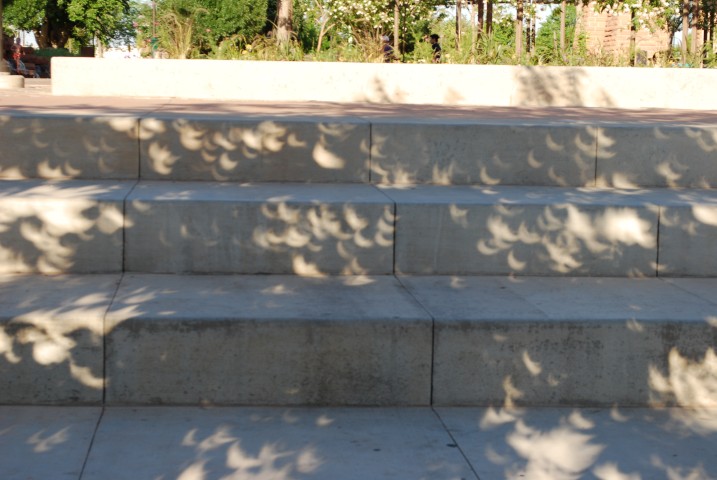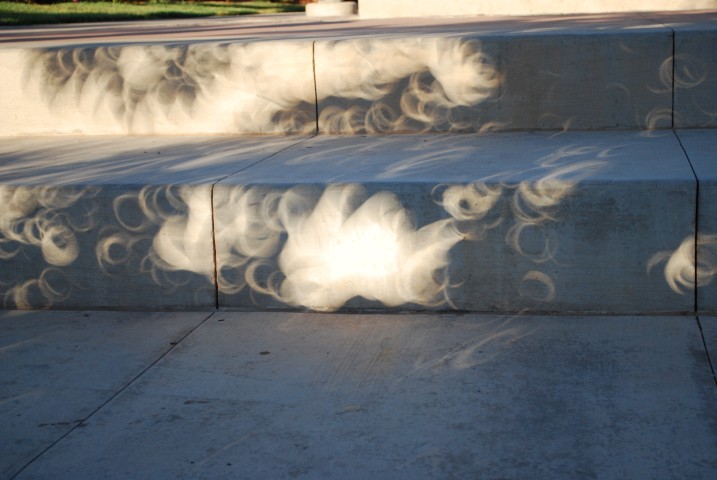 After doing the amateur thing for the last two, I'm ready to take it to the next step for the total eclipse of
August' rel='nofollow' target='_blank'>http://en.wikipedia.org/wiki/Solar_eclipse_of_August_21,_2017]August
21, 2017, which will cut from Oregon to South Carolina. I'm already after my father to sell me his telescope, which he used to watch the eclipse "partial style" from southern California.
Comments
Heart Attack Follow Up
Here is a message from my father, directed towards the forum members following his heart attack story, including me.

--------------

Please tell your blog followers how much I appreciate and am inspired by their wishes for my recovery, and their anecdotes. I enjoyed them all. My recovery seems to be going well so far. I am pain free and able to do mild exercise again. Two doctors will give me an exam and appraisal late next week. I do take exception to your statement that I am "100 pounds overweight" but will confess to eighty. I have removed six of them and avoided all alcohol for eight days and counting. There is a stronger incentive to mend my ways now. I want to hang around a while and enjoy the grandchildren and my new iPad. :-)
Comments
What it's like to have a heart attack, ride an ambulance and live to tell about it.
The following is my father's heart attack story. You may wish to read this before eating at the
Heart Attack Grill
.
-----------------------
At about 4 AM on March 14, 2012, I awoke with a feeling of heavy pressure on my left side, and numbness extending from my waist to my cheek and along my arm on that side. My wife Christa, a former RN, recognized possible heart attack symptoms and persuaded me to call let her call 911. After about ten minutes, with the pain not going away and feeling rather faint, I said OK and she made the call. They arrived in ten minutes, and in ten more minutes (or less) I was whisked away.
I decided to avoid the nearest hospital with emergency capability (Los Alamitos), and having to deal with later transfer and paperwork, and asked instead to be taken to the nearest hospital of my HMO provider, Kaiser Permanente, about 12 miles away in Downey. During the ambulance ride to that hospital, they contacted the hospital by radio, followed instructions, gave me aspirin to chew, nitroglycerine drops on the tongue to relieve pain, EKG tests, blood oxygen level measurement and a blood test for troponin. At the two different hospitals, I had what seemed like twenty tubes and wires connected to me to monitor vital signs, as well as to drip in IV fluids like saline, sedative and "Integrilin", a blood thinner. There were frequent blood withdrawals for troponin. Troponin is produced by the body when heart attack damage is being repaired. The level peaks a day or more after the attack and somehow tells how much heart damage occurred. There was apparently a lot of damage in my case, but I have not seen the numbers.
After about 28 hours at Kaiser/Downey hospital for observation, and being given the bad news and a stern temperance lecture by cardiologists, I was transferred to another new, large, Kaiser hospital in Hollywood for the actual operation and recovery. I spend a total of only two nights in hospitals.
Automated testing included blood pressure, O2 level in the blood, blood sugar and EKG. It seemed I was being poked several times an hour, day and night for additional blood tests. Those levels seemed rather nominal. There was a tangled mess of wires and tubes hanging from a "tree" on wheels that had to be unplugged, and taken from the bed to the bathroom when going to the toilet. Half the time, I was not allowed to go there and I had to pee in a weird shaped jar while lying horizontal. Sometimes I needed assistance for that, and that was not fun at all. There were many interruptions to take pills.
The actual angiogram and stent installation was the easy part, except for the last six hours after I was unhooked from the monitors and IV. The operation took just one hour, performed by two surgeons and an assistant, during which time I was fully conscious.
The worst part was having to lie almost motionless on an uncomfortable horizontal bed, without a pillow, in a chilly room during a pre-op and post-op period that lasted about ten hours. Blankets were provided on demand (preheated!), but there was a shortage of them. They said it was important that there be no body motion while the thinned blood resealed the femoral artery, where the catheter and the stent were inserted. A pressure pad with belt wrapped about the hips sealed the wound, after a skilled female technician withdrew the catheter and applied manual pressure to the groin area. I referred to this period and "being water boarded without the water". She was not amused. When I was finally allowed to eat, after 24 hours of fasting, I still had to remain horizontal for the first "meal" (apple juice through a straw and a small turkey sandwich). It tasted good.
Following discharge, I now have to take about ten kinds of pills per day (previously about six) , including Plavix,which (without medical insurance coverage) would cost $7 per pill. Fortunately, my retiree-benefit Medicare-plus insurance covers the lion's share of that, and all hospital charges. The Plavix is supposed to keep the stented artery area clear, and will have to be taken for six months. I will also need to take a larger daily dose of Lipitor and aspirin daily.
After the operation, for six hours, they would not let me use a pillow until after midnight. I could not sleep without a sleeping pill, so one was brought in a matter of minutes. Then, after midnight, I had a half-awake panic attack and tore off my wires and tubes to escape the bed. The on-duty male nurse thought I had gone crazy, and started asking me from a list of sanity/senility questions. He seemed to take it in stride however, made the bed, and hooked me up again, and let me sleep in a more comfortable position. I slept well after that.
The whole process was not fun, but the people were very courteous, professional and my life was probably saved and extended as a result. When I needed nurse assistance, which was often, I never had to wait more than one minute. I am indebted to both Kaiser and the 911 ambulance crew for the excellent care I was given. (This was my first time in an ambulance.) My wonderful wife Christa comforted me, dialed 911 and visited me often during this ordeal, fighting horrible LA County traffic. William Jr. also took time off work to visit.
I expect to get much more serious about weight reduction and limiting alcohol consumption to less than 1/3 the previous level. I now have a strong incentive to do so. Perhaps the attack was a "blessing in disguise". After about two weeks there will be followup visits to a cardiologist who was part of the Kaiser team, and to my "regular" Kaiser personal physician.
Comments