My Gambling Problem Raises its Ugly Head Again
My old gambling problem is bugging me again: I just don't gamble enough.
That statement of course is my little joke, but actually I take this quite seriously. I suspect many of you are bored by this seriousness [in which case skip this paragraph]; or at least wondering if I have enough bankroll to be a player. When I view that last consideration, I keep thinking to myself that the bankroll I am comfortable with is completely in line with the type of action I seek. So what's the problem? Well, Lately the problem has been exacerbated by being on a losing streak. I am determined not to play to chase losses, rightly one assumes. On the other hand, a player wants to play. Somebody at this site recently quipped "you can't win, but you also can't quit" and I think that is about the size of it. But really my bankroll, till now kind of vague, is fairly intact. What's been giving me pause has been that actual losses can be 30 to 40 times theoretical in a session, and I can't seem to find what to expect in the long run. If it is plausible to lose like that in the long run, then such a rate could ruin a pretty hefty bankroll in short order. Note I do not use the word "possible" as of course, the answer has to be that it is possible; but how about plausible? Although not unbroken, the bad streak started about 18 months ago and I am currently at about 14 times theoretical EV for that period, which is been bad enough. If I adjust EV with the freeplay I got recently, though, it starts to look astronomical. So I guess I just won't figure freeplay in; but 14 times theoretical losses still sucks and is bankroll threatening. I've laid off playing lately. Did I really needed to?
I have become a player that nearly entirely plays Craps only. I wondered if Wincraps could help with the question. I figure I have seen the equivalence of about 1500 rolls of the dice per year lately. Not much! but hey I don't live in Vegas! I figured 25,000 rolls would be at least a serious chunk of a lifetime of Craps for me, even if I pick up the pace, so I ran Wincraps for this 25k rolls, $10 table, 3x4x5x taking full odds, and repeated this 100 times; I like to consider these 100 different players.
The below shows the results. The number for each file is the final status of the player's losses compared to his theoretical final losses, shown as the multiple of this EV, for example the last on the list lost 9.5 times theoretical loss. The first bunch did the best, bearing in mind that a negative times a negative is positive. Although this is nearly half, the idea that I could wind up there I just have to dismiss; for one thing, for current purposes I am carrying that '14 times EV' with me. Checking a few of these, quite a few that wound up just fine at some point were as much as 40 times EV for their early-on losses btw. I'd say about 10% of these players wound up in a zone I would just as soon avoid, the rest I could live with.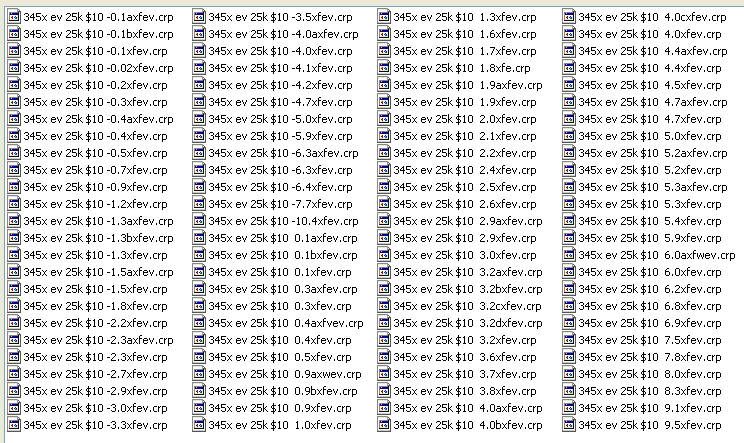 Contemplating all this has made me focus on bankroll instead of my old method, which was to look at actual losses compared to an arbitrary amount I had decided I was comfortable losing in a year. By chance this was similar to 0.1% of readily cashable assets and I started using that as a hard figure for "losses not to exceed". I still have an idea of what I like to see in terms of losses per year, but this is a sea-change for me.
I am switching to a bankroll method instead of a "losses put on the brakes" method.
It just seems now, experimenting, that the fact of the matter is, I havent seen enough rolls of the dice to even know what my play might do to that bankroll. I am going to roll the bones till I have a more sizable portion of 25,000 rolls experienced.
So what bankroll? I guess I am comfortable discussing the amount. At 18 months ago a $10,000 bankroll was fairly much what was in my thoughts it seems. You have to say you would be OK with losing it, it is not just a matter of raising it. The answer to that for me is yes, however, not in a short period of time like 20+ times EV might do.
We will see what happens to that bankroll with the losing streak already taking a small piece of it. I figure a player should grow the bankroll 4% per year on the 10k, to keep the roll from vanishing by definition eventually, doing negative expectation. Note that the worst outcomes are short of 10 times EV, so I am concluding that 20 or more times EV after 25,000 rolls is in the realm of the most unlucky. This as it is represents 2.5 million rolls of the dice! Maybe if I looked at 1000 players some poor guy would hit 20 times EV, but I have to gamble that it won't be me, surely the odds are pretty good for that.
Final matter: my old method was keeping me out of trouble with excessive gambling losses. I just don't want to be that guy who has that problem. So a fair question for me is, am I deluding myself with faulty rationalization so I can get my fix like some dope fiend? One reason I think I can say no to that is because no one else seems to talk much about the utility of some arbitrary loss per year; a bankroll is always what is discussed. However, any comments are welcome, thanks in advance.
Comments
5 Players Risk $1M, Then Go Back in Time Machine
Right bettors, and
roughly
$1 Million, that is. Each player risked a total amount of money, as if making bets from a bankroll, but not returning any winnings to that bankroll. The players would go with max odds at a $10 table, 10X odds, and go with 44,000 rolls of the dice, plus enough rolls to finish an unresolved bet. With Wincraps the same player then was able to use the same RGN and go 350,000 rolls with no odds! In this case, of course, only the first 44,000 rolls were the same, but I wanted to look at that too. Bear in mind there is a variation in the dollars actually bet, the consistency is in the number of rolls.
See the thread post,
http://wizardofvegas.com/forum/questions-and-answers/gambling/11680-hourly-expected-loss-for-craps/4/#post190954
Clearly we have too few trials, so there is going to be sampling error. But I think this has probative value. It is not surprising that in each case, the free odds meant a better HE in actuality, not just in theory. With 44,000 rolls I'd say that would be a trend only and not a guarantee.
In one case, the Max bettor had positive results after 44,000 rolls. I checked it out and after 350,000 rolls he is up $6010. Want some bad news? At one point he was down $6020. Survivable but would he be so bummed at that point that he would give up? Quite possible.
Note the parameter that only $1 million, roughly, is risked. Thus it still cannot be said that free odds benefit, unless there is such a parameter. This is just not the same as spending the same amount of time at the table as a player would anyway, but adding the free odds to the bets. That is a matter of increasing the amount you are betting.
In regards to "calling out the Wiz" I would have to say none of this would surprise Michael. And it is not a test that tries to show that a betting system does help win or lose; he didn't make it clear he wasn't addressing the expectation by dollar amount?
This does illustrate that a player should not expect the EV by dollars to be consistent with free odds; also, it indicates that variance is a monumental factor with free odds.


Player
Win/Loss with max odds
Win/Loss with no odds
% with max odds
% with no odds
#1

-$6530

-$17,020

-0.66%
-1.65%


#2
+$16,350

-$12,290

+

1.66%
-1.18%


#3

-$12,500

-$14280

-1.24%
-1.37%


#4

-$5040

-$18,040

-0.50%
-1.74%


#5

-$6970

-$17,920

-0.70%
-1.74%



Comments
I wish I could be player #2. I'm more like players 1,4, and 5.
I'm not sure if I've ever been down 6 grand, but I have been in a 5 grand hole and climbed out of it. I was bummed but I didn't give up! Clearly the best way to make up losses is to continue playing a -EV game.
Another Gracie Allen Moment?
Buzzpaff recently related such a moment by his wife, but she is not the only one.
Maybe I should have titled this "a glimpse into the modern young mind" , I wonder if it isn't fair to say it is just the ditzy female mind that gets silly when it comes to cell phones and I-phones and social networks.
My wife and I both recently have been reading various articles about how the up and coming generation is so into their I-phones and such, that they spend so much money on it that [the articles have it] this must be cutting into their disposable income to the degree that it is a choice to do that at the expense of something else. One article said that the housing industry and the car industry both are seeing huge changes with the younger bunch, the latter trending away from fancy cars and houses [but don't think of taking away constant access to the internet!]
Anyway, while we were discussing this, I mentioned that on my irritatingly high but comparatively inexpensive cell phone plan that goes along with buying a phone [for years I was issued a phone by my employer, a thing of the past it seems]. I am shocked to the core when I hear what the typical person is paying.
Anyway, I mention to my wife that I could be paying even another $10 to get unlimited texting. That I go long periods without texting, and that an enormous amount for me would be 20 texts per month, at 20 cents a text. My wife, a pretty sharp girl really, has a Gracie Allen moment and instantly suggested I pay the $10 and get unlimited! It really is her instinct to go for the hokie-doke on these things. I call this interchange a glimpse into the female mind when I talk to other guys.
I just changed my cell phone plan, which took away an hour of my life on the phone I can never get back. But I own the phone now and can pick my plan. Verizon didn't make it easy to change, and I hate using the phone to set stuff like this up [required!] But they actually have some pay-per-use plans that are really about as cheap as anyone's, and they probably have the best service. I signed up for paying for
each
minute and
each
text!
I predict this will cut my cost to 1/3 of what it was for 10 out of 12 months; a few months might be 2/3 instead. This for the simple reason I don't use the phone that much. I might go a week without using it at all! I told my wife I signed up for a cheaper plan without giving her the details, she probably would shake her head to think I have no set number of free minutes or "unlimited" anything. One Gracie Allen moment was enough! [g]
Comments

Track Phone for me. All I want all I need.

I am always amazed at women who rush in to buy a pair of shoes because the second pair is half off. But turn their nose in the air

at a mere 3)5 off on one pair.

Plus where is the second one in a pair of panties ?

LOL, I'm an IT director...and people look at me crazy because I don't own a SmartPhone (I have a phone from StraightTalk for Talk and Txt a little)

When I need computer access I have my Acer Netbook...
M-Live Sept. 12
Without much warning, I got a nice offer for free play withing a very narrow window of time, on one day too. I had thought I'd have no problem showing up at the right time [luckily]. Later events have shown that I was showing up for something big, to my surprise. The email said it was to be a "sneak peek", so although I realized it might be busier than usual, turns out it was nightmare overcrowded. Word has it a lot of people were miffed, not getting in, or giving up trying. I almost turned around myself, but the incentive was pretty good and by the time I realized the problem, I could see I was only going to be a little late, within what was likely to be a normal grace period. I parked in a lot nearby and walked a quarter mile, assuming the garage was going to be hellish.

Inside, packed, but I usually deal with that OK. It's the bumper to bumper traffic situation I can't stand. Nonetheless, long lines everywhere, and hard to find a machine I wanted. Finally someone gets up from a seat that has e-craps. I sit down, see it is $10 min. Perhaps that was everywhere, and no way can I be picky. I decided to make a few bets and get out of there, knowing there would be long lines at the cashier. Bear in mind too, as far as I knew, information hard to come by, things were only going to get worse, and I wanted to get the hell out before rush hour.

I wanted to do the buffet again [see previous post], but with the line and my anxiety, forget it!

After thinking about it for a while, I have decided that what was going on was purely a situation where Cordish, the big tuna here, was going to speak, and his handlers have learned in order to schmooze him, there must be a big crowd. So they send out this generous free play offer to thousands of people all to come in this narrow little window of time! They really ought to be ashamed of themselves, such BS is un-neighborly and even unsafe due to the traffic mess. Truth be told, if all they did was have some big drawings, that probably would have brought plenty of people in. This was unnecessary and apparently caused more hard feelings than it was worth. Are they going to make it up to their patrons who got pissed?

But the money was there, and I did take it.
Comments
M-Live Buffet
I returned to M-Live the last week of August to find only the weekly offer of $5 on the account. Going by fortunately wasn't that inconvenient for me. I staked the $5 on the banker in Baccarat and watched it go bye-bye in one hand. I had told myself I wasn't going to stake more unless more was on the card, not really wanting to get sucked into a routine of going to this place unless it continued to pay to do so, at least theoretically. And I played no more, wanting to check out the buffet for some time, and this was my chance.

IMO the buffet was outstanding. Judging by a dearth of positive reviews I could find, It has to be true that another person would not have been impressed, and it is certainly true that there were some things you could pick at, mostly relating to spotty service. And none of it was too good to be true. For example even though New York Strip was served, it was in such a manner it might as well have been a cheaper cut; it was not steaks laid out but thin cuts lying in a sauce. Perhaps one's taste in buffets can be like taste in pizza, where what one person likes is completely contrary to what another does. But I thought it was the best buffet for the price that I had been to in a long, long time.

The $18 cost was reduced to $16 with player's card, not bad, not spectacular. But once with plate in hand, the Diner finds he has a choice of Seafood, Southern food [the section perhaps un-named], BBQ, Italian, and Asian. The Seafood section had shrimp and various fish, including portions of Mahi Mahi that would be a $25 entree at many restaurants, and more [my notes fail me now as to what].

A carving station had roast pork, and there was also an omelette station. Service was spotty, though, at either place. You find yourself waiting for someone to show up. I was too impatient for that, lots of goodies beckoned.

The Southern section [whatever it was called] had Collard greens cooked absolutely as authentic as you would want, with homestyle mac and cheese and chicken. I loaded up here first, loving that stuff.

The BBQ section had NY Strip, as mentioned, a good cut no matter how served, and also BBQ brisket and BBQ chicken.

The Italian section, un-named I think, was a little spotty, it probably varies. No pasta, which was odd, but surely they usually have it. Outstanding meatballs though.

Something big with me is to have a lot of good interesting vegetable dishes. I can really almost get desperate when traveling to try to keep to a balanced diet, and a buffet with lots of vegetables is a goldmine, allowing me to "catch up" [I really can nearly get ill if a bad diet follows me all vacation]. So even though it wasn't my problem this time, they had it, and I was glad to see it. The salad bar had spinach and 'spring mix', and also chick peas and kidney beans, the latter two items a real life saver sometimes when traveling. They had the classic mistake of not using dark red variety for the kidney beans; like I say, there are some things to pick at.

As for dessert, certainly there is a section for that, but believe it or not I have little interest in that at a buffet, I get too stuffed on what I really want, and I just don't check it out. But they have soft-serve Yogurt, and I had some of that. It was like soft-serve ice cream, and I wondered if that's what it was without a sign saying so. But my wife says the soft serve yogurt is like ice cream, so probably I just couldnt tell the difference.

I am sure there are some Casino buffets that are better, I'm not the expert, but at what price? This one does blow Harrington's [DE] buffet away, that much I can say.
Comments

Thanks for the buffet review. I've been to MD Live several times, but have yet to try the buffet, due to the high number of bad reviews I've heard. Have you tried their snow crab night (Fri-Sat). I'm curious of the quality of snow crab before ponying up the high price they are asking for that buffet.