Introduction
I stayed at the Silverton on 8/12-8/13, 2011. What follows is my review:
Introduction/History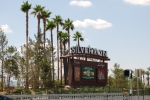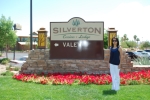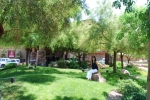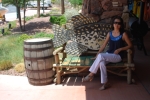 The Silverton is a full-service resort casino located in Las Vegas just south of the Strip off the I-15 freeway. Coming from California, it is the third casino you hit after the M Resort and the South Point. The Silverton originally opened as the Boomtown hotel, a Western-themed resort. It closed, and the new owners reopened it as the Silverton, a kind of Western, National Parks-themed lodge.
When it first opened, the Silverton tried very hard to attract customers and was very competitive with comps, promotions, and perks. They seem to have fallen off a bit lately, but they still offer a great value compared to the Strip. The South Strip gaming area is a crowded market with the M Resort now the clear leader, and the South Point, Silverton, and to a lesser extent Green Valley Ranch trying to catch up to it.
Location/Transportation
The Silverton is located off the I-15 at the Blue Diamond Road exit. Nevada DOT is making improvements to the I-15 and the interchange is now very easy to get on and off of. Watch out for construction delays, however. To reach the property, you have to turn onto Dean Martin Drive, and then again on the hotel grounds. There is a large parking garage on the west side of the property. The garage never seems to be very crowded and you can usually find a space very close to the door. There is also a large amount of surface parking, and of course a free valet.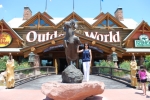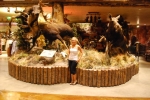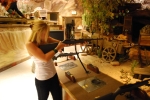 One notable feature of the Silverton is that is it connected to a Bass Pro Shops Outdoor World. Bass Pro Shops is a very large camping, fishing, and hunting supply store. It is known for having a lot of "interactive" features like rock climbing walls, animal exhibits, and shooting ranges. There is a very fun shooting gallery inside the store. There is also an amazing aquarium right where the store connects with the casino. I am no connoisseur of aquariums, but this has to be one of the best ones around, with manta and devil rays, small sharks, and a panoply of tropical fish. There is also a live mermaid who scuba dives into the tank occasionally.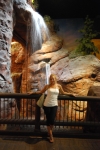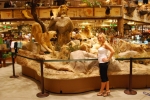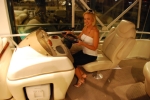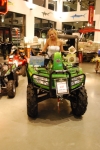 The Silverton offers a shuttle service to the strip a couple times a day. It stops at the Fashion Show Mall near Caesars. It also stops at the outlet mall south of the Strip. Sorry, I didn't note the times, but they were infrequent. They do not offer transportation to the airport.
Hotel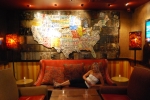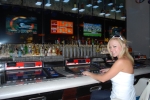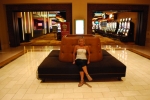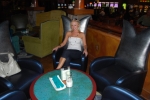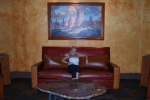 The hotel the Silverton is basic. I would compare it to a Hampton Inn in quality. The bathrooms are small, which is kind of disappointing, since most newer hotel rooms have huge bathrooms. The woodsy theme is also not well-realized. There are a couple pictures of bears and whatnot, but compared to Disney's Fort Wilderness hotel and the Grand Canyon Park lodges, this doesn't come close. It's a basic 400-room hotel laid out around a central pool area. The pool area is nice, with cabanas for rent, and drink girls who will serve you by the pool (for tips, of course). The overwhelming color scheme of the property is browns of various shades, which extends to the uniform for the cocktail waitresses (actually kind of flattering: a tight skirt plus a blouse).
The Silverton has some very nice design elements for an off-strip property, and I have to give their creative/marketing department props for doing a lot with what is probably a very small budget compared to Strip hotels. The "Flare" bar is especially nice, as is the pool, and some of their restaurants are very imaginatively decorated.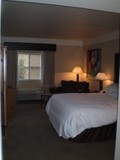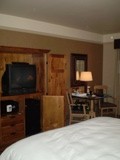 My hotel room bill was $160.00 for four nights, Friday through Tuesday. I only used one of the nights because I had to leave early, but because I booked in advance through Expedia, I could not get a refund. They had a promotion in August where they did not charge a resort fee. (Thanks, I guess. That's kind of like the Spanish Inquisition saying we won't torture you today.) Normally, the resort fee is $7.50 per night and includes in-room safe, local and toll-free calls, shuttles to the Strip and shopping and fitness center access. Sorry, I didn't check out the fitness center. The rooms had a minibar with the usual items and prices. The TV was a medium-sized tube with about 15 channels. None of the rooms had particularly good views, unless you overlooked the pool.
Restaurants/Dining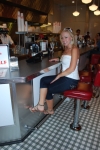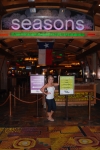 The Silverton has what I like to call the "usual suspects" of casino restaurants. They include:
There is also a food court area with a Johnny Rocket's hamburger stand, a Villa Pizza outlet, and a Starbucks. In addition, the Mermaid Lounge and the Shady Grove lounge will serve small bites and appetizers like nachos and mozzarella sticks. However, I hardly saw anyone inside these bars let alone eating food there. The Shady Grove lounge has a cool mini bowling alley inside of Airstream trailer. I never saw anybody playing the game, nor could I figure out how to work the machine, but it looked like fun.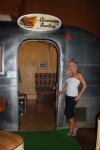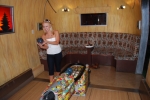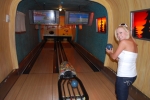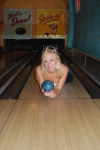 I tried all the restaurants except Sundance Grill at least once. Here are the nutshell reviews: Steakhouse, mediocre; Mexican, good; Buffet, good. The prices are all reasonable at all outlets, with nothing over $20 at the Mexican restaurant. I've eaten at Mi Casa twice with a friend on casino comps and we always leave satisfied. He especially likes their Honey Chipotle BBQ wings (never seen those in Mexico). I think they do a very good hot salsa. They also mix a mean margarita.
I ate at the steakhouse once and just about nothing was done well. I refuse to give them a second chance since my experience was so bad the first time. They have a limited tapas menu in the bar of the steakhouse that I've heard good things about and must make a note to try sometime. There is a happy hour from 4-7 p.m. where drinks and tapas are 50% off.
The buffet is good, about average for Las Vegas. The room is very nice with a column that lights up with a wall of fire. The food is diverse with some creative dishes. You can probably find some hot food you like to eat, and if not, there is a nice salad bar. I like their stuffed peppers. Some of the dishes are kind of silly (Franks 'n' Beans?), but the Silverton buffet is by and large good eatin'. Good desserts, too.
I never ate at the food court, except for a Pepsi at Johnny Rockets. (Charged me $4.25. Really?!). One thing to make note of is that you can not use your comps at Johnny Rockets, Villa Pizza or Starbucks, because they are independent franchisees and not casino-owned. The Silverton does advertise that it serves Starbucks coffee to players. It doesn't come from the Starbucks outlet, however — they just brew Starbucks ground coffee at the bars and waitress stations. And no, you can't order a latte — I tried.
When I stayed at the Silverton, they were advertising "top-shelf" drinks for all players, and also the biggest drinks on the South Strip. I'm not a big drinker, but I would assume this means you could get Patron and Grand Marnier and such in your drinks. Worth a try if you are a fan of high-priced booze, and the cocktail service is extremely frequent. (It seemed like I heard "cocktails" every five seconds).
Casino/Players Club
The Silverton tries hard to fulfill all your gambling needs. They have a sportbook, a poker room, a large table games pit, and probably the best selection of slots in Las Vegas. They always seem to have the most up-to-date slots mix around. I remember a while back they were the only casino with the new "Jeopardy!" slots. (Unfortunately, these didn't go over to well and were replaced with "Godfather" slots). This was also the first casino I saw with games like Mr. Woo and other oddballs. If you like to try out new slots, the Silverton should be your choice.
The Silverton used to be one of the best casinos in town for video poker, with 9/6 Jacks or Better at the bars, and some good multi-line machines. Unfortunately, they have now downgraded their offerings so that they are one of the worst off-strip. The best game is 8/5 Bonus Poker at nickels and above with a return of 99.17% with perfect play. You can only find this game on two Hundred-Play machines in the high limit area. I checked out some of the other video poker paytables and they are mostly abysmal. I would only recommend playing these two machines if you must play video poker at the Silverton.
The slot club at Silverton is good, with a rebate of 0.30% for slot and video poker play. This is one of the most generous cash back rates in town. You cannot cash in your points for cash; however, you can download them for freeplay. So it's not a true "rebate," but it's close. At the same time you are earning points, you also accrue comp dollars in a separate account. As noted above, these comps can be used in any Silverton-owned food outlet, for rooms, and for concerts at the Veil Pavilion. (They have some very good concerts with name acts like The Avett Brothers).
Table games are a good mix with about six or seven blackjack tables, two roulette tables, two craps tables, an Ultimate Texas Hold 'Em game, and a few rotating carnival games. There is a secondary blackjack pit that they will open at peak times. The blackjack rules are two or six decks, dealer hits soft 17. There is also a single-deck game that pays 3-2 on a blackjack, no double after split, dealer hits soft 17, and double on 10 or 11 only. Minimums range from $5-$25. There is a high limit salon that is almost never open so I never got to check the rules there. The one time I did see it open there was not one player there. Craps is $5 with 10x odds.
The poker room is nice with comfortable chairs and flat screen TV's on the walls. There is very little action, but they do run a tournament on Friday, Saturday and Sunday nights. The room itself does not open until 5 on weekdays and 2 on weekends. According to my friend Mike (I don't play poker), the rakeback and the comp rate is better than most Las Vegas poker rooms.
There is a live Keno lounge (sorry, I didn't check the payouts), and a small Leroy's sports "desk." There is no place to watch games, but they will put the game on in the Shady Grove lounge for you if you request it.
The table games at Silverton are overstaffed. There always seem to be more spaces open than there are players to fill them. They usually have two craps tables open at full out. You can often have a table to yourself. The players who play at Silverton are not serious players. They are mostly duffers or tourists checking out the Bass Pro Shops. Oftentimes they will bust out their bankroll quickly if they hit a bad streak. The dealers look like they want to kill themselves. There are a few friendly ones, but you mostly get perfunctory service. A tip or bet for the dealer merits a muted "thank you." I've played every table game at the Silverton and can't say I've had fun once, regardless of whether I was winning or losing. This is a definite area for improvement in the casino, although I not sure what they could do to redress the issue.
One of the nice perks at the Silverton is that table game players earn slot points (and a lot of them, at that). This is addition to the comp dollars that you earn from your play. So at the end of a table games session, you will often find a bunch of points for freeplay on your card, plus the comp dollars. This is certainly a better system than the Caesars casinos where you earn about 27 cents for hours of green chip play. I say kudos to the Silverton for treating table games players as the same status as slot players.
My own gambling
I've gambled at the Silverton many times, mainly because it is the closest casino to where my friend Mike (not the Wizard) lives. We usually go together with a food comp in hand, stuff ourselves at one of the restaurants, and then do some gambling.
Our first time there, we entered the $65 buy-in no-limit Hold 'Em poker tournament. This is a nice tournament with a $2,000 guarantee. My only complaint was that the blinds went up too fast. In my case, it didn't matter, since I busted out at about the fourth level. (I suck at poker). However, Mike made it all the way to heads-up at the final table. After some back-and-forth swings, he took second. The prize was about $800, so that was nice win, which we promptly went and blew at the craps table. Mike plays five dollars on the line, five coming every throw, with $50 max odds. I play slightly less. We lasted about 40 minutes before busting out. So it goes.
Afterwards, we went to play video poker, and Mike had $69 in slot points on his card. This is pretty generous comp, since his expected loss at the craps table was only about $8/hour. Unfortunately, he blew it all on multi-line video poker. (Mike is a go-for-broke gambler :-)).
I've found $25 in free play on my card at various times, and we usually get mailers for free food in the restaurants, free gifts like a coffee press, and various promotions like double points days. I am confident is saying that Silverton gives us back more than we are expected to give them. If only we could catch some luck there ... but it will turn around eventually, right?
Links
Acknowledgement
I'd like to give a big thanks to Lisa Furman for modeling in the pictures.
Contact Information
Address: 3333 Blue Diamond Road, Las Vegas, NV 89139
Phone: 702-263-7777
Web site: silvertoncasino.com
Resort and Parking Fees
| | |
| --- | --- |
| Resort fee | $13.50 |
| Parking fee | Free |
Games at Silverton
| Blackjack | Location | Decks | Min | Max | Soft 17 | DA | DAS | RSA | Surr | Tables | CSM | Party Pit | 6/5 BJ | Video | H. Edge |
| --- | --- | --- | --- | --- | --- | --- | --- | --- | --- | --- | --- | --- | --- | --- | --- |
| Blackjack | Off-Strip | 6 | 5 | 1000 | H | Yes | Yes | No | No | 8 | No | No | No | No | 0.78327 |
| Blackjack | Off-Strip | 2 | 10 | 1000 | H | Yes | Yes | No | No | 4 | No | No | No | No | 0.45688 |
| Blackjack | Off-Strip | 1 | 10 | 1000 | H | 10 | No | No | No | 1 | No | No | No | No | 0.30346 |
| Video Keno | Rank | Avg Return | Grade |
| --- | --- | --- | --- |
| Video Keno | 54 | 89.30% | C- |