Introduction
In 1952, the Sahara became the sixth casino to open on the Las Vegas Strip (source). Today, it casts its net towards economy-minded tourists, with low prices and low limits on the casino games. As an example, when I visited, they were running a "Dollar Days" promotion, which is #4 in Las Vegas Advisor's top ten list of values. The promotion offers the following:
$1 shots (and you keep the glass)
$1 hot dogs
$1 beer
$1 blackjack
Not surprisingly, the Sahara has a Morocco kind of theme. It is a bit kitschy and dated, but I admire the effort. You can see from old black and white pictures on the walls that it didn't look much different back the fifties. In the 90's, the Sahara did a NASCAR themed expansion on the north end of the property, which includes a roller coaster.
I visited the Sahara on October 8-9, 2009. This review details what I found. At about 3500 words, this report runs pretty long, but the Sahara is a special kind of place that seems to engender being verbose.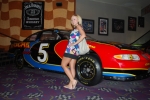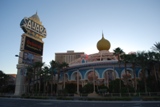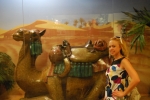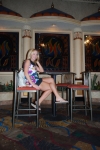 Location
The Sahara sits on the southeast corner of Sahara and Las Vegas Blvd. Kitty-corner to the Sahara on that intersection is the self-proclaimed "world's largest gift store." It isn't every casino that has a major boulevard named after it. Come to think of it, the only ones left are the Tropicana, Flamingo, and Sahara. Unfortunately for the Sahara, everything north of the Wynn on the Strip is suffering from urban blight. Things get real bad north of Sahara. During good times, many developers tried to turn the north Strip around. However, the real estate bubble popped in 2006, and it hit Vegas really hard. Two major developments suddenly halted construction, and other parcels of land that had big plans still sit empty. Yet, the Sahara is alive and kicking. It is also the northern-most stop on the Las Vegas Monorail, so it is convenient to get to major sites on the Las Vegas Strip. Here are prices for Monorail tickets at the time of this writing:
One ride: $5
One day pass: $14
Three day pass: $30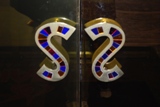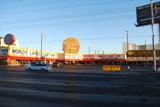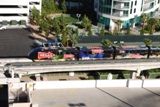 Casino
The casino makes no effort to hide the fact that it is going after low rollers, what we locals call fleas. Most tables had $5 minimums, and as promised in the Dollar Days promotion, they had two tables open for $1 minimum blackjack. The dealers and floor supervisors were generally friendly and easy going. Most were celebrating with the players when they won a big hand. The pit staff were also helpful to novice blackjack players, giving them correct advice, even when not solicited.
According to the 2009 American Casino Guide, the Sahara has 45,290 square feet of casino space. By way of comparison, the MGM has 3.4 times as much at 156,023 square feet. According to the Nevada Gaming Control Board, the Sahara has 51 table games, 16 poker tables, and 875 slots. By way of comparison, the MGM Grand has 178 table games, 23 poker tables, and 2,470 slots. Below are the specific games I saw.
The only areas in the casino friendly to non-smokers were the poker room and sports book. You don't find many sports books that are entirely non-smoking, so I applaud the Sahara for that.
Baccarat
The Sahara surprisingly, or not, does not have a single baccarat table. That is unusual for a casino this big. However, considering that baccarat tends to attract high rollers, I can see how it isn't a good fit.
Blackjack
The Sahara has a pretty poor set of blackjack rules. Most tables were six decks, dealer hits a soft 17, double after split allowed, but no surrender or re-splitting aces. The house edge under those rules is 0.64%. Beware of the single-deck tables that only pay 6 to 5 on blackjacks. On the $1 minimum games, bets of less than $5 only paid even money on blackjack. All the other tables had $5 minimums, so the low roller will have no trouble finding a game, and he should have plenty of elbow room. There are no high-limit tables, so the 0.64% house edge is as good as it gets when it comes to Sahara blackjack.
Blackjack Switch
The Sahara follows the stingy rule of treating an ace and a 10 after switching as a 21-point hand. Most other casinos would consider this a blackjack. Although blackjacks only pay even money, they at least are paid immediately.
Craps
Pretty good craps rules, with 5X odds. The hop bets pay 15 and 30 to 1, and the field pays the generous 3 to 1 on a 12.
Roulette
Double zero wheels, of course.
Other Table Games
Big 6
Pai Gow Poker (with Emperor's Challenge side bet)
Super Fun 21 (two decks)
Triple Up 21
Texas Hold 'Em Bonus
Three Card Poker
Video Poker
The Sahara has some decent video poker. According to VPfree2.com, the Sahara's best games at the time I was there were as follows. Returns indicated in the parenthesis assume optimal player strategy.
10-7 Double Bonus (100.17%) 50¢ 1-play
10-16 Deuces Wild "Not so Ugly Ducks" (99.73%) 50¢ 1-play
9-6 Bonus Delux (99.64%) 25¢ 3-play & 5-play
9-6 Jacks or Better (99.54%) 50¢ 1-play
All slot tickets are valid for 30 days, which in my opinion is too short.
Slot Club
According to VPfree2.com, every $20 bet in video poker earns one point, except it takes $30 on "positive VP," which I take to mean the 10/7 double bonus. Each 20 points may be redeemed for $1 in cash or free play. On regular video poker, that equates to a 0.25% rebate, and it means 0.17% on "positive" video poker.
Table game players earn points too, but I don't know at what kind of rate. I played blackjack and Blackjack Switch for about 3 hours at an average bet of $50. Assuming 70 hands per hour (an industry norm), I would have bet about $10,500. This earned me about $21 off my bill for dinner later. That is around a 0.2% rebate.
Poker
The poker room had 16 tables, although most were not in use when I was there. As an example, at 10:00 in the morning, only one table was open; it was a $2/$4 limit game. The rake was a standard 10% up to a maximum of $4 per pot. The poker room is non-smoking.
Sports Book
The sports books is a Leroy's franchise. Leroy's sports books are not known for luxury, but rather convenience. This one is a bit bigger than most, with four betting windows, 15 desks, and 12 television screens. The sports books is one of the few in Vegas to have a no-smoking policy.
Expiration dates on sports tickets are a topic of interest to me, and I continue to get a different answer to the expiration policy at each different Leroy's franchise. The back of the tickets say:
Pari-mutual tickets, which must be cashed at purchase location (NO mail pays), are valid for 120 days after the date of purchase or 30 days after close of the racing meet, whichever comes first; all other tickets are valid for 30 days from the date of the event.
A "pari-mutual" ticket would be on a horse or dog race, so the policy would seem to be 30 days on sports tickets. However, the person I asked there said the policy on sports tickets was 120 days.
My own gambling
I played Blackjack Switch at $50 per total bet until I switched to a blackjack and they didn't pay it immediately. So, I moved to a regular blackjack table at that point. The first dealer I had was dealing fast, and I was the only player at the table. With the lousy rules, I knew it was costing me a lot to play on an expected hourly basis. So, I relocated to a more crowded table.
At the new table, I developed a friendly rapport with a floor supervisor named Sharice. She had a great sense of humor, and she seemed to be sincere when cheering for the players to win. At one point, I challenged her on her knowledge of 1970's television sitcoms. One question I asked, that I have wondered about from time to time for decades, is how did the father die on Good Times. She was completely stumped but promised she would make some phone calls and tell me the answer if I returned the next day.
So, I stuck around until her shift started at 11AM the following day. Normally, I'm an early riser who likes to check out early, but I stuck around an extra four hours just to see if she would keep her promise. I killed some time by walking over to the Wynn to investigate a new game there, and I played some poker when I got back to the Sahara. At 11 AM sharp, I found Sharice at the craps tables. Although she was obviously busy with the shift change, she seemed happy to see me, and she gave me an answer to my nagging question. She said that it was explained on the show that the father went to another city to help a friend, and while there, he got shot. All this research on her own time was certainly going way beyond the call of duty, which impressed me a great deal. However, when I got home I looked up Good Times on Wikipedia, and they say the father's death was the result of a "car accident." Wikipedia says the real reason he left the show was the actor, John Amos, had creative differences with the writers over the role of son JJ, so he quit.
Well, I guess it isn't really important how he died, but Sharice from Michigan gets a big A for effort. In fact, after 23 years of casino gambling, she is the best floor supervisor I have ever encountered. Now, if I can just figure out what happened to Richie Cunningham's older brother on Happy Days, I'll be able to die in peace.
Hotel
According to the 2009 American Casino Guide, the Sahara has 1,730 rooms and 100 suites. By way of comparison, the MGM Grand has 5005 rooms and 752 suites.
For Thursday, October 8, 2009, the prices were $22 for a standard room, $30 for a deluxe room, $38 for a premium room, and $70 for a suite. I noticed for a smoking room they charge an extra $4 on top of these prices. When faced with these choices, I usually take the middle road, so I chose the $30 deluxe room. Not included in these prices is a $6 "resort fee," which included the pool, gym, and local & calling card calls. As I've said many times, I oppose non-optional resort fees, but at least this one was cheap, and it covered a couple things that you can't get for free anywhere. I also received a coupon book with the following:
$50 in non-negotiable chips for $40. These were the "use it until you lose it" kind, so the value of this coupon is almost $10.
$2 off per-person at the Caravan Cafe.
NASCAR Cafe: 1 Free Pound on any curly fries with purchase of Brew Tower. I'm not sure what you get a pound of, but based on an ad I saw somewhere on the property, I think it is bacon.
Dollar.com car rental: 10% off.
NASCAR Gift Shop: Free t-shirt with purchase of $40 or more.
Sahara Spirits: Free playing cards with purchase of $10 or more.
Marshall Rousso: 10% off with purchase of $75 or more.
Free daily slot tournament: They give away $500 daily. I forgot to redeem my entry.
Weddings Sahara: Renew your vows for only $199.
NASCAR Gift Shop: 25% off racewear (regular priced items only)
Destination Spa/Salon: 20% off one service.
Sahara Oasis: $5 cabana rental.
Sahara Marketplace: Free dice or playing cards with purchase of $10 or more.
Bonkers free spin: Every player club member gets a free spin on a promotional slot machine, once per day. They gave me mine without having to redeem the coupon. I won nothing.
The room was of decent size, but man was the furniture beaten up. I would be willing to wager good money that it was in use on opening day back in 1952. The television was small and old. The mattress was so soft that I woke up at 2AM with my back in pain. I had to sleep on the floor the rest of the night, which fortunately there was ample space for. I would have said the room was clean, except at one point I accidentally kicked the rubber thing between the carpet and the tile in the bathroom, and something came out that I don't even want to describe.
If this was the "deluxe" room, I would hate to see the standard ones. Still, even with the resort fee and taxes, I only paid $39.60. It is hard to find a room anywhere in America that cheap.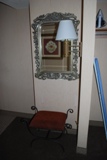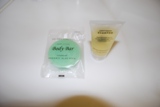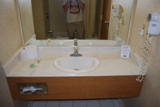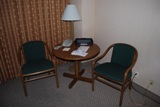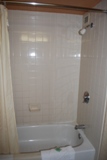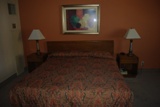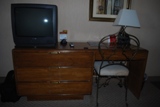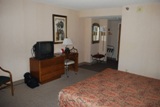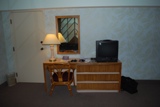 Food
The eating choices at the Sahara are:
Sahara Buffet
House of Lords (steakhouse)
Caravan Coffee Shop
NASCAR Cafe
This is one of the few casinos in Las Vegas where I have eaten at every restaurant. Here are my comments on each.
Buffet
The buffet is only open for dinner and I think champagne brunch on weekends. The champagne brunch price is a flat $14.99. The dinner prices are as follows.
Adult $14.99
Child $12.99
Anybody with player card $8.99
My editor didn't believe me that an adult with a player card is cheaper than a child without one. However, I stand by that being the case. She also incorrectly corrected me for saying they are not open for breakfast or lunch, as their web site states. However, I claim their web site is out of date. A call to the Sahara confirmed they are only open for dinner during the week.
I ate at the Sahara buffet about five years ago. As Vegas buffets go, it was close to the bottom of the list. Perhaps it has improved since then. However, at $8.99 per person, I tend to doubt it.
House of Lords
I noticed a sign outside the House of Lords offering a full course dinner for $29.95, including an appetizer, salad, entree, and dessert. For an extra $18, you could get a bottle of wine. So, my webmaster J.B. and I tried it. The service was friendly, although perhaps a tad slow. I told them I had to be out by 9:00 PM (I wanted to watch the wedding episode of "The Office"), so they nicely packed up the leftovers and the dessert in separate boxes along with silverware. They said to just leave the dishes in the room. The food was all fine, except the calamari appetizer was mostly just fried bread.
However, J.B. would like the record to show that he had a fruit fly in his wine glass. He noticed this after he already drank a glass, when the waiter poured some more. J.B. is not one to complain, so he just used his knife to remove it. Now this begs the question, how did the fruit fly get in there? Possibility number one is that it was there all along, which J.B. said had a "zero percent chance probability." Possibility number two is that it was sitting on a grape when they made the wine, and it got trapped in there. This is what I originally thought was the case, but two days later I asked a sommelier at the Marche Bacchus restaurant if he had ever seen that happen, and he said absolutely not. Possibility number three is that it flew in there after the bottle was opened. This same sommelier said fruit flies are attracted to the sweet smell of wine. While I never noticed a single bug flying around the restaurant, my money is on possibility number three.
Caravan Cafe
This is what your basic economy Vegas cafe should be like. Cheap prices, big portions, fast service, and plenty to choose from. I had the southwestern omelet, which was large and tasty. A few years ago, I had dinner at the cafe, and I remember leaving happy.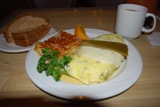 NASCAR Cafe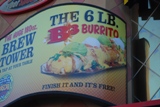 When I was surveying the resort for this review, I noticed signage for the "Man Vs. Food" challenge. The rules were that if anyone could consume a 2-foot long, 6-pound burrito within 90 minutes, they would get said burrito for free. Not only that, but win or lose, your picture would be posted on their wall. The wall was covered with pictures of "weenies" who didn't succeed, and seven people who did. At the time of the June 26, 2009 Las Vegas Sun article, the record was burrito 275, challengers 4. When I shared the story's link with Joel's wife, she wrote back "This is disgusting."
A friend of mine named Joel is notorious for being a big eater. Once he was challenged to eat 100 Chicken McNuggets, and he got to 85 before he gave up. After seeing all this signage, I threw down the gauntlet. Joel needed some kind of incentive to try, so two other friends and I bet $2,000 to win $20 that he couldn't do it. With that, we returned a week later to watch him face the infamous B-3 Burrito.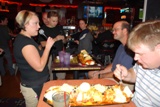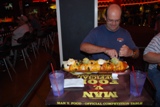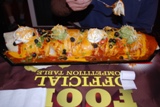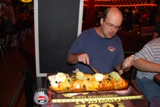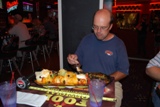 To prevent cheating, the NASCAR Cafe puts challengers at two small, roped-off tables, right by the hallway. After we told the waitress we had a challenger, she went back to the kitchen to have them make up the monster burrito. While waiting, another challenger, who evidently ordered before us, sat down in the roped-off area. A waitress with a microphone explained the rules to the audience and asked the other challenger a few questions. His start time was noted, and he was off. About five minutes later, Joel's burrito was ceremoniously presented before him, and the waitress interviewed him before starting the clock.
Joel's strategy was to eat as fast as possible at the beginning. I have to agree with this strategy, as it takes the stomach some time to tell the brain it is full. So, he was trying to trick his stomach by shoving as much food into it as possible before feeling the effects. It was said that somebody just the day before ate the whole thing in seven minutes.
The first six inches were gone in no time. It only took about 15 minutes for Joel to get to the halfway point. About halfway, though, he started to slow down. You could tell by the look on his face and the sweat on his head that he was starting to hit the wall. However, he kept going forward, slower, but still strong. There was some fear that we might lose the $2,000 bet.
At about the 15" point, Joel made comments that he didn't like his odds. Between bites, you could tell he was considering throwing in the towel. However, he still kept going, slowly but surely. He was way ahead of the other guy who started first. Other people at the bar made bets on him. One guy, who bet $2 on Joel, stepped up and acted as Joel's motivational speaker. He was actually quite good at it. Another, rather strange, guy at the bar told him to imagine that he was eating a baby.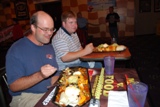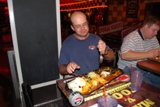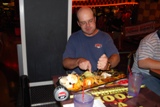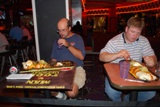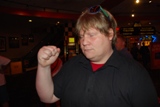 Despite the moral support, Joel officially waved the white flag (actually a napkin) at about the 17" point, or around 4.2 pounds. He said if the burrito were 5 pounds, instead of 6, he could have gone the extra mile and finished it. However, with no hope of finishing all 6 pounds, why kill yourself trying?
It was a very valiant effort. Judging from the pictures on the wall, most people only got to the halfway point, at best. The waitress said she was very impressed as she gave him a pink "weenie" t-shirt and took his picture for the wall.
Regarding the food, Joel said the burrito was actually quite tasty, although I can't blame him for not wanting to take the leftovers home when he quit. Personally, I ordered a chicken sandwich, which was more than satisfactory. Most of the time when you get a pickle with a sandwich it is flaccid and tasteless; however, the NASCAR pickle was crisp and tasty. My friends ordered Buffalo wings, which we all agreed were below par. I found them a bit small, a tad undercooked, and the fried ones had too much breading. I had a bite of clam chowder, which I thought was fine, but my friend didn't like it. Shall we say the quality of the food depends on what you order.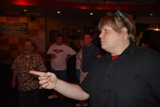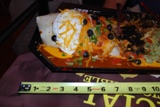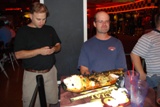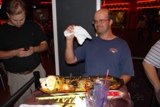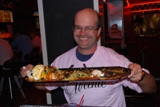 Entertainment
The Sahara has a good selection of shows to select from. I have not seen any of them, so will leave you with links for more information.
Pool
For the price, the Sahara pool isn't bad. The size of the pool and grounds are respectable. Palm trees attempt to give it an oasis in the desert look. A poolside bar is there for libations.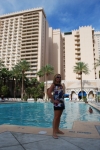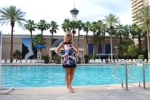 Lines
The lines for the cashier, player club, and hotel check in were all Wendy's style, where one line leads to multiple windows. As I've said in other reviews, I strongly support this method of waiting. I might add that the only line I encountered the entire trip was at the player club. They had a separate line for locals, which was short. However, the line for tourists had several people in it.
Conclusion
If you are visiting Vegas on a very tight budget, the Sahara would not make a bad choice. The staff was pleasant and easy going, most with good moral. Seldom was there a line for anything. The casino had plenty of low-limit tables. If you get restless, it is easy to hop on the monorail and head to the big name casinos to the south. Here are a few suggestions for improvement.
It is time to get new hotel furniture, at least in the room I was in.
Have at least one blackjack table with liberal rules for $25+ players.
Give the players more than 30 days to cash a slot ticket.
Pay more attention to the cleanliness of the rooms.
Links
Acknowledgement
I'd like to give a huge thanks to Lisa Furman for her modeling services. Lisa invites you to visit her page at ModelMayhem.com. I would also like to thank Joel for attempting the burrito challenge, which provided great entertainment.
Contact Information
Address: 2535 Las Vegas Blvd South, Las Vegas, NV 89109
Phone: N/A
Resort and Parking Fees
| | |
| --- | --- |
| Resort fee | $13.50 |
| Parking fee | Free |